So Apple announced a new iPhone release, and you want to buy it without maxing out your credit card. Sure, you could get a second job or take out a second mortgage, but what if I told you that the money you need to buy your next iPhone was already in your pocket? Well, as it turns out, it is: It's an iPhone you already own. You're probably wondering, "How do I sell my iPhone?"
iPhones have the highest resale value of almost any smartphone, even if they're a year or two old. Since there's such a high demand for iPhones, you can sell your device quickly and easily, as long as you know where to look. That's where I come in. In this article, I'll tell you who will buy a used iPhone and how to sell a used iPhone for as much money as possible.
Preparing To Sell A Used iPhone
Before you sell a used iPhone, you will need to back up and remove your data. This will both protect your privacy and allow you to move all of your content and settings over to your shiny new iPhone.
Back Up Your iPhone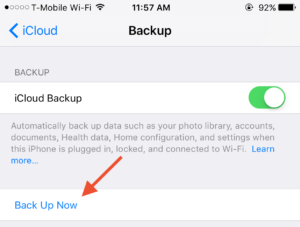 The first step in selling your iPhone is to back up your data to iCloud. This will let you move your content to a new device quickly and give you peace of mind before erasing your data from your current iPhone.
Launch the Settings app on your iPhone, scroll down, and tap the iCloud button.
Scroll down and tap the Backup button.
Tap Back Up Now from the bottom of the screen to force an immediate iCloud backup.
Disable Find My iPhone
Now it's time to disable Find My iPhone on your device. This is because Find My iPhone has a feature called Activation Lock, which acts as a theft deterrent and prevents new iCloud accounts from being added to used devices without permission from the previous owner.
To Disable Find My iPhone: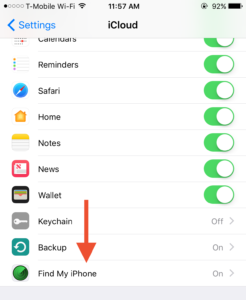 Launch the Settings app on your iPhone, scroll down, and tap the iCloud button.
Tap Find My iPhone at the bottom of the screen.
Tap the On/Off switch to the right of the Find My iPhone option at the top of the screen. You will be prompted to enter your iCloud password.
Press the iCloud button in the upper left-hand corner of the the screen, scroll down, and tap the Sign Out button to remove your account.
Erase All Content From Your iPhone
To protect your privacy, we need to remove all of the content and settings from your iPhone before the sale. To do this, follow these three steps: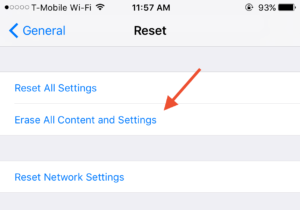 Launch the Settings app on your iPhone and tap General.
Scroll down, and tap the Reset button.
Tap the Erase All Content and Settings button, confirm that you want to erase all content, and your iPhone will begin restoring itself.
Remove Your SIM Card

Finally, you need to remove the SIM card from your iPhone. A SIM card is the chip in your phone that stores your mobile account information. Removing this chip isn't nearly as daunting as it sounds, and all you need is a paperclip.
Turn your iPhone onto its right side, and you will see a small rectangle with a hole in it.
Take your paperclip, straighten it out, and push it into the hole. Your SIM card will be ejected from the device on a tray. Remove your SIM card from the tray, and push the tray back into your phone. Your iPhone is now ready for sale.
What's The Best Place To Sell An iPhone? It Depends!
Now for the fun part: selling your iPhone. There are hundreds of different online markets you can use to sell your iOS device, but I've narrowed my recommendations down to three : eBay, Gazelle, and Craigslist. Each of these markets has their own merits and will give you a slightly different payout. Below, you will find an overview of each service, as well as their pros and cons.
eBay — The Largest Audience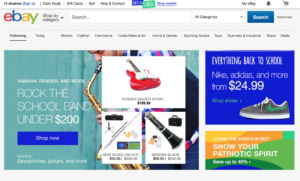 eBay is by far the most popular online marketplace for selling iPhones and just about anything else. Items can be sold either by using the site's auction-like format or by using a fixed price and the "Buy It Now" sale format. It's easy to sell on eBay, as the site takes care of all marketing and payments for you. All you need to do is take a few pictures and write a description of your iPhone when creating the listing, then ship your device to the buyer after it sells.
Pros
Safe. When you sell something on eBay, you're protected under eBay's seller protection. This protects you from scammers and ensures that you get a timely payment for your device after selling it. On top of this, all payments are handled by PayPal, which makes payments easy and secure.
Effective. Like I stated earlier, eBay is the world's largest online marketplace. This ensures that your iPhone will almost always sell for top dollar quickly and easily without you having to do any additional marketing.
Cons
Fees. eBay charges a small seller's fee to list an item and takes roughly 10% of the final sale price after the item sells. You can calculate the expected fee by using the eBay fee calculator.
Shipping. You are responsible for shipping your iPhone to the buyer once it sells. I highly recommend paying extra for tracking when shipping your device, which gives you an additional layer of security from scammers who claim to have never received shipped eBay items. If possible, I also recommend shipping using FedEx or UPS for more reliable service than the Post Office.
Gazelle — For An Instant Sale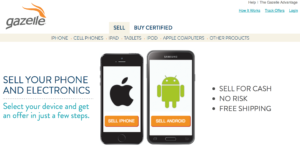 Gazelle is an instant sale service for iPhones and other gadgets. This means that you can go to Gazelle's website, type in the make and model of your device, and get an instant quote. If you accept the quote, Gazelle will give you a shipping label and pay you immediately upon receiving your device. It's a super quick process with virtually no work on your part.
Pros
No Risk. Gazelle has proven to be a very reputable service over the years. Many of my friends have used this service and have all been paid within a week of sending their devices out. Additionally, since you already agreed on a price, you know exactly how much money you'll receive before shipping your device out.
Free Shipping. Unlike eBay, Gazelle pays for you to ship your iPhone to them. This saves you time and money —  you don't need to worry about paying for a tracking number, buying postage, or going to the Post Office. Just put your iPhone in a box, affix the prepaid label, and schedule a pickup from your house. It's as easy as that.
Cons
Lowest Payout. You pay for the simplicity of service when selling to Gazelle. Since Gazelle buys and sells smartphones, they need to make a profit when purchasing devices from the public, so expect a payout of $50-150 below what you'd make on eBay.
Craigslist — For The Highest Payout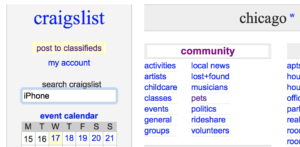 Craigslist is an online marketplace where users buy and sell goods locally. Each major metropolitan area in the United States (and many countries abroad) have their own Craigslist boards where users can list just about anything for sale. All payments for Craigslist sales are done in person using cash, and there are absolutely no fees for using this marketplace.
But First, A Word of Warning About Craigslist
Note that Craigslist is crawling with scammers who will try to get you to ship your iPhone to them for a (usually fake) wire transfer. As a general rule of thumb, only sell things on Craigslist to buyers who will meet you in person for the sale and pay in cash. For your own safety, always meet Craigslist buyers in a public place. When I sell things on Craigslist, I generally meet buyers in coffee shops.
Use Craigslist at your own risk. 
Pros
Highest Payout. Since there are no fees or a middleman when selling on Craigslist, you will almost always make the most money when selling in this marketplace. Additionally, you'll get cash for your device instantly, meaning you can go right to the Apple Store to purchase your iPhone 7 Plus (or whatever the next iPhone is) with the proceeds of your sale.
Cons
In-Person Meetings. You have to meet all buyers in person when using Craigslist, making these sales the most time-consuming.
Scammers. Like I stated earlier, expect to have scammers email you, asking you to ship your iPhone out of the country in exchange for a wire transfer. When you get these emails, just ignore them. All email addresses are masked when using Craigslist, so they won't be able to contact you again or find out any additional information about you if you don't respond.
And The Best Site To Sell An iPhone Is…
Now that you know the answer to, "How do I sell my iPhone", you've discovered that the best place to sell a used iPhone really varies from person to person. If you've recently sold an iPhone using one of the methods above, or if you found another place that buys used iPhones, let me know in the comments section below.