You're trying to backup your iPhone using your Mac, but it's not working. iTunes is missing! In this article, I'll show you how to backup your iPhone using Finder.
What Happened To iTunes?
iTunes became Music with the release of macOS Catalina 10.15. Now when you want to sync, backup, or DFU restore your iPhone, you'll do so using Finder. Despite this change, everything else is pretty much the same, and the interface looks very similar.
Owners of a PC or a Mac running macOS Mojave 10.14 or earlier will still backup their iPhone using iTunes.
What Is An iPhone Backup?
A backup is a copy of all the information on your iPhone — your photos, videos, contacts, and more. It's a good idea to regularly save iPhone backups just in case something goes wrong with your iPhone. If you encounter a deep software problem, or if you damage the hardware of your iPhone, a backup will make sure you don't lose any of your important data.
Backups are also helpful when you upgrade phones. Having a saved copy of your information will allow you to seamlessly transition to a new phone.
What You'll Need
You'll need three things to backup your iPhone using Finder: your iPhone, a Mac running macOS Catalina 10.15, and a Lightning cable.
Backing Up Your iPhone Using Finder
Connect your iPhone to your Mac using a charging cable. Open Finder and click on your iPhone under Locations. Scroll down to the Backups section and click Back up all of the data on your iPhone to this Mac. Finally, click Back Up Now.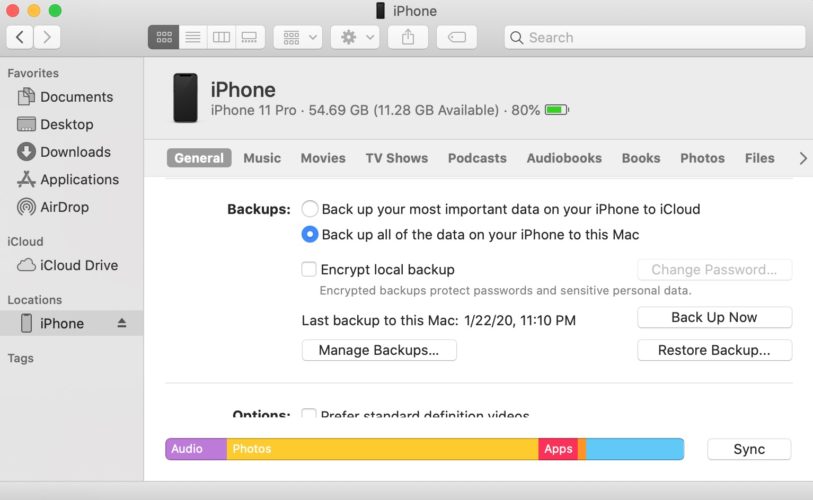 The backup process usually takes about 15–20 minutes. The more data you're backing up, the longer it'll take. You'll know the backup is complete when you see the current date and time next to Last backup to this Mac.
Check out our other article if you weren't able to backup your iPhone using Finder.
You've Found iPhone Backups!
You've successfully backed up your iPhone to your Mac using Finder. We know this change can be a bit confusing, so feel free to leave us a comment down below if you have any other questions!