You just received an email with the subject line "Apple Purchase Successfully Payment Confirmation", but you don't remember making a purchase. This is nothing more than a scam where someone is trying to steal your iCloud information, Social Security number, and other personal information. In this article, I'll explain what to do when you receive this iPhone scam email.
What This Scam Looks Like
First, you'll receive an email with "Apple Purchase Successfully Payment Confirmation" in the subject line. It's natural that you would like to try and cancel this order because you think you're being billed for something you never purchased.
The body of the email will exactly like an Apple receipt with an invoice date, order ID, and document number. Most of the time, the receipt will be for gems for the gaming app Clash of Clans.
Scammers have gotten more clever, especially because they copy Apple emails almost to the letter and use transaction amounts that are just high enough to make you want to report and just low enough not to make you think "no way". Furthermore, Clash of Clans is one of the most popular gaming apps in the App Store, giving the email a little more legitimacy.
Below we've put a real Apple receipt next to the fake Apple receipt you'll receive in the "Apple Purchase Successfully Payment Confirmation" scam email. As you can see, they are very similar.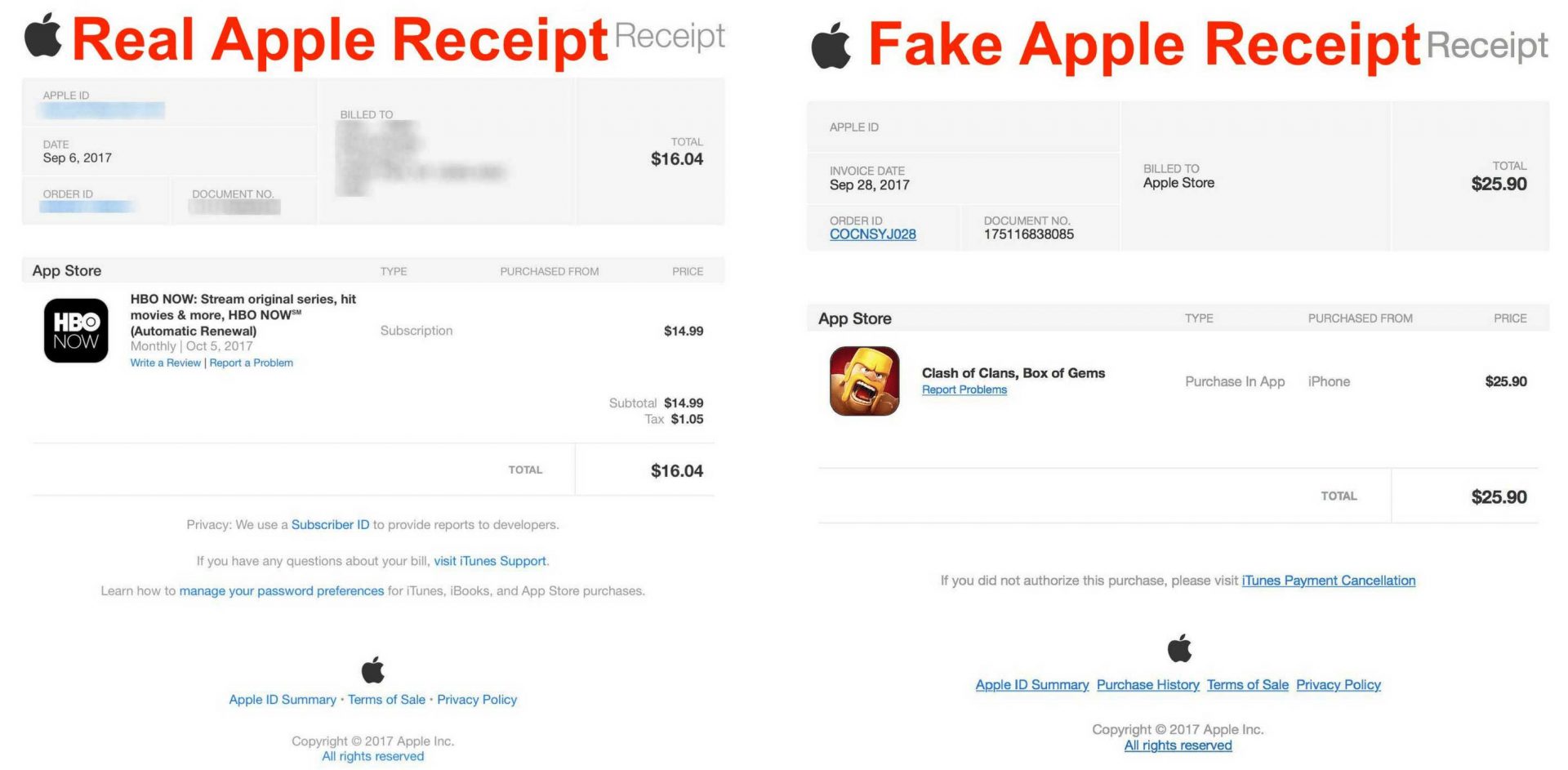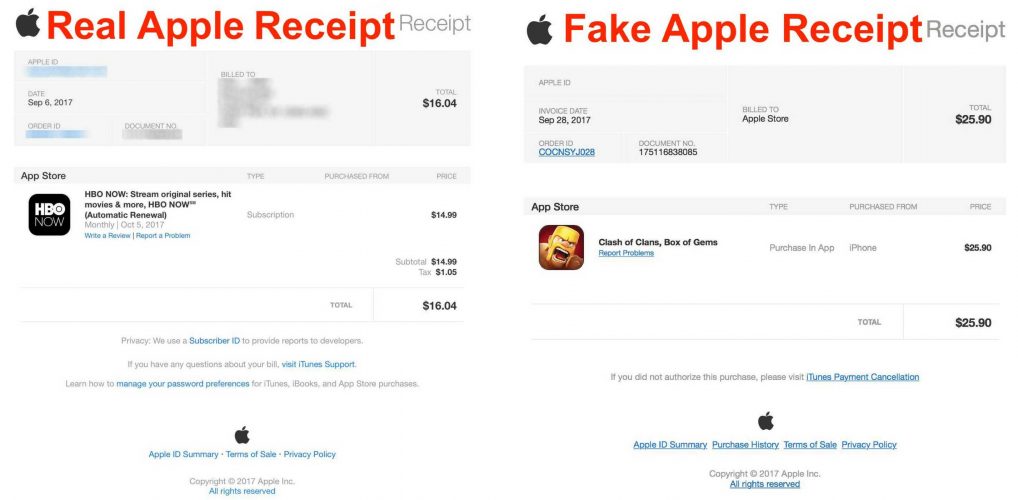 If you click on a link in this email, you'll be redirected to a clone of Apple's website. Other than the URL, this fake website looks nearly identical to Apple's real website.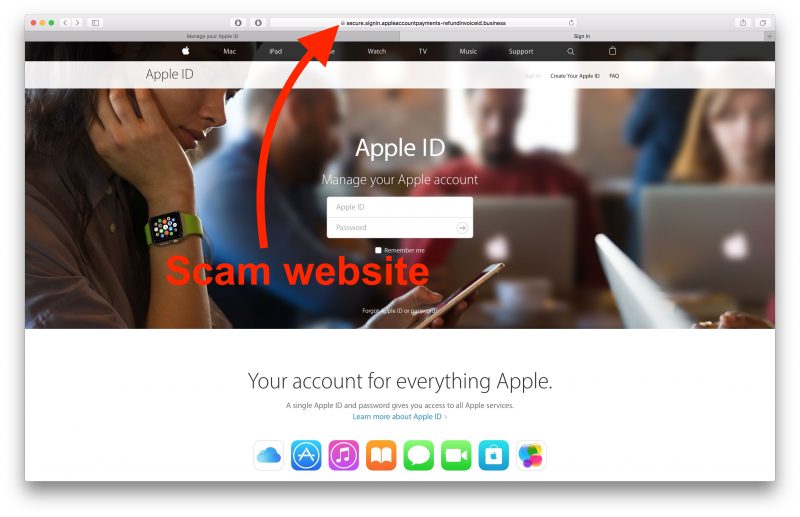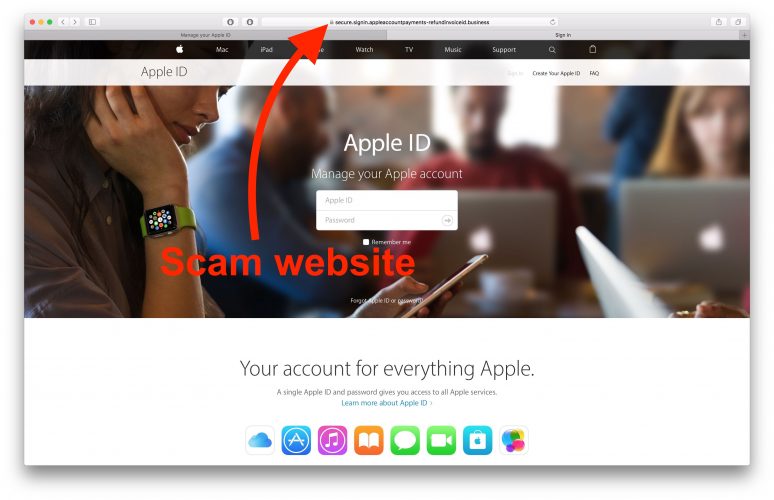 However, when your enter your Apple ID and password, nothing happens other than the scammers collecting and saving that information. You're then redirected to a second page where you're prompted to enter your personal personal information such as your name, phone number, email, address, and Social Security number. If you enter this information and click Submit, these scammers will have access to all of that personal information.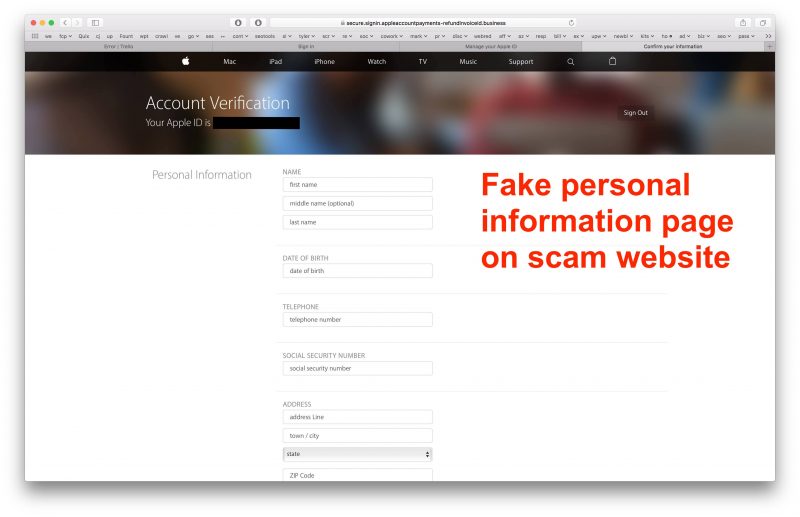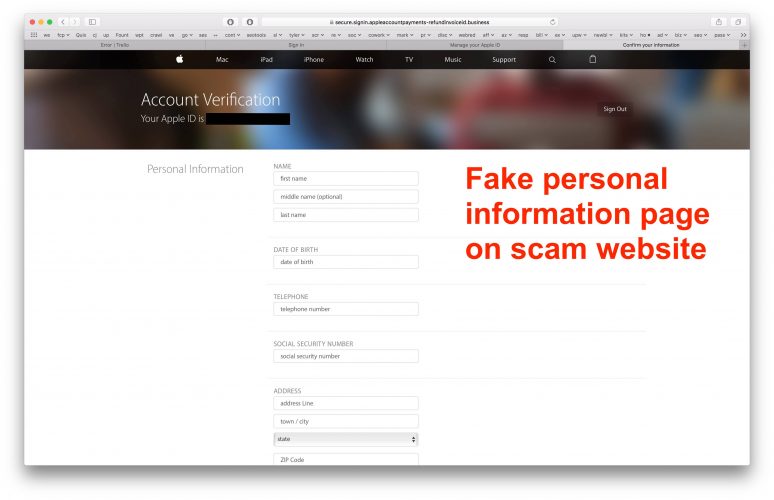 If You Clicked On A Link In This Email
The other day, a friend of mine made me aware of this scam. He had already entered his Apple ID and password, but fortunately he stopped when the next page asked for his Social Security number. I'm going to tell you exactly what I told him!
I told him that he wasn't safe just because he stopped answering information on the second screen. The scammers already had his Apple ID and password. Try and reset your iCloud password by going to the Manage Apple ID page on Apple's website. Then, click Forgot Apple ID or password? to reset your password.
If you use the same password for other accounts, such as email accounts or financial accounts, make sure you change those passwords as well. It's a bit of an inconvenience, but it could save you a lot of trouble in the long run.
Clear Safari History
If you clicked on any links inside the email, close out of the Safari app immediately, then erase Safari history and website data. Nefarious websites like these could save harmful cookies in your web browser that could be used to take or record information about you.
To close out of the app, double-click the Home button and swipe the Safari app up and off the screen. Then, clear Safari history by going to Settings -> Safari -> Clear History and Website Data.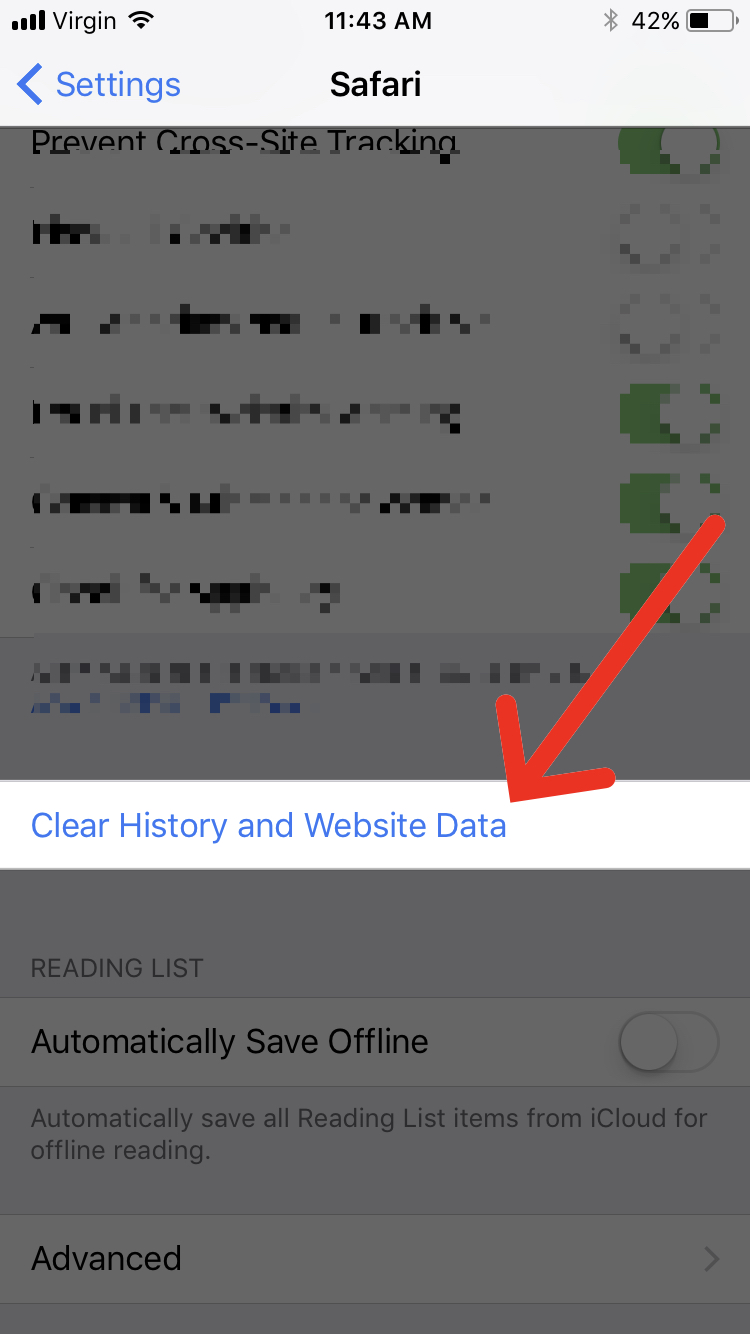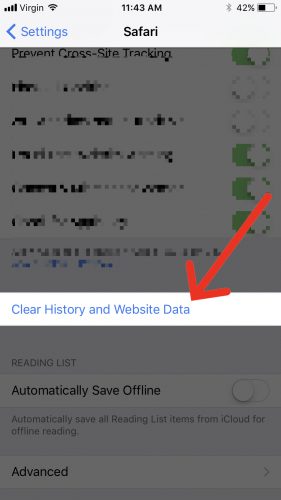 How Can I Tell If I'm On Apple's Website Or A Scammer's Website?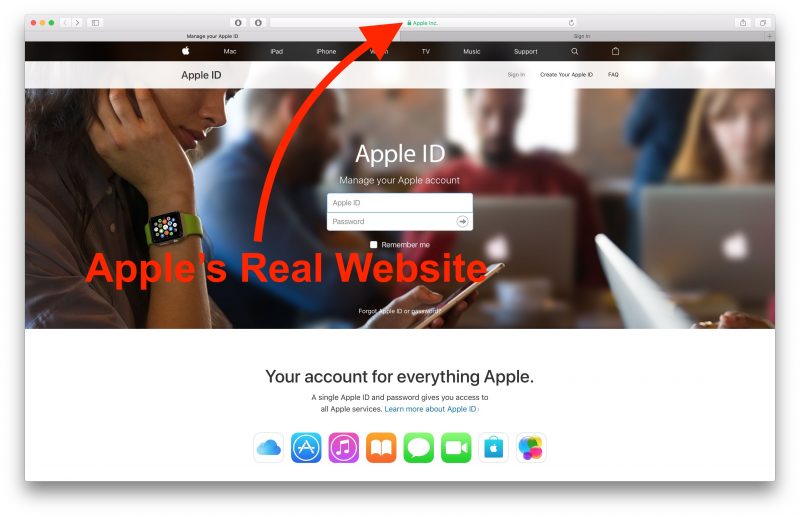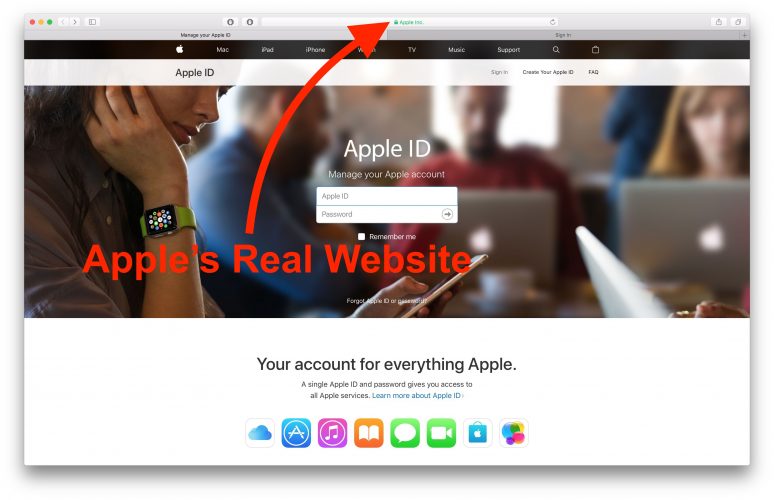 We would like to note that websites with black text and the small lock in the URL box (like ours!) are just as secure as the websites with the green address and lock. The green certificate
If You Gave Away Your Social Security Number
Although we're qualified to help you fix problems with your iPhone, we're not qualified to help you with identity theft. Do a Google search on what to do when your Social Security number is stolen.
iPhone Scam Email: Avoided!
You've avoid this iPhone scam email or know what to do if you've clicked on one of the links in the email. We hope you'll share this article on social media so your friends and family can be prepared if they receive an email with the subject "Apple Purchase Successfully Payment Confirmation". If you have any other thoughts about this scam, leave them in the comments section below!
Thanks for reading and stay safe,
David P. and David L.