Funny things can happen when your iPhone location is wrong. Your iPhone may display the wrong time. Your alarms might not work. Find My iPhone may not work correctly.
It's a real head scratcher, but it does happen. There could be a few different reasons why your iPhone location is wrong, and there are definitely ways to fix this. Read on to find out why your iPhone thinks it's somewhere else and what steps you can take to fix a wrong iPhone location.
First Things First: Check The App
If your iPhone location is wrong, you should check the app that's showing you this information. If your location is only wrong in one app, then it's most likely a problem with that specific application.
Look at your location in another app, like Maps or Weather. Both should automatically use your current location to give you information when you open them.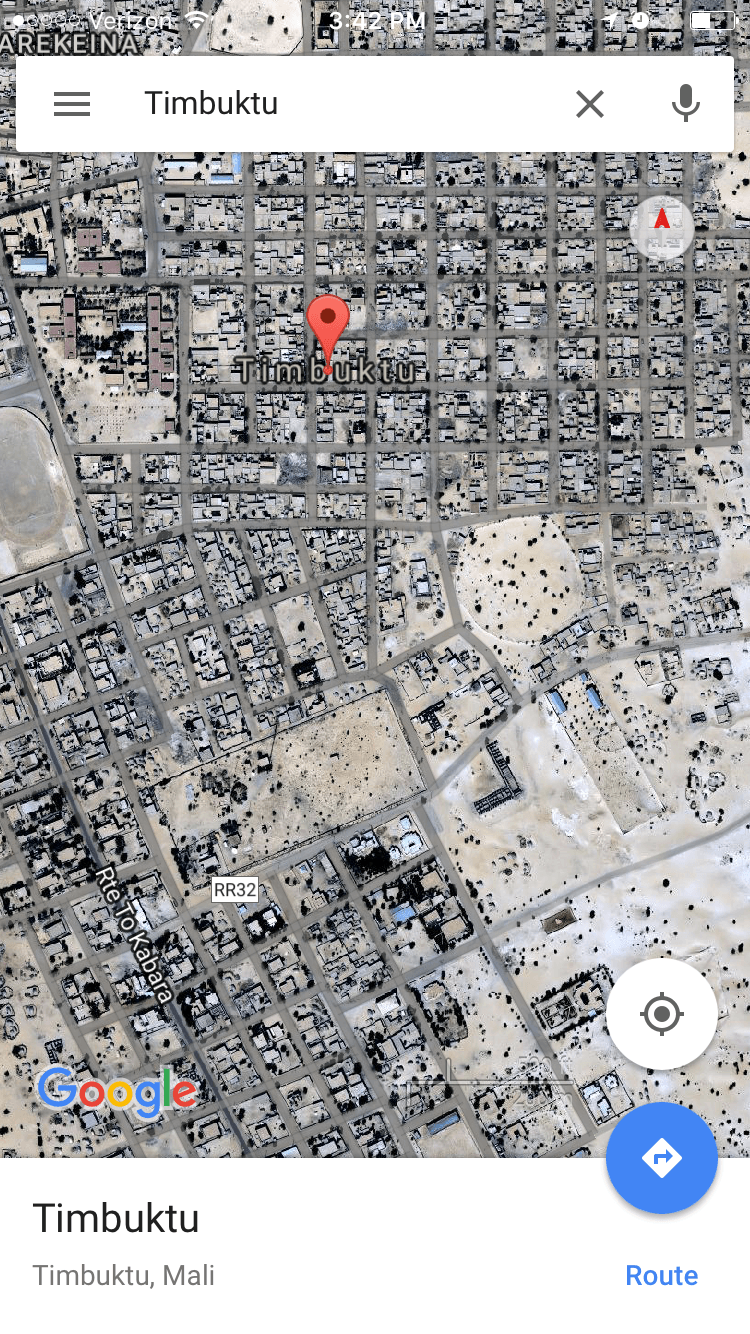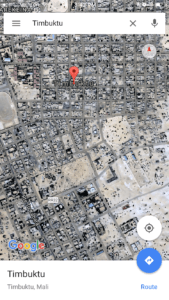 Don't worry too much if Maps shows you as being within a few hundred feet of where you really are. If Weather shows you information for the general area and Maps has you nearby, your iPhone Location Services are probably just fine.
1. Close And Reopen The App
However, if the app thinks you're in Timbuktu (and you're not), that you need to worry about. If a single app is having problems, try closing it and restarting it.
To close apps, double-click your Home button. Swipe up on the screen to close any open apps. Then, reopen the app that had the wrong location and see if it thinks you're in the right place.
2. Make Sure You Gave The App Permission To Use Your Location
Most apps that use your location ask if they can have access to Location Services the first time you open them. If you said no, then the app doesn't have permission to use location information from your iPhone and may not work properly as a result. This may be why your iPhone is showing the wrong location.
You can give an app permission to use your Location Services even after you say no. Tap Settings → Privacy → Location Services. There will be a list of the apps that have asked to use your location. If Find My iPhone says Never next to it, then that program doesn't have permission to see your location information.
Tap Find My iPhone and change the setting to While Using the App. Then close Settings, close the app, and reopen it. Now, it should be able to use your location information.
3. Report The Problem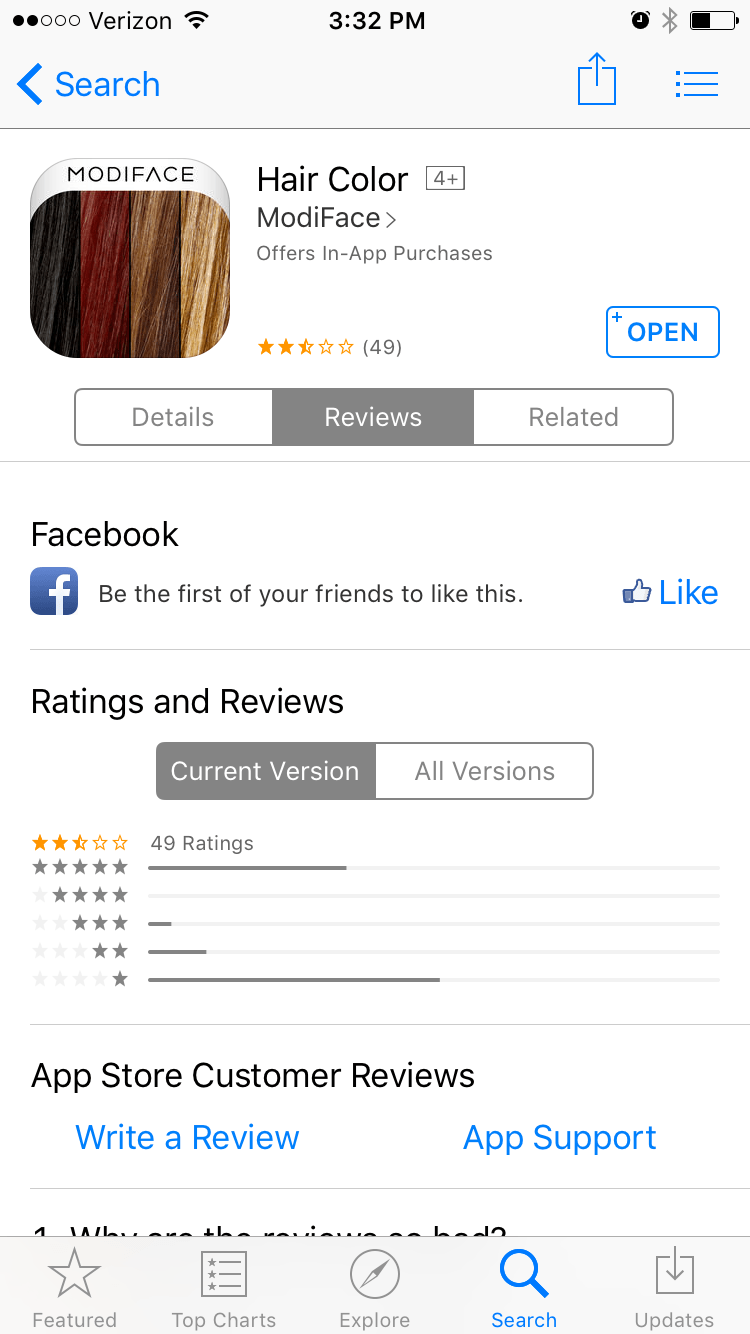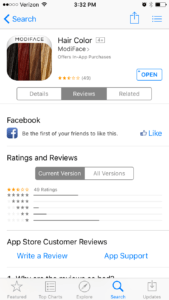 If your iPhone location is still wrong, but only in one app, there may be a problem with the app's software. Odds are that the group who made the app is already aware of the problem, and an update is on the way to fix it. A lot of apps have an option to get in touch with the app's developer. You can do that in the App Store.
To get help directly from the people who make the app or to send a note letting them know about the problem, open the App Store. Search for the name of the app that shows the wrong iPhone location. Select the app, then tap Reviews. There should be an App Support link on that page. Tap it, and you'll be taken to the support page of the group that made the app. Look for an option to send a message or report a problem.
When Good Location Services Go Bad
If your iPhone location is wrong in more than one app, there could be a problem with your iPhone's Location Services. The iPhone uses something called an assisted Global Positioning System (assisted GPS) to track your location.
GPS is a system of satellites orbiting the world that bounce signals to and from your iPhone. If the satellite is in the right position and can pick up your iPhone's signal, your iPhone can use that information to know where you are. But satellite GPS isn't perfect and can take several minutes to work. So iPhones also use your cellular network connection, Wi-Fi connection, and Bluetooth connection to help pinpoint where you are.
Pro tip: Want to know how accurate your Location Services are? Open the Maps app, and check for a blue ring around the blue dot that shows your current location. The smaller that ring is, the more accurate your current location information is.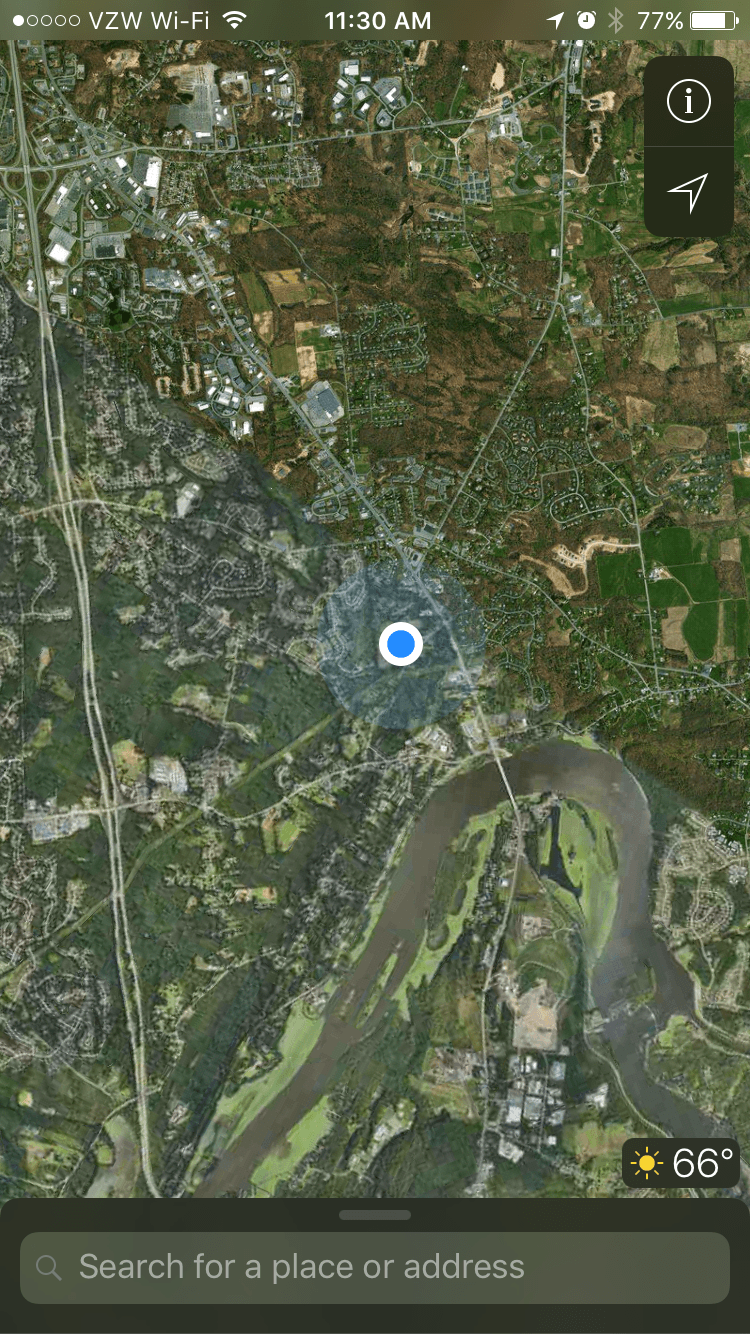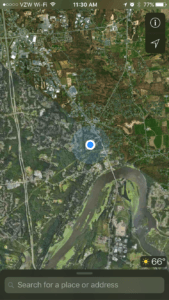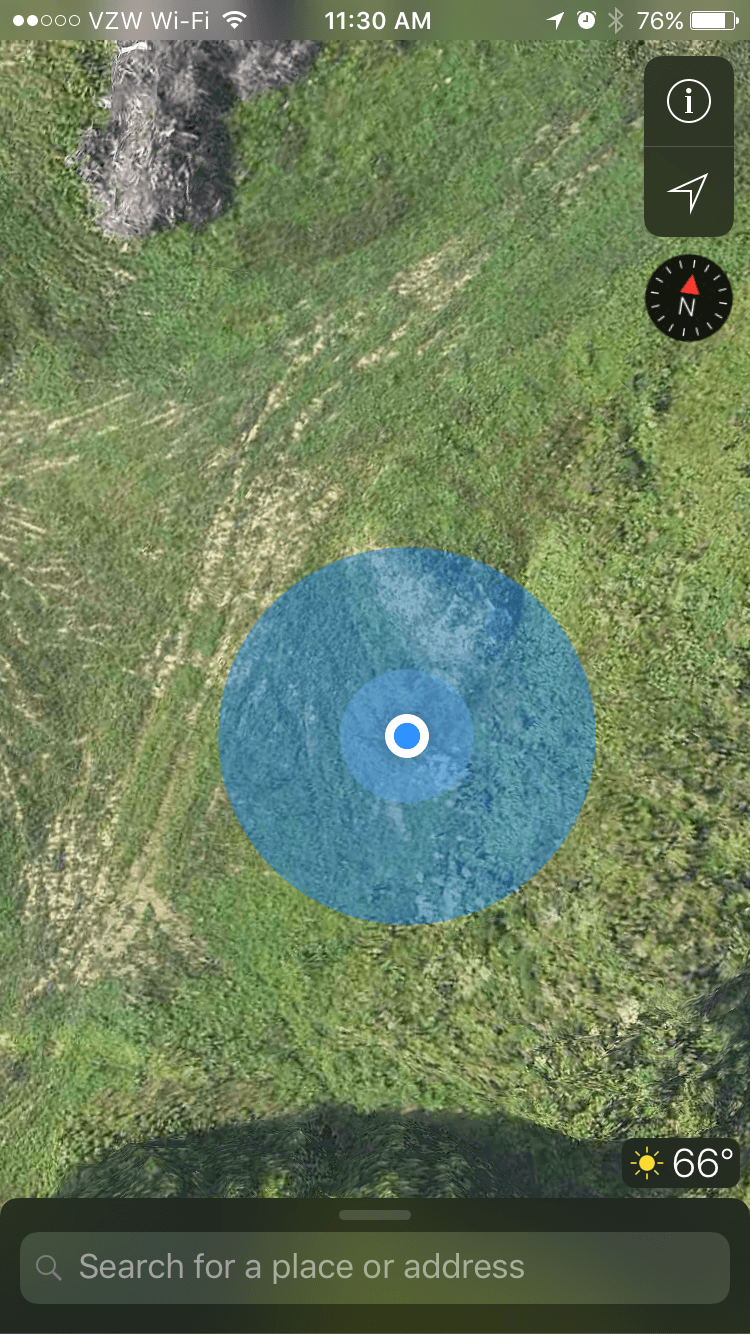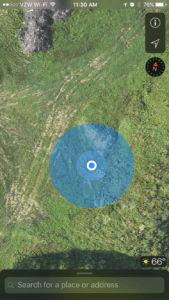 As you can see on the left, the blue box is very small, and actually shows my current location. In the image on the write, I am writing this article from the middle of the woods.
4. Is Wi-Fi To Blame?
Using info from your Wi-Fi, cellular network, and Bluetooth connections allows your iPhone to pinpoint your location a lot faster than just using GPS satellite info. To speed it up even more, Apple also stores information about where you typically connect.
For example, if you always use your Wi-Fi network at home, Apple will (with your permission) keep track of that location. So when you're on Wi-Fi at home, it automatically knows approximately where you are.
That sounds great, right? Right! But if you move and take your Wi-Fi router with you, then it might take Apple some time to update the saved information that tells them where that network is. This means, if you connect to a Wi-Fi network Apple thinks it knows the location of, your iPhone could think you are somewhere else entirely. Eventually, Apple will update the location information, but it may take a while.
To find out if your Wi-Fi connection is causing the incorrect iPhone location, turn off Wi-Fi. You can do that by going to Settings → Wi-Fi and tapping the green toggle next to Wi-Fi to turn it off.
You can also help try to speed up the Location Services update by asking your iPhone to forget known locations
or simply stop using known locations for a little while. To do that, go to Settings → Privacy → Location Services → System Services → Frequent Locations. Here, tap the green toggle next to Frequent Locations to turn it off. I also suggest you go down to the history portion of the page and tap Clear History.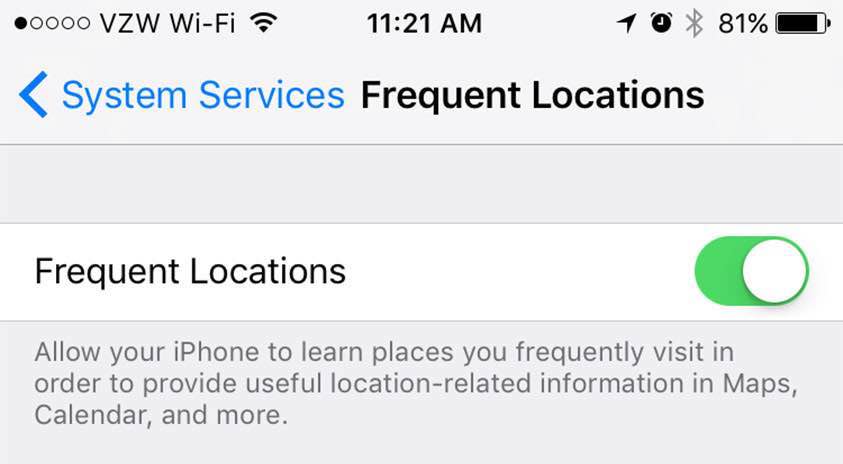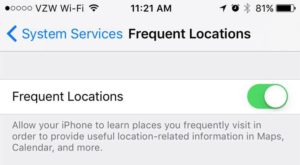 You may have to wait a day or so for your iPhone to send its most recent location to Apple. If your iPhone location is wrong after that, there are still a few things you can try! Take heart and read on.
5. Resetting Location Services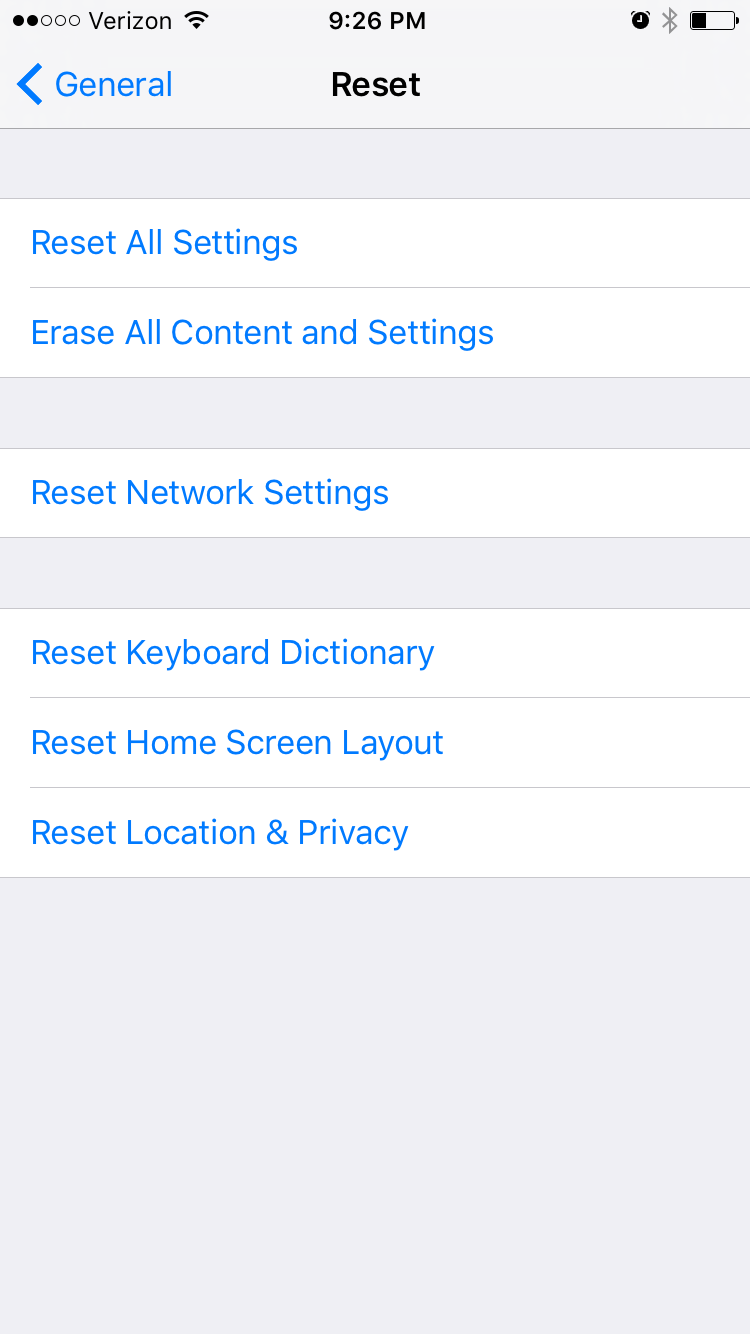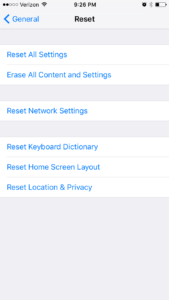 The software that runs your iPhone is complicated. It's possible that a setting has changed and needs to be corrected before you can also fix your incorrect iPhone location. Thankfully, you can reset all of your Location Services settings. Just go to Settings → General → Reset → Reset Location & Privacy.
You'll need to enter your iPhone passcode to reset your Location Services. This will change your location and privacy settings back to the way they were when you first got your iPhone. Do this, and then try using an app like Maps or Weather again.
6. Backup and Restore From iTunes
If your iPhone location is still wrong even after you reset Location Services, try doing a backup and restoring your iPhone from iTunes. To do that:
Plug your iPhone into your computer using a USB cable.
Open iTunes.
Select your iPhone when it syncs to iTunes.
Choose Restore Backup. Choose a backup from before the trouble started with your location. Finish the restore, and check your iPhone. It should show you being in the right location now.
Could Find My iPhone Be Wrong?
One of my favorite things about the iPhone is the Find My iPhone feature. Not only is this handy when you lose your iPhone around the house and need to find it, but it's also a great way to keep tabs on the whereabouts of family members. (Check out our article about tracking your children's iPhones for some handy tips on using Find My iPhone.)
But, you may ask yourself, could Find My iPhone be wrong? Actually, it can. For Find My iPhone to work, an iPhone has to be turned on and able to send location information to Apple.
Find My iPhone can only track the same Apple ID on 100 different devices at once. If you are on a business plan or share your Apple ID with your extended family, you may have hit the total number of iPhones that can share a Find My iPhone account.
For most of us, that isn't going to be the problem. It's much more likely that the iPhone either isn't online, making you unable to locate it, or the time and date on your iPhone are wrong.
To fix your date and time, go to Settings → General → Date & Time. Set Automatically should have a green spot next to it. If it doesn't, then tap the toggle to turn it on. You can also manually choose your time zone if the Set Automatically option doesn't fix your Find My iPhone.
Find My iPhone Needs A Connection To Work
Sometimes, Find My iPhone has a wrong location because it isn't connected to a network. Find My iPhone needs a connection to collect location information and send it to Apple. Make sure the iPhone is on a cellular network or at least a Wi-Fi network. If the network connection is to blame, you can turn Airplane Mode on and back off again to try to reset it.
Location Services Are Powerful Things
It's easy to forget how much we rely on the Location Services on our iPhones every day. When my iPhone location is wrong, it can really be annoying.
Hopefully, one of these tricks got your iPhone back in order, and you can use Maps, Weather, and Find My iPhone again without trouble. Do you have a favorite app that uses your location? Let us know in the comments below! We'd love to hear from you.