You pull your iPhone out of your pocket and see three missed calls from Grandma. You're sure you had it set to vibrate, but you couldn't feel the buzz! Uh-oh—your iPhone stopped vibrating. In this article, I'll show you how to fix an iPhone that doesn't vibrate and what to do if the vibration motor is broken.
First Things First: Test Your iPhone's Vibration Motor
Before we begin, let's see if your iPhone's vibration motor is turned on. Flip your iPhone's Silent / Ring switch back and forth (the switch is above the volume buttons on the left side of your iPhone), and you'll feel a buzz if "Vibrate on Ring" or "Vibrate on Silent" is turned on in Settings. (See the next section for details about how the switch works.) If you don't feel your iPhone vibrate, it doesn't mean the vibration motor is broken—it means we need to take a look inside Settings.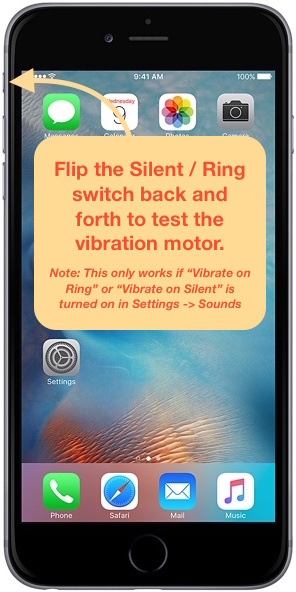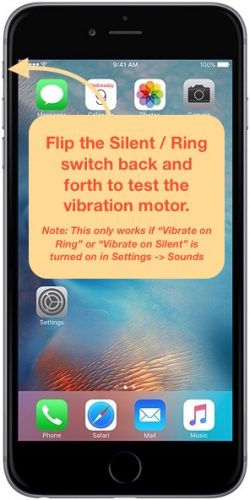 How The Silent / Ring Switch Works With The Vibration Motor
If "Vibrate on Ring" is turned on in Settings, your iPhone will vibrate when you pull the Silent / Ring switch toward the front of your iPhone.
If "Vibrate on Silent" is turned on, your iPhone will vibrate when you push the switch toward the back of your iPhone.
If both are turned off, your iPhone won't vibrate when you flip the switch.
When Your iPhone Won't Vibrate In Silent Mode
A common problem that iPhone users face is that their iPhone doesn't vibrate in silent mode. Other people's iPhones won't vibrate when the ringer is turned on. Fortunately, both of these issues are usually easy to fix inside Settings.
How To Enable Vibrate on Silent / Ring
Open Settings.
Tap Sounds & Haptics.
The two settings we're going to look at are Vibrate on Ring and Vibrate on Silent. The Vibrate on Silent setting will allow your iPhone to vibrate when in silent mode, and Vibrate on Ring setting enables your phone to`ring and vibrate at the same time. Tap the switch on the right-hand side of either setting to turn it on.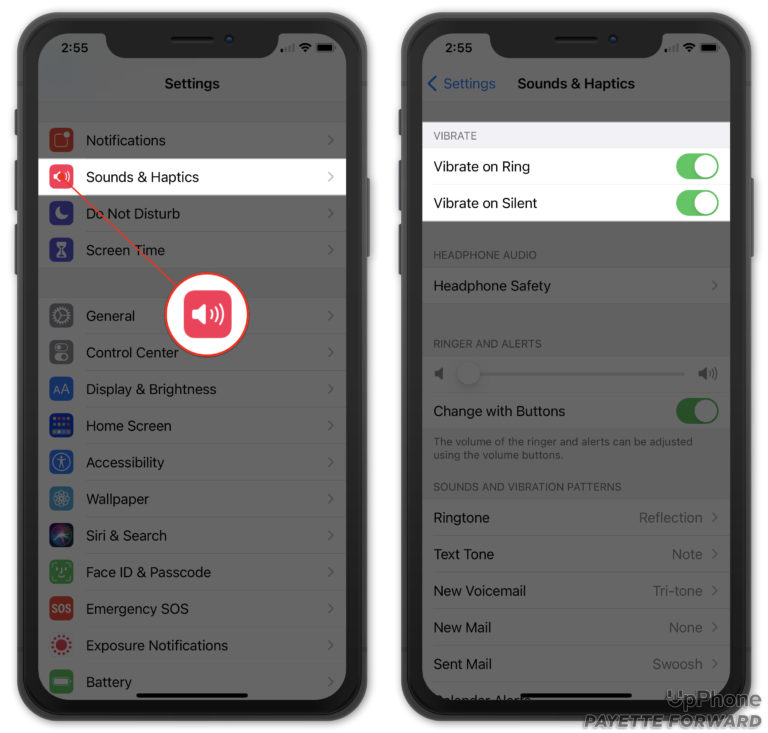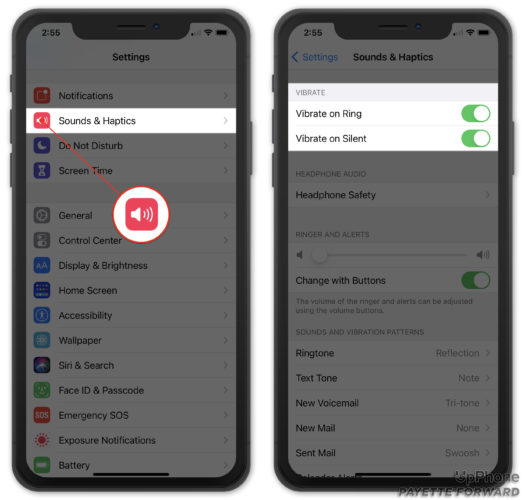 Take Off Any Magnetic Case Or Wallet Cover
We've received a few comments from people saying they fixed the vibration problem on their iPhone by removing their magnetic wallet cover. A magnet can sometimes interfere with an iPhone's vibration motor. Try removing any accessories and taking your iPhone out of its case.
Does your iPhone vibrate now? If not, follow the steps below to fix the problem.
Other Software Troubleshooting Steps
Turn On Vibration In Accessibility Settings
If Vibration is turned off in Accessibility settings, your iPhone won't vibrate even if the vibration motor is fully functional. Go to Settings -> Accessibility -> Touch and make sure the switch next to Vibration is turned on. You'll know the switch is on when it's green.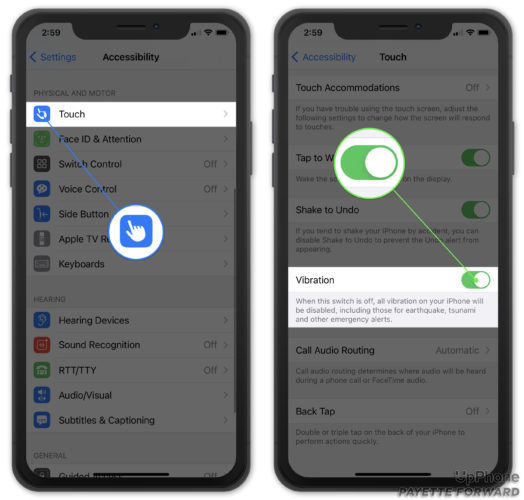 Make Sure You've Selected A Vibration Pattern
It's possible that your iPhone doesn't vibrate because you've set your vibration pattern to None. Open Settings and tap Sounds & Haptics -> Ringtone and tap Vibration at the top of the screen. Make sure there's a check mark next to anything other than None!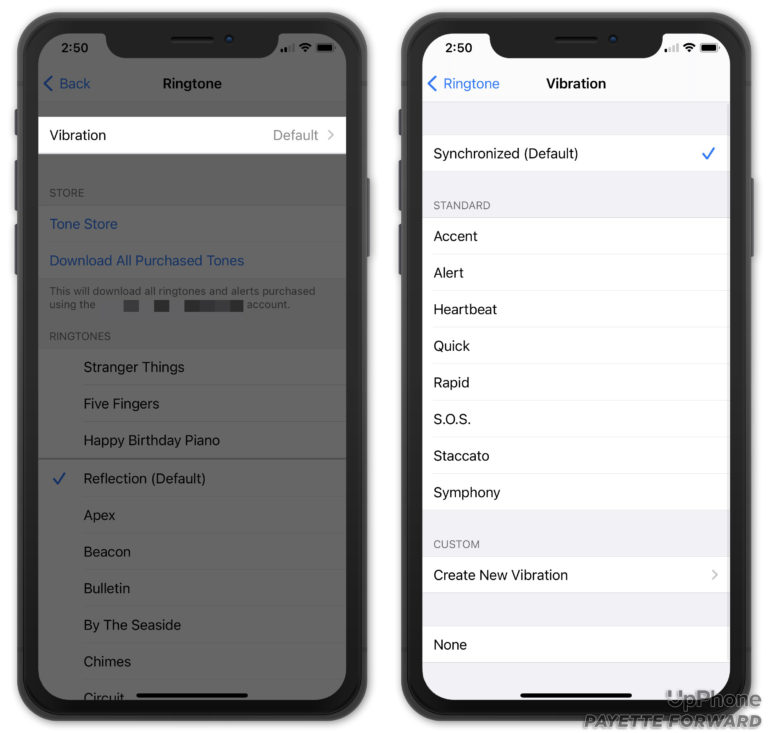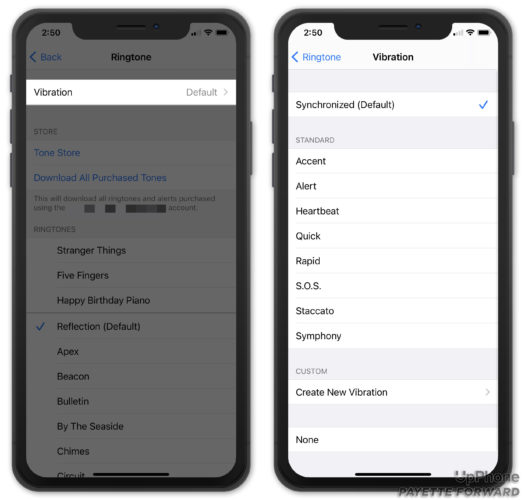 My iPhone Doesn't Vibrate At All!
If your iPhone isn't vibrating at all, there may be a software problem with your iPhone. One way to fix this is to reset your iPhone's settings. Doing this won't erase any content from your device, but it will return all the iPhone's settings (including vibration) to factory defaults. I strongly recommend backing up your iPhone with iTunes or to iCloud before starting this process.
How To Reset All Settings
Open Settings.
Tap General.
Tap Transfer Or Reset iPhone.
Scroll to the bottom of the menu and tap Reset.
Tap Reset All Settings and confirm that you'd like to proceed. You'll need to enter your passcode if you have one. After you do and your iPhone restarts, test your iPhone to see if it vibrates. If it doesn't, read on.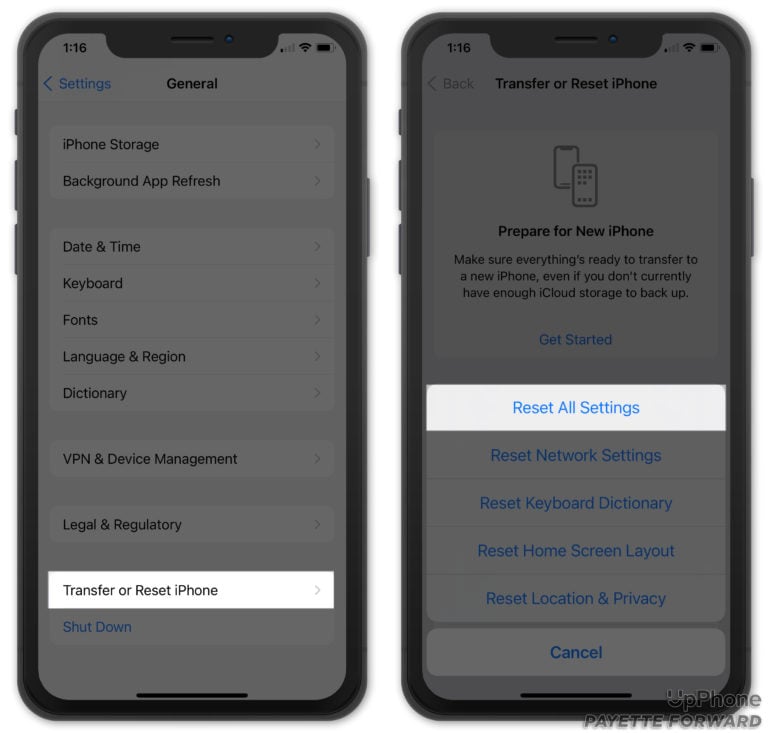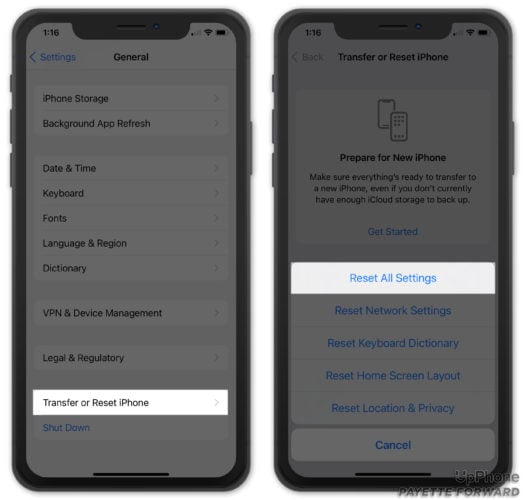 DFU Restore
If you've tried all of the previous steps and your iPhone doesn't vibrate, it's time to backup your iPhone and follow our tutorial on how to DFU restore your iPhone. A DFU restore erases all the content and settings from your device and is the end-all-be-all for fixing iPhone software issues. This is different from a standard iTunes restore as it wipes both the software and hardware settings from your device.
My iPhone Still Doesn't Vibrate
If your iPhone still doesn't vibrate after a DFU restore, you're probably experiencing a hardware issue. Generally this means that the vibration motor in your iPhone has died and needs replacement. This is a very involved process, so we don't recommend that you attempt this repair at home.
Make A Stop At The Apple Store
Make a Genius Bar appointment at your local Apple Store. Be sure to make a full backup of your device before heading to your appointment, because if your iPhone needs to be replaced, you'll need a backup of your data to put on your new iPhone. Apple also has a great mail-in service if you don't live near an Apple Store.
Buzz Buzz! Buzz Buzz! Let's Wrap It Up.
And there you have it: Your iPhone is buzzing again and your know what to do when your iPhone stops vibrating. You'll always know when Grandma (or your boss) are calling, and that can save everyone a headache. Leave a comment below about which fix worked for you, and if you enjoyed this article, send it to your friends when you hear them ask the age old question, "Why doesn't my iPhone vibrate?"