If you're like me, you use your iPhone to stay connected to the people who matter most to you. Sometimes, that means sharing more than a call or a text – it means sharing your location, too. There are a lot of reasons you may ask yourself, "How can I make my iPhone share my location?" I've been there myself.
Thankfully, there are a few different ways to find and share your location on your iPhone. There's even a handy app that lets you Find My Friends. This guide will help you know what I know. It will walk you through the basics of turning on Location Services and help you share important location information with exactly who you want, when you want to.
How To "Find My iPhone" With Location Services
To share your iPhone location, first your iPhone has to have Location Services turned on. Location Services is software that lets your iPhone see where you are.
This software uses your iPhone's assisted-GPS (A-GPS) system, cellular network connection, Wi-Fi connections, and Bluetooth to figure out where you are. Your iPhone Location Services can pinpoint your location within eight meters (or 26 feet). That's pretty powerful stuff!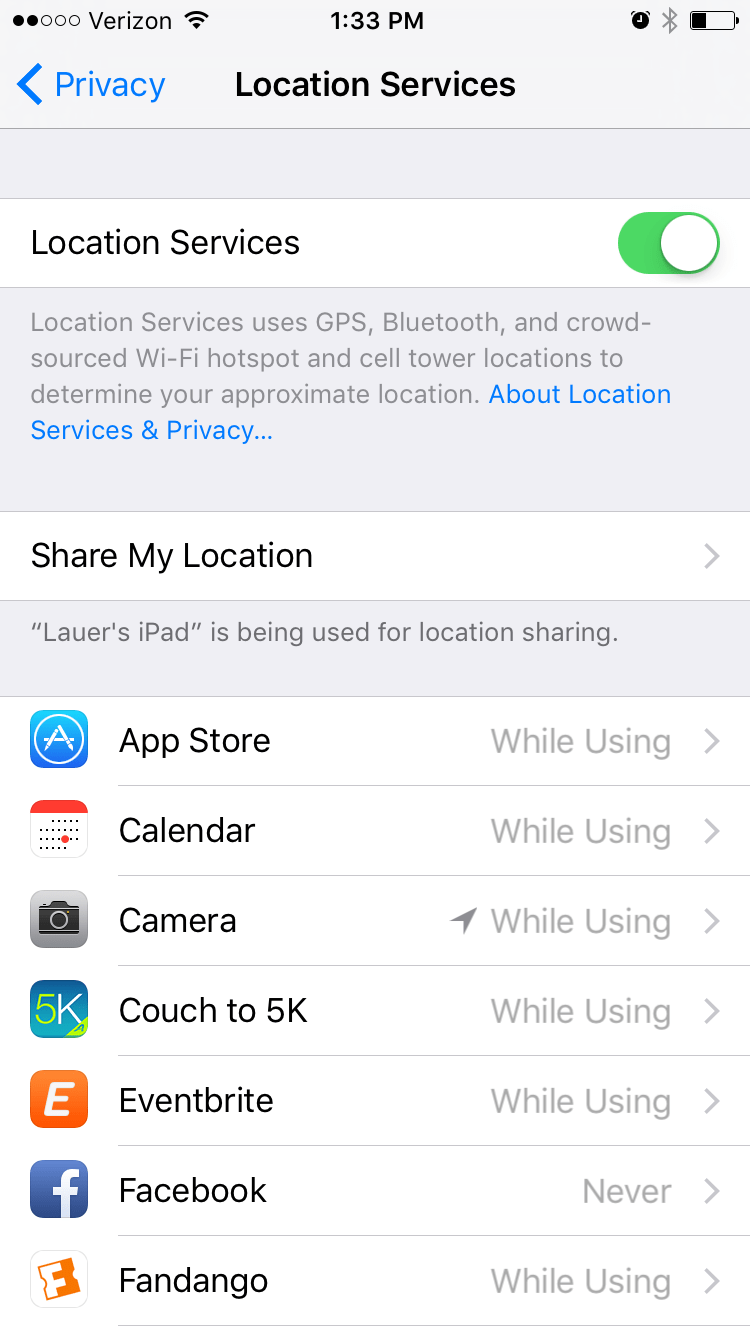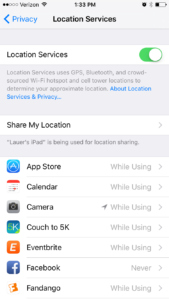 You can turn location services on from your iPhone's Settings menu. Go to Settings -> Privacy -> Location Services. The switch should be green, which means that Location Services is turned on.
To use some of the most popular ways to share your iPhone location, you also need to turn on the Share My Location option. You can get there from the Location Services page. Tap Share My Location and toggle the switch to green. That will let you use fun features like Find My Friends and the messages app location sharing options. More about that in a minute.
Pro tip: Location Services can be a major drain on your battery! Learn more about optimizing your battery usage and Location Services in our article Why Does My iPhone Battery Die So Fast? Here's The Real Fix!
How Can I Let Other People Find My iPhone's Location?
Welcome to the wonderful world of location sharing with your iPhone! While these features are great for keeping in touch with trusted friends, family, and colleagues, do proceed with caution. You may not always want someone to know where you are. Fortunately, there are ways to control who you share your iPhone location with.
Share My iPhone Location With Messages App
Using the messages app is a really easy way to share your location on your iPhone. To use it:
Open a text conversation with the person you want to send your location to.
Select Details in the upper right-hand corner of the window.
Choose Send My Current Location to automatically message someone a link to a map with your current location.
OR
Choose Share My Location to make your location available to the person. You can choose to do that for an hour, the rest of the day, or forever. The person will get a message that tells them they can see your location and asks them if they want to share theirs with you, too.
Share My iPhone Location With Find My Friends
Another simple way to share your location with your iPhone is using Find My Friends. This is also a great way to find your iPhone location. Just launch the Find My Friends app. The screen will show you a map of where your iPhone is right now. Anyone in the area who is sharing their location with you will also appear on the app.
To share your iPhone location, click Add in the upper right-hand corner and search your contacts for the person you want to send your location to.
This screen also works for nearby people who are using Airdrop. As always, be careful when you share your location with someone. Don't send it to a stranger.
Share My iPhone Location With Maps
The Maps app lets you share your iPhone location a lot of different ways, including through email, Facebook Messenger, and text. To use this:
Open Maps.
Tap the arrow in the bottom left-hand corner to find your current location.
Tap on Current Location. This will show you the address.
Choose the icon in the top right-hand corner, then select the app you want to use to share your location.
Ready To Share Your iPhone Location?
I hope this article helps you out the next time you want to share your iPhone location. Maybe you're stranded on the side of the road while out and trying to meet up with friends, or traveling and need help getting to a certain spot. Either way, getting in touch and sharing location information doesn't have to be hard.
Find My Friends, the messages app, Maps, and even trusted third-party apps like Family Locator or Glympse are all solid options when you want to share your location on your iPhone. What do you use? Let us know in the comments! We'd love to hear from you.