Android phones are powerful machines, but sometimes they don't work like we expect. We certainly don't expect an expensive phone to die in the middle of the day, which leads us to the ultimate question: "why does my Android battery die so fast?" In what follows, I'll explain everything you need to know to get your Android battery life to last as long as it can.
Android Phones Aren't As Optimized As iPhones
As an Android user myself, I have to admit one simple fact: Android phones just aren't as optimized as Apple's iPhones. This means that your battery drain can be very inconsistent from one app to another. Apple gets around this by being the engineer of both the software and hardware in their phones, so they can ensure that all apps are as battery efficient as possible.
With Android, things aren't so simple. There are many different manufacturers like Samsung, LG, Motorola, Google, and more. They all have their own special software skins over Android, and apps are designed to work on all of these different devices with different specifications.
Does this make Android phones worse than iPhones? Not necessarily. That flexibility is a great strength of Android, and generally Android phones have higher specs than iPhones in order to outweigh the downsides of less optimization.
Choose Your Preferred Network Type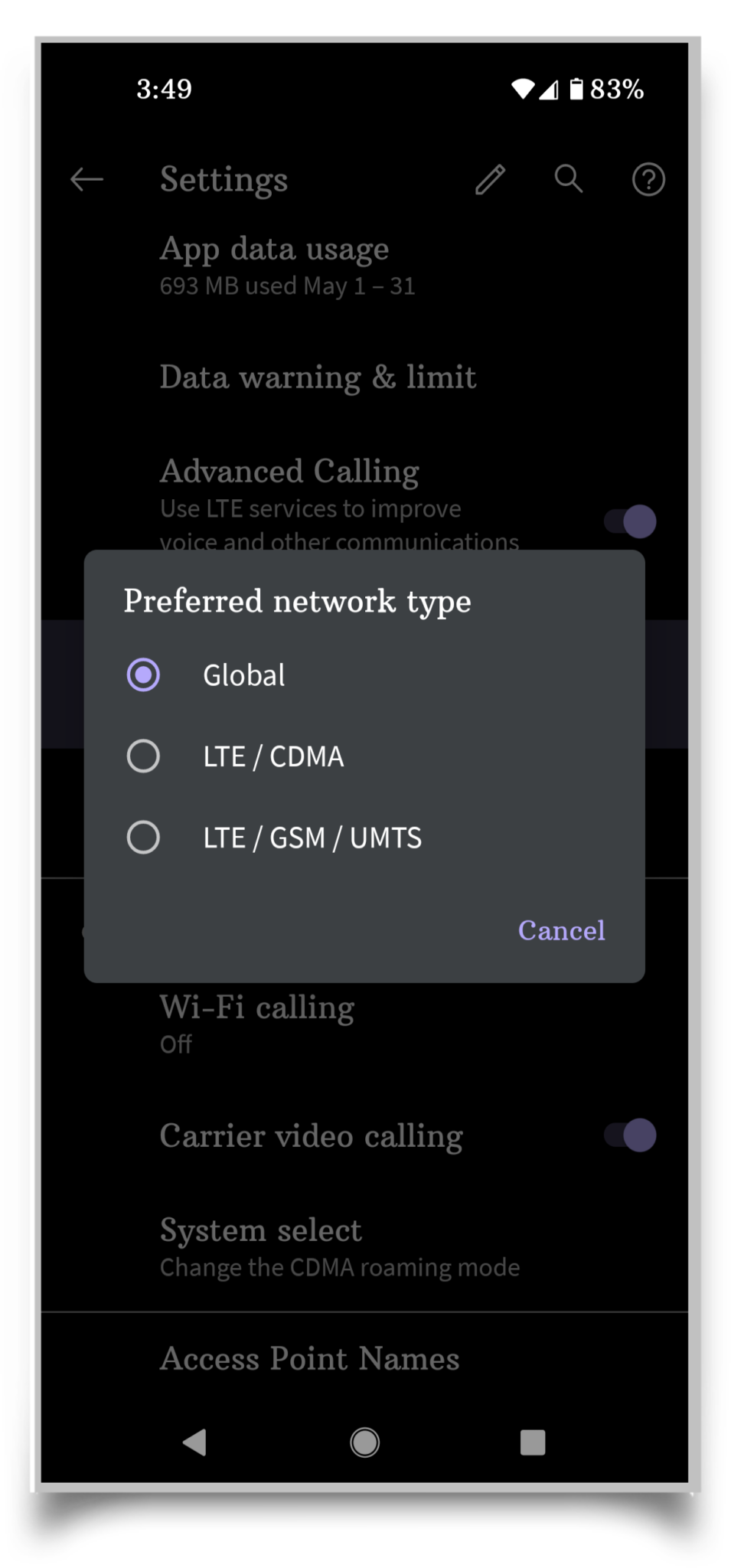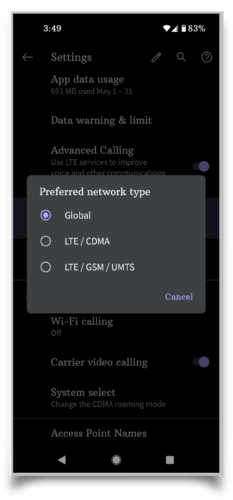 Many new Android phones these days have 5G connectivity. However, 5G isn't quite as 'built out' as 4G LTE and 3G. If you have spotty 5G connectivity in your area, it may be a good idea to switch your Android phone's preferred network type to 4G instead of 5G. This can help you save some much needed battery life.
Not every phone has this feature. If you have a Pixel 5, this should work for you. To get this set up, head over to Settings -> Network & Internet -> Preferred network type. Choose the network that you would like to set as your default and you'll be all set to start saving battery.
This screen may look different depending on your carrier as well. Some carriers will let you choose 5G, 3G, etc. However, other carriers will let you pick LTE / CDMA, LTE / GSM / UMTS, and Global. You may want to choose LTE / CDMA if you are looking to choose 4G over 5G.
Some Apps Drain Battery More Than Others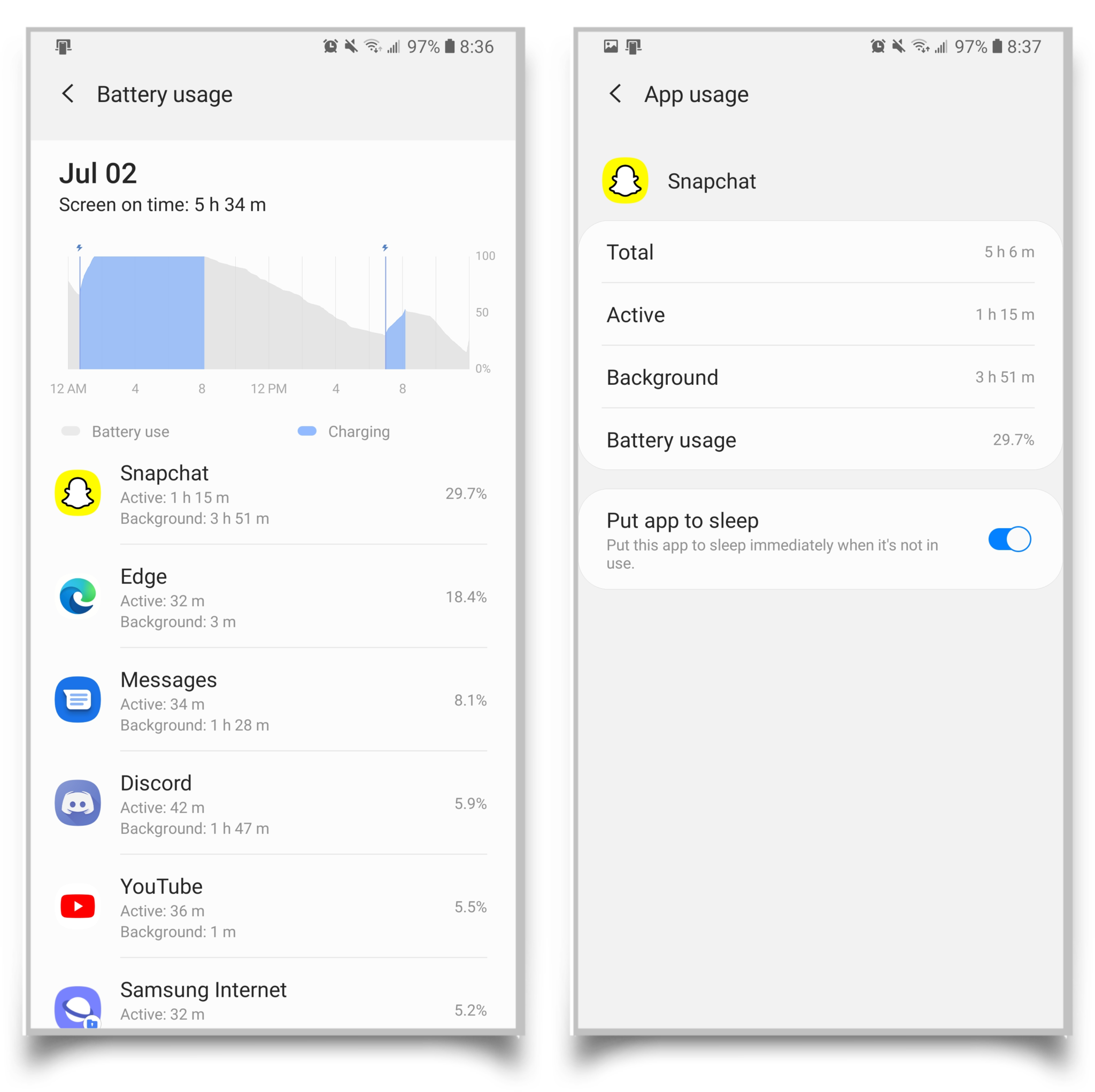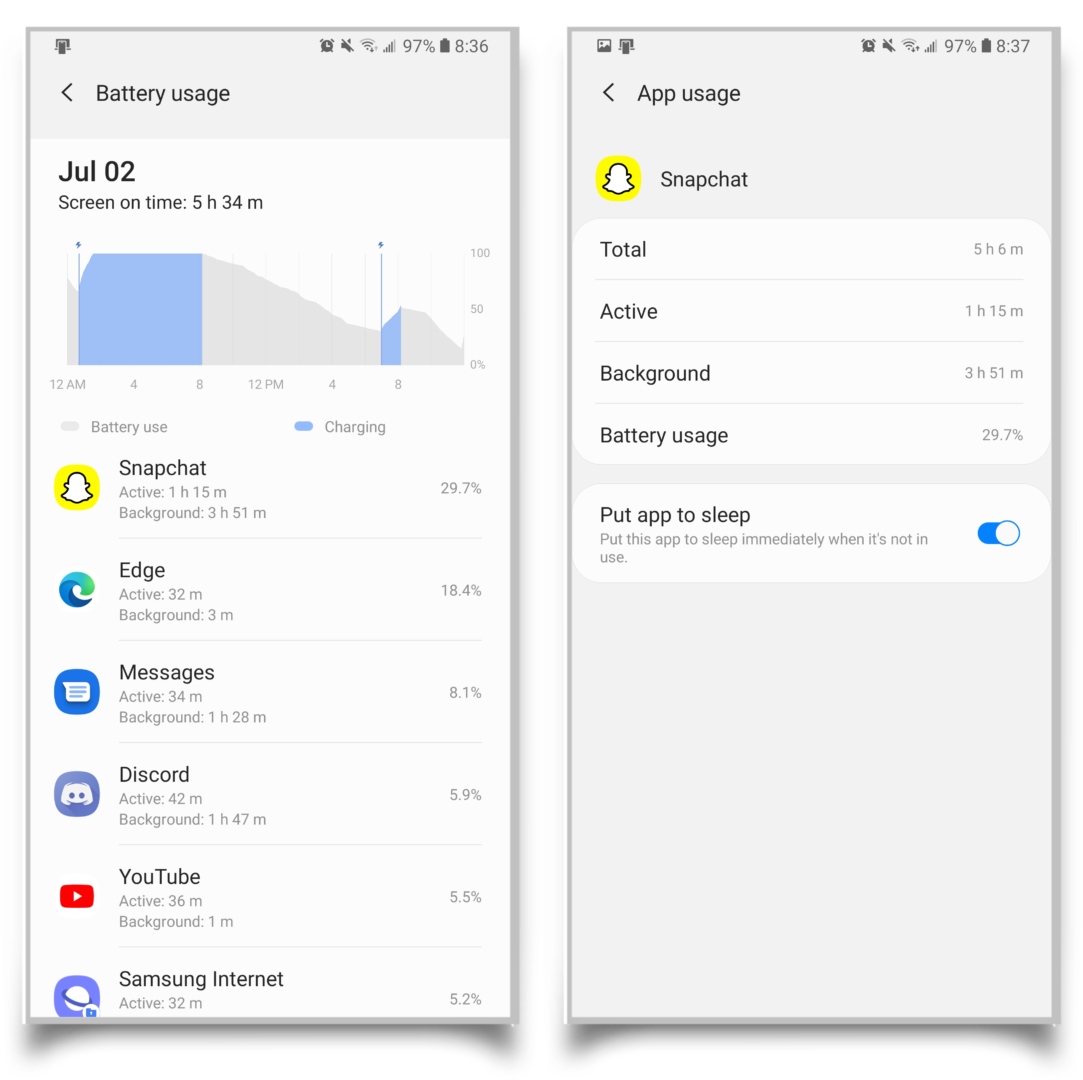 The flexibility of Android apps means that they can be a jack of all trades, but master of none. The best Android apps for battery life tend to be the ones made by the phone's developers. For example, a Samsung app will be much more optimized on a Samsung phone than on a Google Pixel.
Aside from the optimization issues, some apps just tend to drain more battery than others. YouTube, Facebook, and mobile games are common culprits. Just think about what they're doing: YouTube brightens your screen and keeps the display on for long periods of time, Facebook checks for updates in the background, and mobile games require more processing power to display 3D graphics.
Being mindful of your usage is the first step to figuring out strategies to make your Android phone last longer. Simply using these apps a little less can be a life saver for your battery.
Is Your Phone Old? The Battery Might Be Going Bad
Smartphones, as of right now, use lithium ion batteries. Over time, these batteries degrade thanks to annoying buildups of structures called dendrites in the battery, and the materials also wear down.
If you're using a phone that's several years old, it may be time for a new battery. However, it might be more worth it for you to just get a new phone. Newer phones have much higher battery capacities than phones from a few years ago, as you can see in the following table.
Close Out Of Apps When You're Not Using Them
Most of the best life-saving strategies for your Android phone's battery life are good habits, and the most important habit of all is to close out of apps when you aren't using them. Some people argue that this isn't a good idea, but that's just plain wrong. Closing out of all your apps when you aren't using them prevents the apps from using power by running in the background.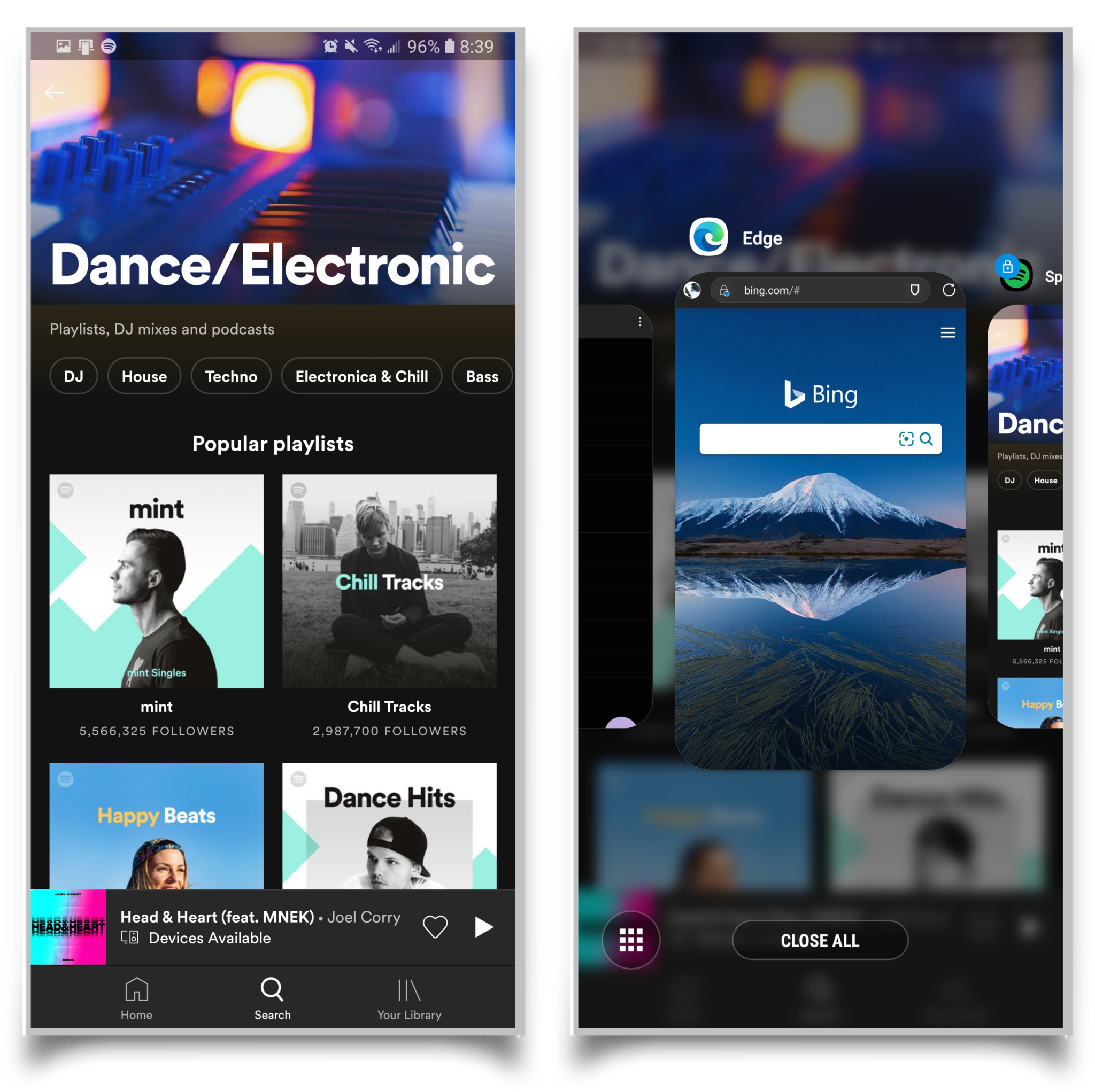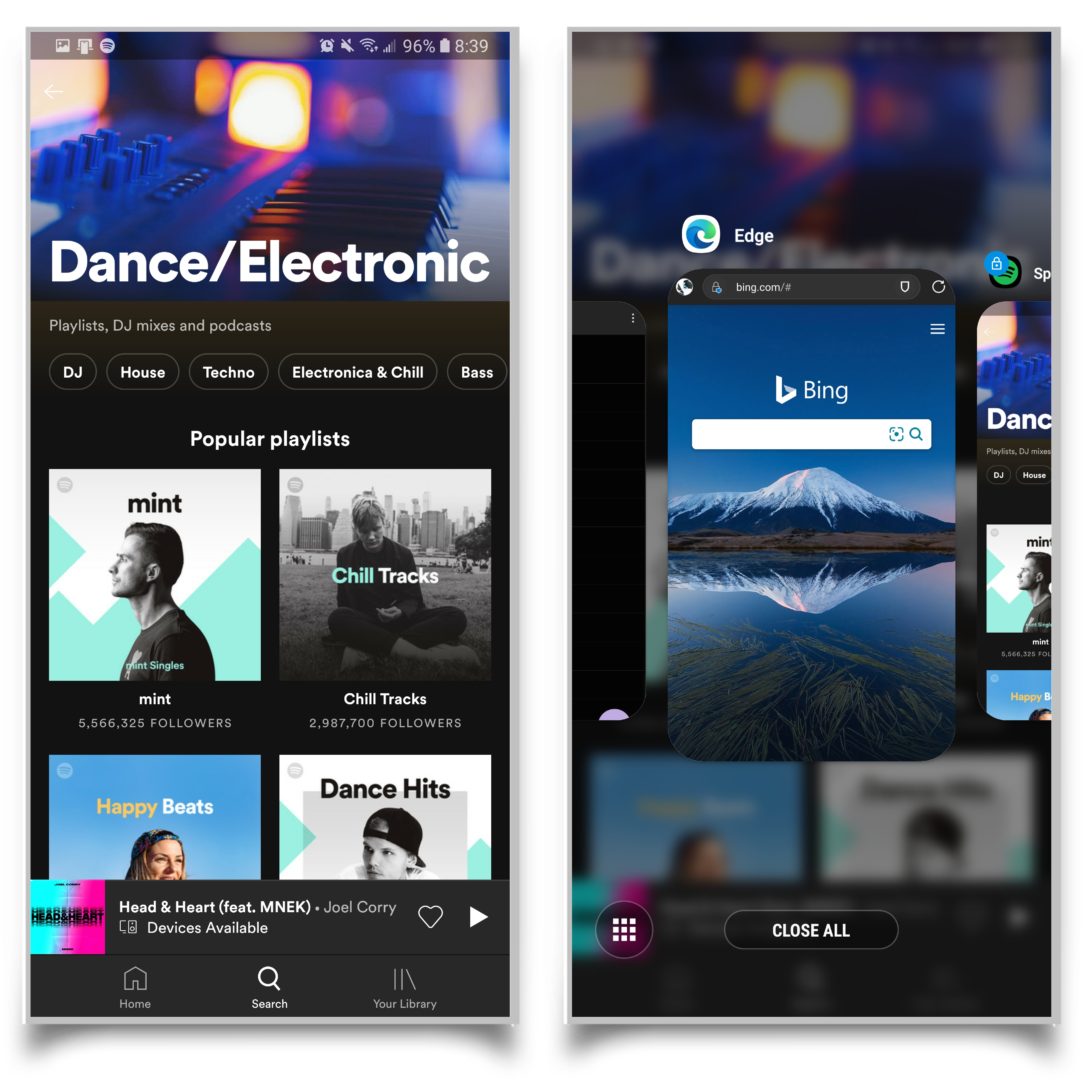 All you need to do is tap the task button at the bottom of your screen, usually on the lower right (on Samsung phones it's on the left). Then, tap Close all. You can lock apps you don't want to close by tapping on their icons in the list and tapping lock.
Android Battery Saving Mode
This varies from brand to brand, but most Android phones have a battery life-saving power saving mode that you can take advantage of to save power. This does a few things such as,
Limits the maximum speed of the phone's processor.
Reduces maximum display brightness.
Reduces screen time-out limit.
Restricts the background usage of apps.
Some phones, like Samsung Galaxy phones, can go all the way up to a maximum power saving mode which pretty much turns the phone into well…a normal phone. Your home screen gets a black wallpaper and the number of apps you can use gets restricted. In some cases, this mode can allow your phone to last days or even a week on a single charge, but you sacrifice all those great smartphone features to do so.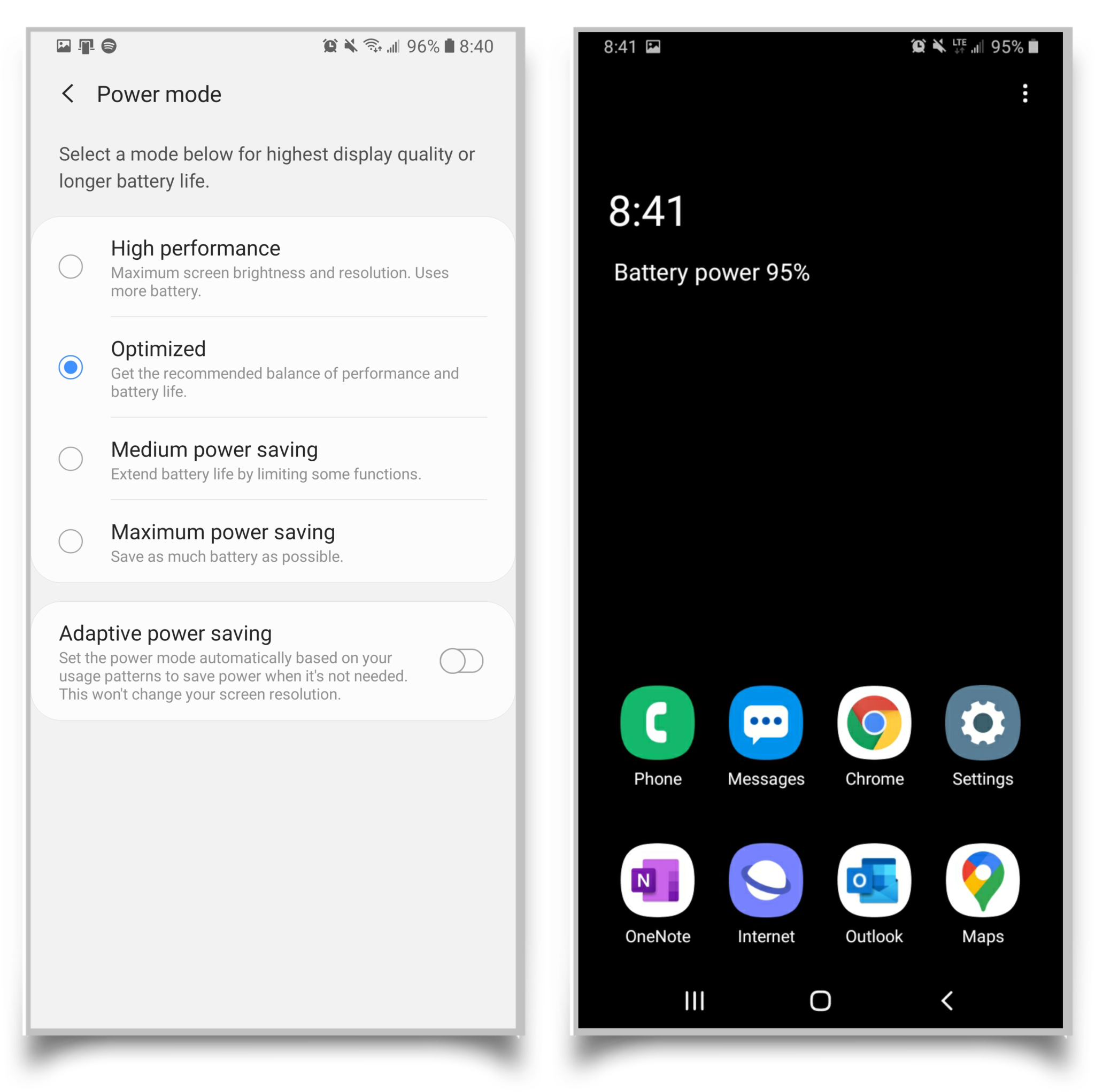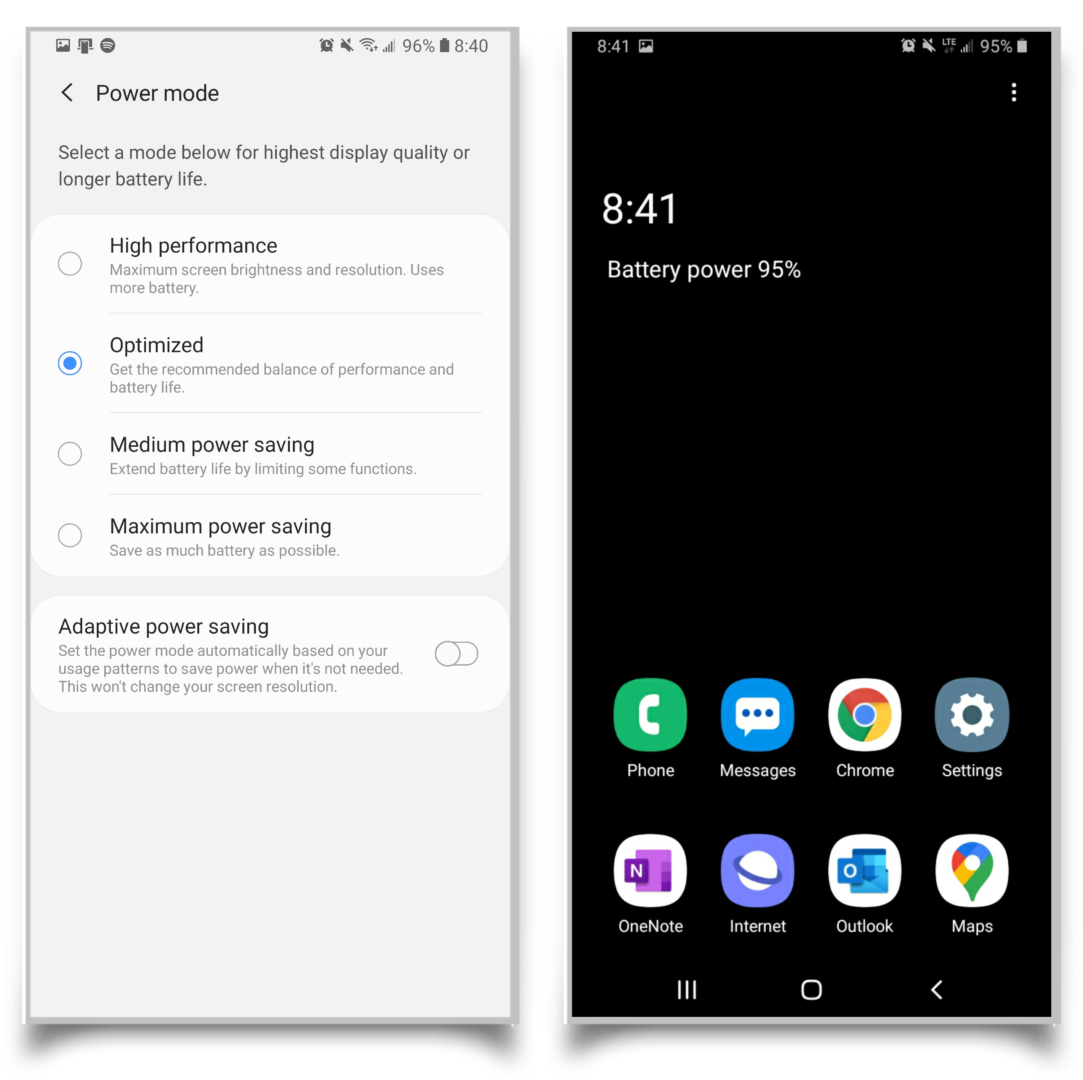 Reduce Screen Timeout
In your display settings you can configure the amount of time that it takes your phone's screen to time out. This will reduce the amount of time that your phone's screen is turned on while you're not using it and can help you save power. You can change this in Settings -> Display -> Screen timeout.
Dark Mode! Optimize For OLED
Samsung's maximum power saving mode turns your home screen black, but why? Most smartphones these days use OLED or AMOLED display technology. The basic concept is that individual pixels on your screen that are completely black turn off and don't use any power, so black backgrounds use less energy than white.
Dark mode is a feature of many apps and newer versions of Android that's intended to be easier on your eyes and more importantly be a battery life-saving feature. Your phone's display drains more battery than any other part of the device, so reducing the energy used by the screen is a must!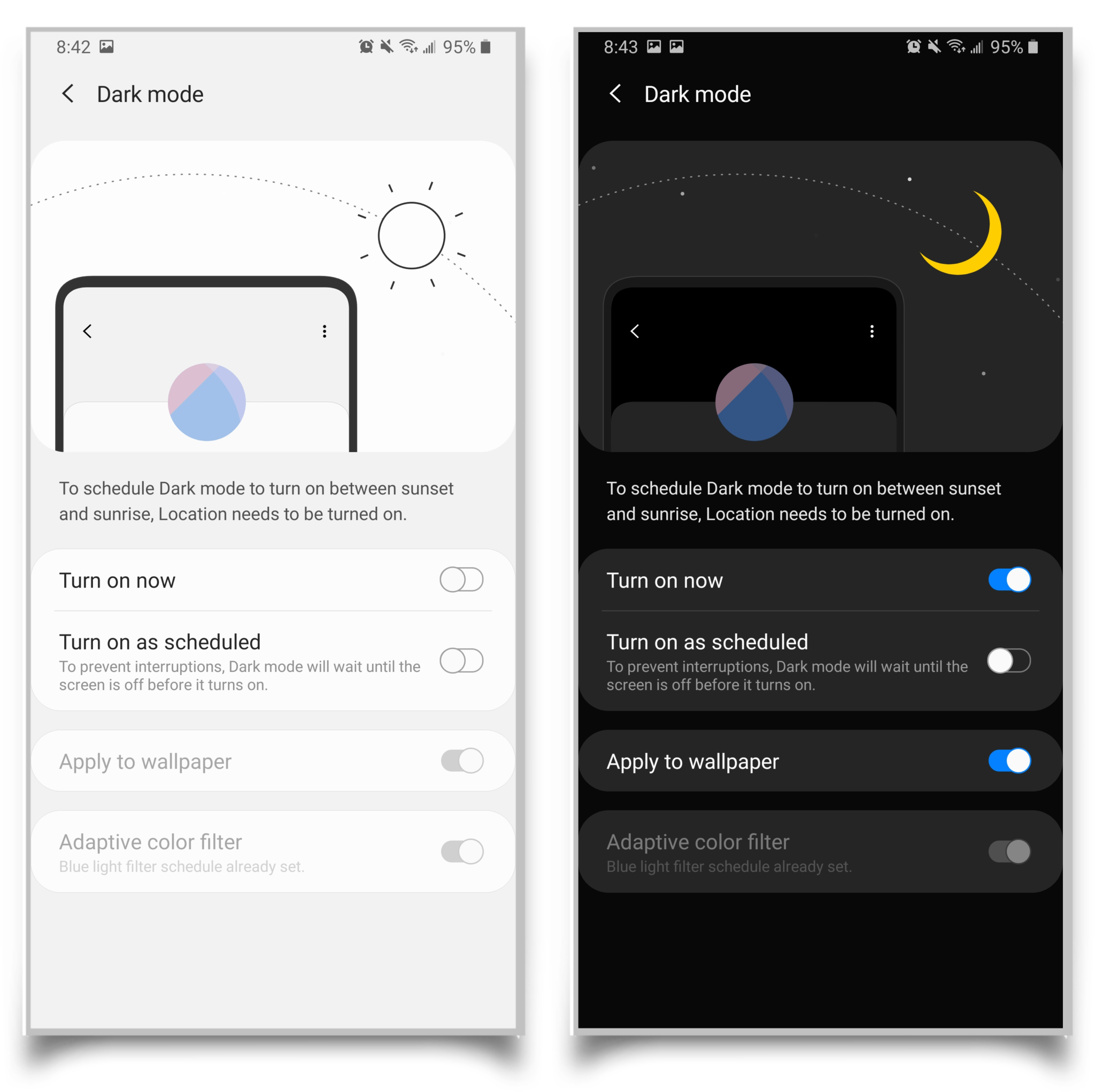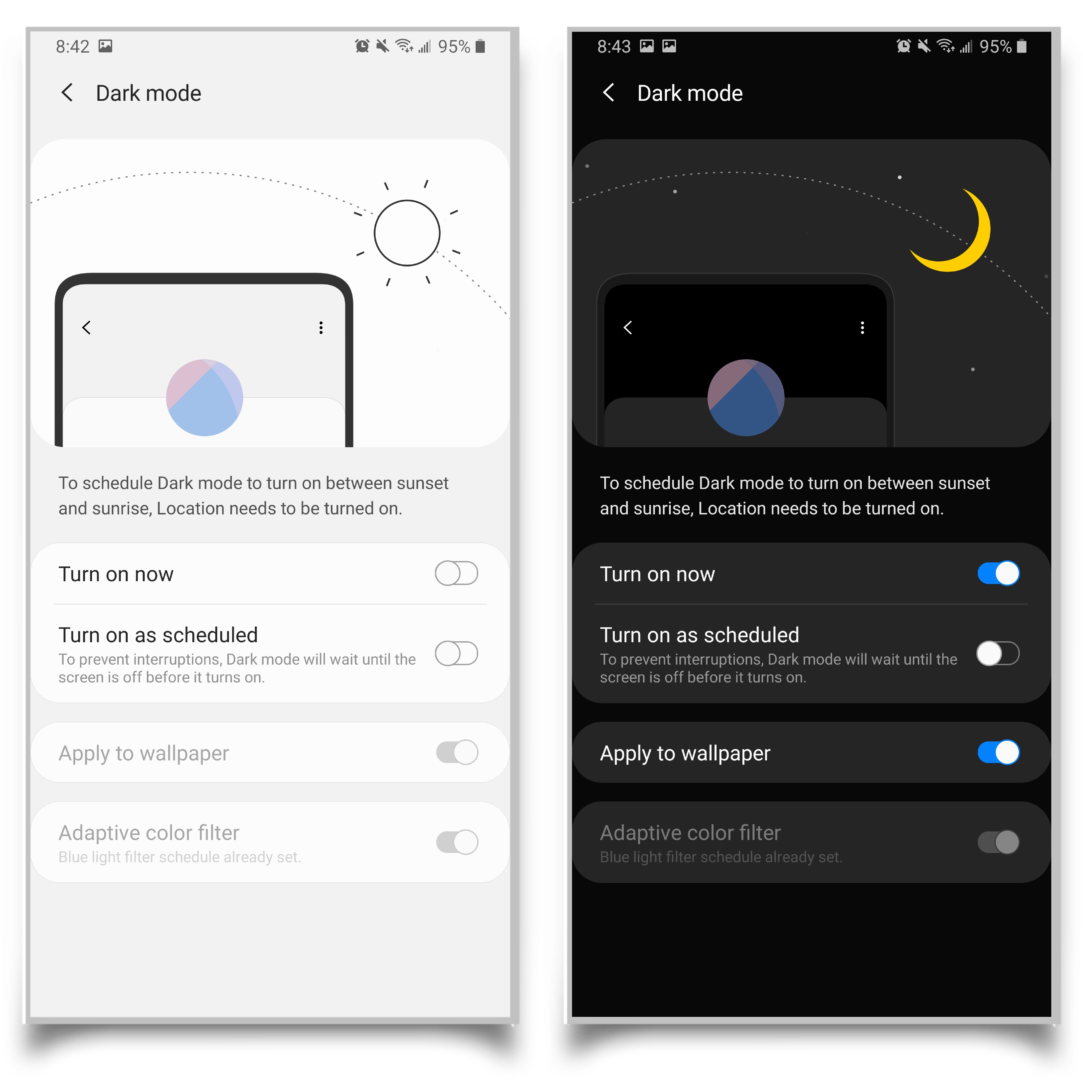 Switch to a dark background and turn on dark mode in your app settings! I guarantee you will see positive results for your battery. Unfortunately, this trick doesn't work for older LCD-display phones.
Set Motion Smoothness To Standard
If you have a newer Android smartphone, you may have a 120 Hz refresh rate by default. This means that your screen 'refreshes' 120 times a second. This is much more often than a traditional smartphone which refreshes its screen 60 times a second (60 Hz). This looks great and is really fun to use but it can be a drain on your battery.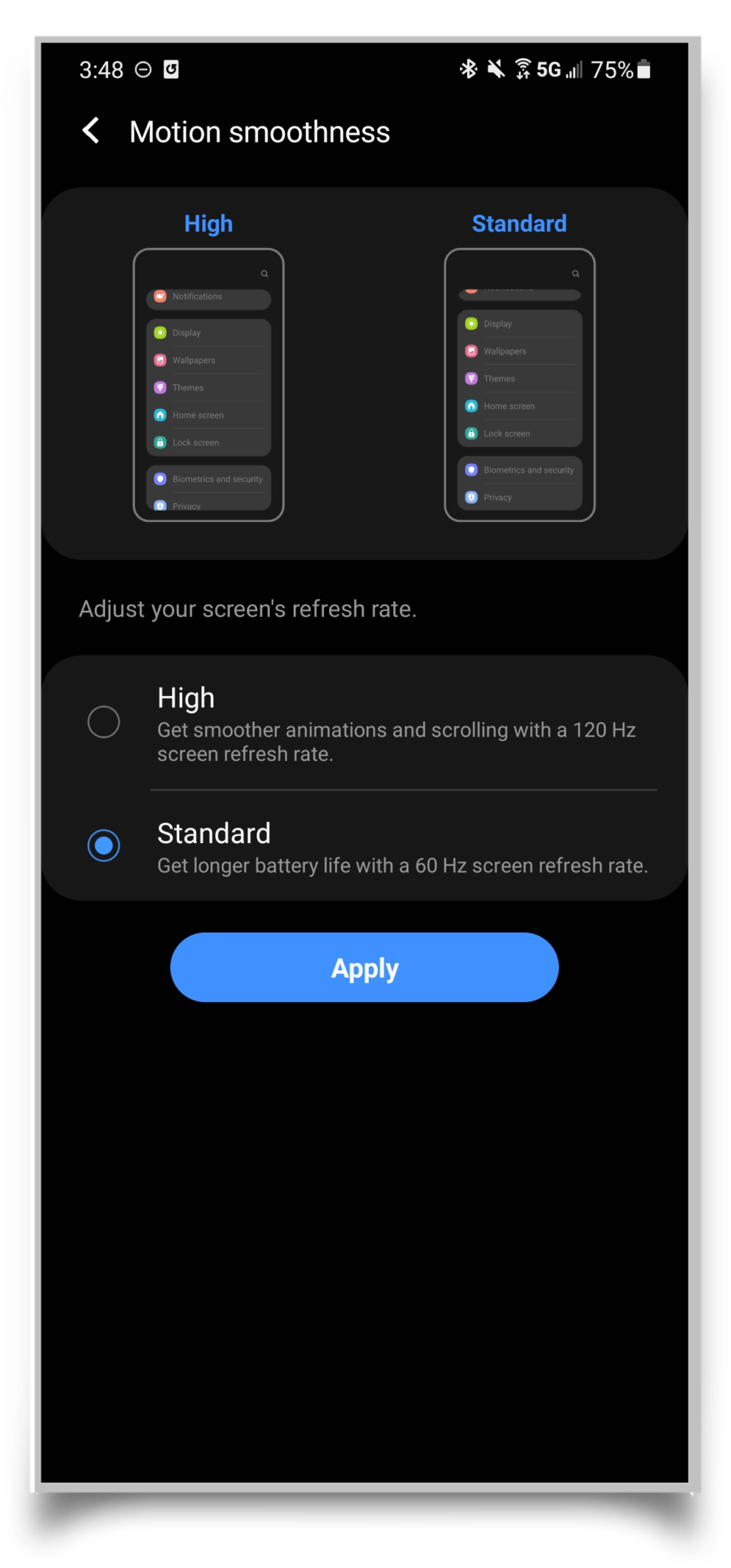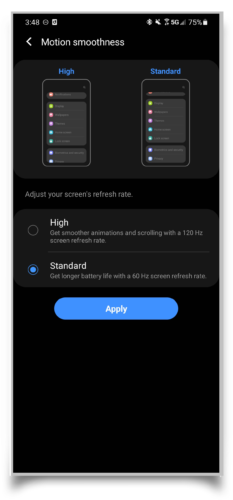 To turn it off, head over to Settings -> Motion smoothness and then select Standard to start saving battery life.
Take Control Of App Permissions
Some apps try to hoard your microphone or camera in the background. For example, Google Assistant or Bixby voice assistants will constantly use your microphone sometimes to look for a wake word. You can turn off the ability for these apps to listen for the wake word, but you can take it a step further and restrict their permissions at the system level.
To do that, head into Settings -> Apps and find the app you want to configure. Select Permissions and then configure as needed. For most cases, you can set the microphone permission to only be allowed when using the app. This will maintain the functionality of the app without it taking up battery-draining resources in the background.
Turn Off Enhanced Processing
Some new Android phones, particularly new Samsung devices on Android 11, have a feature called enhanced processing. This forces the processor of the phone to work at its maximum speed so that you can load apps faster. However, by doing so you'll drain your battery faster. This feature has fairly limited usefulness unless you're a power user, so it's better to turn it off.
Turn off enhanced processing by going to Settings -> Battery and device care -> Battery -> More battery settings -> Enhanced processing and tap the switch to turn it off.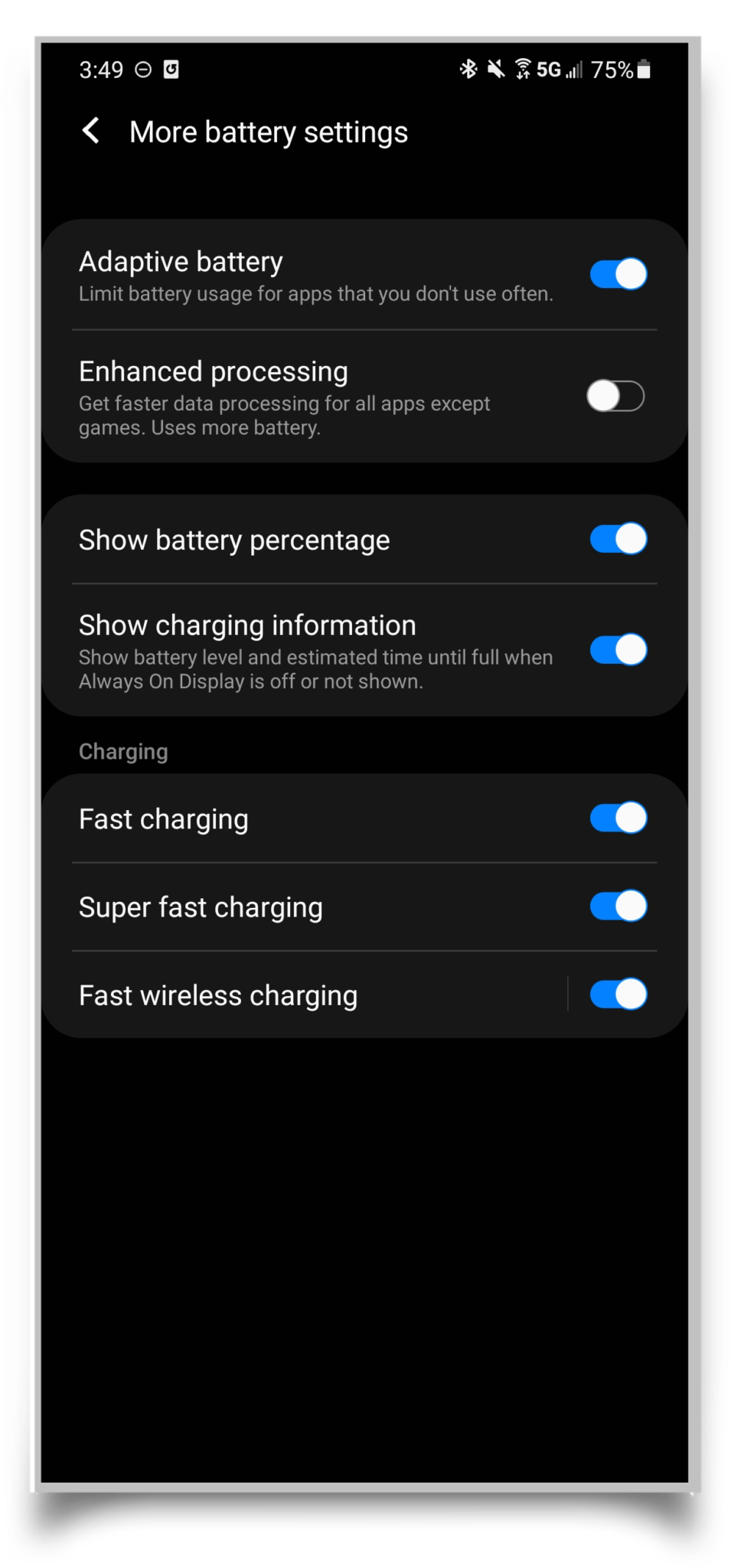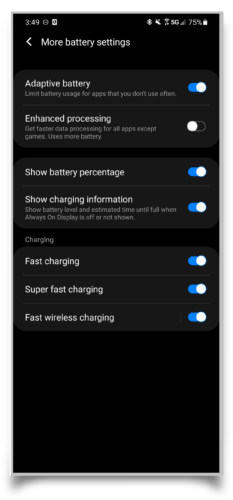 Turn On Adaptive Battery
In the same screen where you turned off enhanced processing you can toggle on adaptive battery. This limits battery usage for apps that you don't use very often.
Turn Down Your Brightness
A bright, vibrant screen is amazing to look at, but it's just not good for your battery at all. Turn down your brightness when you can. Auto-brightness typically gets the job done unless there's something blocking the sensor.
Keep in mind that your phone's screen may brighten when you're outside in the sun. It may not look very bright when you're looking at it outside, but it's actually using way more energy. Be mindful of your usage when you can.
Keep Your Phone Cool
When your phone runs hot, it becomes less efficient. Having it out on a bright summer day with the screen brightness turned all the way up isn't just bad for your battery. It can even melt some of the internal components and break your phone!
Try to keep your phone cool when you can. Be careful when using it outside in very hot weather. That being said, don't try and put your phone in the freezer, as getting too cold can be bad for the battery too!
Turn Connectivity Off When Not In Use
Another battery life-saving trick that you can use is to turn off connectivity features when they aren't in use. For example, if you're out and about and don't need a Wi-Fi connection, turn it off! This will keep the phone from constantly searching for new Wi-Fi networks.
Turn Off Wi-Fi
To turn off Wi-Fi, you'll want to swipe down from the top of your screen and tap the gear to get into your settings. Tap Network settings or Connections and then tap Wi-Fi. From here you can turn Wi-Fi on or off.
On most devices you can also do this by swiping down from the top of the screen and tapping the Wi-Fi button in your quick settings.
Turn Off Bluetooth
If you don't need to connect any Bluetooth accessories, you can just turn this feature off. Turning off Bluetooth is a great battery life-saving strategy. You'll find your Bluetooth settings in your network settings just like with Wi-Fi, or you can tap on it in your quick settings.
Turn Off Mobile Data
If you're not getting very good reception at all, it might be best to just turn off mobile data. When you're having trouble finding service, your phone will constantly search for signal, and this can drain your battery life fast.
Turning it off when you don't need it can be a life-saver for your battery. Head back into your Network settings and toggle it off in the Mobile data menu.
Turn On Airplane Mode
This is an extreme option, but turning off your wireless connectivity completely will definitely save your battery if you really need it. This is great if you don't need to send or receive messages and calls while on a trip while still using your phone for things like watching locally stored videos.
This is also good for airplane mode's intended purpose: preventing interference with airplane communications when you're on a flight.
Progressive Web Apps: Use Websites Instead Of Apps When You Can
In the image below, you'll see two versions of Twitter. One is an app, and one is a website. Can you tell the difference?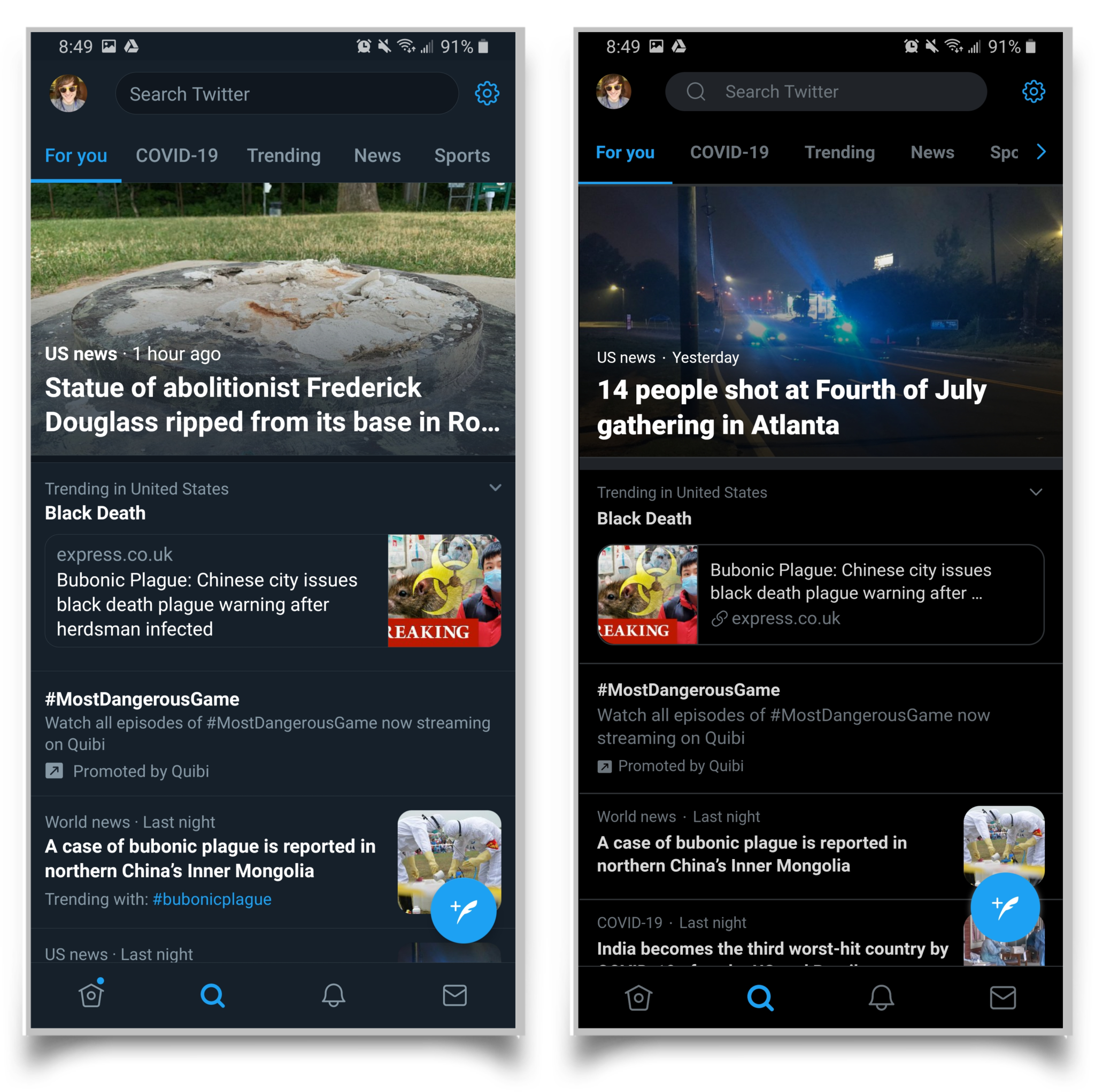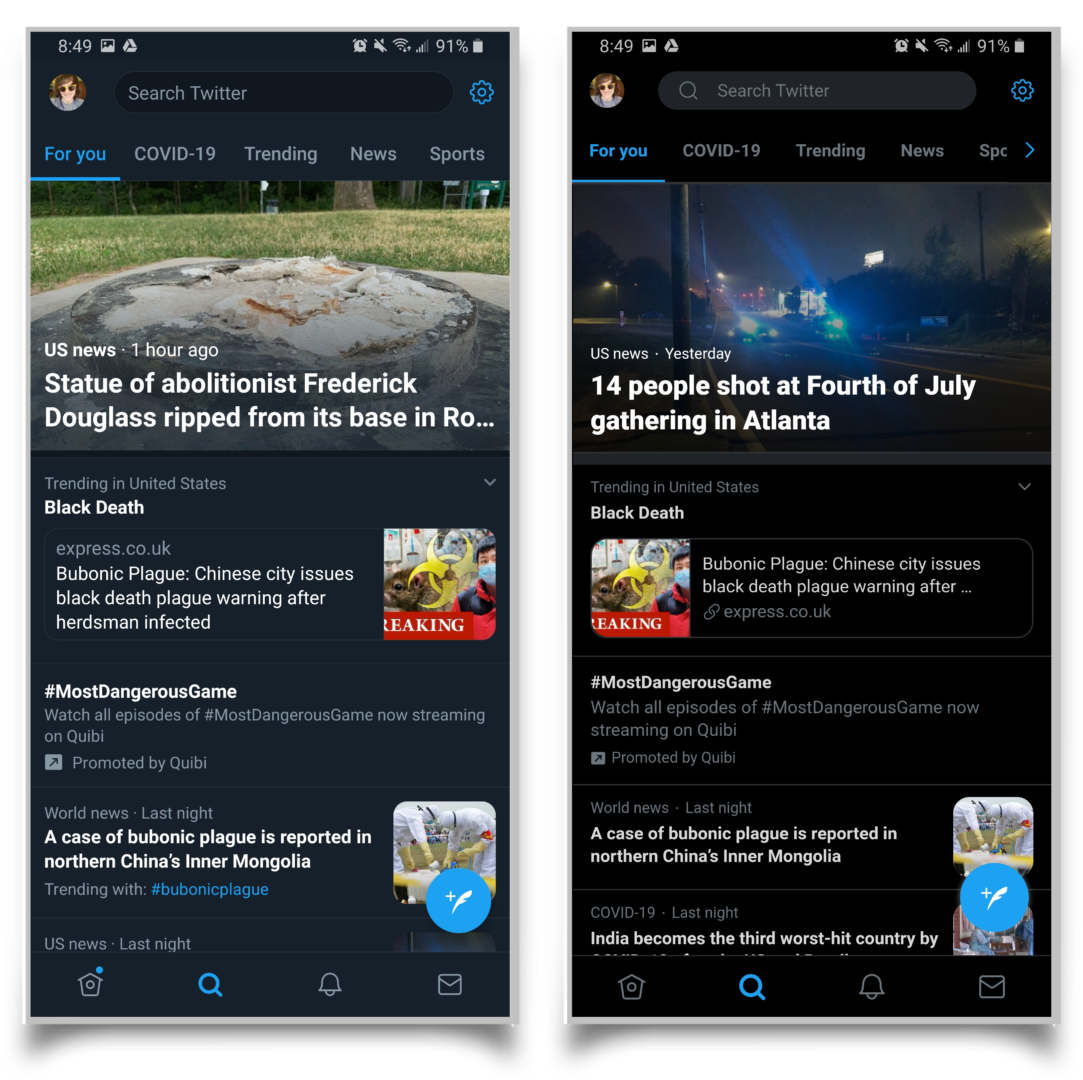 This might seem as extreme as turning on airplane mode, but uninstall Facebook, Twitter and Instagram right now. You don't need them! Their website counterparts work almost exactly the same, and you can even set them up so that they appear and work like the app.
Progressive web apps, or PWAs, are a fancy word for websites that pretend to be apps. They don't take up storage on your device if you add them to your home screen and you won't have to open your browser each time to use them. They also aren't constantly running in the background, so you don't have to worry about them hogging your battery life.
By going into your browser settings while on one of these websites, you can tap Add to home screen to add a shortcut to them. If the website is a PWA like Facebook, Twitter, or Instagram, when you tap on the icon it will hide the browser UI and show the site as if it was the real app.
Adjust Or Turn Off Location Settings And GPS
Location services can be a serious battery drain. Adjusting them to a lower setting or turning GPS off completely can be an amazing battery life-saver. Go ahead and head to your settings and find your location settings.
Your phone uses more than just GPS to pinpoint your location. Your settings might look different depending on your phone, but there should be some options in your location settings about improving your accuracy by using Wi-Fi scanning and even Bluetooth.
If you don't need a super accurate location, then just turn these functions off so that your phone is only using GPS. If you don't need your location at all, you can turn off location services entirely to save your battery.
Turn Off Always On Display
On some phones, while the screen is 'off', the screen will show a dim clock or image. This works without using much battery because of the OLED technology explained earlier in this article. However, it's still using your battery, so turning it off might be best.
You'll likely find your always on display options in your display settings, but it might be elsewhere. Wherever it is, try turning it off as a good battery life-saving strategy when you need it.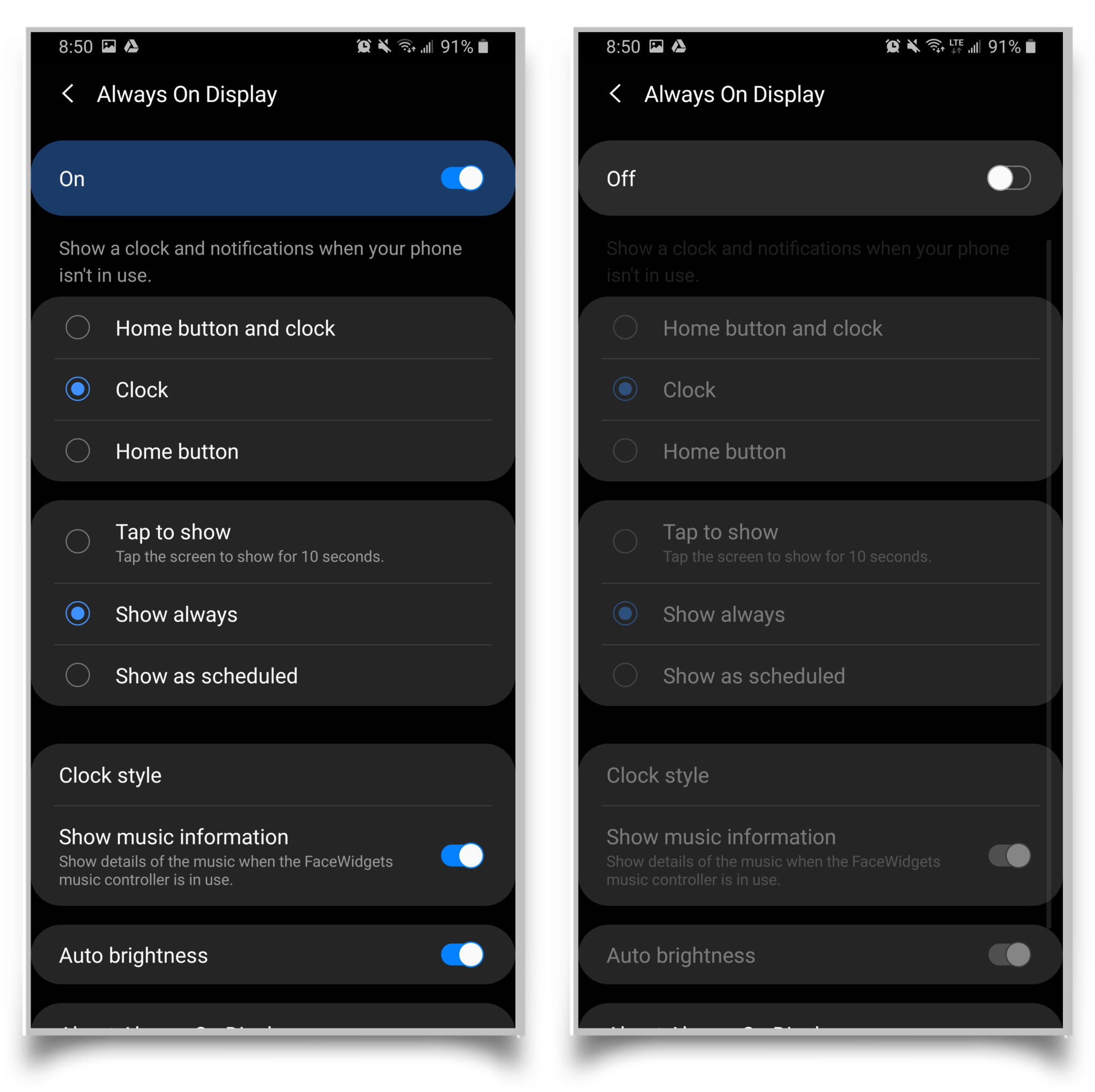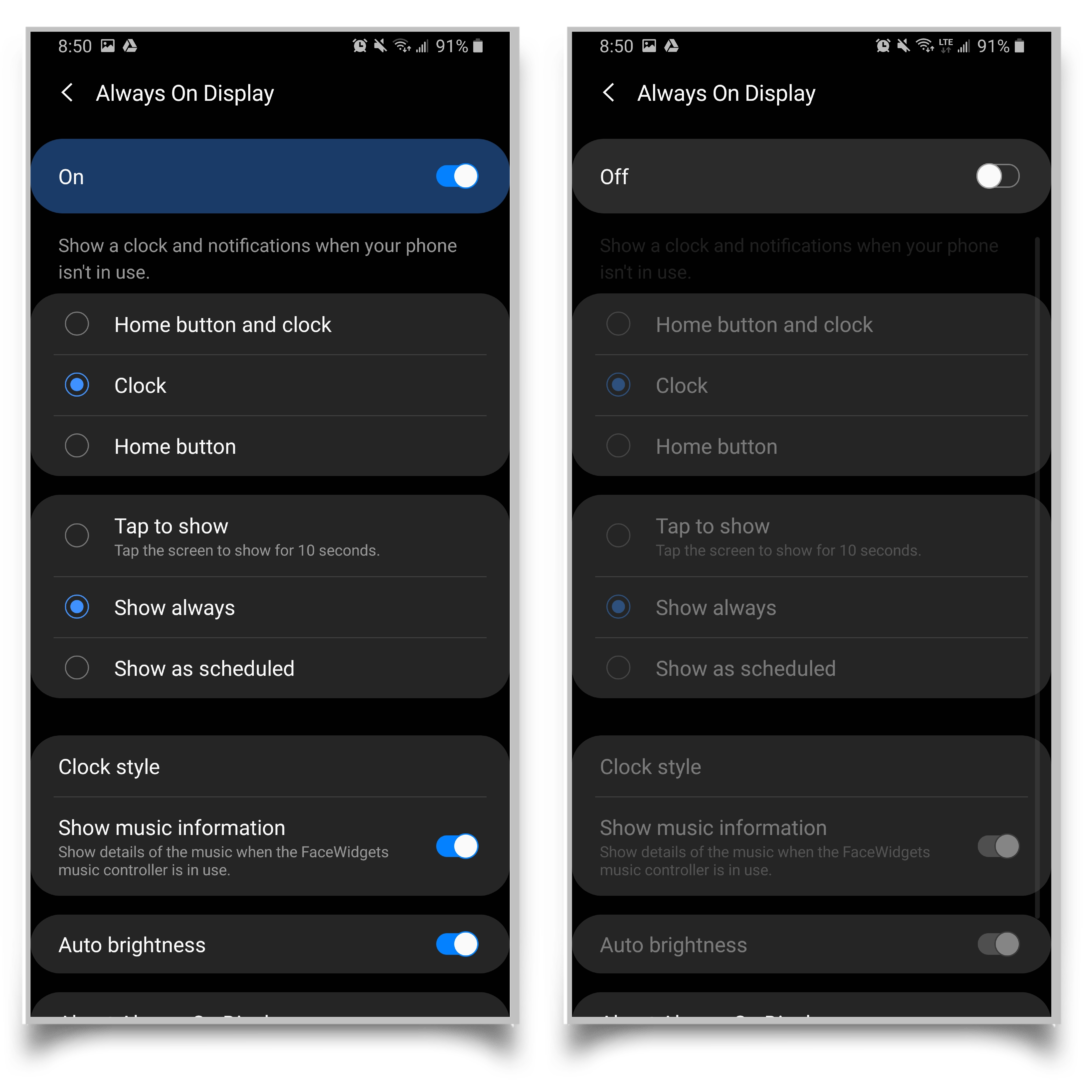 Your Android Battery: Extended!
Now you're ready to get your Android phone's battery to last through the whole day using these life-saving strategies. Even trying just a few of these methods will definitely help improve the life of your phone. Thank you for reading, and if you have any questions about Android batteries, please leave a comment below.