You just updated to iOS 12 and you're exploring all of the new things you can do. One of those new iOS 12 features is the Measure app, an app developed by Apple to help you measure and level things. In this article, I'll explain how iOS 12 can measure things using the iPhone Measure app!
Can iOS 12 Measure Things?
Yes! You can use iOS 12 to measure things thanks to the new Measure app, a built-in app that, well, let's you measure things.
Do I Have To Install The Measure App Before I Can Use It?
No! The Measure app is automatically installed on your iPhone when you update to iOS 12. You'll find the Measure app on the Home screen after your iPhone has been update.
How To Measure Things In iOS 12 Using The Measure App
First, open Measure on your iPhone. Then, you'll be prompted to move your iPhone around so it can get its bearings.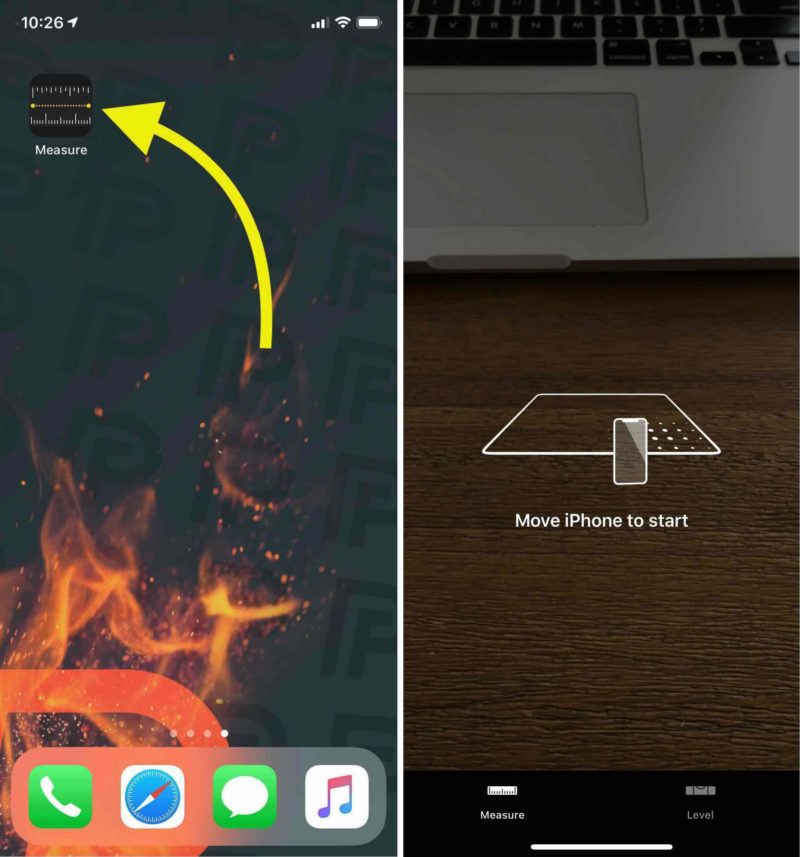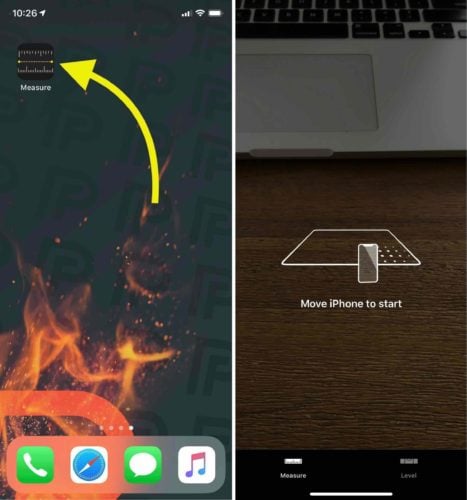 Once you've sufficiently moved your iPhone around, you can begin to measure things! To measure something manually, tap the circular plus button to Add a point. Then, point your camera at the other end of the thing you're trying to measure.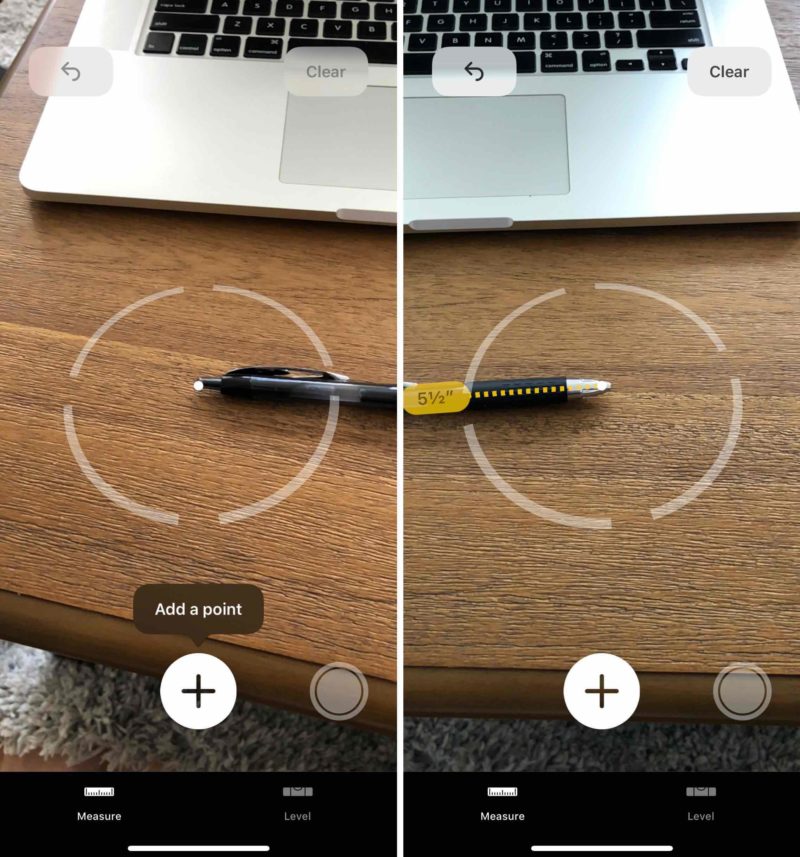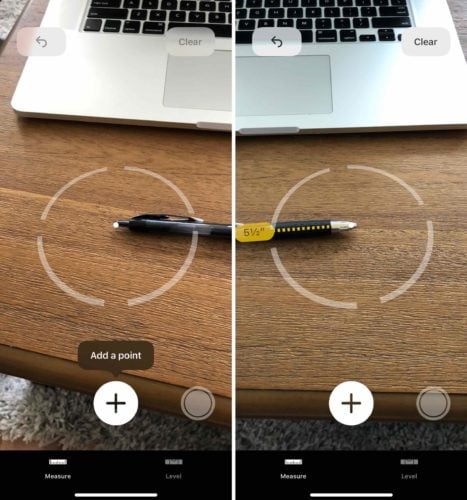 Once you're satisfied with the measurement, tap the plus button again. The yellow dotted line will turn solid white and you can see the full measurement of the item. To take a picture of the measurement, tap the circular bottom in the bottom right hand corner of the screen. That image will be saved in the Photos app!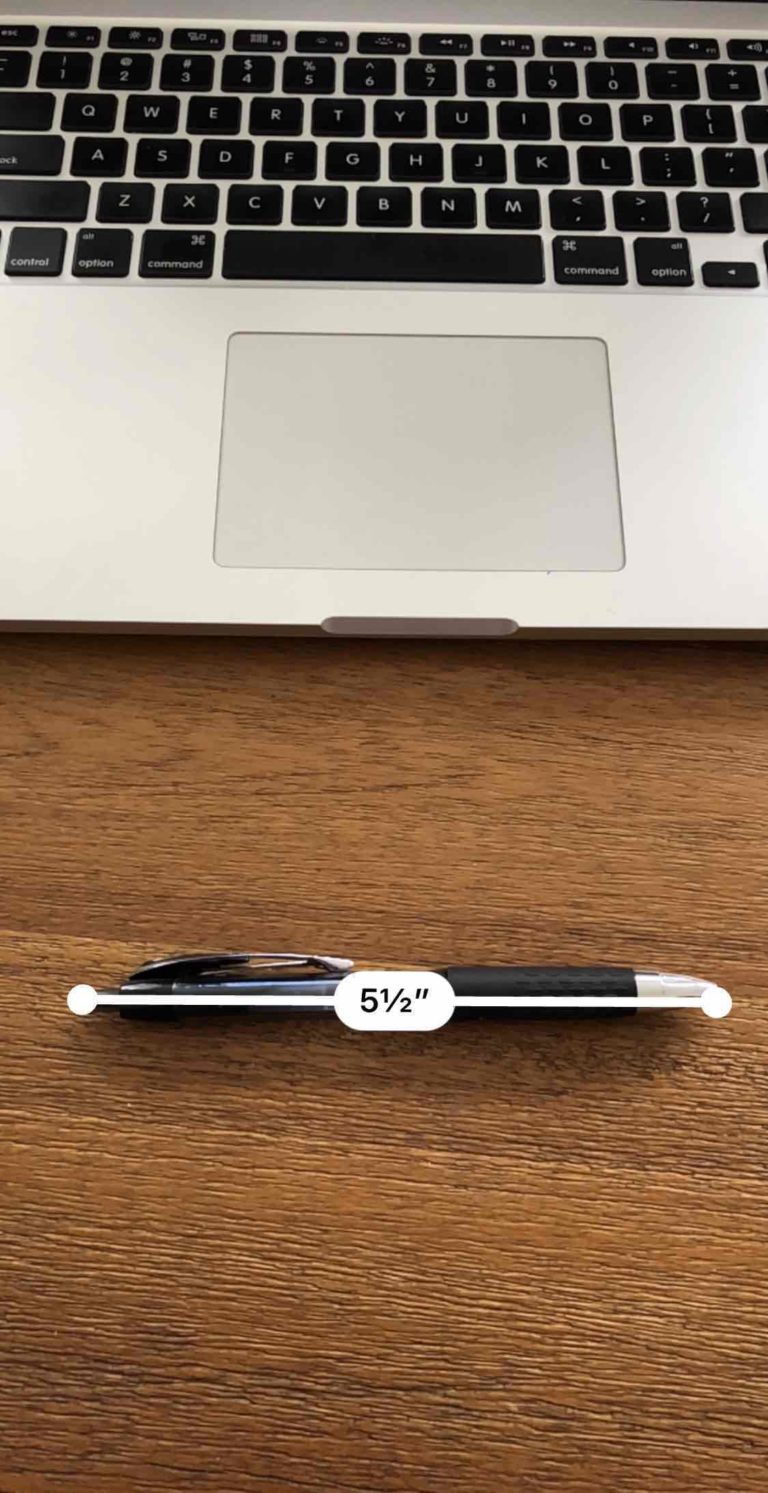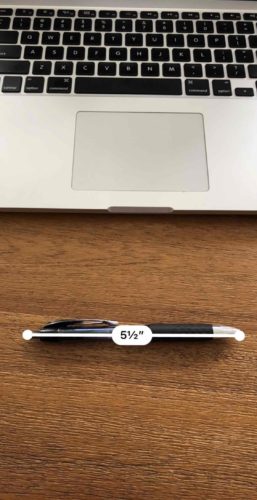 Find The Area Of A Surface Using Measure
Measure can do more than just measure length! It can measure the area of a surface — that's length times width. Most of the time when you open Measure to find a surface area, a box will automatically appear! Just tap the circular plus button to find the length and width of the item you're measuring. Multiply the length times the width to find the surface area.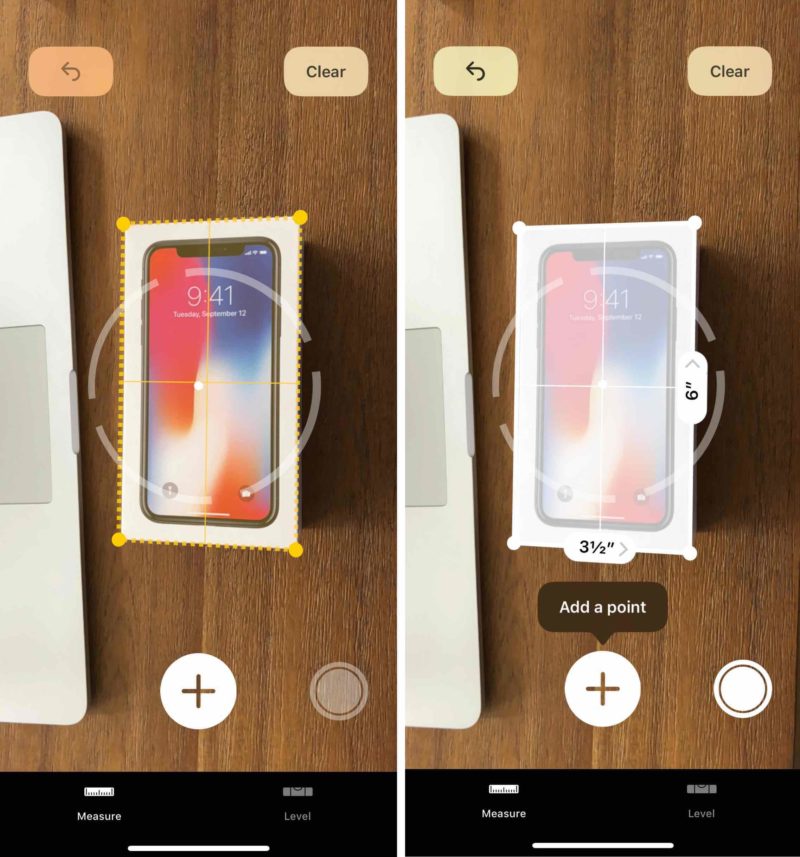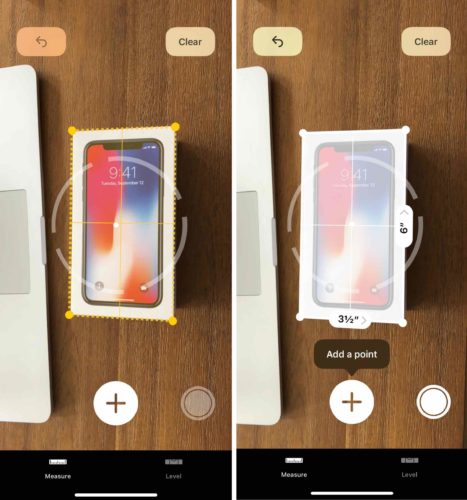 You can also manually create a box by adding a point at every corner of the surface you're trying to measure. This a bit more tedious, but you may wind up with a more accurate measurement.
For best results when trying to find a surface area, hold your iPhone directly above the surface. If you hold your iPhone at an angle, the measurement may be skewed.
How To Quickly Share An Image From The Measure App
It's very easy to quickly share an image of something you've just measured. When you take a picture of your measurement, a small preview will appear in the bottom left-hand corner of the screen. If you tap on the preview, you'll be taken to a screen where you can edit the image. If you tap the Share button in the lower left-hand corner of the screen, you can quickly send it to someone through Mail, Messages, AirDrop, and more!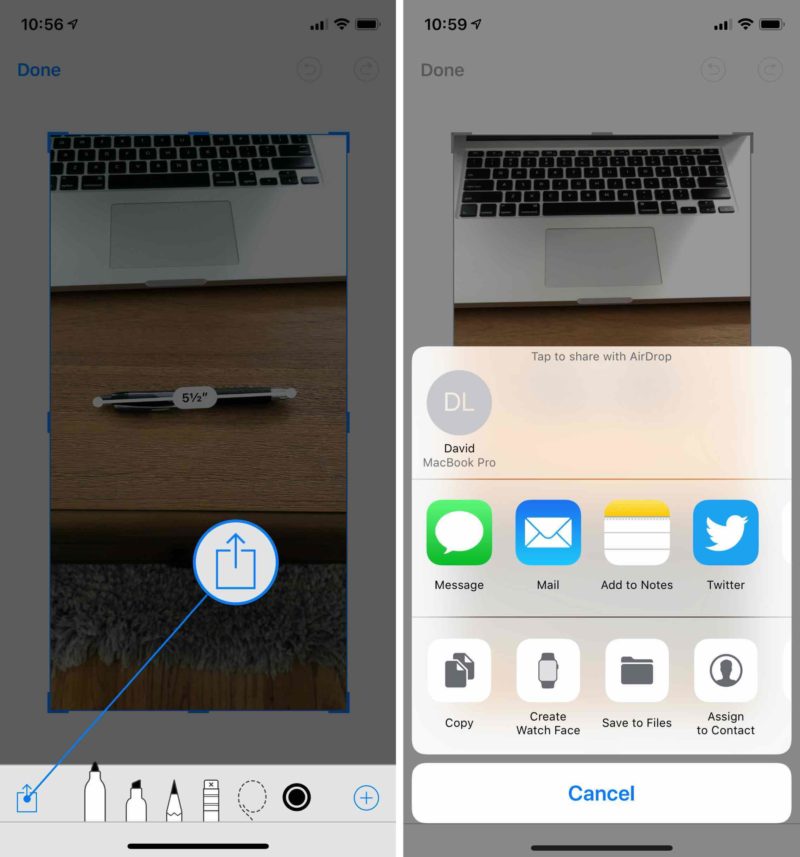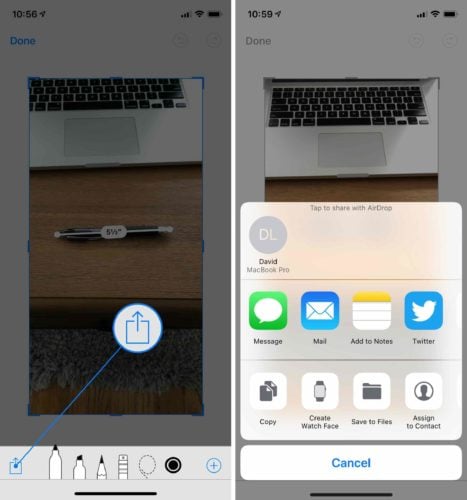 A Real World Use For The Measure App
Although I wouldn't recommend the Measure app for a professional construction project, it still can be useful. The other day, I was in New York at the Metropolitan Museum of Art. I was looking at some Egyptian coffins and sarcophagi when I thought to myself, "Wow, these look sort of small! I wonder if I would fit in one."
Well, I whipped out my iPhone and used the Measure app to see if I'd fit. The coffin I measured was only 5'8″ long, so I certainly wouldn't have fit! The Measure app helped satisfy my curiosity, and I was able to go on with my day in peace.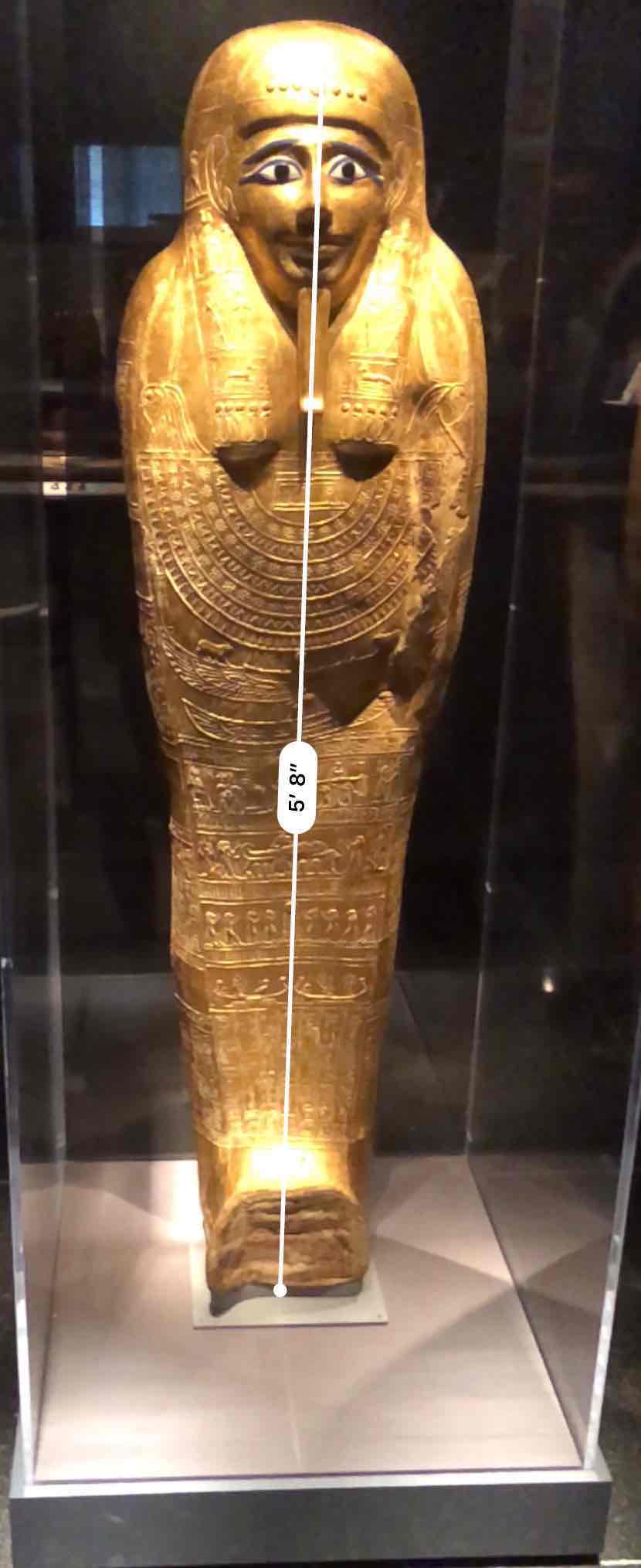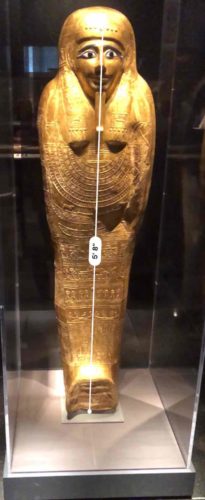 You Can Level Things, Too!
The Measure app can also be used as a level to help you balance things. Open Measure and tap on the Level tab at the bottom of the screen.
To use the level, lie your iPhone directly on the surface to want to level. This can be difficult on newer iPhones because of the camera, so this works best if you have a case on your iPhone. You'll know your surface is balanced when you see a green screen and 0° inside a white circle!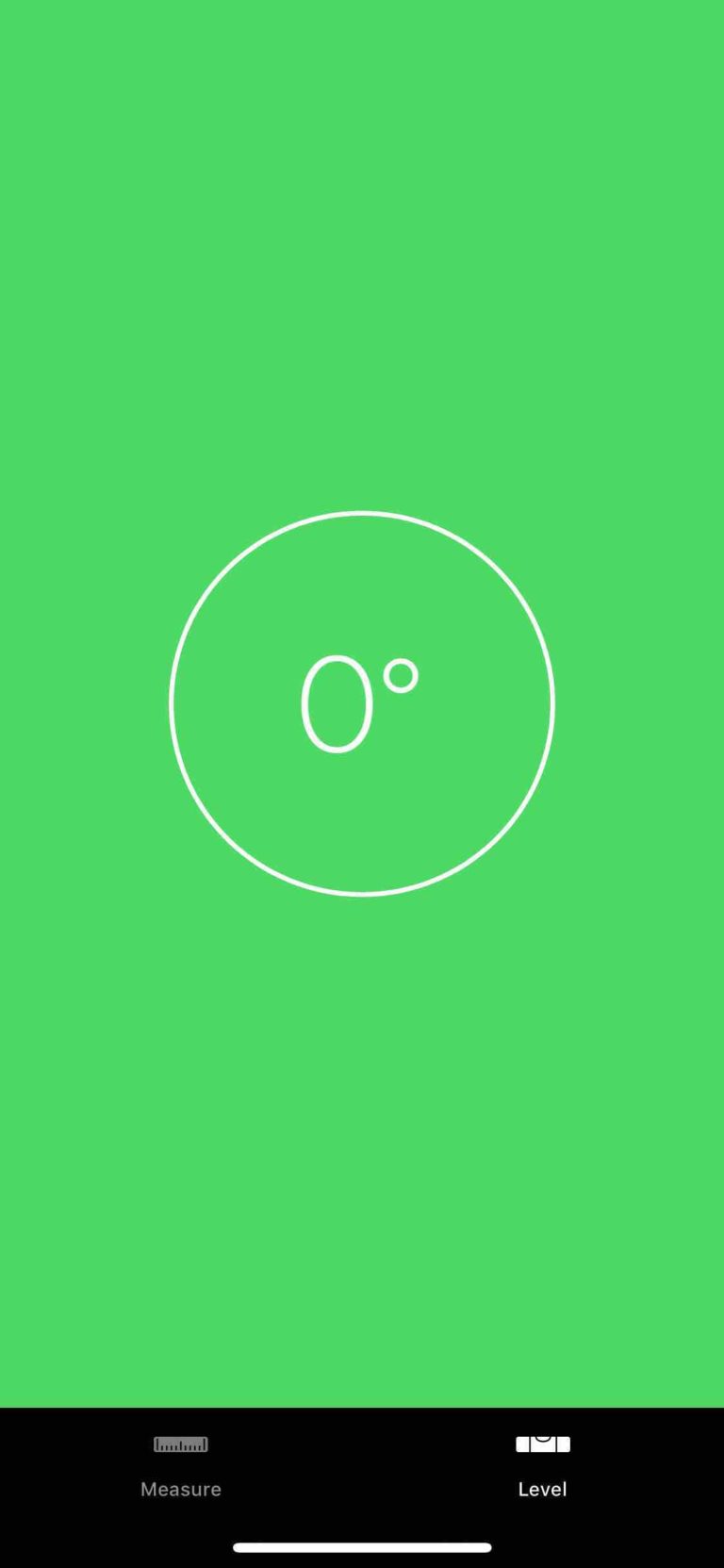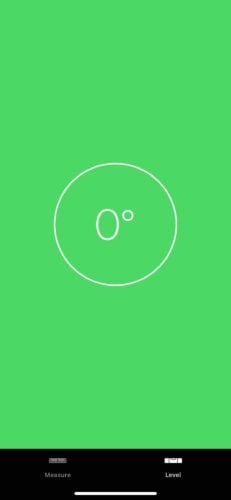 Measure Twice, Cut Once
You've successfully mastered the iPhone Measure app! I hope you'll share this article on social media to teach your family and friends how they can use iOS 12 to measure things. If you have any other questions or comments about iOS 12 or the Measure app, feel free to leave a comment below!
Thanks for reading,
David L.