You just received a text, but something doesn't look quite right. It says "Maybe" next to the name of the contact! In this article, I'll explain why your iPhone contacts say "Maybe" and show you how to fix the problem for good.
Why Does It Say "Maybe" Next To My iPhone Contacts?
Most of the time, your iPhone contacts say "Maybe" because your iPhone has intelligently connected a name from a previous email or message to someone trying to contact you now. Safe to say, your iPhone is very smart — it can save information from emails or text messages you receive and connect it to another message at a future date.
For example, you may have received a message saying, "Hey, this is Mark and I really enjoyed meeting you the other day." Well, if Mark texts you again the following day, your iPhone might just say, "Maybe: Mark" instead of a phone number.
The steps below will help prevent "Maybe" from showing up next to the name's of your contacts!
Turn Off Siri Suggestions On Your iPhone
A lot of the time, you'll see the "Maybe" next to a contact's name in a notification on your iPhone's lock screen. This is because Siri Suggestion on Lock Screen is turned on. If you want to stop "Maybe" from appearing next to a contact's name on your iPhone lock screen, go to Settings -> Siri and turn off the switch next to Suggestions on Lock Screen.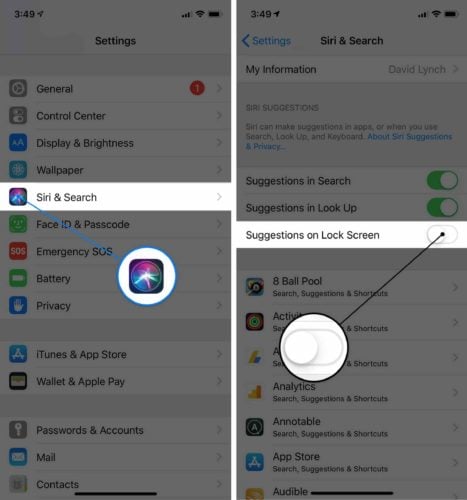 Sign In & Out Of iCloud
If your contacts are linked to your iCloud account, signing out and back into your iCloud account can fix the problem with your iPhone contacts saying "Maybe".
To sign out of iCloud, open Settings and tap on your name at the top of the screen. Then, scroll all the way down and tap Sign Out. After tapping Sign Out, you'll have to enter your Apple ID password to turn off Find My iPhone, which can't be left on when you sign out of your Apple ID.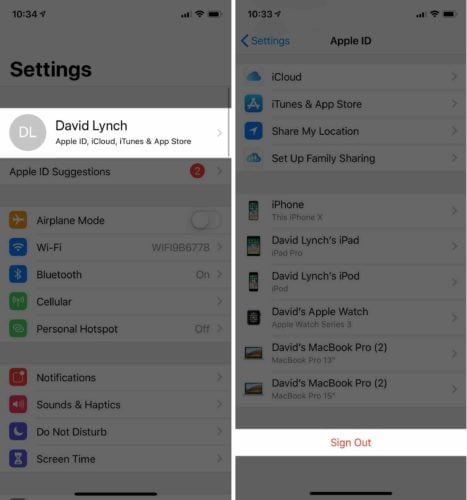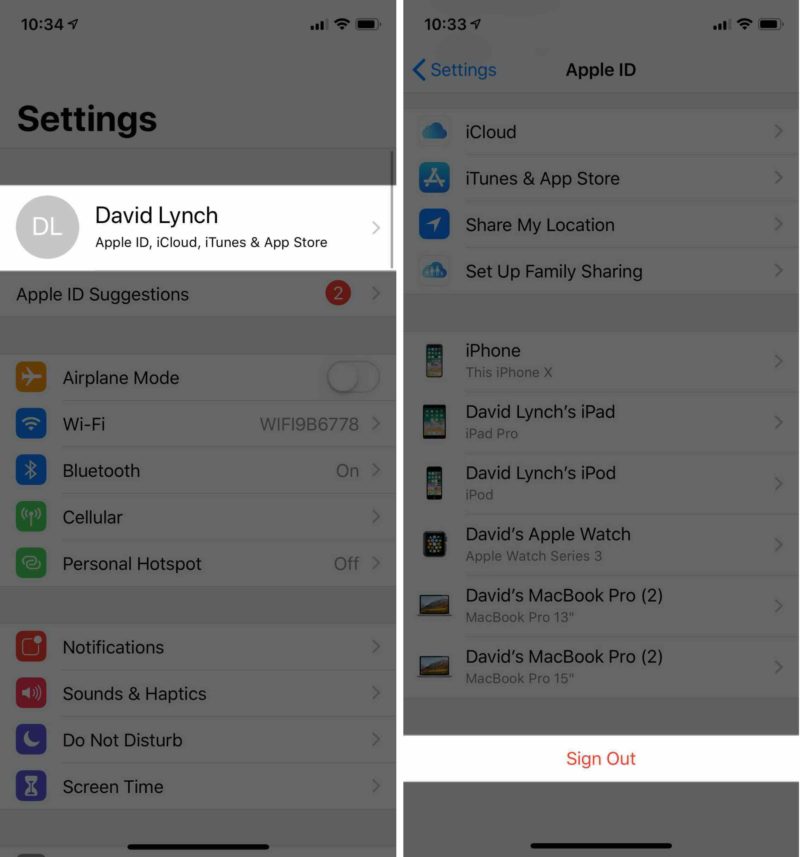 To log back in, open Settings and tap Sign in to your iPhone.
Create A New Contact From The Message That Says "Maybe"
If you receive a message from a name that says "Maybe", you can fix the issue by adding the number as a contact. To add a contact directly from a conversation in the Messages app, tap the number at the top of the screen. Then, tap the information button — it looks like a circle with an "i" in the center of it.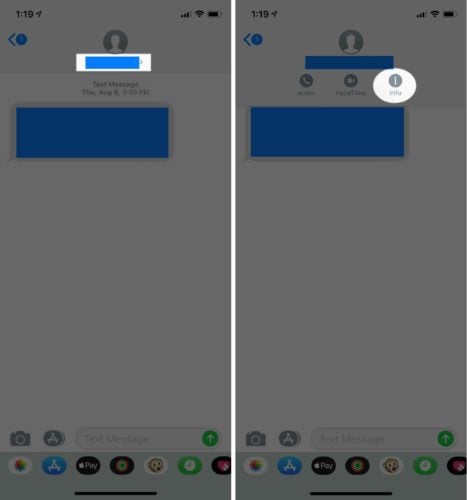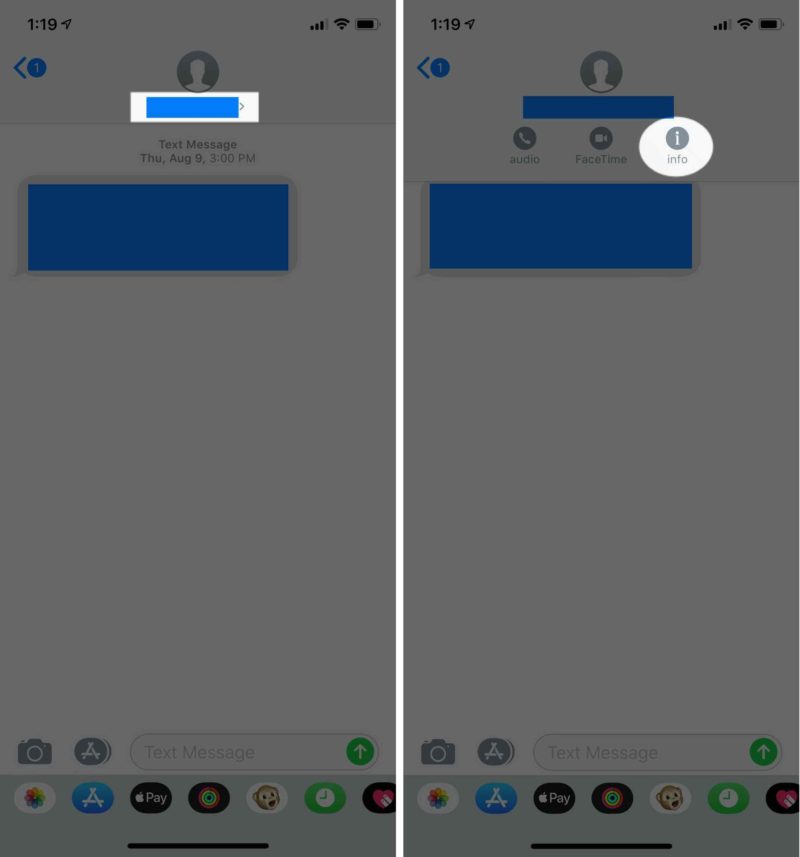 Next, tap on the number at the top of the screen again. Finally, tap Create New Contact and type in the person's information. When you're finished, tap Done in the upper right-hand corner of the screen.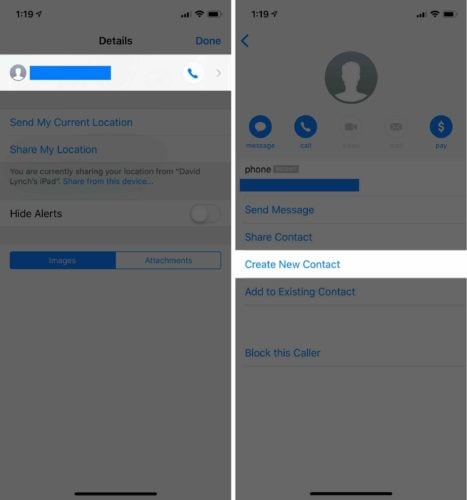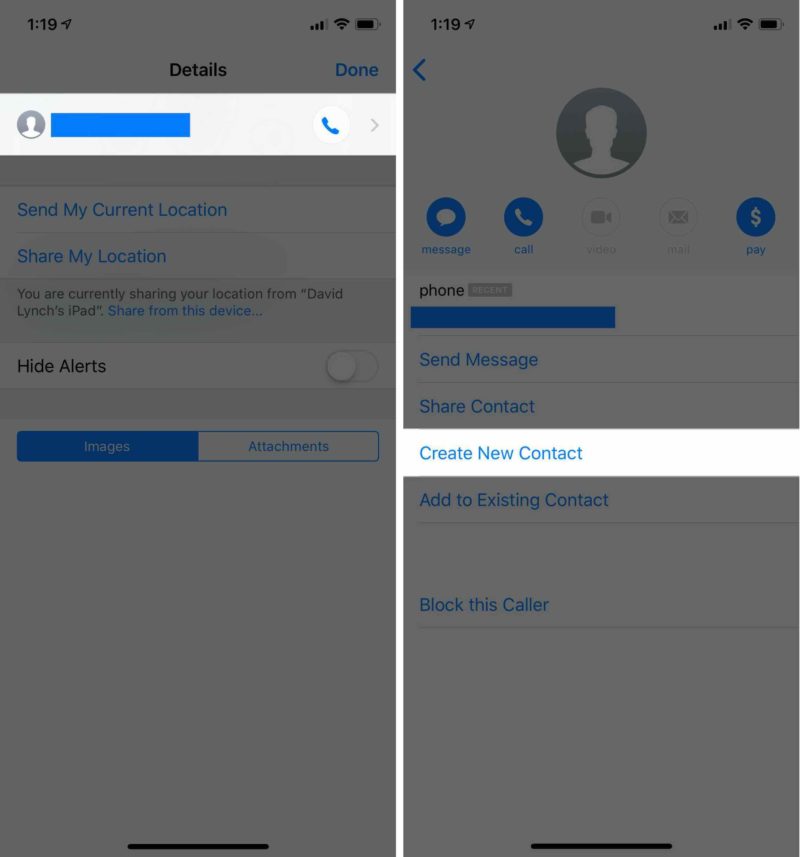 This method of adding a contact from a Messages conversation is for iPhones running iOS 12. If your iPhone is running iOS 11 or earlier, the information button will appear in the upper right-hand corner of the conversation.
Delete The Contact & Set It Up Again
Sometimes a contact will still say "Maybe" even after you've added the contact. This can usually be attributed to a minor glitch or syncing issue, which you can fix by deleting the contact and adding them again.
To delete a contact on your iPhone, open the Phone app and tap on the Contacts tab at the bottom of the screen. Next, find the contact you'd like to delete and tap on it.
Next, tap Edit in the upper right-hand corner of the screen. Then, scroll all the way down and tap Delete Contact.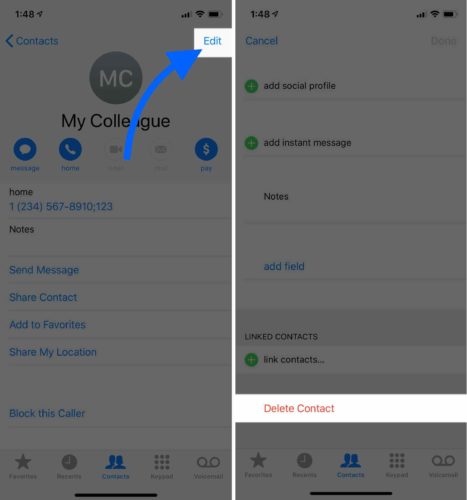 Update iOS On Your iPhone
I used to run into this issue when my iPhone was running iOS 11. Ever since I've update to the iOS 12 beta, this problem has completely gone away. I'm not saying that updating your iPhone will completely fix your problem, but it's worth a try.
To update your iPhone, go to Settings -> General -> Software Update. If an update is available, tap Download & Install. Check out our other article if you run into any issues updating your iPhone.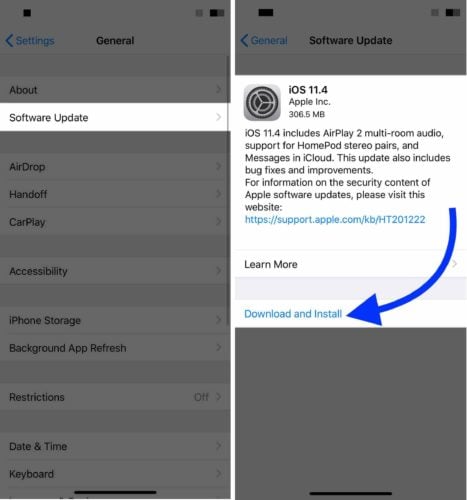 Note: iOS 12 will be publicly released sometime in Fall 2018.
Did You Recently Delete An App That Had Access To Your Contacts?
Some apps like Skype, Uber, and Pocket will ask permission to access your contacts. Doing this allows those apps to easily integrate your contacts to the app, which can be especially convenient for social media apps.
However, if you delete an app that has permission to access your contacts, it can cause your iPhone contacts to say "Maybe". In this situation, you can either reinstall the app, or go through your contacts and update them manually. For best results, update your contacts manually!
Call Me Maybe
I hope this article helped you understand why your iPhone contacts say "Maybe". If you show up as "Maybe" on one of your friend's iPhones, make sure to share this article with them! If you have any other questions about your iPhone, feel free to leave me a comment down below.
Thanks for reading,
David L.