You're trying to update your iPhone apps, but they're stuck on waiting. Thankfully, the fix for this problem is usually very simple. In this article, I'll show you the real fixes for iPhone apps that are stuck waiting to update, both using your iPhone and using iTunes, so you can update your apps and get back to using your iPhone.
Check Your iPhone's Internet Connection
You've gone to the App Store, tapped on your account icon, and chosen Update or Update All. It's normal for apps to take a few moments to start the download process and do the update. But if it's been more than 15 minutes or so and your app icon is still grayed out with the word "waiting" underneath, it's time to do some investigating.
Your internet connection could be to blame. Your iPhone needs to be connected to the internet to download app updates, so you either need to be on a Wi-Fi network or your iPhone carrier's cellular network. The connection also has to be stable.
First, check your iPhone to make sure it isn't in Airplane Mode. To do that, go to Settings -> Airplane Mode. The box next to Airplane Mode should be white. If it's green, tap the toggle to turn it white. If your iPhone was in Airplane Mode, turning it off will automatically trigger it to reconnect to your default cellular and Wi-Fi connections.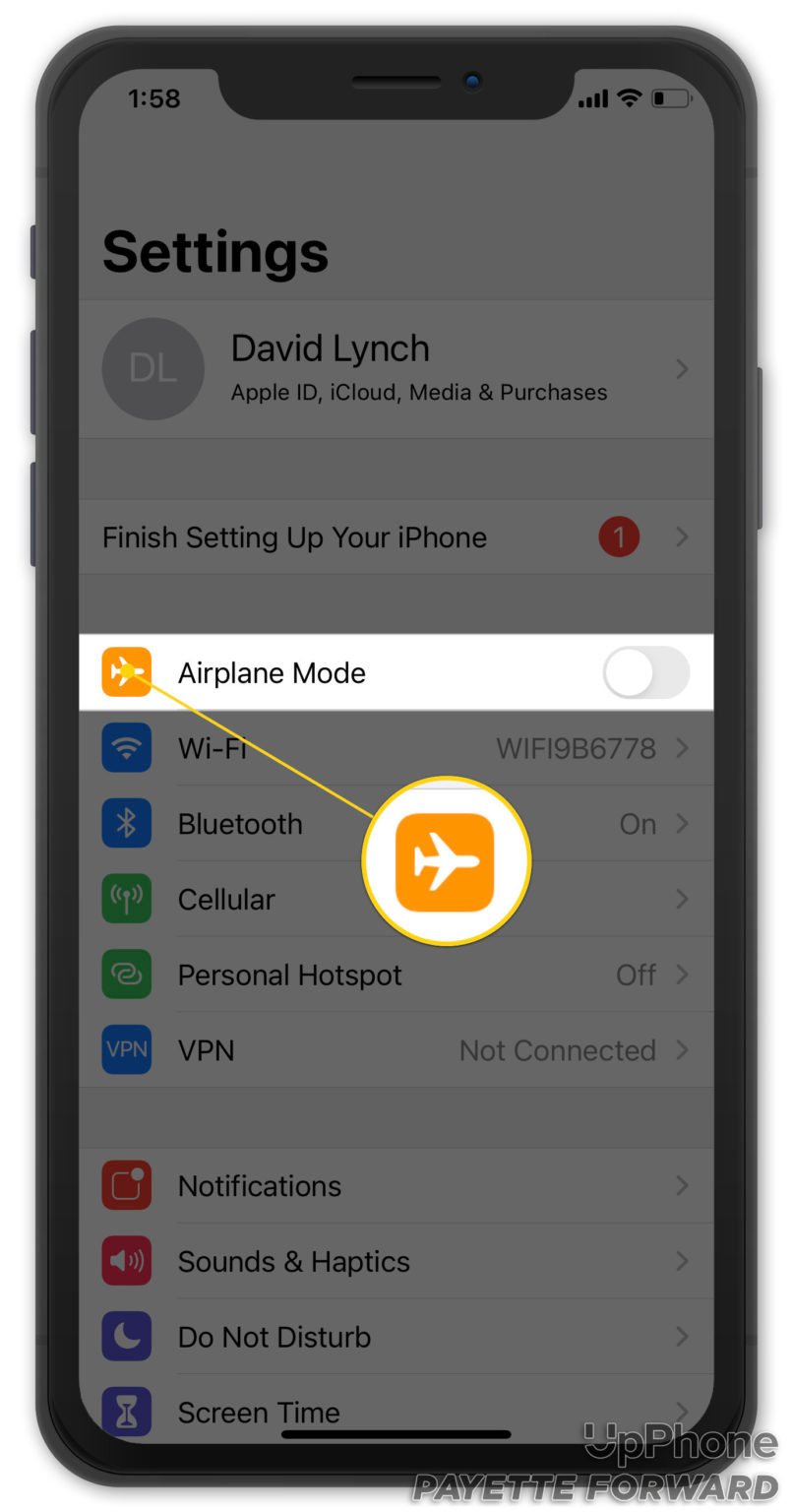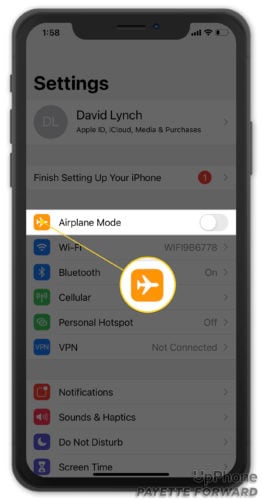 Reconnect, give it a minute, then check on your iPhone apps. The updates should start to download, giving you a progress indicator on the app icon and in the App Store under Updates. If you don't see that and your iPhone apps are still stuck waiting, try some of our other fixes.
Log In And Out Of Your Apple ID
A lot of the time when apps are stuck waiting or not downloading on your iPhone, there's an issue with your Apple ID. Every app on your iPhone is linked to a specific Apple ID. If there's an issue with that Apple ID, apps may get stuck.
Usually, signing out and back into the App Store will fix the problem. Open Settings and tap on your name at the top of the screen. Scroll down to the bottom of the screen, then tap Sign Out. Enter your Apple ID password, then tap Turn Off.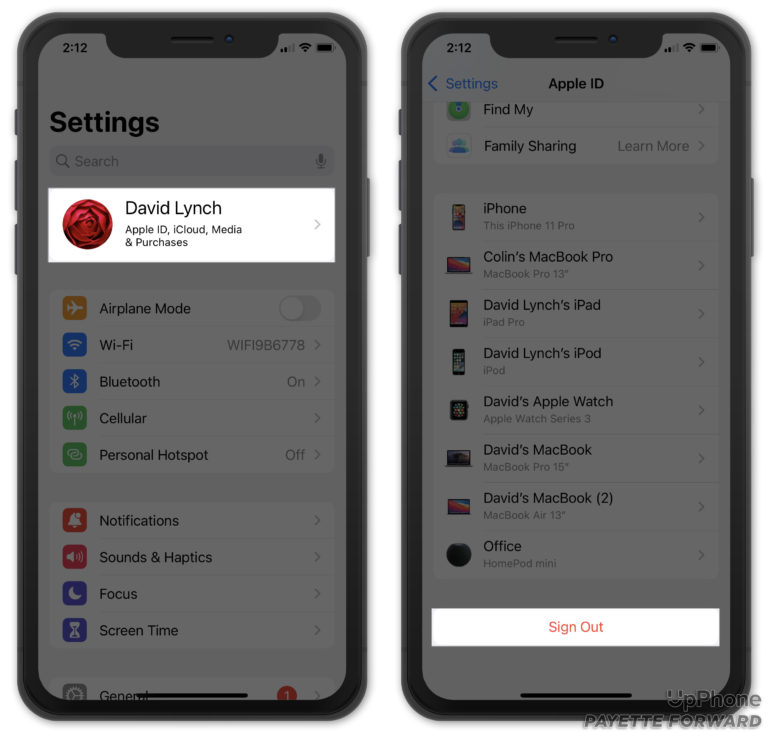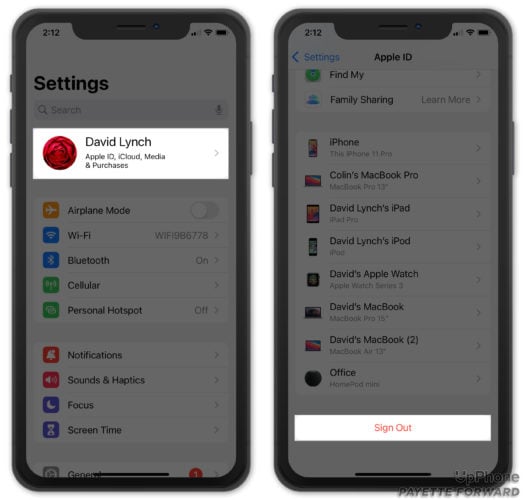 If you continue to have issues with that Apple ID, visit Apple's website and try logging in there. If an issue exists, something will pop-up on this webpage.
Delete The App & Try Again
It's possible that the app had an issue trying to do the update. You can bypass this issue by uninstalling the app stuck in waiting and then reinstalling it.
How To Delete An App On Your iPhone
Press and hold on the app icon until the dropdown menu appears. Tap Remove App -> Delete App -> Delete to uninstall the app on your iPhone.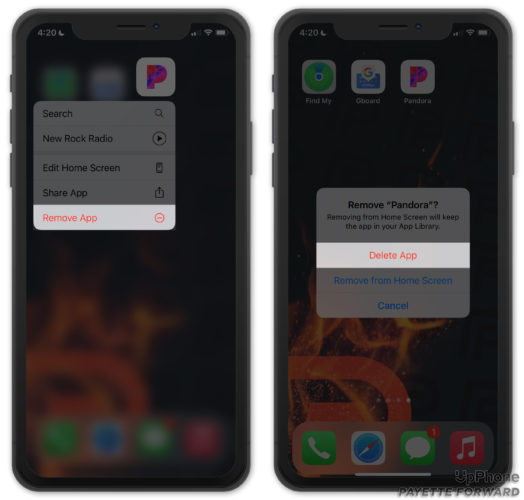 You can also delete apps in Settings by going to General -> iPhone Storage. Tap on an app you want to delete, then tap Delete App.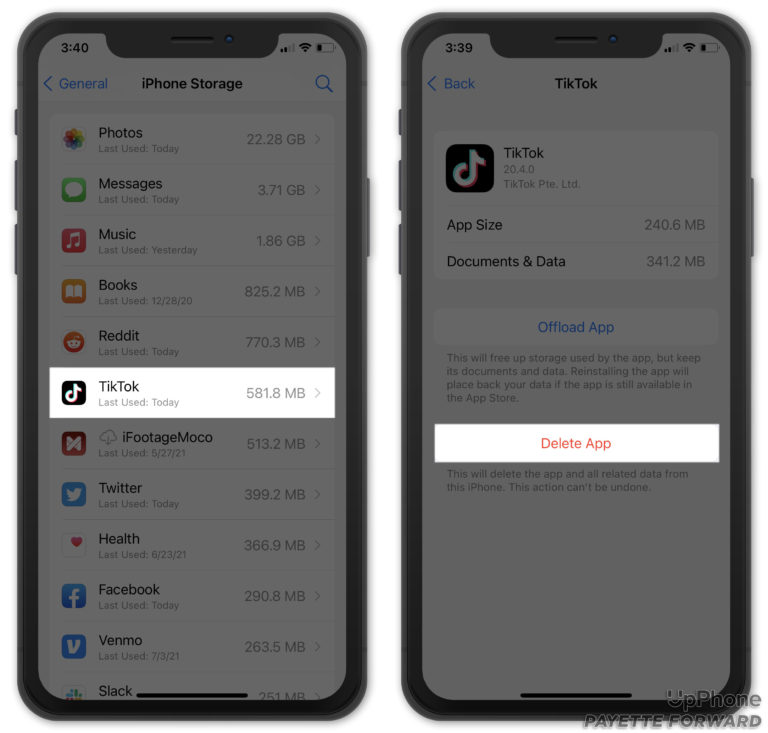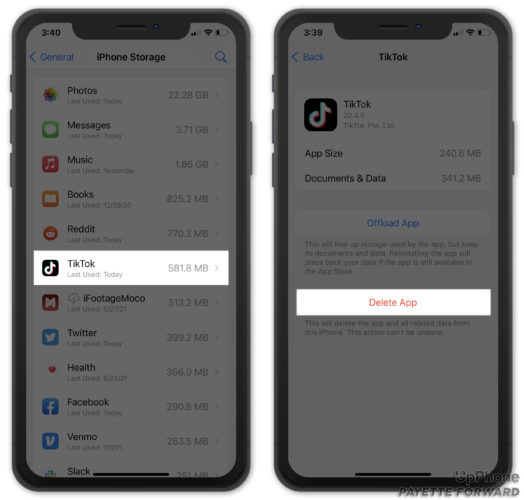 Is Your iPhone Out Of Storage Space?
Sometimes, there are iPhone apps waiting because there isn't enough room on your iPhone to download the updates. In Settings -> General -> iPhone Storage, you'll see exactly how much room is available on your iPhone and which apps are using the most memory.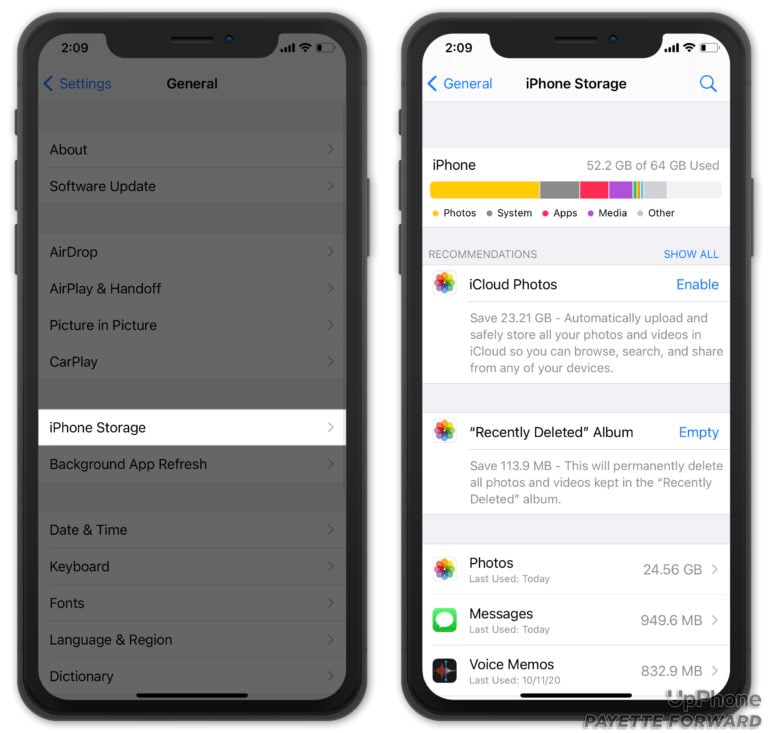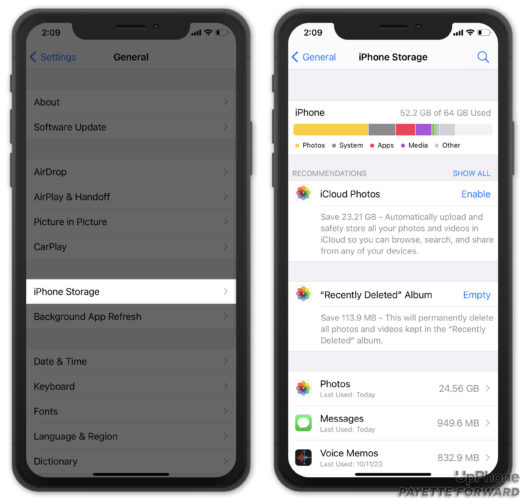 You can clear up space on your iPhone by:
Deleting apps you don't use.
Using iCloud to back up your photos and videos.
Getting rid of long text conversations.
Deleting files in apps, such as audio books, that take up a lot of space on your iPhone.
Once you make more room on your iPhone, check your iPhone apps that are waiting or try reinstalling the apps.
Check Apple's System Status Page
If your connection is solid, your settings are right, and your iPhone apps are still stuck waiting, there may be a problem with the App Store. Check out Apple's System Status page and make sure a green dot appears next to App Store. If many dots aren't green, there's
Apple keeps a handy website with the status of their system. You can check this page to see if the problem is with the App Store.
Fixing Software Problems
Software is the code that tells your iPhone what to do and when to do it. Unfortunately, software doesn't always work properly. When that's the case, it could be the reason for iPhone apps getting stuck while waiting to download updates.
Restart Your iPhone
A simple way to help correct a software problem on your iPhone is to restart the phone. You'd be amazed how often this simple step helps!
To restart your iPhone, hold down the power button. That's on the upper right-hand side of your iPhone. Hold it for a few seconds until the screen changes. Then, slide your finger across the part that says slide to power off. Once your iPhone is off, count to 10 and then push the power button again to restart it.
If you have an iPhone with Face ID, simultaneously press and hold the side button and either volume button until slide to power off appears on the screen. Then, swipe the power icon from left to right. Wait 30–60 seconds, then press and hold the side button to reboot your iPhone.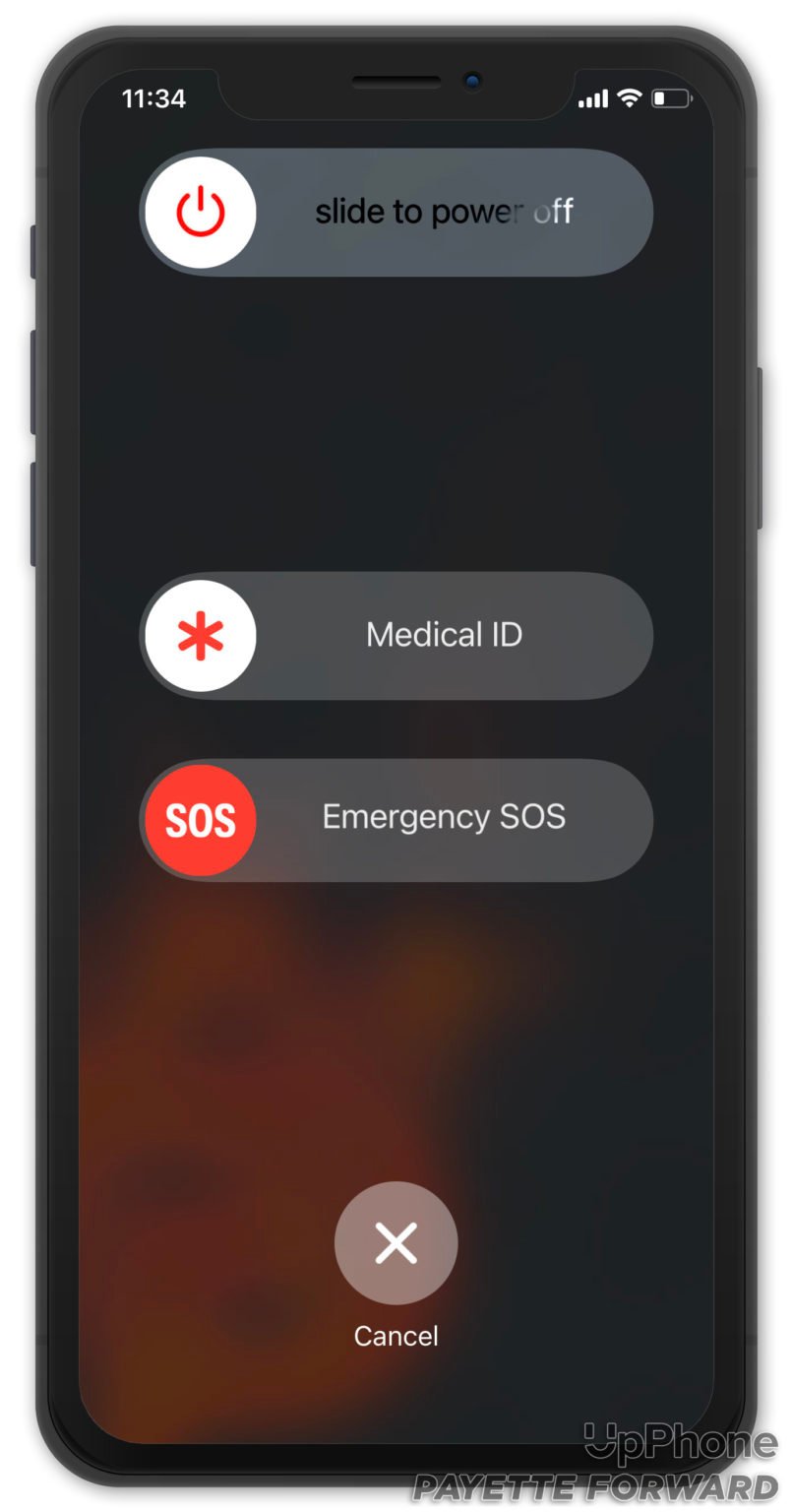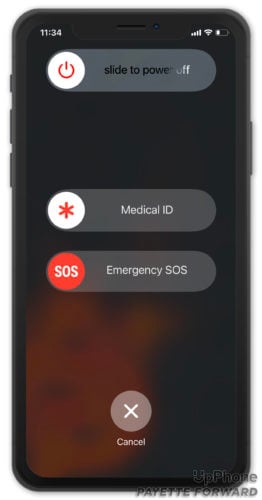 Reset All Settings
If restarting the iPhone and a hard reset don't help, you can try resetting your iPhone's settings. This puts your software settings back to the way they were when you got your iPhone (or the latest version of your iPhone's operating system).
To do this, go to Settings -> General -> Transfer Or Reset iPhone -> Reset -> Reset All Settings. Choose Reset All Settings and follow the prompts on your screen.
If you're running iOS 14 or older, open Settings and tap General -> Reset -> Reset All Settings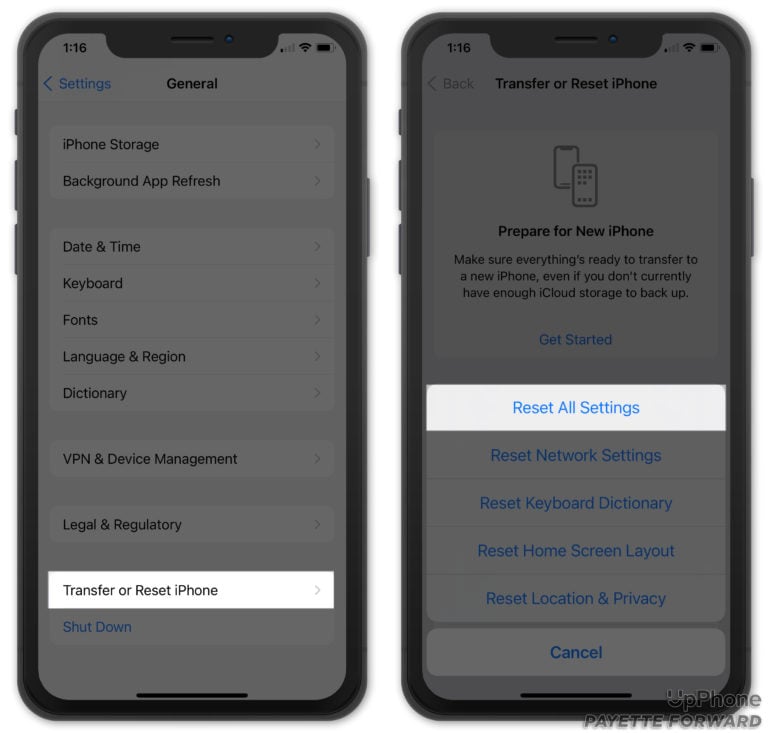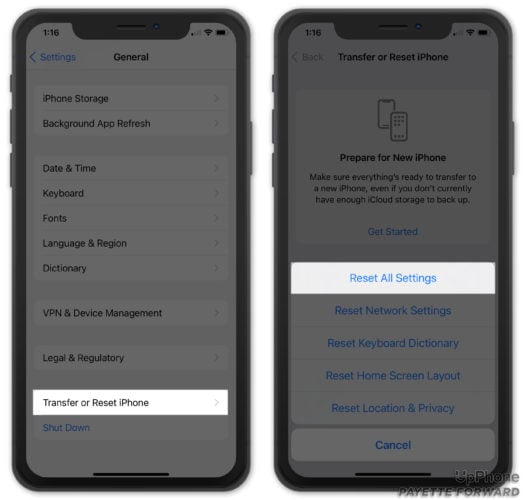 Back Up and Restore
If none of these steps help, you can back up your iPhone and then restore it. There are a few different ways to do this, but we here at Payette Forward like to suggest doing a DFU restore.
DFU stands for Default Firmware Update. If you go to a Genius Bar, this is the kind of backup and restore the Apple folks will do. But with a bit of help, you can do this yourself. Just make sure you have everything you want on your iPhone saved and backed up before you try this. Then, visit our article How To Put An iPhone In DFU Mode, The Apple Way for detailed instructions on what to do.
iPhone Apps: No Longer Stuck!
Like many of the issues that can happen with your iPhone, when your iPhone apps are waiting to update, you have plenty of different options for fixing the problem. Tell us about your experience with getting your iPhone unstuck in the comments section below.