While using your iPhone, you started having trouble connecting to high-speed data. 4G networks are a huge part of what keeps smartphones fast and efficient. In this article, I'll explain how to fix the problem when your iPhone won't connect to 4G.
Make Sure Airplane Mode Is Off
Your iPhone cannot connect to cellular networks when Airplane Mode is on. Open Settings and take a look at the switch next to Airplane Mode.
If Airplane Mode is on, tap the switch to turn it off. If Airplane Mode is already off, try turning it on for about five seconds, then off again.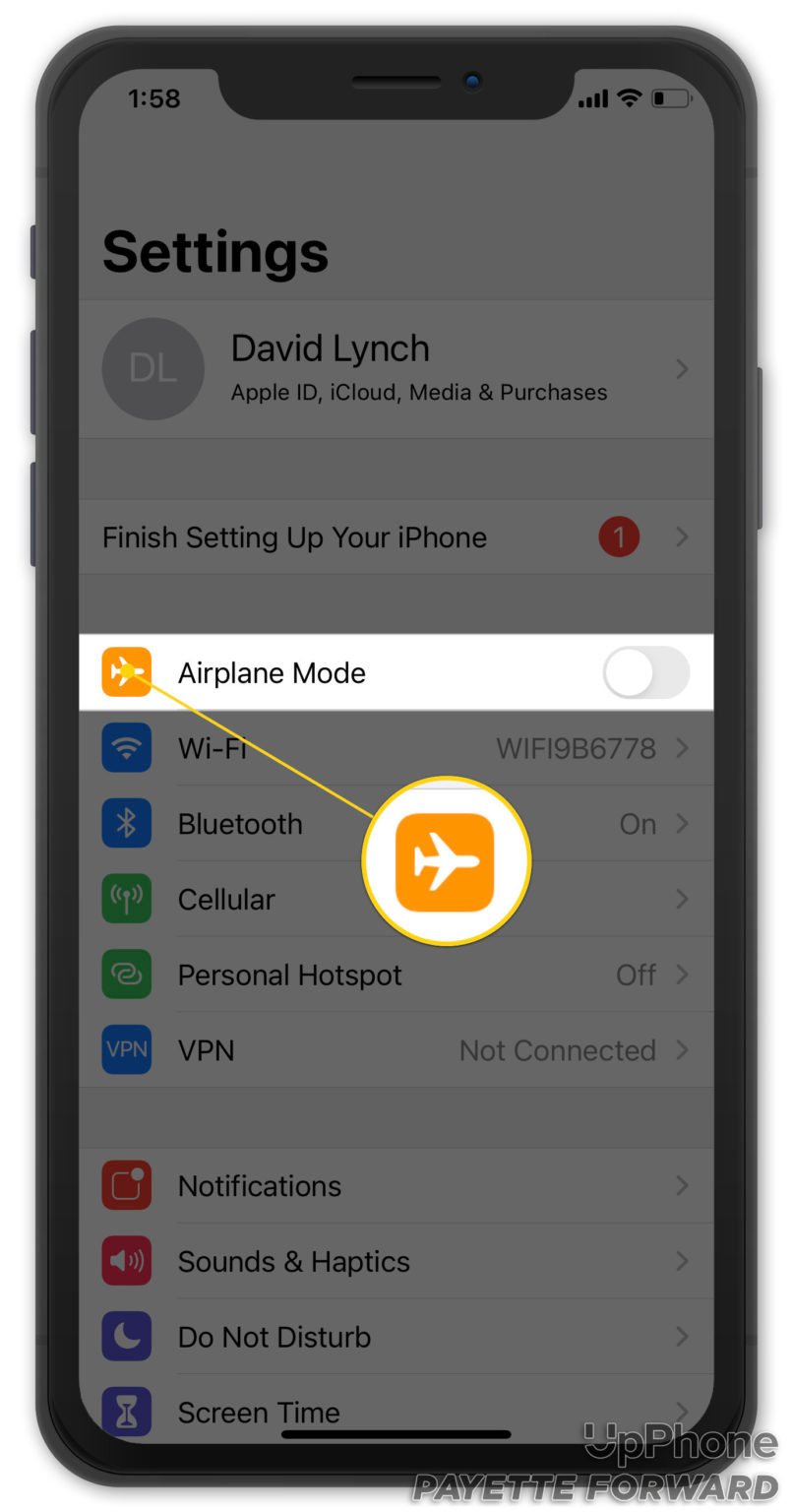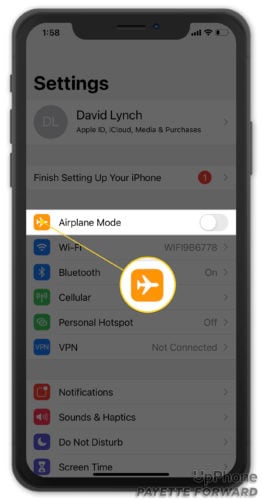 Turn Cellular Data Off And Back On
Similar to the step above, make sure Cellular Data is turned on. When Cellular Data is off, you can perform basic tasks — like browsing the web — without a Wi-Fi connection.
Open Settings and tap Cellular. Then, look at the switch next to Cellular Data. If the switch is green, Cellular Data is on. Tap the switch once to turn it off, wait a few seconds, then tap the switch again to turn Cellular Data back on. If the cellular data switch is flipped off, tap the switch once to turn it on.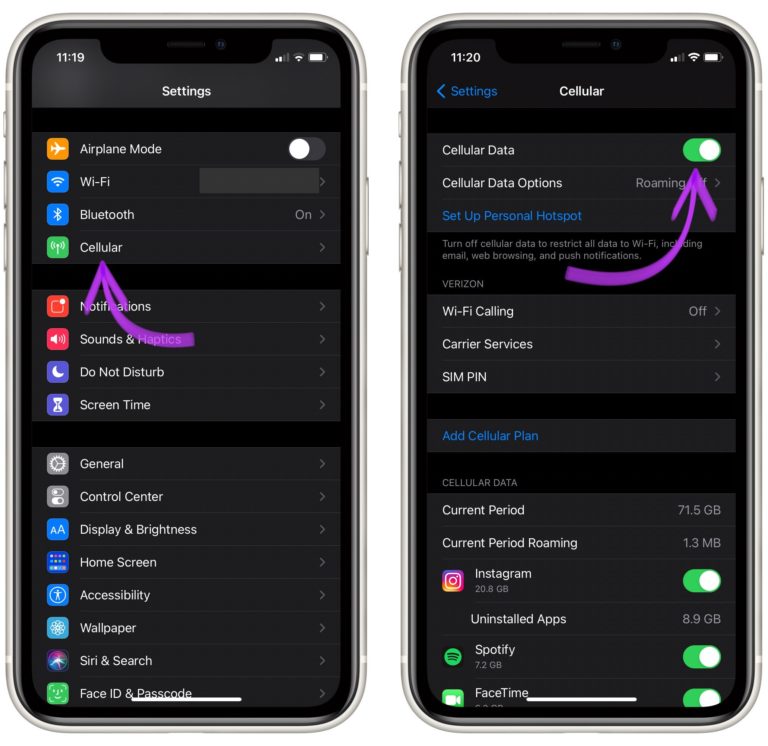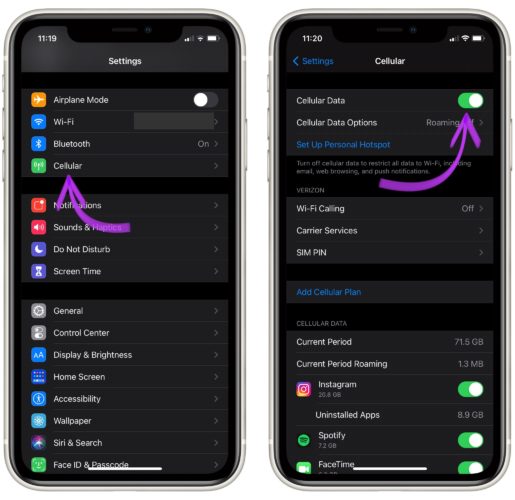 Check Your Cellular Data Options
Your iPhone gives you the ability to pick and choose which cellular networks your iPhone can connect to. Head to Settings -> Cellular -> Cellular Data Options -> Voice & Data. Make sure that LTE is selected. If you have a 5G iPhone, you can also select 5G here.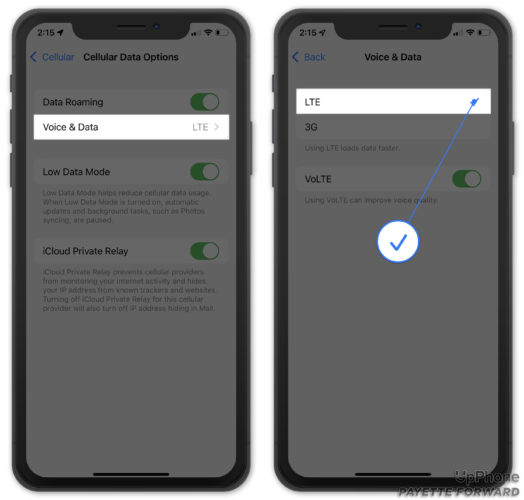 LTE stands for Long-Term Evolution, and it's the technology that makes 4G possible. According to Verizon, LTE is the 4G wavelength that provides the fastest and most efficient mobile internet connection.
Check For A Carrier Settings Update
Most people know what an iOS update is, but very few people know about carrier settings updates. While they're infrequent, it's important to install carrier settings updates when they're available, as they can help improve your iPhone's connection to your wireless carrier's network.
When a new carrier settings update comes out, a pop-up should appear on your iPhone. When this happens, we suggest tapping Update.
However, you can also check for carrier settings updates manually. Open Settings -> General -> About. Then, wait about ten seconds for a pop-up to appear on your iPhone. If no pop-up appears, move on to the next step!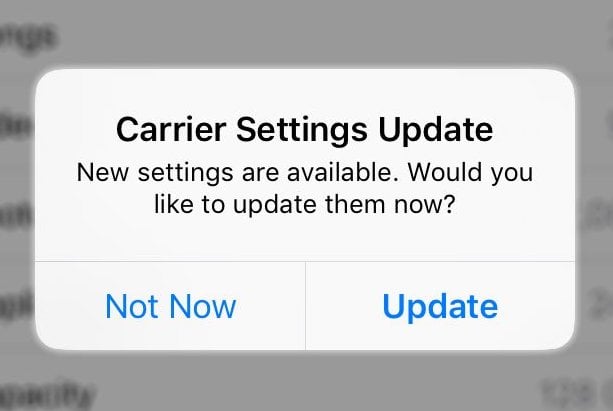 Restart Your iPhone
Restarting your iPhone can fix minor software issues preventing it from connecting to 4G. For iPhones without Face ID, press and hold the power button until you see Slide To Power Off appear on your screen. Then, swipe the power icon from left to right to turn your device off.
For iPhones with Face ID, simultaneously press and hold the side button and either volume button. When Slide To Power Off shows up on your screen, swipe the power icon from left to right to shut your iPhone down.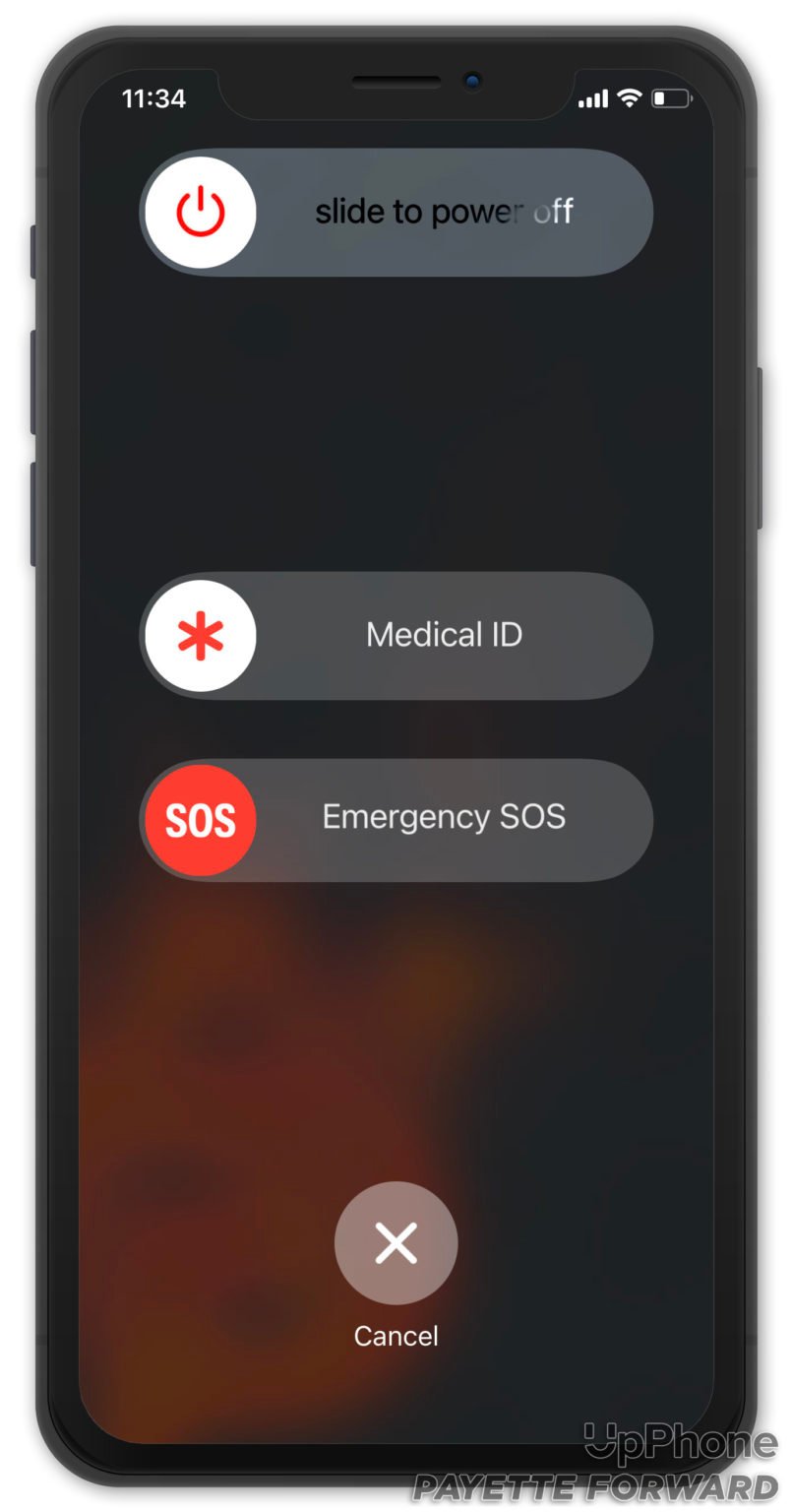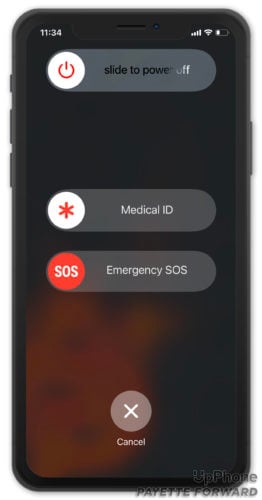 Wait 30–60 seconds to let your iPhone fully shut down. Press and hold the power button (iPhones without Face ID) or side button (iPhones with Face ID) to turn your iPhone back on. When the Apple logo appears on your screen, release the button and you're all set!
Eject And Reinsert Your SIM Card
The SIM card is what connects your iPhone to your carrier's wireless network. Sometimes the SIM card can get dislodged in its tray, making your iPhone lose its cellular connection. Ejecting and reseating the SIM card can sometimes fix wireless connectivity problems.
Grab a SIM card ejector tool, or make your own by straightening a paper clip. Press your SIM card ejector into the small hole in your iPhone's SIM card tray. Check out our other article if you need help locating the SIM card tray.
Once the tray is open, make sure your SIM card is positioned correctly. Then, slide the tray back in place. If you still can't connect to 4G after you reinsert the SIM card, keep reading for more tips!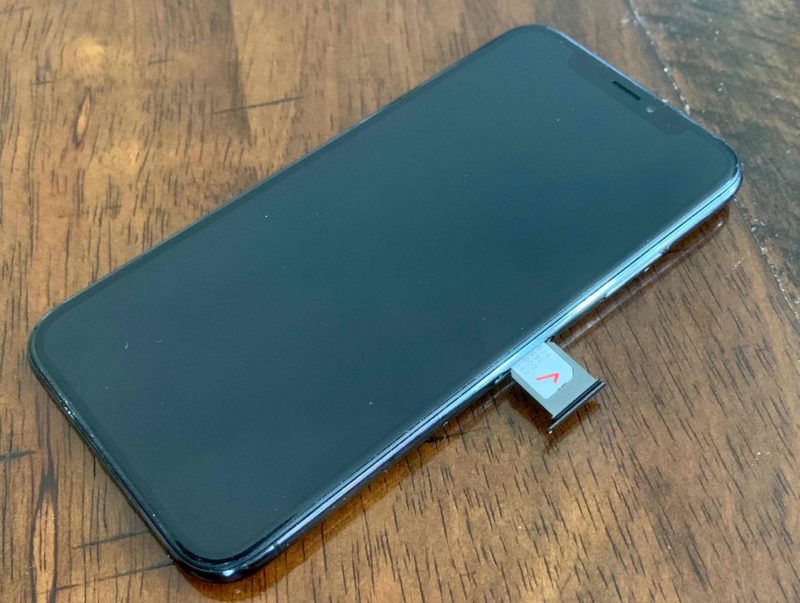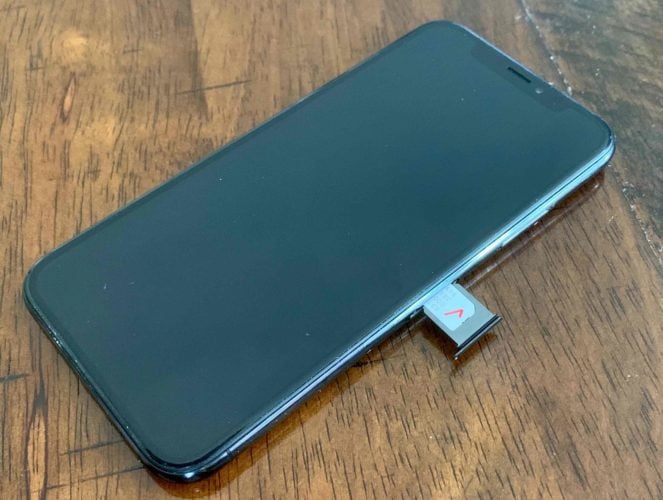 Reset Network Settings
Reset Network Settings restores all your iPhone's Cellular, Wi-Fi, APN, and VPN settings to their factory defaults. Rather than trying to track down a deeper software problem affecting your iPhone's cellular connection, erasing all Cellular settings gives your iPhone a fresh start.
Before completing this reset, make sure you know all your important Wi-Fi passwords. You'll have to reenter your Wi-Fi passwords and reconfigure any VPNs after the reset is complete.
Open Settings and tap General -> Transfer Or Reset iPhone. Then, tap Reset -> Reset Network Settings. Enter your iPhone's passcode, then tap Reset Network Settings once again to confirm your decision. Your iPhone will turn off, complete the reset, then turn itself back on again.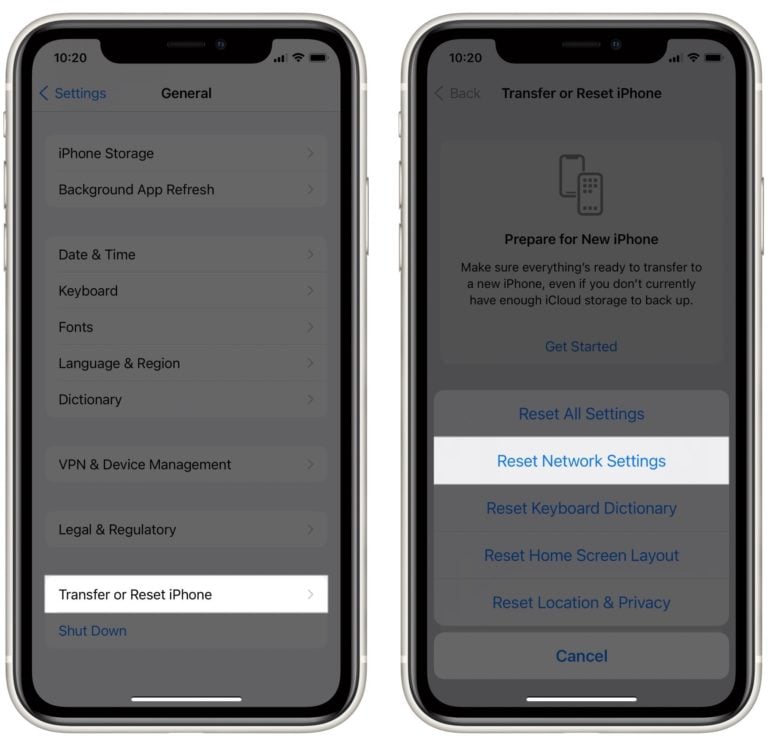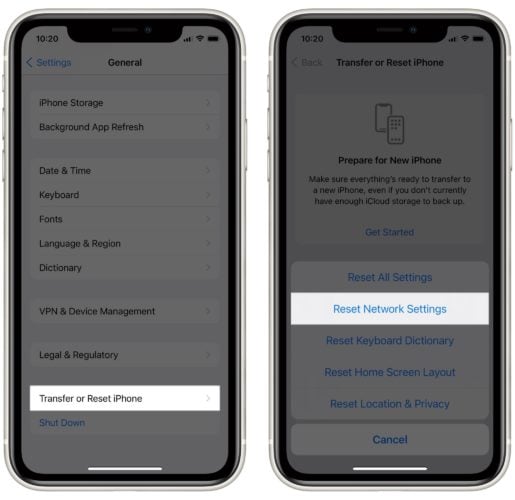 Check Your Carrier's Coverage Maps
It's possible your iPhone won't connect to 4G because your carrier doesn't have coverage in your area. Check out UpPhone's coverage map to check the coverage in your area. If another wireless carrier has better coverage where you live, it may be time to consider switching plans.
Contact Apple Or Your Wireless Carrier
When there's a cellular data issue on your iPhone, Apple and your wireless carrier will usually blame the problem on each other. Ultimately, it's up to you to decide who you're going to contact first.
We recommend contacting your carrier first if you have experienced recurring service issues on your iPhone. To get ahold of your carrier's support team, type their name and "customer support" into Google.
Alternatively, some carriers also have Twitter accounts dedicated to customer support. Wireless carriers monitor their social media support accounts closely, and it may be the fastest way to get help with your iPhone.
If your carrier has good service in your area, and your iPhone has never had trouble connected to 4G before, reach out to Apple support. Apple provides phone, mail, online, and in-person support. If you would like to speak with an Apple tech in person, Make sure to schedule an appointment before going into your local Apple Store!
iPhone 4G Connection: Fixed!
You've fixed the problem and your iPhone is connecting to 4G again. Now you'll know how to fix the problem the next time your iPhone won't connect to 4G. Leave a comment down below with any other questions!