You were scrolling around on your iPhone and saw an ad for a product you were just taking about. "How do they know I'm interested in that?" you ask yourself. Advertisers are getting much better at targeting consumers, but there are things you can do to increase your privacy! In this article, I'll tell you everything you need to know about iPhone Privacy Settings.
Location Services
Location Services can be beneficial when using Waze or geotagging with an Instagram photo. However, most other apps don't need access to your location. Turning off Location Services for specific apps is a great way to save battery life and increase privacy.
First, open Settings and tap Privacy. Then, tap Location Services. Make sure the switch at the top of the screen is on. We don't recommend turning Location Services off entirely because it allows you to do things like use Map applications.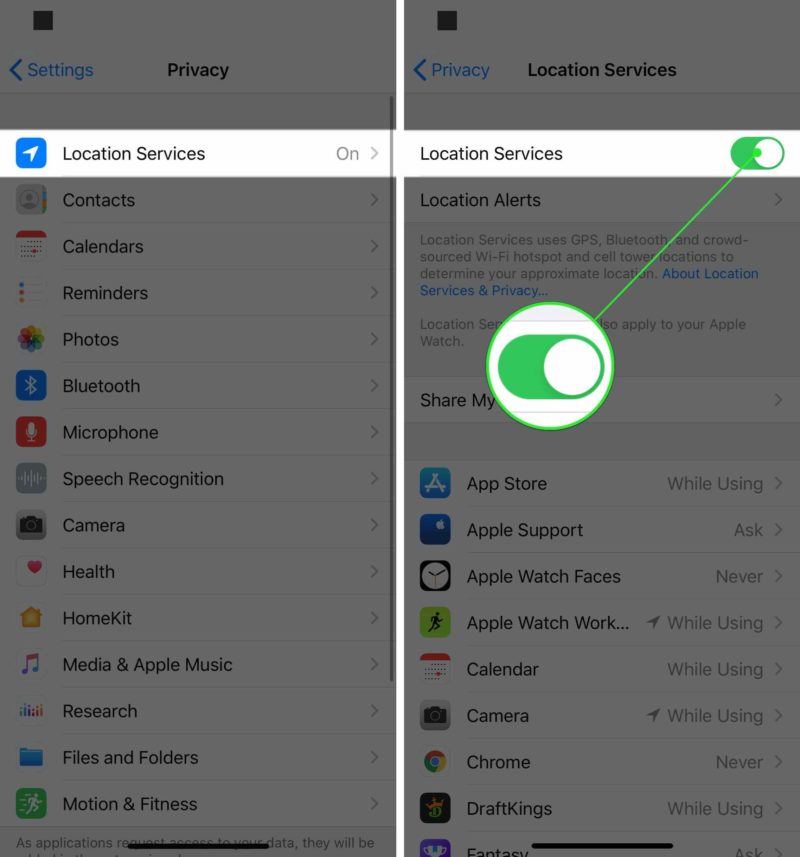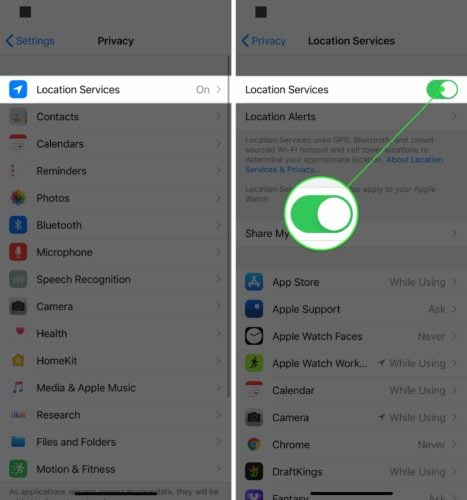 Next, scroll through the list of apps and ask yourself whether or not you want that app accessing your location. If the answer is no, tap on the app and tap Never.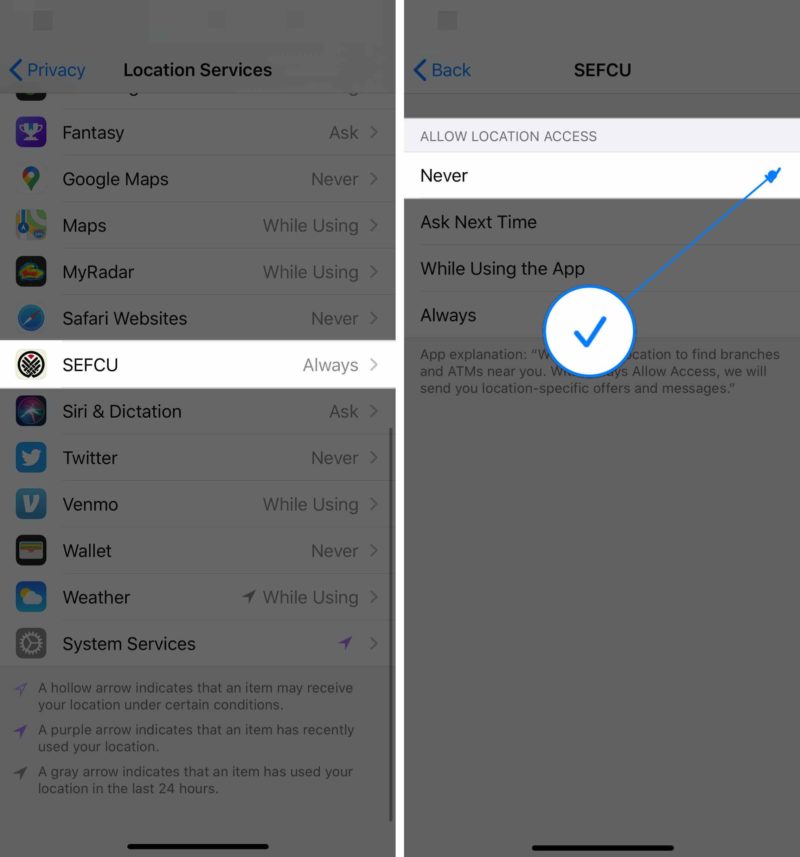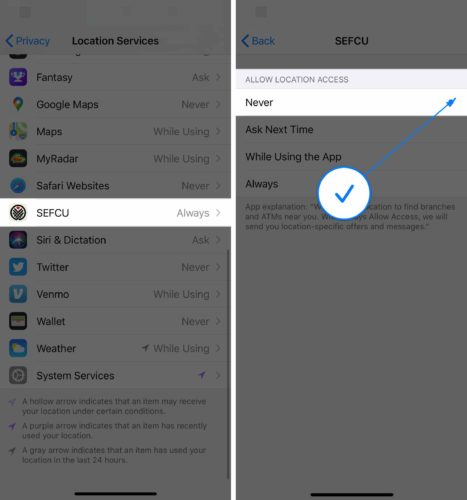 If you want to let an app use your location, tap on it and select Always or While Using the App. We usually recommend selecting While Using the App so that the app isn't draining your battery by constantly tracking your location.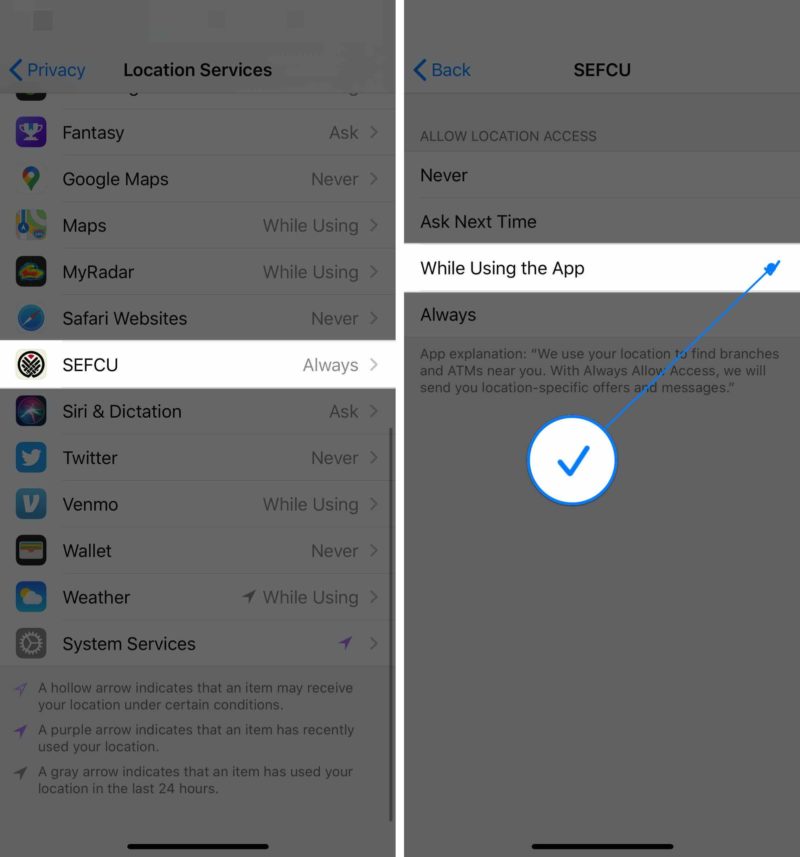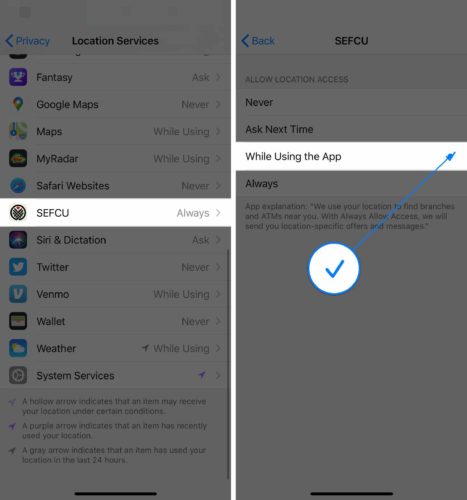 Turn Off Unnecessary System Services
Hidden deep in the Settings app are a bunch of unnecessary System Services. Most of them don't benefit you much. In fact, many of these System Services are designed to help Apple build out their databases. You won't lose anything when turning most of them off, but you will save some battery life.
Open Settings and tap Privacy -> Location Services. Scroll down and tap System Services. Then, turn off the switches next to the following System Services:
Apple Pay/Merchant Identification
Cell Network Search
Compass Calibration
Homekit
Location-Based Alerts
Location-Based Apple Ads
Location-Based Suggestions
System Customization
Wi-Fi Networking
iPhone Analytics
Popular Near Me
Routing and Traffic
Improve Maps
Check out our other video to learn more about what each of these System Services does!
Significant Locations
Though there aren't Privacy concerns with this feature, Significant Locations drains your battery.
Tap Settings.
Scroll and pick Privacy.
Select Location Services.
Scroll and tap System Services.
Tap Significant Locations.
Turn off the switch next to Significant Locations.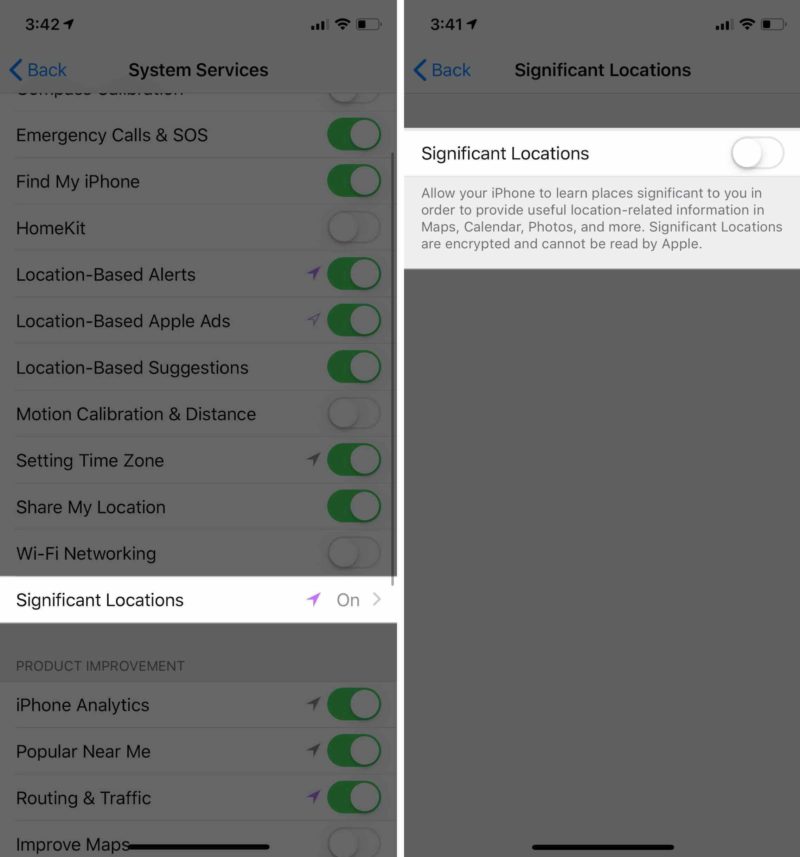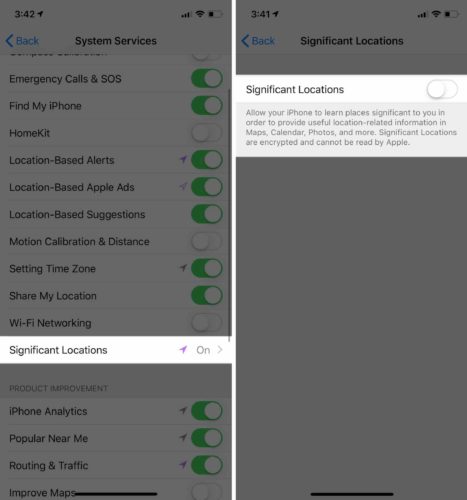 Camera and Photo Access
When you open a new app, it often asks for access to your camera and photos. But this makes it hard to keep track of which app has access to what. Follow these steps to check what apps have access to your photos, camera, and even your contacts.
Let's start with the Photos app:
Open Settings.
Scroll down and tap Privacy.
Tap Photos.
Go through the list and double-check which apps have access to Photos.
If you don't want an app to have access to Photos, tap on it and select Never.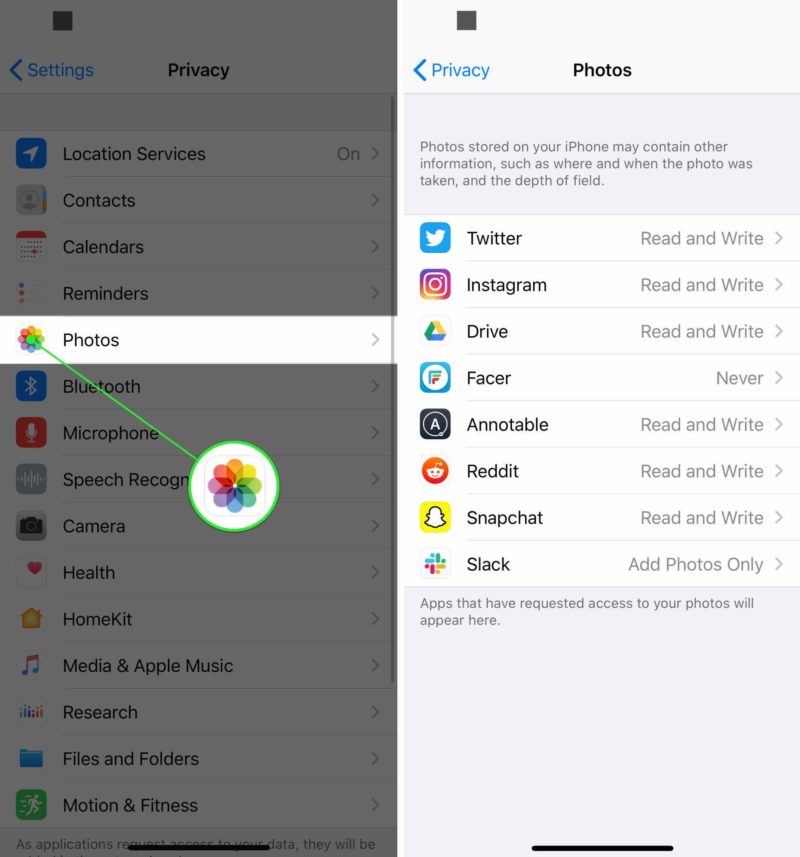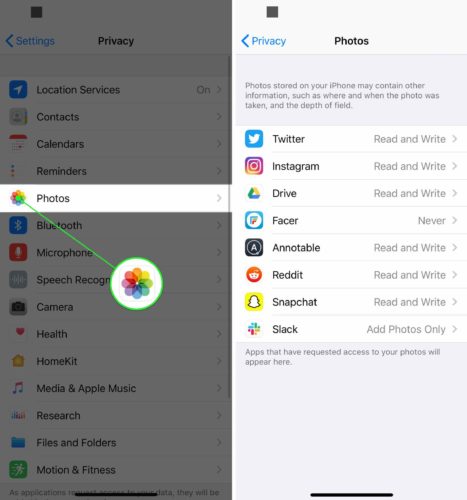 After you've set permissions for the Photos app, we recommend doing the same for Camera, Contacts, and so on.
Major apps like Instagram, Twitter, and Slack are reputable and won't give you any trouble. However, you need to be careful about giving smaller, less-reputable apps access to your Camera, Photos, and Contacts.
Analytics & Improvements
Analytics & Improvements settings are both a battery drainers and potential minor privacy issues. Apple and third party app developers get to gather information about how you use your iPhone for their own benefit.
To turn off these Analytics & Improvements features:
Open Settings.
Scroll down and tap Privacy.
Scroll and select Analytics & Improvements.
Turn off all of the switches.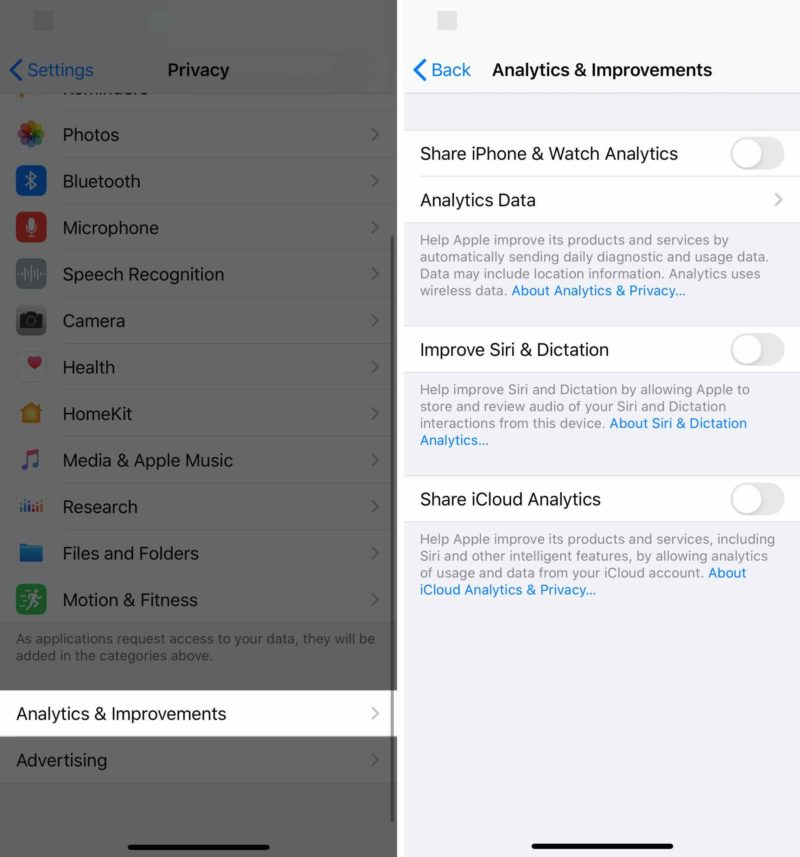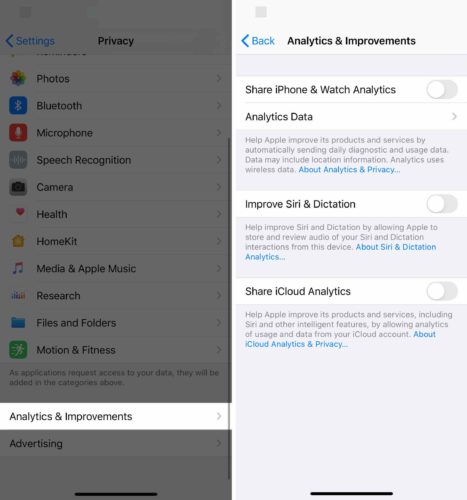 Limit Ad Tracking
Turning on Limit Ad Tracking opts you out of receiving targeted ads based on your personal interests. We recommend turning this iPhone Privacy setting on as it'll help prevent advertisers from collecting information about you.
Open Settings.
Tap Privacy.
Scroll down and tap Advertising.
Tap the switch next to Limit Ad Tracking to turn it on.
While you're here, tap Reset Advertising Identifier to clear out whatever information about you has already been tracked.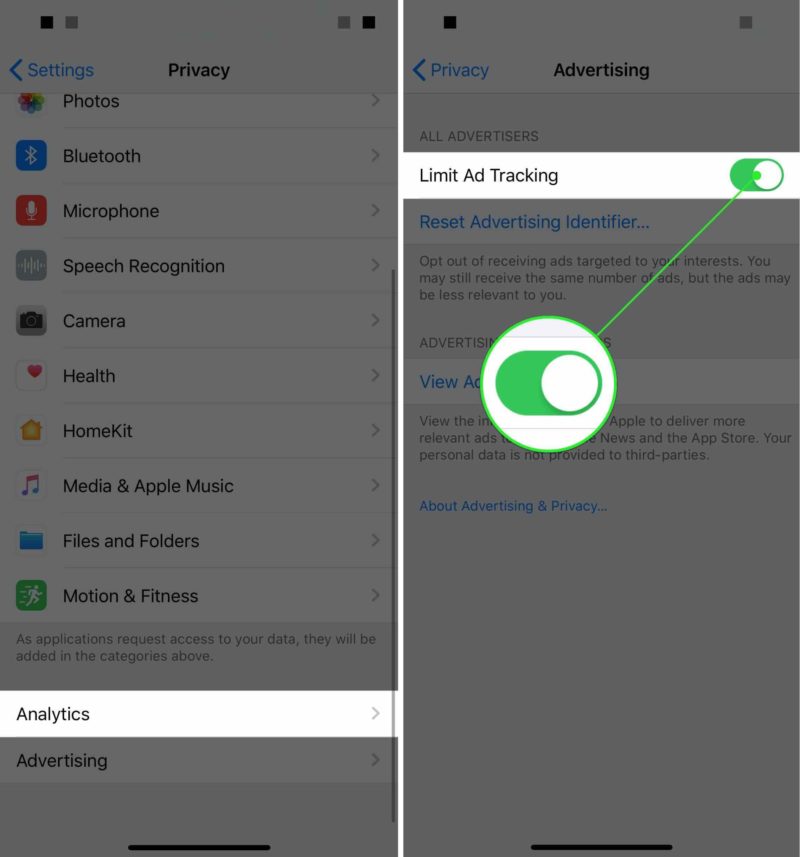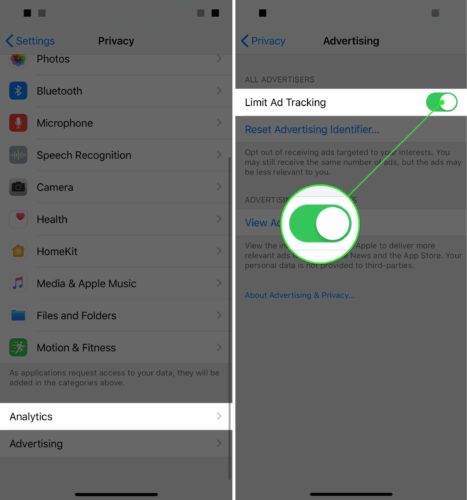 Watch Our Video To Learn More!
Check out our YouTube video if you'd like to learn more about these iPhone Privacy settings! While you're there, check out some of our other videos and make sure to subscribe!
Staying Private!
You're now an expert on iPhone Privacy settings! Advertisers are going to have a much harder time collecting data about you now. Feel free to leave any other questions down below in the comments.