Picture this: You're waiting for an important phone call. You've double-checked your iPhone to make sure the ringer is on and you've turned the volume all the way up. When the phone rings, you're going to hear it. 5 minutes go by and you glance at your iPhone, only to find out you've missed the important call! Don't throw your phone at the cat. In this article, I'll explain why your iPhone won't ring and I'll show you exactly how to fix it.
Update: If you have an iPhone 7, this article will work for you — but you may want to check out my new article called My iPhone 7 Won't Ring for an iPhone 7-specific walkthrough. Otherwise, keep reading!
Martha Aron inspired me to write this article when she asked, "My iPhone does not ring on all calls, I miss lots of calls and texts because of this. Can you help me?" Martha, I'm here to help you and everyone else that has missed incoming calls and texts because their iPhone isn't ringing.
You Probably Know This, But Check Anyway…
If you're reading this article, you probably already know that for your iPhone to ring, the Ring / Silent switch on the side of your iPhone has to be set to ring.
If the switch is pulled toward the screen, your iPhone's ringer is turned on. If the switch is pushed toward the back of the iPhone, your iPhone is on silent and you'll see a small orange stripe next to the switch. You'll also see the speaker icon on the iPhone display when you flip the switch.
Once you're sure the Ring / Silent switch is set to ring, make sure your iPhone ringer is turned up so you can hear your iPhone ring when you get a call. You can turn up the ringer volume by pressing the volume up button on the side of your iPhone.
You can also turn up the ringer volume by opening Settings -> Sounds & Haptics. Drag the slider under Ringer And Alerts to the right to turn up the ringer volume on your iPhone. The further you drag the slider to right, the louder the ringer will be.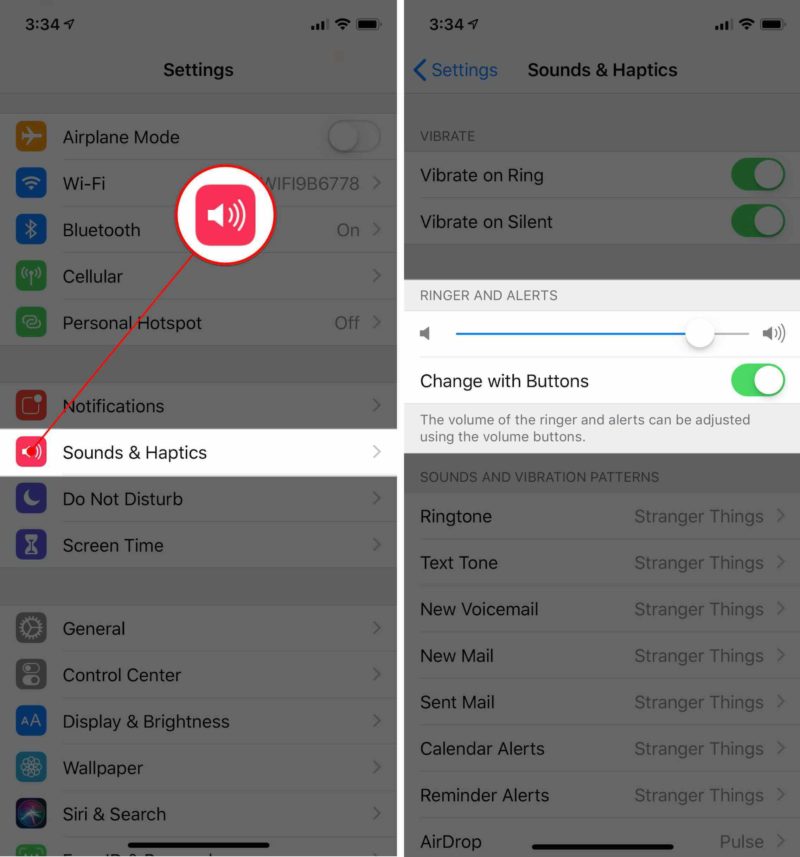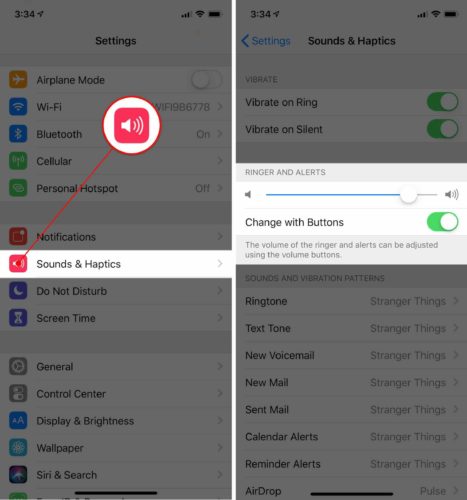 If your iPhone isn't making any sound at all, my article about what to do when an iPhone speaker stops working will show you how to fix that problem. If you've already done all this, here's why your iPhone isn't ringing:
Here's The Fix: Turn Off Do Not Disturb!
Most of the time, the reason an iPhone isn't ringing for incoming calls is that the user has accidentally turned on the Do Not Disturb feature in Settings. Do Not Disturb silences calls, alerts, and notifications on your iPhone.
How Do I Know If Do Not Disturb Is Turned On?
The easiest way to tell if Do Not Disturb is turned on is to look in the upper right hand corner of your iPhone, just to the left of the battery icon. If Do Not Disturb is enabled, you'll see a small moon icon there.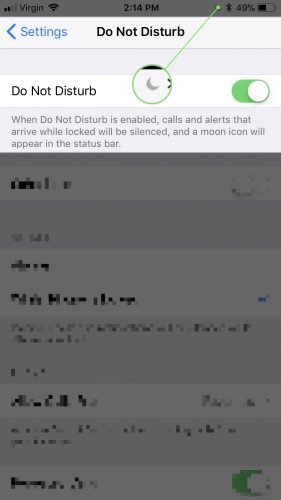 If you'd like to dive deeper into Do Not Disturb and set up an automatic schedule, instance, head to Settings -> Do Not Disturb to see all the options available to you.
How Do I Turn Off Do Not Disturb?
Ever since Apple released iOS 7, it's been easy to turn Do Not Disturb on and off. Swipe up from the bottom of your iPhone screen to open Control Center. Tap the moon icon to turn Do Not Disturb on or off. That's it!
This can vary for different iOS versions. If you have an iPhone X or newer, open Control Center by swiping down from the upper right-hand corner of the home screen.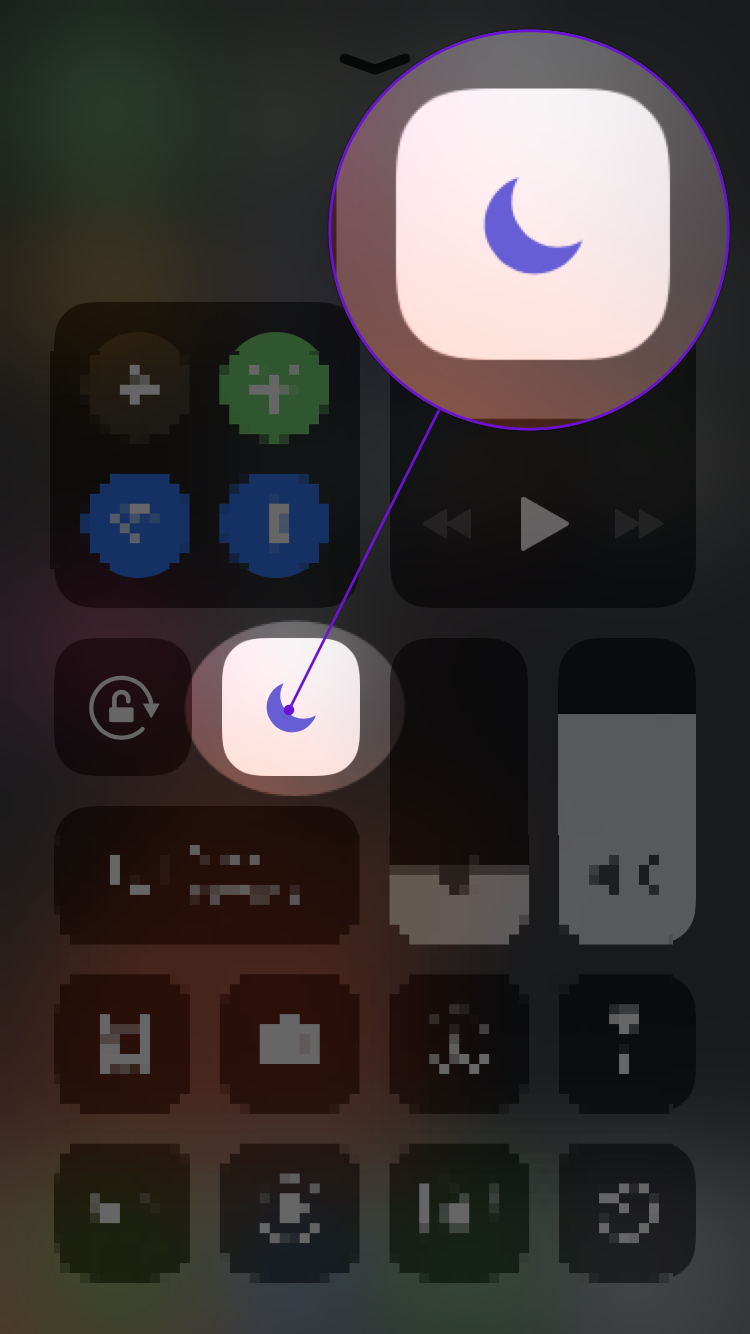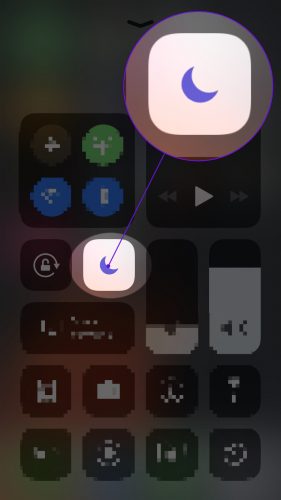 You can also turn off Do Not Disturb by going to Settings -> Do Not Disturb and turning off the switch next to Do Not Disturb. You'll know Do Not Disturb is off when the switch is white.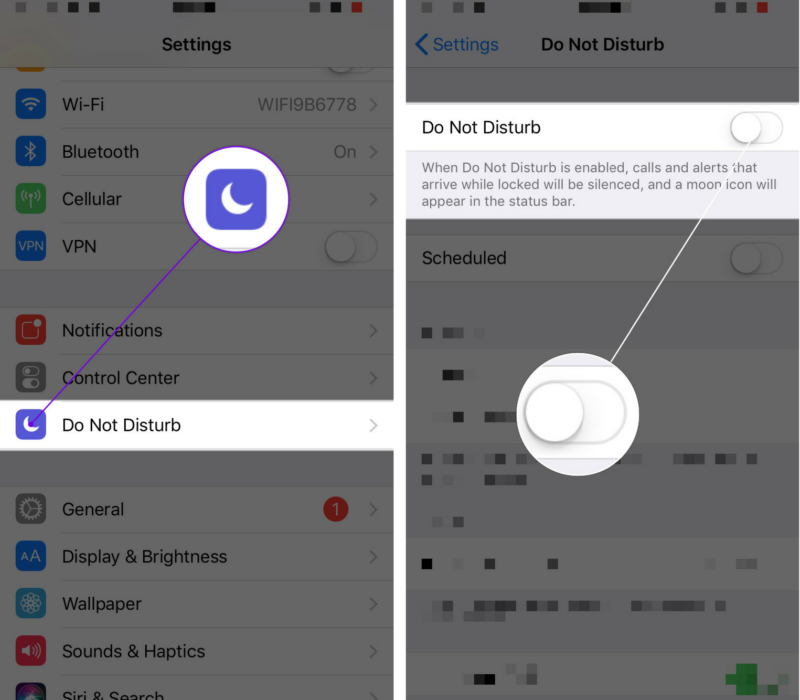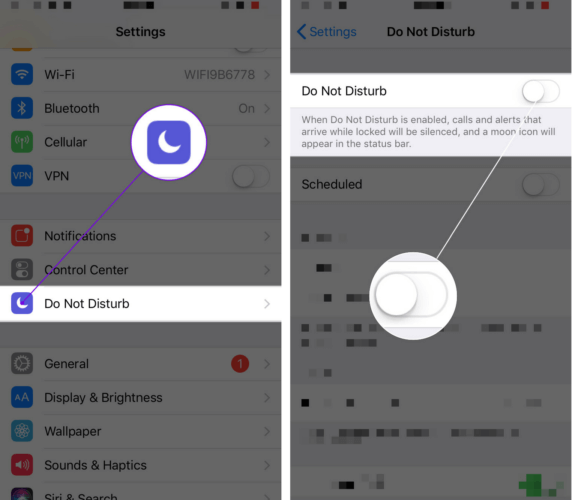 Turn Off "Silence Unknown Callers"
One reason why you have an iPhone ringing problem may be because your block unknown callers feature is turned on. This feature is great for stopping telemarketers and robocalls in their tracks, but unfortunately it also filters out some people that you actually do want to talk to.
To turn this off, head over to Settings -> Phone and then switch off Silence Unknown Callers. Once you've done that, your phone should be able to ring again when someone who isn't in your contacts tries to call you.
What If My iPhone Still Won't Ring?
I've received a couple of comments from readers who have taken all of the suggestions and whose iPhones still aren't ringing. If you've made it this far and your iPhone isn't ringing, there's a good chance you may have a hardware problem.
Often times, when gunk or liquid gets into one of the ports (like the headphone jack or lightning / dock connector), your iPhone thinks there's something plugged into it, when in fact there isn't. My article about how to fix an iPhone that's stuck in headphone mode explains why that happens and how to fix the problem.
It's a long shot, but you can take an antistatic brush (or toothbrush you've never used before) and try to brush out the gunk from your headphone jack or lightning / dock connector port. Antistatic brushes are helpful for cleaning all sorts of electronics, and you can pick up a 3-pack on Amazon for less than $5.
If you're successful, the issue should resolve itself. Unfortunately, most of the time the damage has already been done. Something has shorted out on the inside of your iPhone, so the only solution is to visit your local Apple Store or use the mail-in options at Apple's support website to have your iPhone repaired.
Apple Store repairs can be expensive. If you're looking for a less-expensive option, I recommend Puls, a repair company that will send a certified technician to you who can meet you and fix your iPhone within an hour.
Now might also be a good time to upgrade your iPhone. Repairs can be expensive, especially if more than one thing is wrong with your iPhone. Rather than spending hundreds of dollars on a repair, you could use that money to purchase a new phone. Check out UpPhone's cell phone comparison tool to find a great deal on a new iPhone!
Wrapping It Up
Do Not Disturb is one of those great features that comes in handy if you know how to use it, but it can be really frustrating if you don't. To Martha and everyone else who has missed important calls or yelled "My iPhone won't ring!" at an innocent bystander, I hope this article has you to solve your silent iPhone problem. If you have follow-up questions or other experiences to share, post them in the comments section below. I look forward to hearing from you!
All the best,
David P.