FaceTime is a great way to connect with your friends and family. But what happens when FaceTime doesn't work the way it should? In this article, I'll explain why FaceTime is not working on your iPhone, iPad, and iPod and how to fix FaceTime when it's giving you trouble.
FaceTime: The Basics
FaceTime is Apple's native video chat app. iPhones, iPads, Macs, and iPod Touches all come with the FaceTime app built-in. When FaceTime is working normally, anyone with an internet connection and one of these devices should be able to FaceTime other people with an Apple product of their own.
FaceTime is easy to use when it's working properly. Before we go on, let's go over how to use it, just to make sure you're doing everything right.
How Do I Use FaceTime On My iPhone?
First, open Contacts.
Once you are inside the app, click or tap on the name of the person you want to call. This will take you into that person's entry in Contacts. You should see a FaceTime option under that person's name.
Click or tap on FaceTime.
If you want an audio-only call, click or tap on the Audio Call button. If you want to use video, click or tap on the Video Call button.
Does FaceTime Work On iPhone, iPad, iPod, or Mac?
The answer is "yes" to all four, with some reasonable limits. It will work on a Mac with OS X installed or any of the following devices (or later models): iPhone 4, a fourth generation iPod Touch, and iPad 2. If you have an older device, then you won't be able to make or receive FaceTime calls.
Can Androids Or PCs Use FaceTime?
Until recently, FaceTime was only compatible with Apple Products. However, when Apple announced iOS 15, they also announced FaceTime Links. With FaceTime links, Mac, iPhone, and iPad users can generate and share meeting links over FaceTime.
Anyone with access to these links, including Android and PC users, can now join FaceTime calls from their web browser! So, while the FaceTime app remains exclusive to Apple products, FaceTime calls are available to everyone with an internet connection!
How To Fix Problems With FaceTime on iPhone, iPad, and iPod
Make Sure You're Signed In With Your Apple ID Or Phone Number
In order to use FaceTime, you have to be signed into your Apple ID, and so does the person you want to contact. Let's begin by making sure that you are signed in with your Apple ID.
Go to Settings -> FaceTime and make sure the switch labelled FaceTime is turned on. Under this switch, you should see a heading that says You Can Be Reached By FaceTime At. If you're signed in on an iPad, iPod or Mac, you should see your Apple ID. If you don't, tap Use Your Apple ID For FaceTime and follow the prompts to sign in.
If you're using your iPhone, you may also see your cell phone number listed under You Can Be Reached By FaceTime At. If you select this option, everyone who has access to your cell phone number should be able to contact you over FaceTime.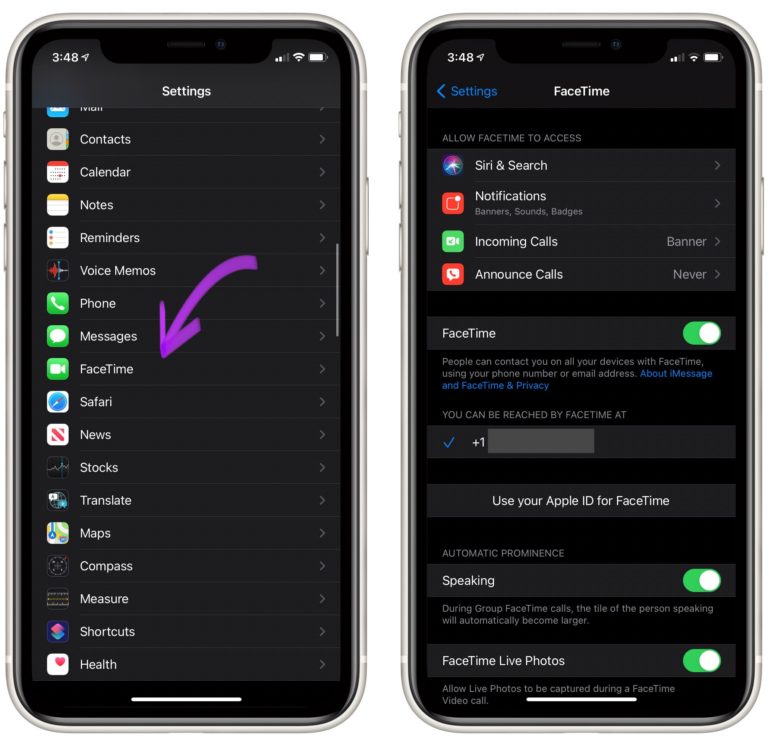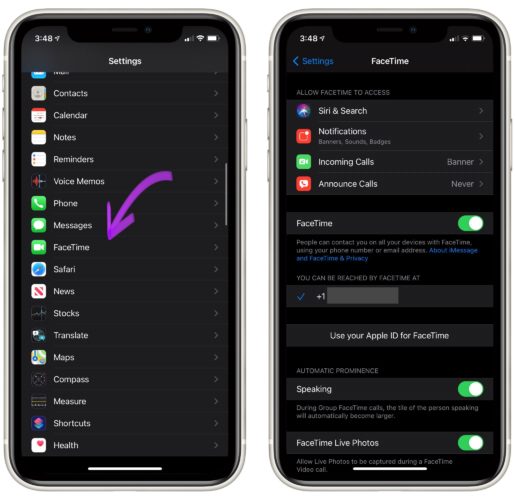 If you are signed in, great! If not, then sign in and try the call again. If the call works, then you are good to go. If it still does not work, keep reading for some troubleshooting tips!
Question: Does FaceTime Not Work With Anyone Or Just One Person?
Here's a helpful rule of thumb: If FaceTime is not working with anyone, it's probably a problem with your iPhone. If it doesn't work with just one person, it's probably a problem on the other person's iPhone, iPad, or iPod.
Why Doesn't FaceTime Work With Only One Person?
The other person may not have FaceTime turned on, or there may be a software problem with their iPhone. It's also possible the network they are trying to connect to may be causing the error. If you're not sure, try making a FaceTime call with someone else. If the call goes through, you know your device is OK — it's the other person who needs to be reading this article.
Are You Trying To Contact A Person Without Service?
Even if both you and the person you're trying to contact have a FaceTime account, that may not be all of the story. Apple does not have FaceTime service everywhere, and not all cellular providers support FaceTime.
Apple's support website can help you figure out which countries and carriers do and do not support FaceTime. Unfortunately, If you're trying to use FaceTime in an unsupported area, there's nothing you can do to make it work.
Is A Firewall Or Security Software Getting In The Way?
If you have a firewall or other form of internet protection in place, then it may be blocking ports that prevent FaceTime from working. You can view a list of the ports that need to be open for FaceTime to work on Apple's website. The way to disable security software varies widely, so you'll need to visit the software manufacturer's website for help with the specifics.
Troubleshooting FaceTime Device by Device
If you are still having issues with FaceTime after attempting the fixes above, find your device below and we'll get you going with some more fixes you can try. Let's get started!
iPhone and iPad
If you're already connected to a data network, there are a few other fixes you can try to get FaceTime working. Conveniently, these steps work for both iPhones and iPads.
One quick fix that sometimes works when FaceTime is not working is to completely restart your device. The way to turn off your iPhone or iPad depends on which model you have:
iPhone 8 and older: Press and hold down your iPhone's power button until "slide to power off" appears. Swipe the power icon left to right to shut down your iPhone. Press and hold the power button again to turn it back on.
iPhone X and newer: Press and hold your iPhone's side button and either volume button until "slide to power off" appears. Then, swipe the power icon left to right across the screen. Press and hold down the side button to turn your iPhone on again.
iPad with a Home button: press and hold the top button until you see "slide to power off". Then, slide the power icon from left to right to shut down your iPad. Once your iPad turns off, wait 30 seconds then press and hold the top button again to turn it back on.
iPad without a Home button: Press and hold the top button and either volume button until you see the power slider. Then, drag the power icon from left to right until your iPad shuts down. After 30 seconds, press and hold the top button until your iPad turns back on.
We recommend checking your device's Date & Time Settings. A lot of things can go wrong when the date and time are incorrect, especially if your iPhone or iPad thinks it is in the future.
Open Settings and tap General -> Date & Time. Then, turn on the switch next to Set Automatically if it's not on already.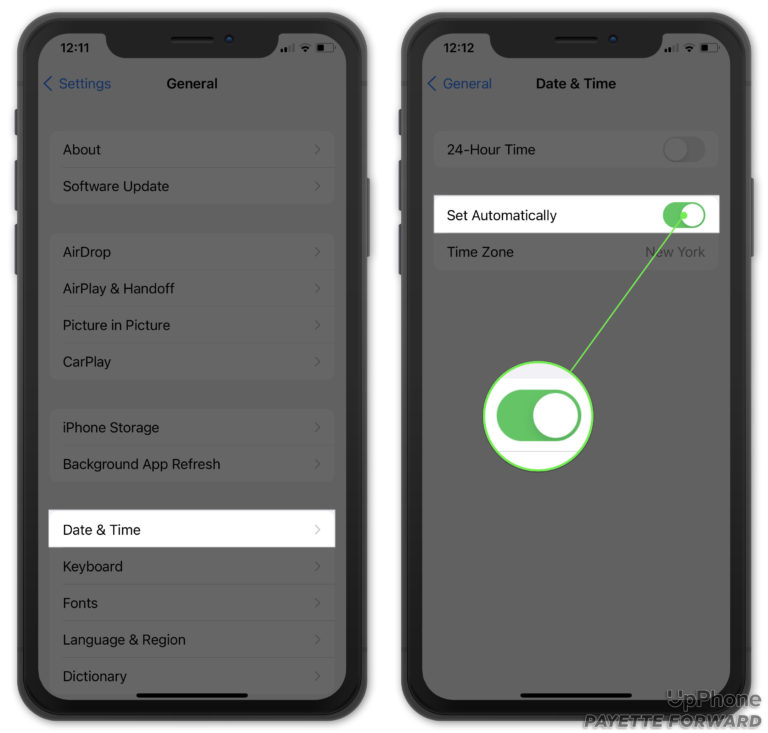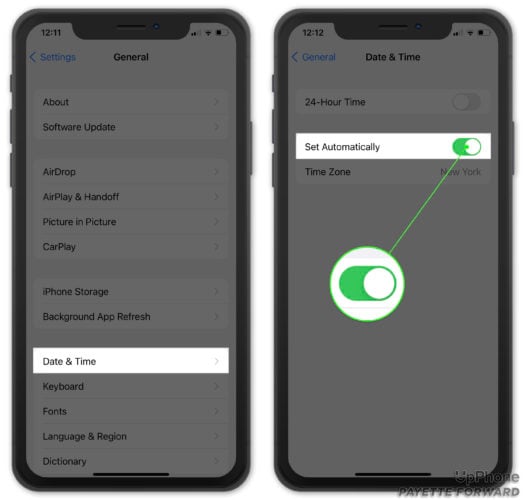 FaceTime is a native iOS app, so it's also important to make sure that the iPhone or iPad you're using is running smoothly. The best way to do this is to install the latest iOS or iPadOS software.
Keeping your device up to date is especially important if you're trying to FaceTIme someone with an Android or PC. To create and use FaceTime links, you need an iPhone running iOS 15 or an iPad running iPadOS 15. If you're trying to connect an Android to a FaceTime call running any earlier software, it won't work.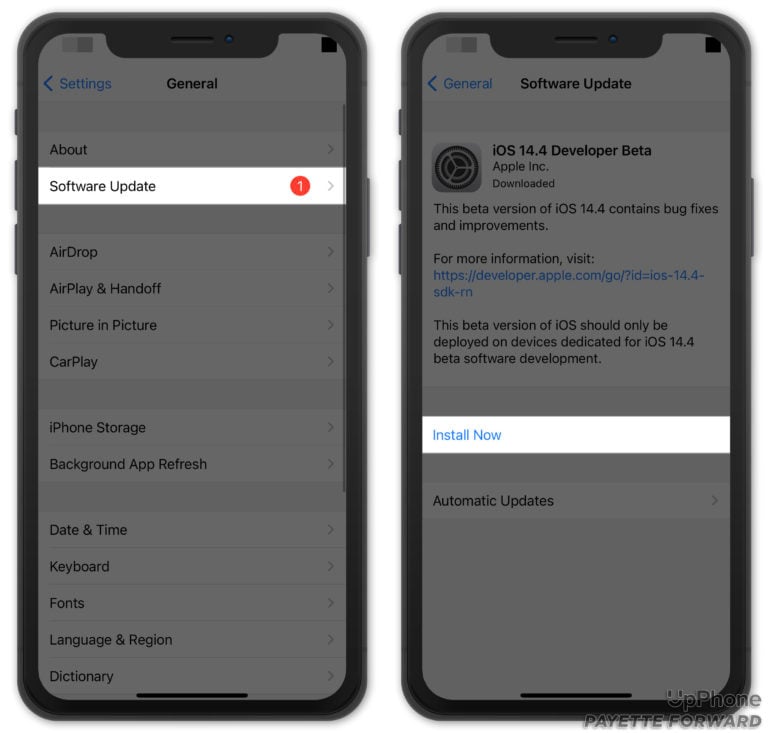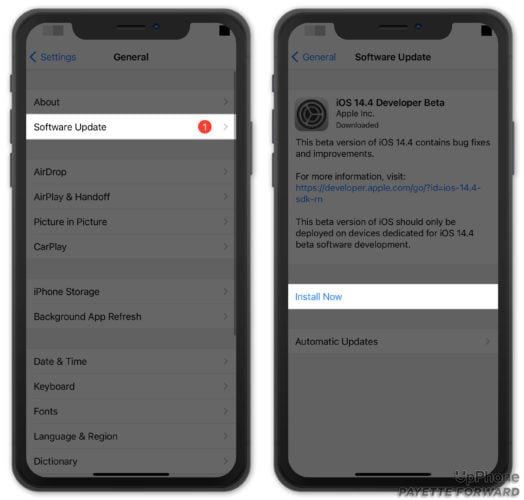 To update iOS or iPadOS, open Settings and tap General. Then, select the Software Update tab. Here, you can see whether or not there's a software update currently available for your iPhone or iPad. If you see that there is a new update available, tap Download and Install to install the new update on your device.
iPod
If FaceTime is not working on your iPod, make sure you're signed in with your Apple ID. You'll also need to be sure that you're in range of a Wi-Fi network, and ideally in a strong signal area. If you're not connected to Wi-Fi, then you won't be able to make a FaceTime call.
Mac
Macs need to be connected to the internet using Wi-Fi or a mobile hotspot to make FaceTime calls. If you're sure that your Mac is connected to the internet, here's what to try:
Fix Apple ID Issues On Mac
First open Spotlight by clicking the magnifying glass icon in the upper right-hand corner of the screen. Type FaceTime and double-click to open it when it appears in the list. Click to open the FaceTime menu in the upper left-hand corner of the screen and then click Preferences… 
This window will show you if you are signed in with your Apple ID. If you are not signed in, sign in with your Apple ID and try the call again. If you are already signed in and you see Waiting for Activation, try signing out and back in again — a lot of the time, that's all it takes to solve this problem.
Make Sure Your Date & Time Is Set Correctly
Next, let's check the date and time on your Mac. If they're not set up correctly, FaceTime calls will not go through. Click on the Apple menu on the upper left hand corner of the screen, and then click System Preferences. Click on Date & Time and then click on Date & Time in the upper-middle of the menu that appears. Make sure that Set Automatically is enabled.
If it's not, you'll need to click the lock in the lower left-hand corner of the screen and log in with your computer password to make changes to this setting. After you log in, click the check box next to Set Date and Time Automatically to turn it on. Then, choose the closest city to your location from the list provided and close the window.
Check Your Cell Phone Plan
If you don't want to use your cellular data plan, you're out range from your cellular coverage, or if you're having trouble with your cellular service, you will need to connect to Wi-Fi.
To check if your device is currently using Wi-Fi or cellular data, look near the top of your screen. You will either see the Wi-Fi icon or words like 3G/4G or LTE. If you have low signal strength, FaceTime may not be able to connect.
Check out our other article if you're having trouble connecting your iPhone to Wi-Fi.
If you can't connect to the internet with your iPhone when you're not on Wi-Fi and you are paying for a data plan, you'll need to contact your cell phone service provider to make sure there isn't a service outage or a problem with your bill.
Try Ejecting Your iPhone's SIM Card
A SIM card connects your iPhone to your wireless carrier's cellular network. If you're having trouble using FaceTime using cellular data, or if FaceTime says Waiting For Activation, this step could fix the problem.
Grab a SIM card ejector tool or straighten out a paperclip. Insert the tool into the hole in the SIM card tray. You'll have to apply some force to open the tray. Push the tray back in the reseat the SIM card.
I've Done Everything And FaceTime Still Doesn't Work! What Do I Do?
If FaceTime still won't work, check out Apple System Status page. It rarely ever happens, but it's possible FaceTime is down for many iPhone users. Scroll down and look at the dot next to FaceTime. If it's green, FaceTime is fine. If it's any other color, there's an error with FaceTime, and Apple is working towards a solution.
Reach out to Apple support if FaceTime isn't down. There could be an issue with your account only a customer support representative can resolve.
FaceTime Problems Solved: Wrapping It Up
There you have it! Hopefully, FaceTime is now working on your iPhone, iPad, iPod, and Mac, and you're chatting happily with your family and friends. Next time FaceTime is not working, you'll know how to fix the problem. Feel free to ask us any other questions down below in the comments section!