You can't make or receive calls or use cellular data on your iPhone. You received a notification about a cellular update, but you're not sure what it means. In this article, I'll explain why an iPhone cellular update failed and show you how to fix the problem good!
Do You Have An iPhone 7?
A small number of iPhone 7 models have a hardware defect that makes the Cellular Update Failed notification appear. It also makes your iPhone display No Service in the upper-left hand corner of the screen, even if cellular service is available.
Apple is aware of this problem, and they're offering a free device repair if your iPhone 7 qualifies. Check out Apple's website to see if your iPhone 7 qualifies for a free repair.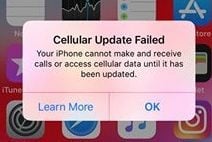 A Temporary Fix For Some iPhones
Some people have reported that turning off Wi-Fi calling solved the problem on their iPhone. This definitely isn't a perfect solution, and you'll want to go back and turn Wi-Fi Calling back on after updating your iPhone to a more recent version of iOS.
It's also important to point out that not every wireless carrier supports Wi-Fi calling. If you don't see these options on your iPhone, move onto the next step.
Open Settings and tap Cellular -> Wi-Fi Calling. Turn off the switch next to Wi-Fi Calling on This iPhone to turn off Wi-Fi Calling.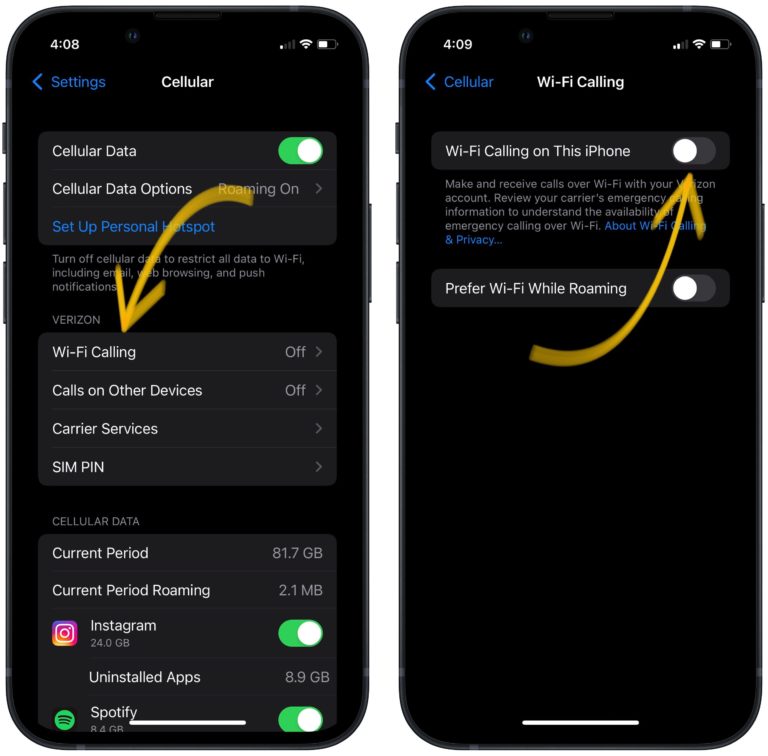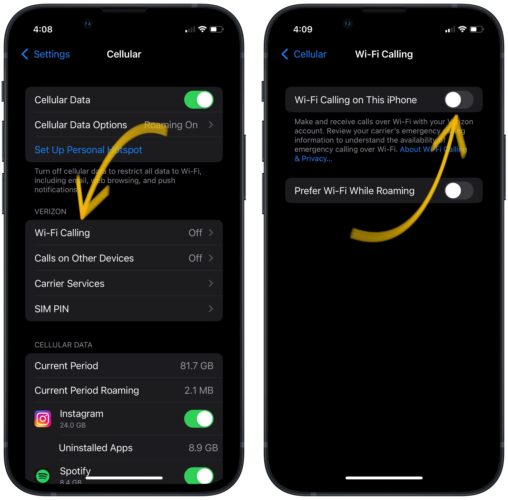 Restart Your iPhone
If our temporary fix didn't do the trick, the next thing we recommend is to restart your iPhone. It's possible your phone is experiencing a small software glitch. Quickly restarting it might be the only fix you need.
To power down an iPhone with Face ID, press and hold the side button and either volume button. Keep holding both buttons until your iPhone shows Slide To Power Off. Drag the power icon from left to right to turn your iPhone off.
If your iPhone does not use Face ID, press and hold the power button until you see Slide To Power Off appear on your screen. Then, swipe the power icon from left to right to shut your device off.
Give your iPhone a few moments to shut down fully. Then, press and hold the side button (iPhones with Face ID) or power button (iPhones without Face ID) to turn your iPhone back on. When the Apple logo appears on your screen, release the button and your iPhone should turn back on.
Turn Airplane Mode Off And Back On
Your iPhone won't connect to cellular networks if Airplane Mode is turned on. Sometimes toggling Airplane Mode on and off again can fix minor cellular connectivity issues.
Open Settings and tap the switch next to Airplane Mode to turn it on. Tap the switch again to turn it off. You'll know Airplane Mode is off when when the switch is white.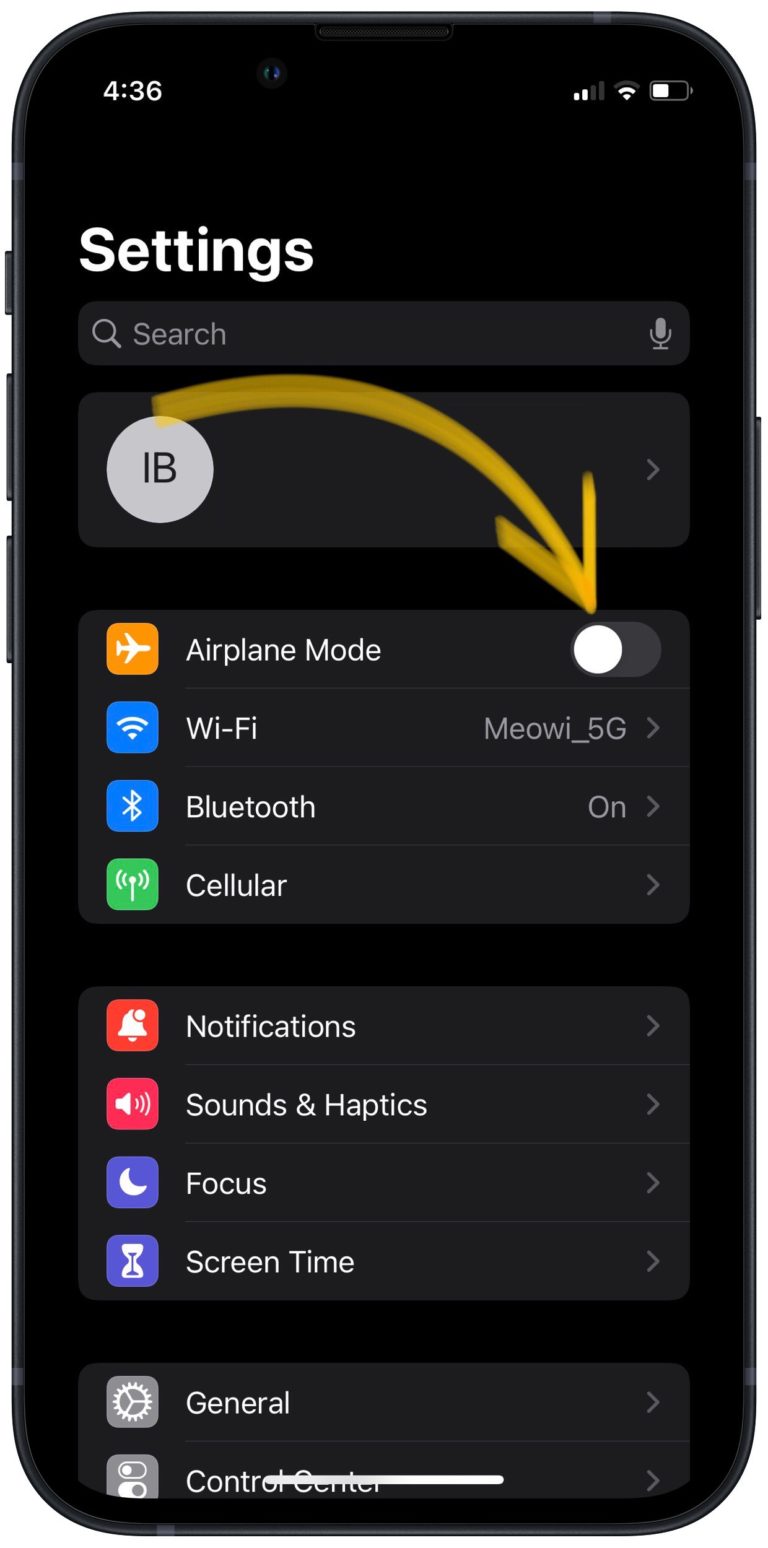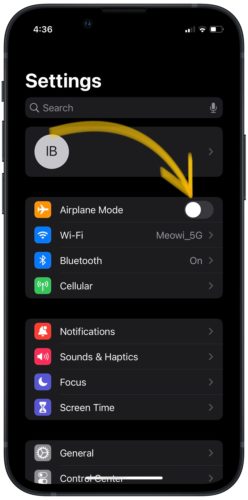 Turn Cellular Data Off And Back On
Another quick way to fix minor cellular connectivity issues is to turn Cellular Data off and back on. This doesn't always work, but it doesn't hurt to try.
Open Settings and tap Cellular. Then, tap the switch next to Cellular Data at the top of the screen to turn it off. Tap the switch again to turn Cellular Data back on.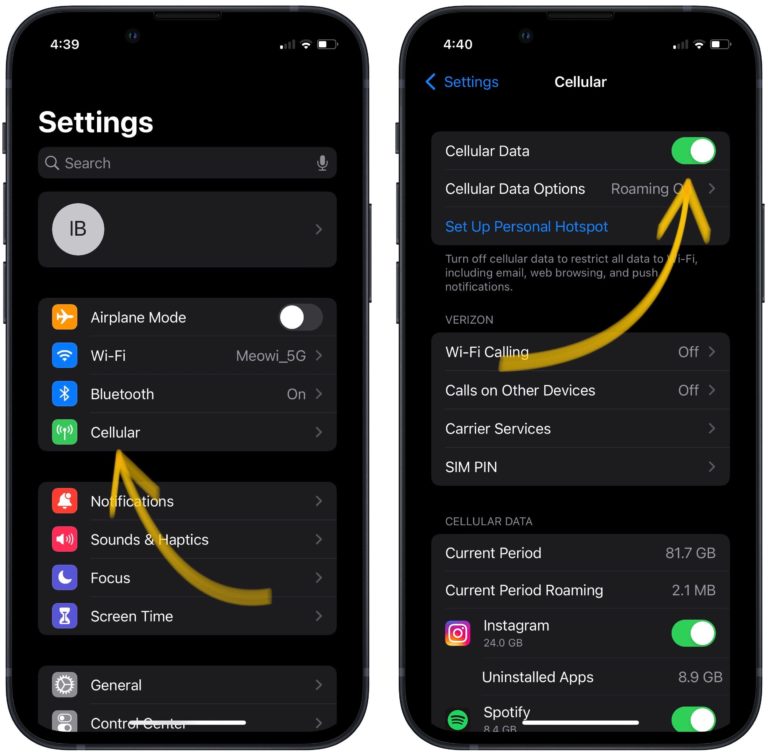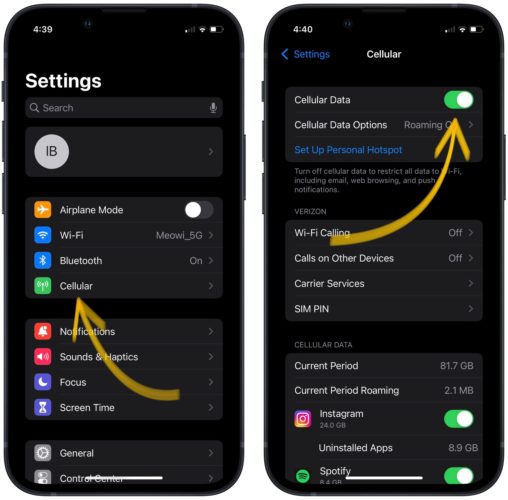 Check For A Carrier Settings Update
A carrier settings update is an update released by your cell phone carrier or Apple to improve your iPhone's ability to connect to your carrier's cellular network. Carrier settings updates aren't released as frequently as iOS updates, but it's important to regularly check to see if one is available.
Open Settings and tap About to check for a carrier settings update. If an update is available, a pop-up will appear within about ten seconds.
Tap Update if a carrier settings update is available. If an update isn't available, move onto the next step.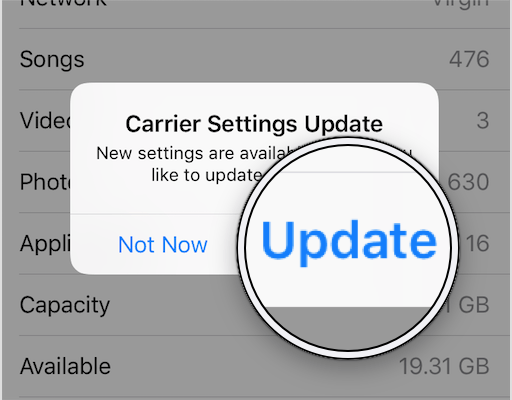 Update iOS On Your iPhone
Apple often releases iOS updates to introduce new features and fix bugs like the one you're experiencing right now. Open Settings and tap General -> Software Update to see if an iOS update is available. Tap Download and Install if a software update is available.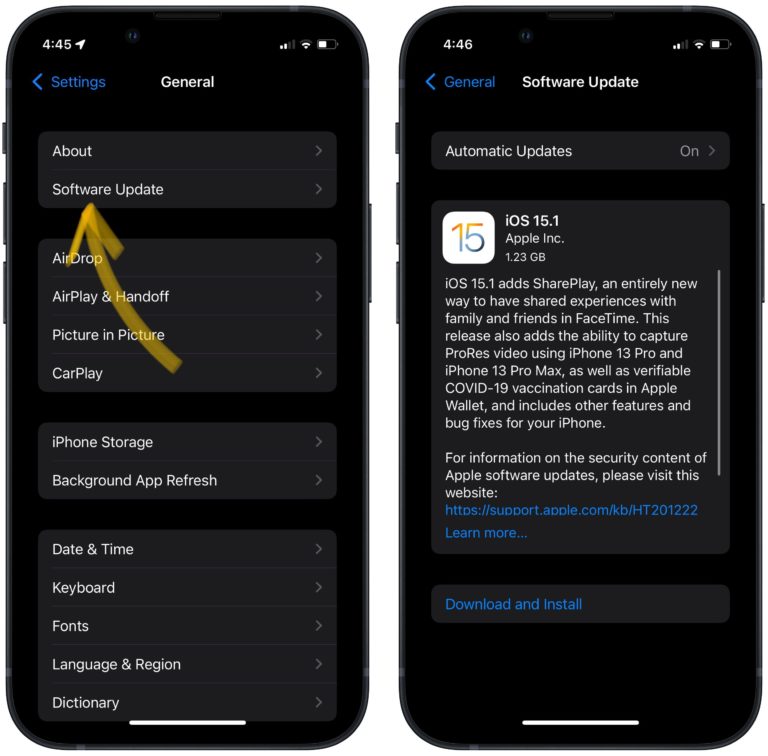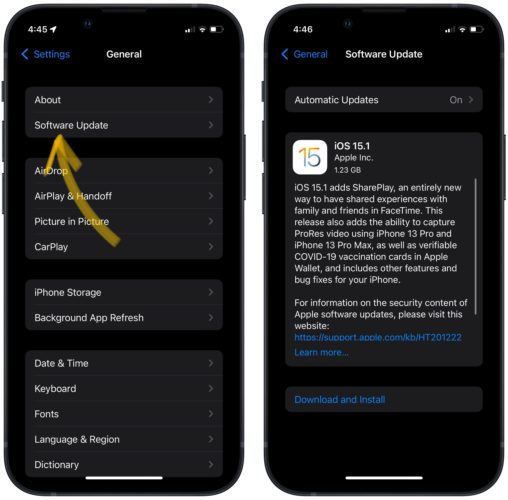 Eject And Reinsert Your SIM Card
Since it's not uncommon for your iPhone to say No SIM when you receive the Cellular Update Failed notification, it's a good idea to eject your SIM card and put it back in.
Grab your SIM card ejector tool or, since you probably don't have one of those, straighten out a paper clip. Stick the ejector tool or your paper clip into the hole in the SIM card tray to pop it open. Push the SIM card tray back into your iPhone to reseat the SIM card.
Reset Your iPhone's Network Settings
Resetting the network settings erases all of the Cellular, Wi-Fi, APN, VPN settings on your iPhone. By erasing all of the network settings at once, you can sometimes fix a troublesome software issue. Make sure you have your Wi-Fi passwords written down, because you'll have reenter them after completing this reset.
Open Settings and tap General -> Transfer or Reset iPhone -> Reset -> Reset Network Settings. Tap Reset Network Settings to confirm your decision.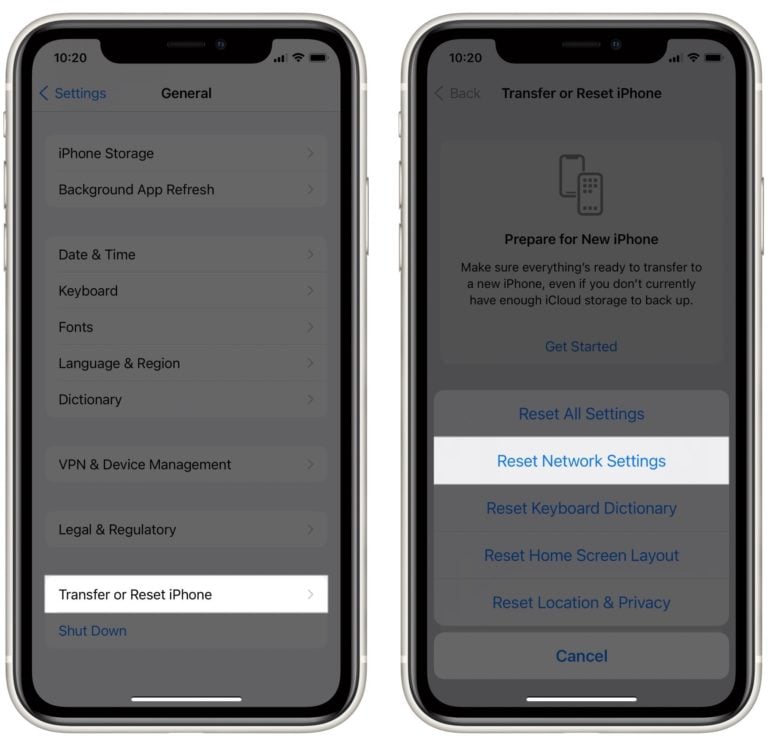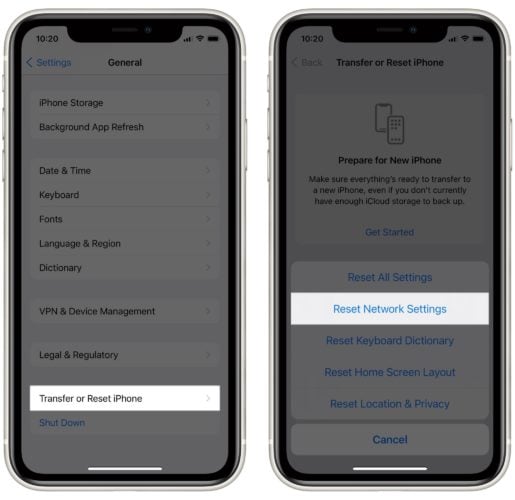 Put Your iPhone In DFU Mode
The DFU restore is the deepest iPhone restore. Every single line of code is erased and reloaded, reseting your iPhone to factory defaults.
Make sure you save a backup of your iPhone before putting it in DFU mode! Everything gets wiped from your iPhone during the DFU restore process. Saving a backup will make sure you don't lose any any of your photos, videos, and other saved files.
When you're all set, check out our other article to learn how to put your iPhone in DFU mode and restore!
Contact Apple Or Your Wireless Carrier
You'll want to contact Apple or your wireless carrier if your iPhone still says Cellular Update Failed after you put in DFU mode. There may be something wrong with your iPhone's cellular modem.
Set up an appointment at your local Apple Store to see if an Apple tech can help you fix the problem. However, don't be surprised if Apple tells you to get in touch with your wireless carrier. There could be a complex issue with your account that can only be resolved by a customer service representative of your wireless carrier.
Here are the customer service phone numbers of the five biggest wireless carriers in the United States:
AT&T: 1-(800)-331-0500
Sprint: 1-(888)-211-4727
T-Mobile: 1-(877)-746-0909
US Cellular: 1-(888)-944-9400
Verizon: 1-(800)-922-0204
Updated And Ready To Go!
You've fixed the problem on your iPhone and you can start making calls again! Make sure you share this article on social media to teach your family and friends what to do when their iPhone says Cellular Update Failed. Feel free to leave any other questions you have about your iPhone in the comments section below.
Thanks for reading,
David L.