A lot of the day-to-day tasks on your iPhone revolve around functional speakers. When your iPhone speakers aren't working, you can't enjoy music, talk to someone on speakerphone, or hear the alerts you receive. This problem can be incredibly frustrating, but it can also be fixed. In this article, I'll explain what to do if your iPhone speaker sounds muffled!
Software Vs. Hardware Issues
A muffled iPhone speaker can be the result of a software problem or a hardware problem. The software tells your iPhone what sounds to play and when to play them. The hardware (the physical speakers) then plays the noise so you can hear it.
We can't be sure what type of problem this is yet, so we'll start with the software troubleshooting steps. If those steps don't fix your iPhone speaker, we'll recommend a few great repair options!
Is Your Phone Set To Silent?
When your iPhone is set to silent, the speaker won't make any noise when you receive a notification. Make sure the Ring / Silent switch above the volume buttons is pulled towards the screen, indicating that your iPhone is set to Ring.
Turn The Volume All The Way Up
If the volume on your iPhone is low, it may sound like the speakers are muffled when you receive a phone call or notification.
To turn up the volume on your iPhone, unlock it and hold the top volume button on the left side of your iPhone until the volume is all the way up.
You can also adjust the volume on your iPhone by going to Settings -> Sound & Haptics and dragging the slider under Ringer and Alerts. Drag the slider all the way to the right to turn the volume on your iPhone all the way up.
If you want to have the option to turn up the volume using the buttons on your iPhone, turn on the switch next to Change with Buttons.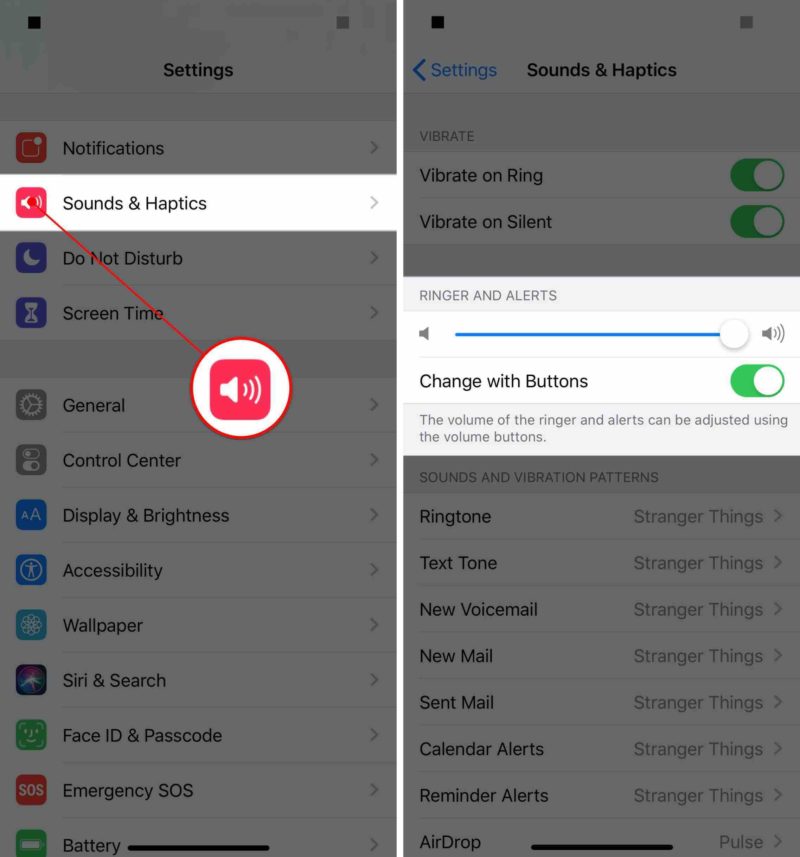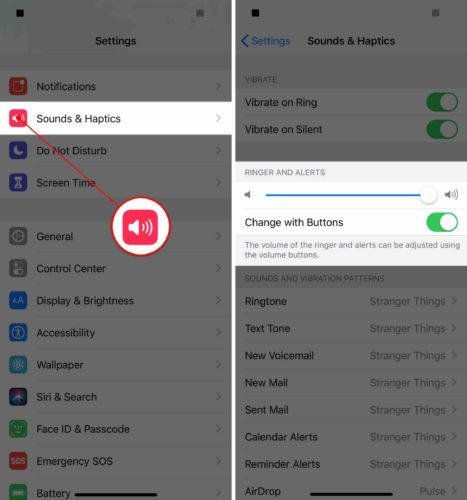 Take Off Your iPhone Case
If you have a bulky case for your iPhone, or if the case was put on upside down, it could make the speaker sound muffled. Try taking your iPhone out of its case and playing a sound.
Clean Out Any Gunk From The Speaker
Your iPhone speakers can quickly get filled with lint, dirt, or other debris, especially if it has been sitting in your pocket all day. Try wiping off the speaker with a microfiber cloth. For more compacted gunk or debris, use an anti-static or an unused toothbrush to clean out your speaker.
Back Up Your iPhone And Put It In DFU Mode
Before you run to your local Apple Store to get a hardware repair done, let's make sure we're absolutely certain that the speaker is broken. A DFU restore is the last step you can take to completely rule out any type of software problem causing your iPhone speaker to sound muffled.
First, backup your iPhone. A DFU restore erases then reloads all the code on your iPhone. You'll want a recent iPhone backup so you don't lose your contacts, photos, messages, and more.
You can follow these guides to back up your iPhone using iTunes or back up using iCloud.
After you've backed up your iPhone, follow these instructions to put your iPhone in DFU mode.
Before checking if your speakers work, go through steps 1-4 again and then try to play music or use your speakerphone. If the speaker still sounds muffled, it's time to look into repair options.
Repairing Your iPhone Speaker
Apple offers repairs for iPhone speakers. You can schedule an appointment at the Genius Bar or use their mail-in service by visiting their support center.
One of our favorite and often less-expensive repair options is Puls. They will send an iPhone repair expert to a location you choose and can have your iPhone fixed in as little as an hour. They also offer a lifetime warranty, so this might be the best option for you!
If you have an older iPhone, you may want to consider upgrading to a new one instead of paying out of pocket to repair your old one. New iPhones have better stereo speakers that are great for listening to music or streaming videos. Check out UpPhone's comparison tool to find a great deal on a new iPhone!
Can You Hear Me Now?
Now that you've reached the end of the article, we've either solved your speaker problem or at least figured out that you need a repair. If your problem was fixed, let us know which step helped you figure it out — this might help others with the same problem. Regardless, if you have any other questions, leave them in the comments below!