Your iPhone screen in glitching and you don't know why. It might flicker, freeze, delay when you touch it, or something else that's very frustrating. In this article, I'll explain how to fix an iPhone screen glitch!
Hard Reset Your iPhone
By hard resetting your iPhone, you'll force it to abruptly turn off and back on. Sometimes crashed software can cause screen glitches, so restarting your iPhone may fix the problem.
Follow the steps below to hard reset your iPhone:
iPhone 8 And Newer
First, press and release the volume up button. Then, press and release the volume down button. Finally, hold down the side button on the right side of your iPhone until the screen turns off and the Apple logo appears.
For iPhone 7 and 7 Plus
Simultaneously press and hold down the volume down button and the power button until the screen goes black and the Apple logo appears.
iPhone SE, iPhone 6, & Earlier
Press and hold the power button and the Home button at the same time until the screen turns off and the Apple logo appears.
Turn Off Auto-Brightness
We've heard from people who said they had success fixing iPhone screen glitches by turning off Auto-Brightness. Here's how to turn off Auto-Brightness on your iPhone:
Open Settings.
Tap Accessibility.
Tap Display & Text Size.
Turn off the switch next to Auto-Brightness.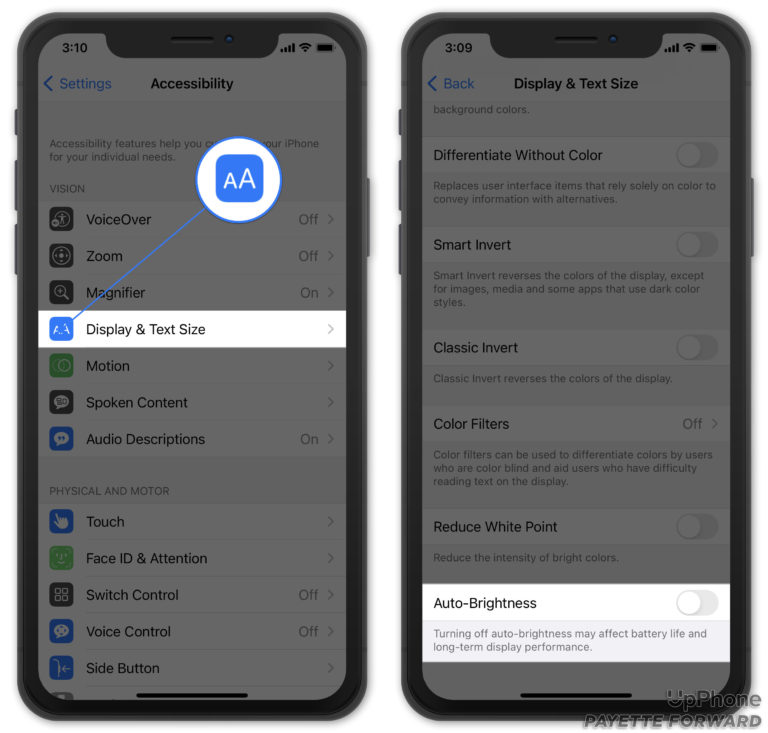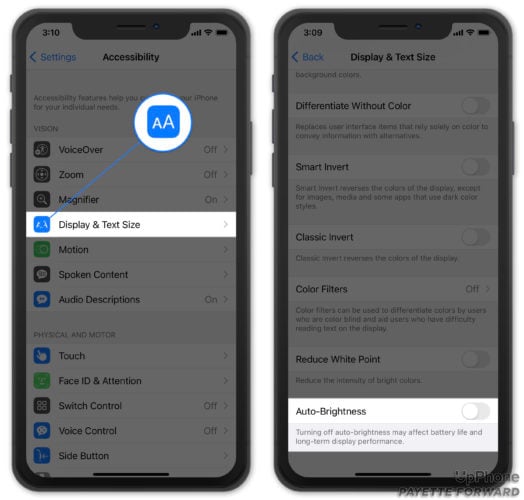 Take Off The Case & Wipe Off The Screen
iPhone displays are very sensitive. It's possible your iPhone case or something on the display is triggering the touch screen and making it glitch. Take your iPhone out of its case and wipe it with a microfiber cloth to clear off any debris that may be on the screen.
Is An App Causing The Problem?
Do you know if your iPhone is glitching only when you open a specific app? If so, there's a decent chance that app is causing the glitch.
There are a couple things you can do to try and fix the problem, and we'll walk you through both those steps below.
Close The Problem App
If you think an app is malfunctioning, the first thing to do is close it and see if the problem persists.
If you have an iPhone 8 or earlier, double-click the Home button while your iPhone is unlocked. This will activate the app switcher, which shows you all the apps currently open on your iPhone. Locate the app you want to close and swipe it up and off the top of the screen.
For iPhones newer than the iPhone 8, swipe up from the bottom of the screen and hold your finger in the center of the screen until the app switcher opens. Then, swipe up on the app until it disappears.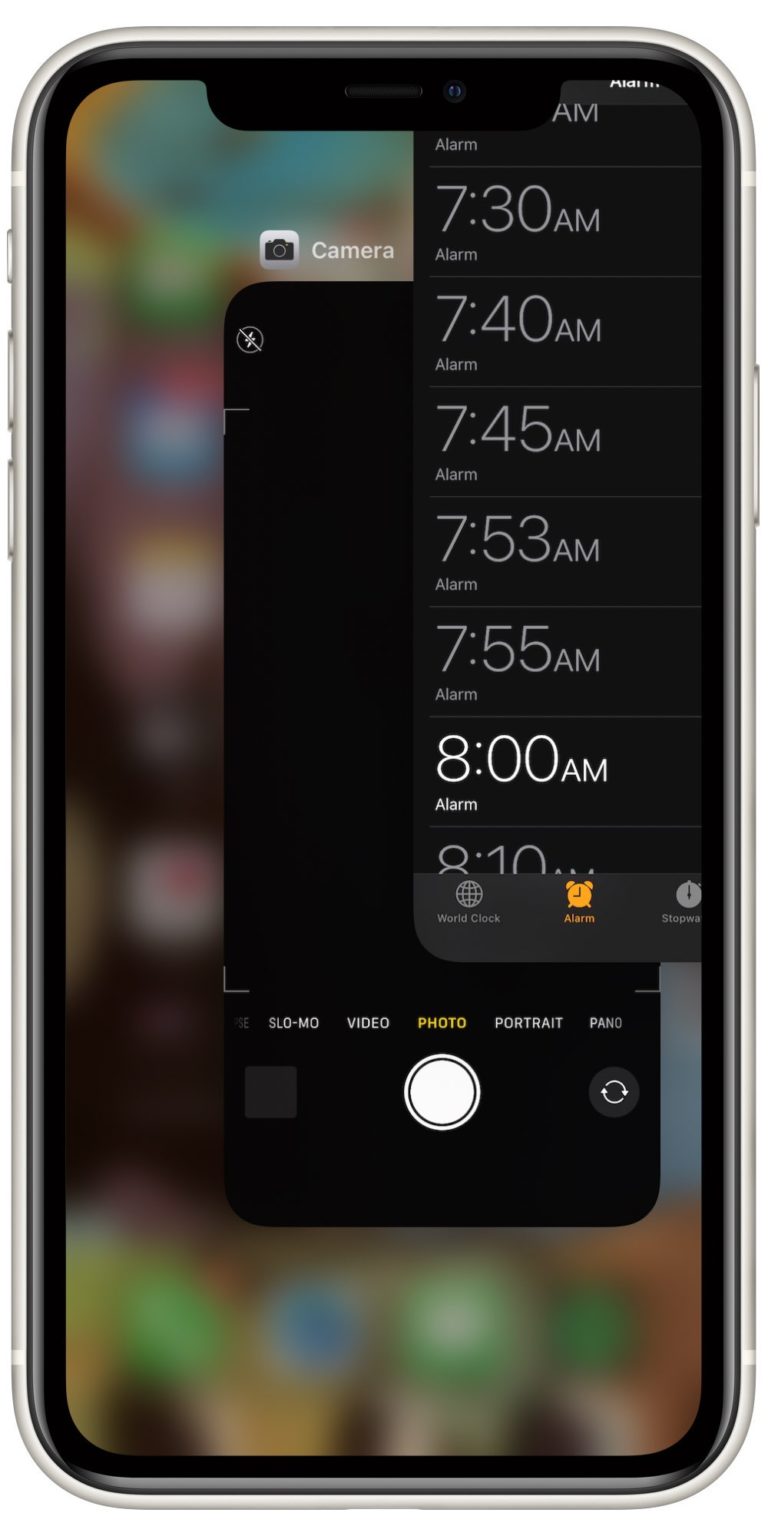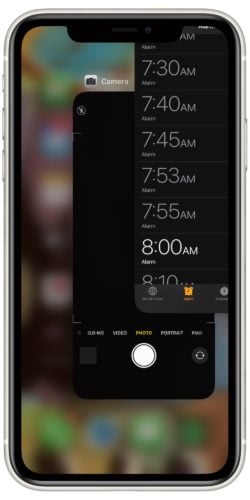 Check For An App Update
It's possible an app is making your screen glitch because it's out of date. App developers regularly release updates to introduce new features, fix known bugs, and make sure their app runs smoothly on the latest version of iOS.
Open the App Store and tap on your Account Icon in the upper right-hand corner of the screen. Scroll down to the section labelled Updates. If an update is available for your problem app, tap Update to its right. There's also an Update All option if you'd like to download all available app updates simultaneously.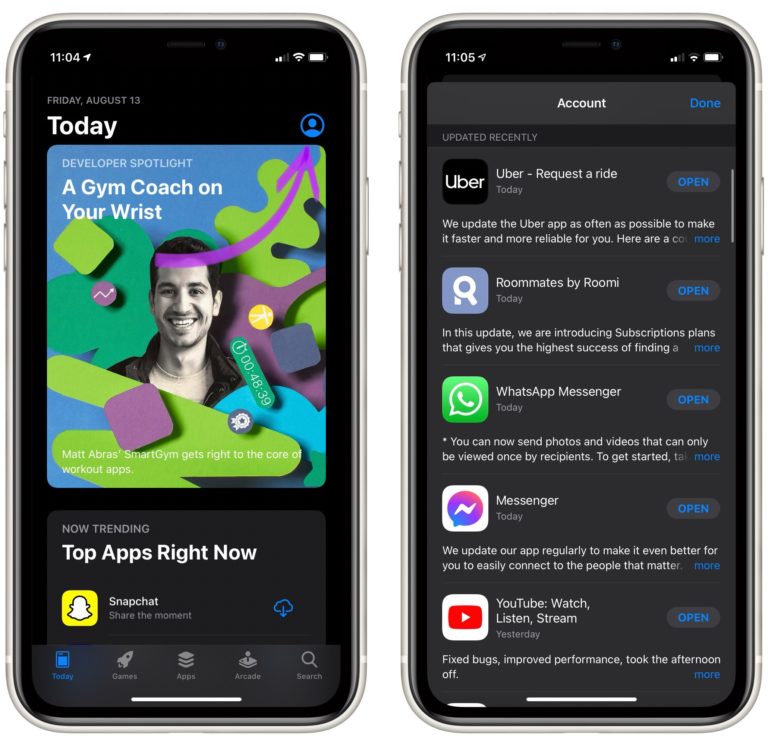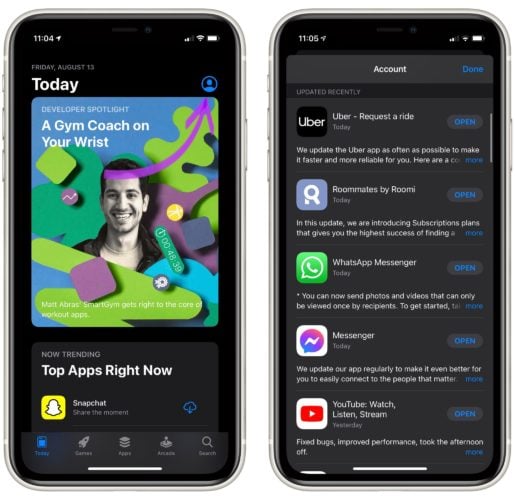 Delete The Problem App
Deleting and reinstalling an app can give it a fresh start. Sometimes, app files can become corrupted, causing problems when you try to use it.
To delete an app on your iPhone, press and hold on its app icon until the menu opens. Tap Remove App -> Delete App -> Delete.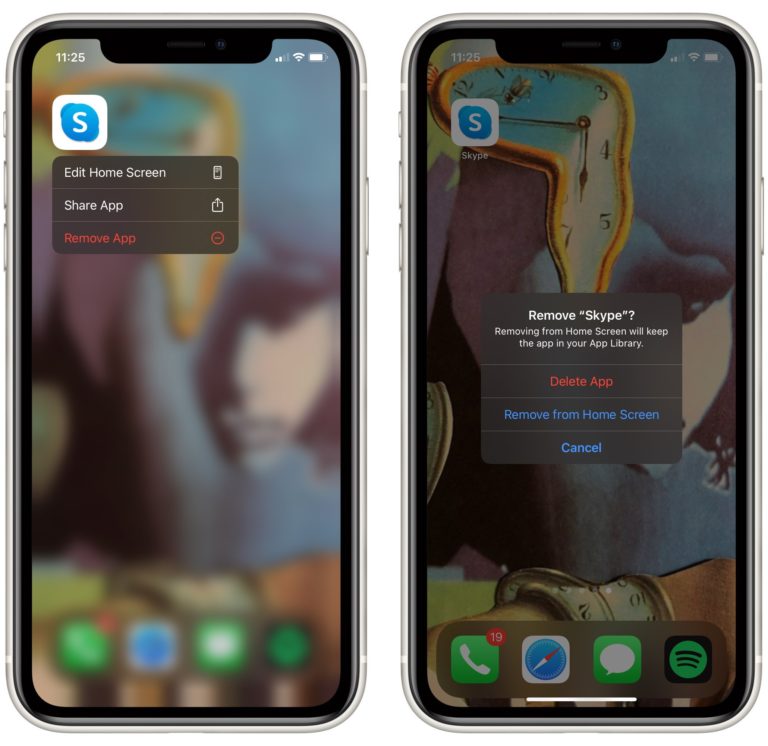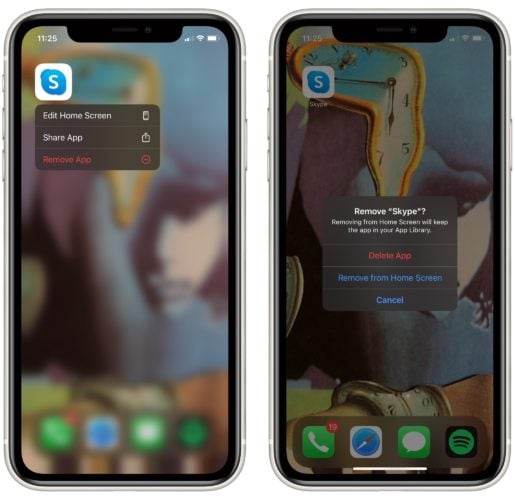 Now that you've uninstalled the app, open the App Store and tap on the Search tab at the bottom of the screen. Type in the name of your app, then tap the Reinstall button to its right.
Once it has finished installing, reopen the app to see if the problem has resolved. If the app continues to glitch, you may have to find an alternative.
Back Up Your iPhone
If your iPhone screen is still glitching, it's time to back it up. While we haven't ruled out the possibility of a deeper software problem, it's very possible your iPhone is broken and will need to be repaired. This may be the last chance you have to back up your iPhone. Follow the steps below to save a backup to iCloud or your computer, then move onto the next step in this article.
Back Up Your iPhone To iCloud
Open Settings and tap on Your Name at the top of the screen. Tap iCloud -> iCloud Backup. Make sure the switch next to iCloud Backup is on, then tap Back Up Now.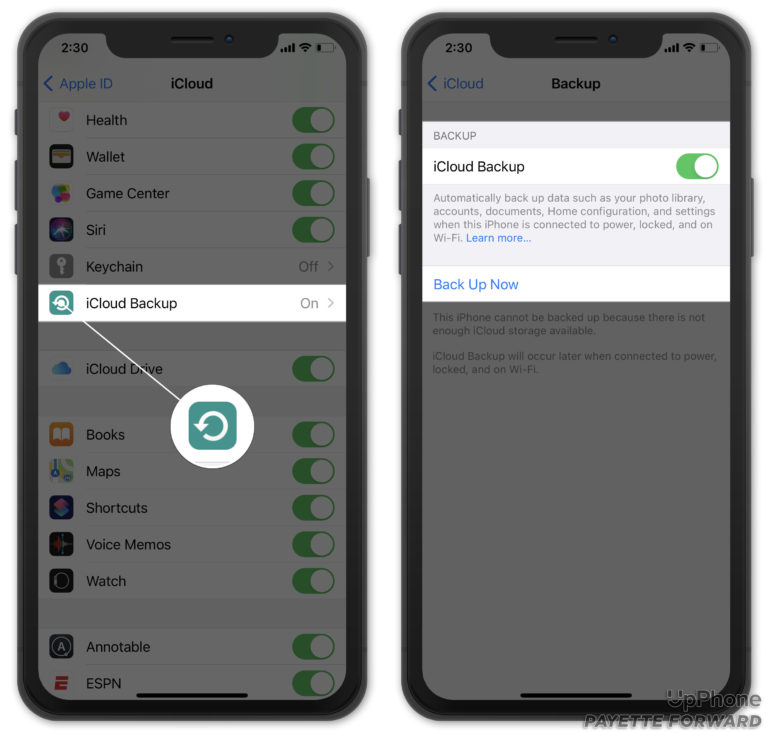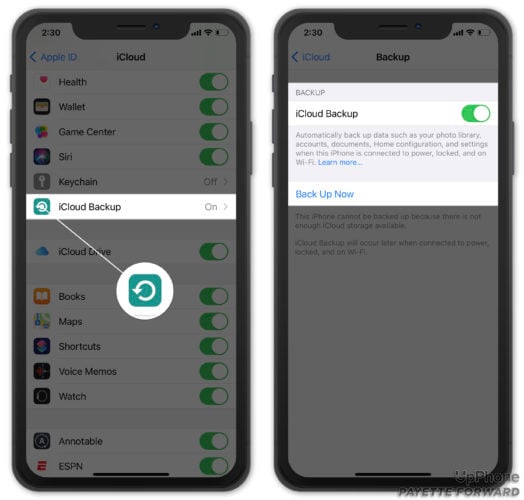 Back Up Your iPhone To iTunes
If you have a PC, or a Mac running macOS 10.14 or older, you'll use iTunes to back up your iPhone to your computer. Connect your iPhone to your computer using a charger cable, then open iTunes.
Click on the iPhone icon in the upper left hand corner of iTunes. Select the circle next to This computer, then click Back Up Now.
Back Up Your iPhone To Finder
macOS 10.15 replaced iTunes with Music and moved device management to Finder. Connect your iPhone to your Mac and open Finder.
Click on your iPhone under Locations and and select the circle next to Back up all of the data on your iPhone to this Mac. Finally, click Back Up Now.
DFU Restore
A DFU restore is the deepest iPhone restore. Before you put your iPhone in DFU mode, we highly recommend saving a backup because a DFU restore erases and reloads all the code on your iPhone. We bet you don't want to lose all of that information!
After you've backed up your iPhone, follow our guide on how to DFU restore your iPhone or watch our video if you'd like to see us walk you through the process.
Screen Repair Options
Unfortunately, if your iPhone is still glitching after you've put it in DFU mode, you'll probably have to look into repair options. It's possible that an internal connector has been damaged or become dislodged.
Reach out to Apple support for repair options. Apple offers mail, phone, online, and in-person help. Make sure to schedule an appointment if you plan on going into your local Apple Store!
Get A New iPhone
Sometimes the best thing to do when your current phone is glitching is to get a brand new phone. If multiple internal components of your iPhone are broken, a repair could be very expensive.
Instead of paying a lot to fix your old broken phone, why not use that money and invest in a new one? Check out the UpPhone cell phone comparison tool to find the perfect phone for you!
From Glitched To Fixed!
You've fixed the problem with your iPhone and it's no longer glitching! Make sure to share this article on social media to teach your family and friends how to fix iPhone screen glitch issues. If you have any extra questions, please leave them in the comments below!