Apple made headlines Tuesday by announcing a new pair of headphones: the AirPods Max. The internet is buzzing over the design and high price tag of Apple's latest product. In this article, we'll help you decide if you should get the AirPods Max.
AirPods Max Features
AirPods Max come with several awesome features. For example, you can easily jump between listening on your iPhone, iPad, or Mac computer thanks to automatic switching. With Audio Sharing, you can connect multiple pairs of AirPods or AirPods Max to a single device.
AirPods Max also personalize the listening experience using Adaptive EQ. Adaptive EQ specifically adjusts the headphones' low-end and mid-range frequency levels based on the audio signal sent to the listener. Combined with their four-microphone noise cancellation system, AirPods Max provide a pure listening experience.
AirPods Max interact with their surroundings in other ways as well. Transparency Mode allows you to hear your environment clearly, even while streaming audio. Using a built-in accelerometer and gyroscope, the AirPods Max Spatial Audio feature adjusts where and how they transmit sound based on their motion while in use. We found this feature especially enhances video watching.
Finally, AirPods Max work seamlessly with Siri. These features include calling, messaging, playing music, and controlling navigation apps completely hands-free!
Touch Controls
The AirPods Max have two buttons: a noise-cancelling button and a digital crown. The digital crown allows you to adjust the volume, play and pause songs, skip between tracks, and activate Siri.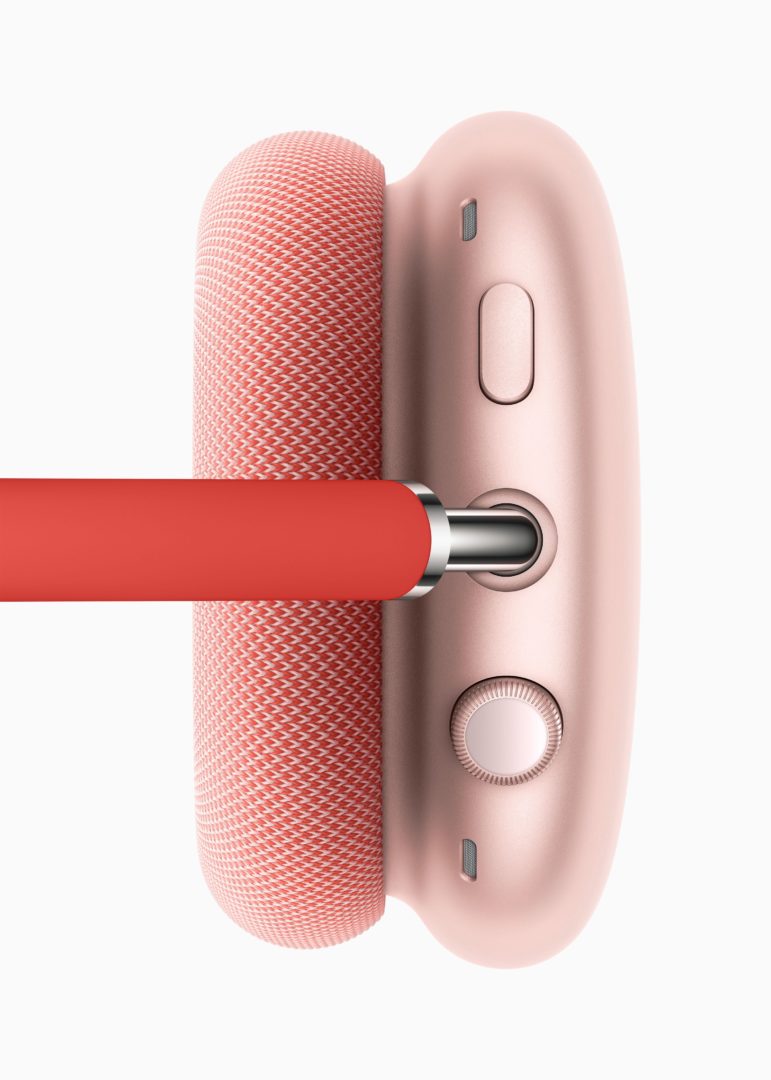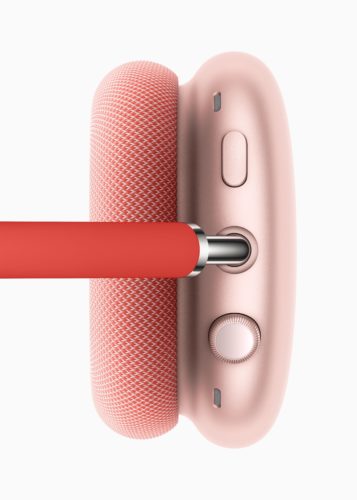 What's Up With The Case?
The AirPods Max have an interesting case, but we're not sure how much protection it will provide. The headband, which you use to carry these headphones while they're in the case, is totally exposed. In addition, the bottom part of the case leaves the ear cups and Lightning port partially exposed as well.
Since the headphones don't collapse or fold, they'll take up a lot of space when you're traveling as well. It seems like it'd be easy for the exposed portions of these headphones to get damaged if put into a backpack or suitcase.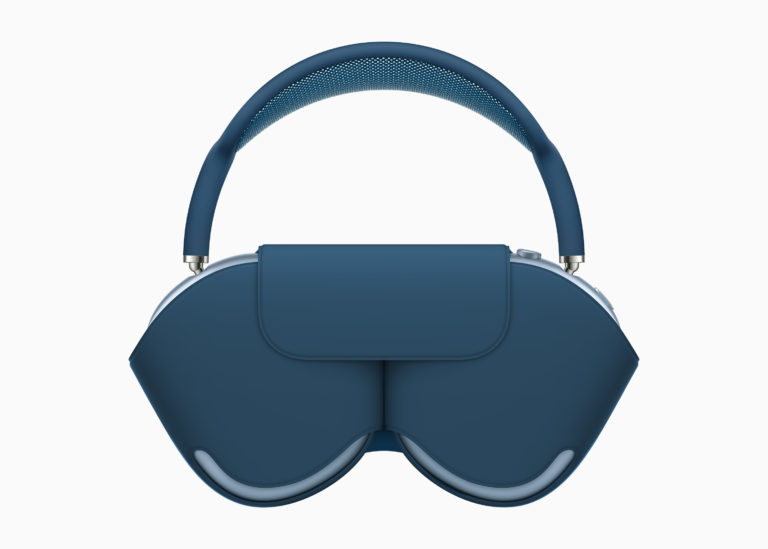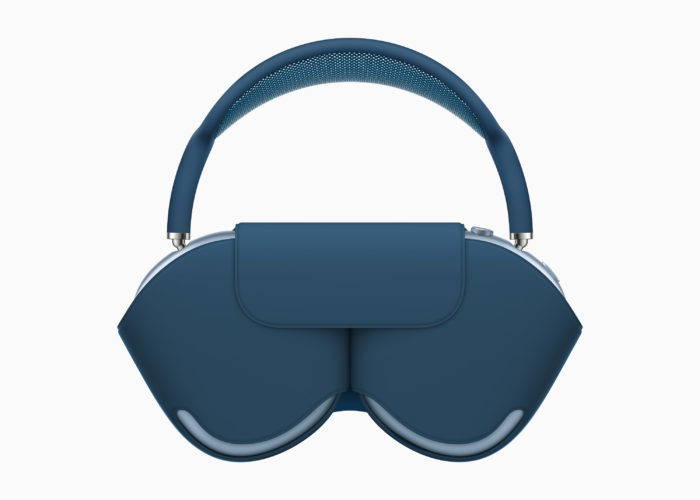 A Smart Case Silver Lining
While we are not huge fans of the brassiere-like design, it does offer some good functionality. Your AirPods Max enter a very low power state when placed in the Smart Case, which helps them preserve their current battery life.
Even if you're not using your AirPods Max, leaving them out anywhere can cost you some serious battery life if you're not careful. The only way to avoid this battery drain is to place your AirPods Max in their case.
When secured in their case, AirPods Max enter a low power mode that significantly increases their battery life. Despite its flimsy and flawed design, users will not want to take their AirPods Max anywhere without their case. Especially since these headphones don't even come with a charger included!
Listening With AirPods Max
In spite of their high price tag and impractical case, AirPods Max do make for an enjoyable listening experience. Their sound quality is optimized for a huge array of listeners and media.
These headphones are built well. Their headband feels solid and comfortable, but its weight is not overwhelming. The removable ear cups also feel quite nice on the ear, and you can purchase replacements if they ware out.The mesh ear cup design acts as a reliable hybrid between the bigger sound quality of open ear headphones and the more equalized experience of closed ear headphones.
The AirPods Max noise cancelling design is intricate, but not exceptional. In truth, we believe you could find superior noise cancellation in headphones that cost hundreds of dollars less.
We wouldn't recommend AirPods Max to any audio professionals out there, but a we do see the benefit they might offer to casual listeners.
Why Are We Still Using Lightning Connectors?
Another disappointing feature of the AirPods Max is its Lightning connector. Many are predicting Lightning will be replaced by USB-C in the near future. So why is Apple continuing to build new, high-end products with Lightning connectors if the technology will be obsolete soon?
Including a Lightning port at all also makes these headphones unnecessarily fragile. If even a single drop of water gets into this port, it could destroy AirPods Max entirely.
So, Should I Buy The AirPods Max?
We're having a hard time justifying the $550 price tag for these headphones. For something so expensive, we'd like them to have fewer glaring flaws. You also have to pay an extra $35 for the audio cable that allows you to connect your AirPods Max to a headphone jack.
Are you going to get the AirPods Max? Let us know in the comments section below.