You're trying to join a Zoom meeting on your Mac, but something isn't working. No matter what you do, you're having trouble conferencing with your friends or colleagues. In this article, I'll explain why Zoom is not working on your Mac and show you how to fix the problem!
Background Information About Zoom
It's important to know that you can't participate in a Zoom meeting using a web browser like Safari, Chrome, or Firefox. Instead, you'll have to download Zoom Client.
Head to the Zoom Download Center and click the blue Download button underneath Zoom Client For Meetings.

Next, open Finder and click Downloads. Double click on Zoom.pkg to launch the installer. Follow to on-screen prompts to install Zoom Client.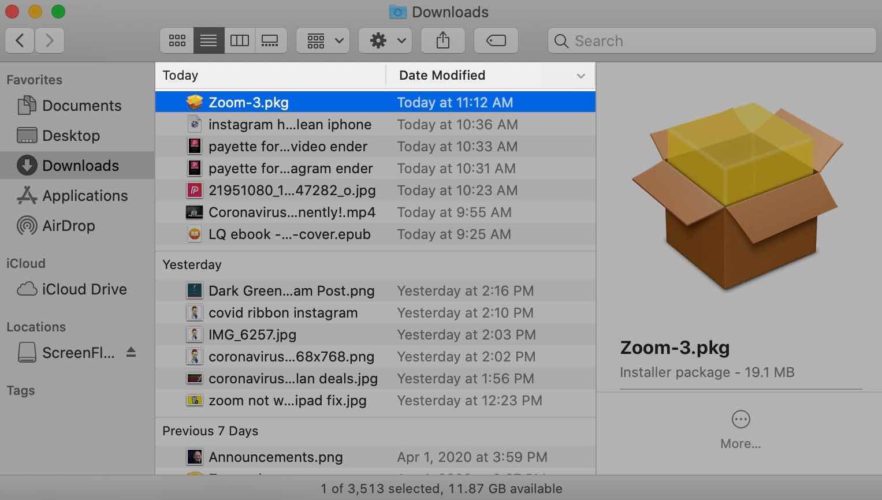 You'll find Zoom Client in Launchpad. It's called zoom.us.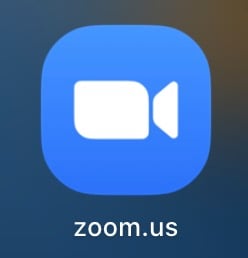 Click Join A Meeting and enter the Meeting ID or Personal Link Name to join the Zoom meeting.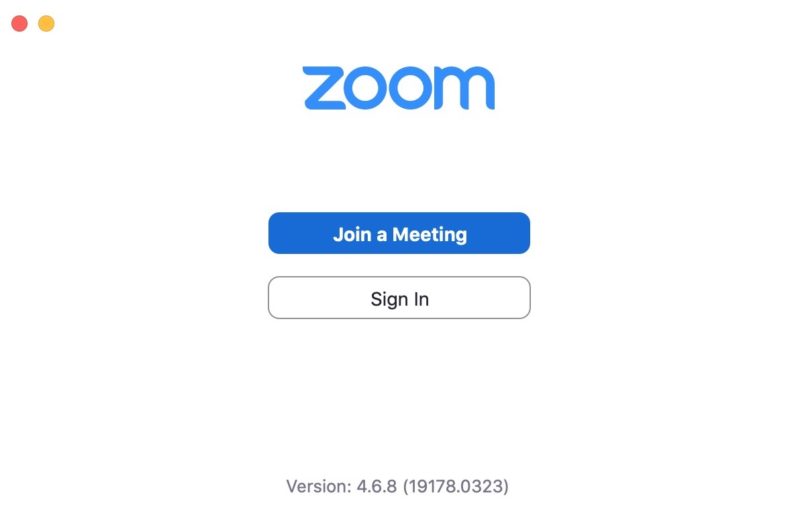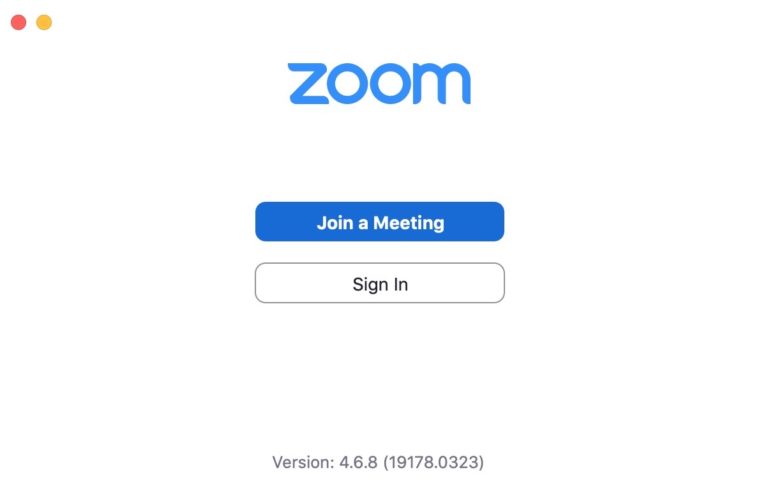 Did You Receive An Error Code?
Sometimes, you'll receive an error code from Zoom when it stops working on your Mac. It can be frustrating when  you receive these codes, because you know there's a problem, but you don't know what actually went wrong. Below are common Zoom errors code and what they actually mean.
0: An error occurred when installing an update
2008: The meeting has an unexpected error
3000: Zoom Installed failed to overwrite an existing file due to a running process
3113: Passcode and waiting room aren't enabled
5000, 5003–5004: Connectivity issues with Zoom servers
10002: The source of the Zoom installer package is broken
10006: The target disk is full
13003: User's permissions don't allow for the installation of apps
104101–104106, 104110–104125: Connectivity issues with Zoom servers
Beyond these codes, Zoom doesn't give much guidance beyond uninstalling then reinstalling Zoom and turning off your antivirus software. We'll show you how to do this and much more in the step-by-step guide below.
If you received an error code that corresponds with a Zoom server issue, check their server status page. Make sure it says All Systems Operational at the top of the page. If any systems aren't operational, it's probably the reason why Zoom is not working on your Mac.
Set Zoom Permissions
Zoom needs permission to access certain functions on your computer in order for you to get the most out of the platform. Click the Apple icon in the upper-left hand corner of the screen, then click System Preferences.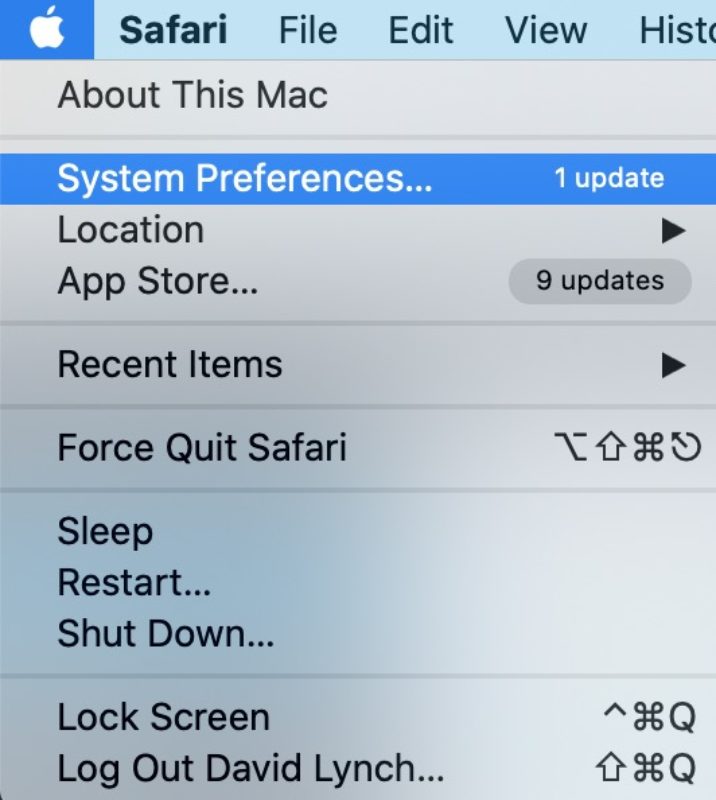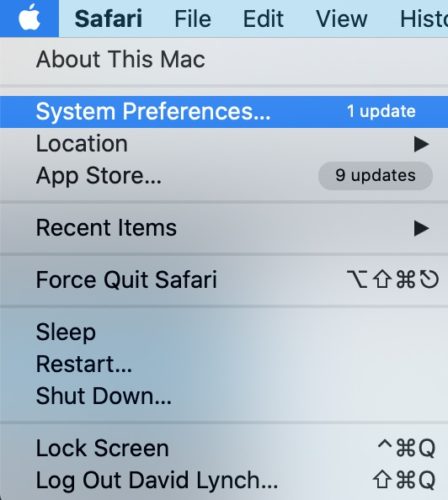 Next, click Security & Privacy. Look for the house-shaped icon.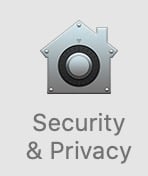 Give zoom.us access to the following:
Camera: This allows you to use your webcam during calls.
Microphone: This allows others to hear you when you speak during calls.
Accessibility: This allows you to use a remote during calls.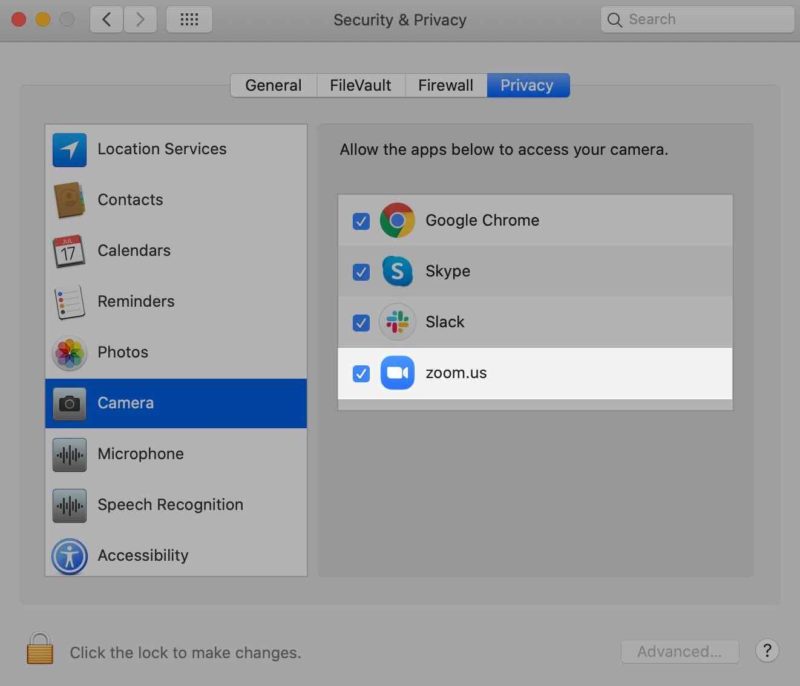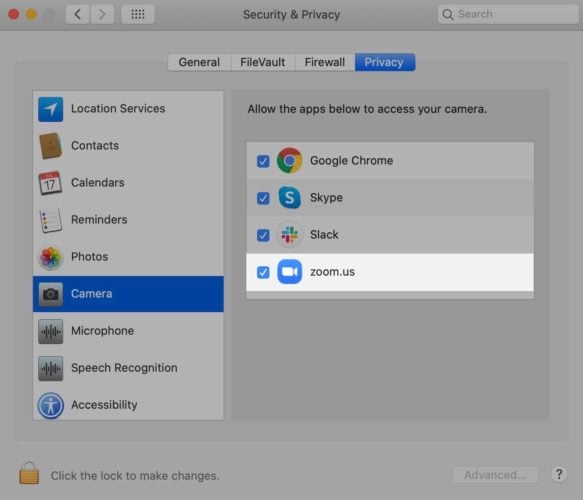 If your Mac is running macOS Catalina 10.15, we recommend giving zoom.us access to these features as well:
Files and Folders: This allows you to share files in the chat, save files from the chat, and record calls to your computer.
Screen Recording: This allows you to share your screen during calls.
You'll know Zoom has access to these apps when a blue checkmark appears next to zoom.us in the menu.
Close Other Apps That Could Be Using The Camera Or Microphone
It's possible that Zoom is not working on your Mac because the Camera or Microphone (or both) are in use in different app. Before joining a Zoom meeting, close any other apps that might be using the Camera or Microphone. This includes apps like FaceTime, Skype, and Photo Booth.
Close Zoom And Try Again
The process is the same whether you're using the Zoom app, or trying to join a meeting on your web browser.
Two-finger click on the application you want to close. Click Quit to close the application on your Mac.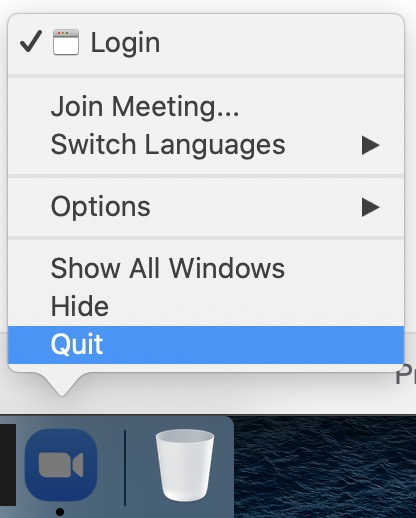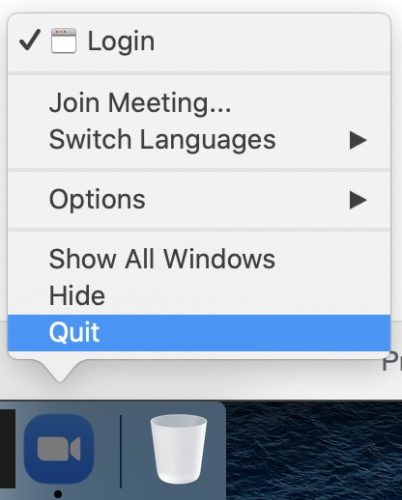 Try reopening the app to see if Zoom is working now. If not, move onto the next step!
Check Your Internet Connection
An internet connection is required to use the platform. First, make sure that you're connected to Wi-Fi by clicking the Wi-Fi icon at the top of the screen. If you see a checkmark next to the name of your router, your Mac is connected to Wi-Fi.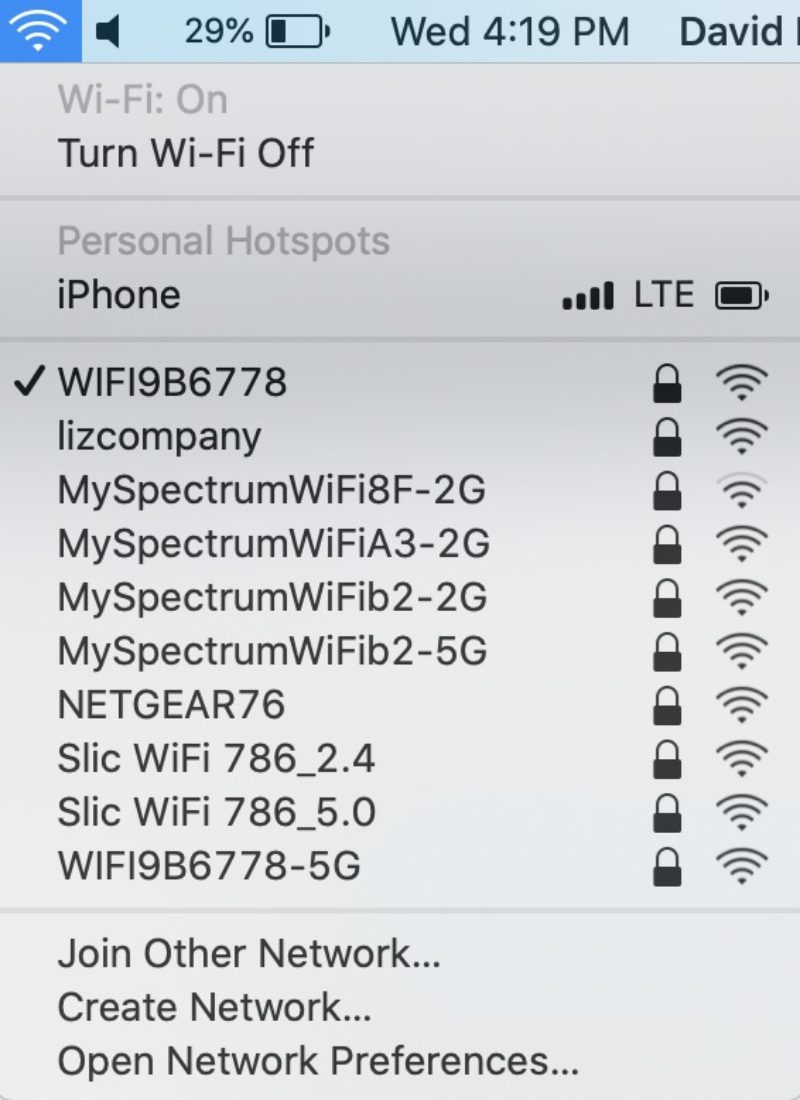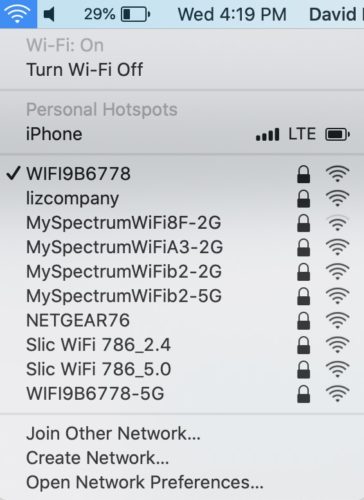 You can quickly rule out a Wi-Fi problem by trying to load another page on in your web browser. If other websites are loading, there isn't a Wi-Fi issue. If no webpages will load, there's probably an issue with your Wi-Fi connection.
If There's A Wi-Fi Issue On Your Mac
There are a few quick things you can do to fix Wi-Fi problems on your Mac. First, try turning Wi-Fi off and back on. This can fix minor connectivity issues.
Click the Wi-Fi icon at the top of the screen, then click Turn Wi-Fi Off.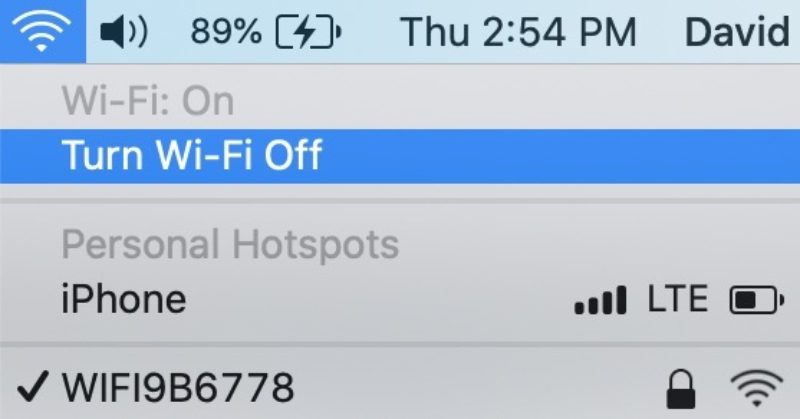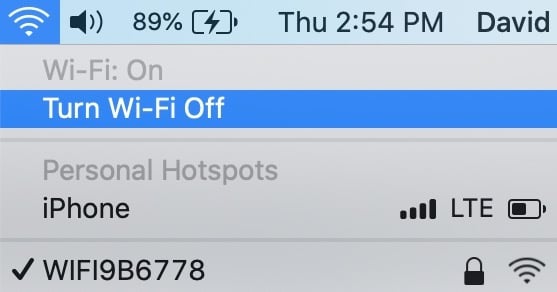 Click the Wi-Fi icon again, then click Turn Wi-Fi On. Make sure your Mac reconnects to your Wi-Fi network when you turn Wi-Fi back on.


While turning Wi-Fi off and back on, try restarting your router too. Doing this is as easy as unplugging it and plugging it back in.
If your Mac still won't connect to Wi-Fi, try connecting to a different Wi-Fi network. If your Mac can connect to other Wi-Fi networks, the problem is likely being caused by your router, not your Mac.
Forgetting your Wi-Fi network is another potential solution when your Mac can't connect to your network and only your network. When your Mac connects to a Wi-Fi network for the first time, it saves information about how to connect to that network. If that information changes, your Mac might not be able to connect to Wi-Fi.
Open System Preferences and click Network. Then, click Advanced.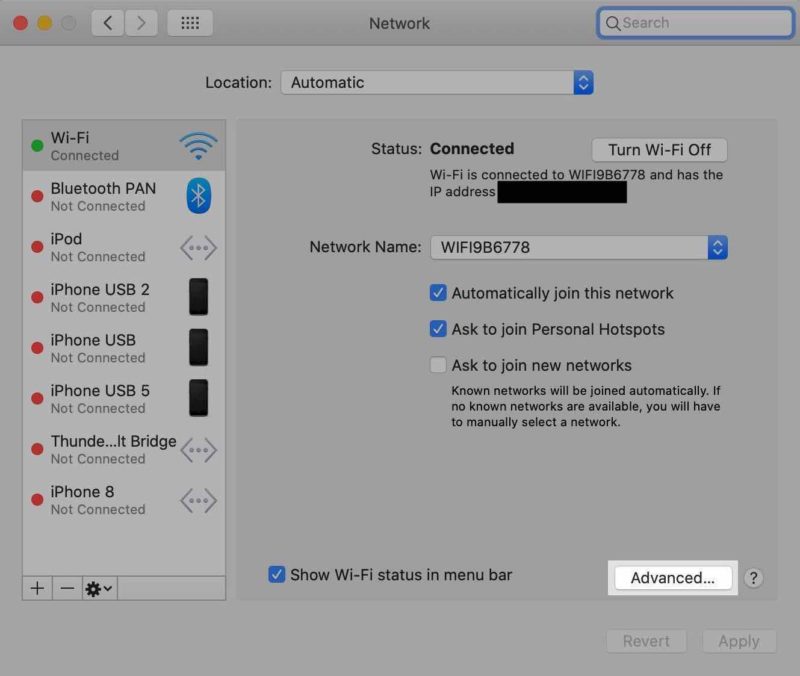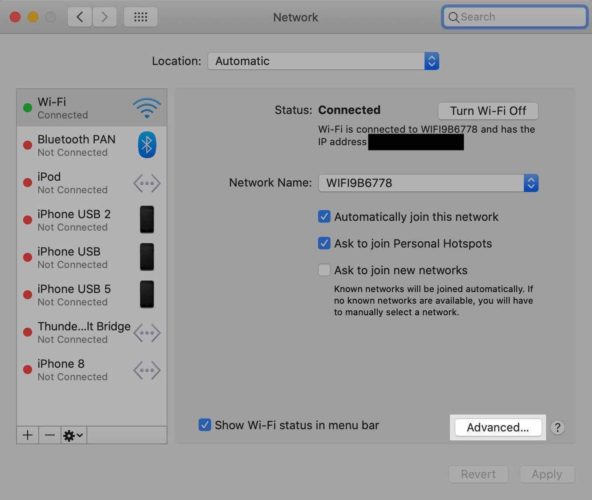 Click on the network you'd like your Mac to forget to highlight. Click the minus button (-) to forget that network on your Mac. Click OK to update your Mac's Network settings.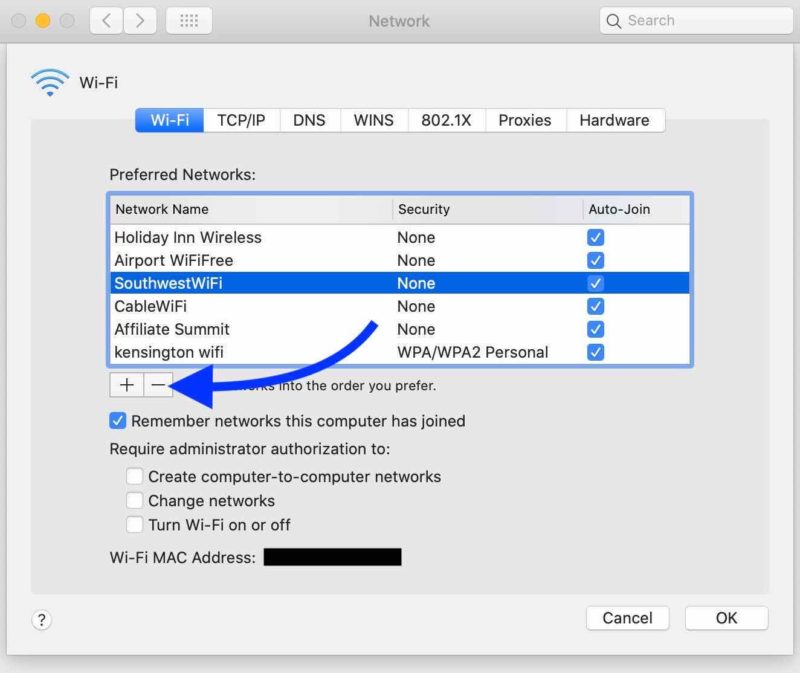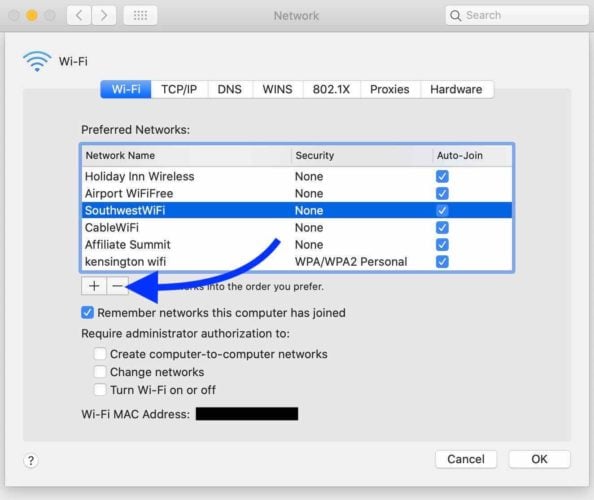 Check out our other article for more advanced router troubleshooting steps!
Close Other Programs On Your Mac Using A Lot Of CPU Power
Zoom can crash if your Mac's CPU is revved up to 100%. Before joining a Zoom meeting, it's a good idea to close the other programs on your computer that use a lot of CPU power. This includes things like video editing software and Google Sheets with a lot of information.
Activity Monitor lets you check which programs are using a lot of CPU on your Mac. The fastest way to open Activity Monitor is Spotlight Search.
Simultaneously press the space bar and Command. Type "Activity Monitor" and hit the return key to open Activity Monitor.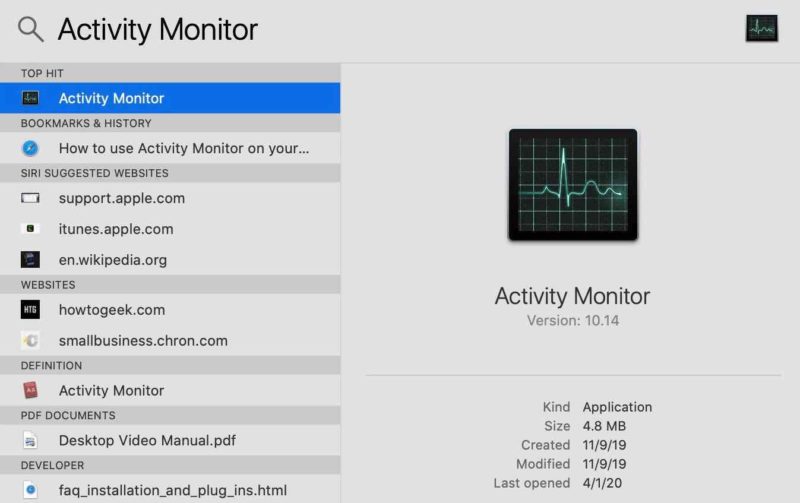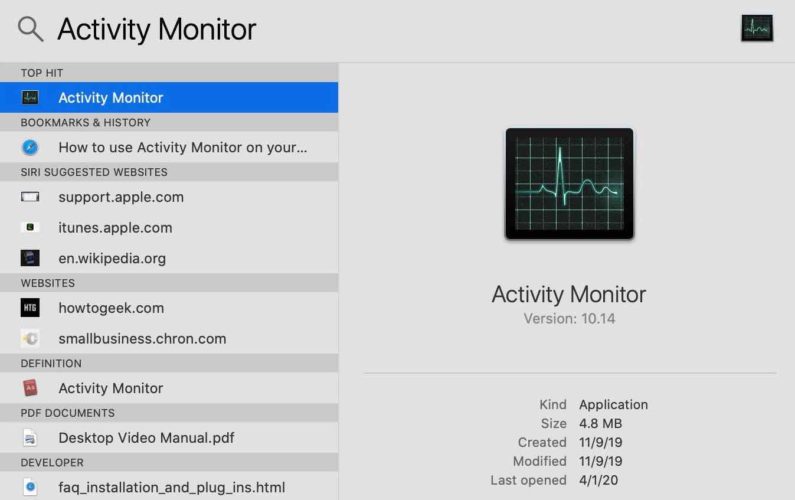 Look for any programs that are using a disproportionately high amount of %CPU and close those them. If your Activity Monitor looks similar to mine — no applications are using more than 15% — move onto the next step.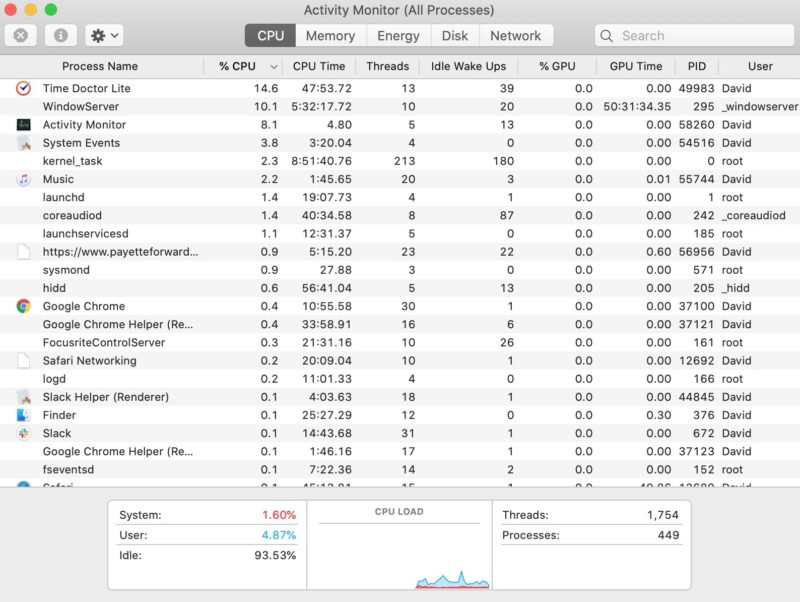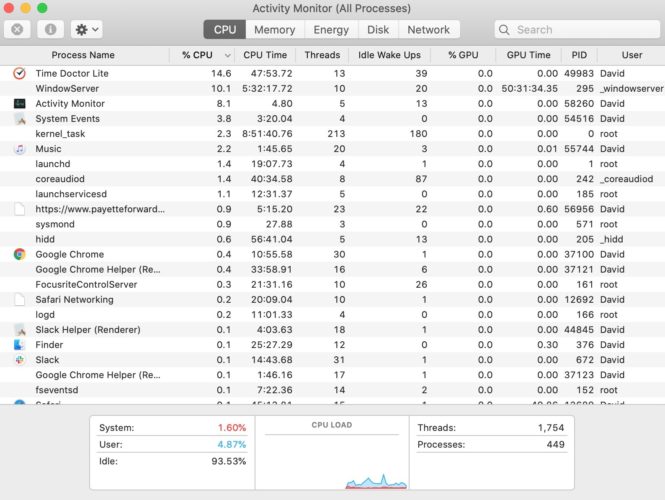 Restart Your Mac
Restarting your Mac is a quick way to fix a variety of minor software problems. All the programs running on your Mac shut down naturally, getting a fresh start when your computers turns back on.
Click the Apple logo in the upper left-hand corner of the screen. Click Restart.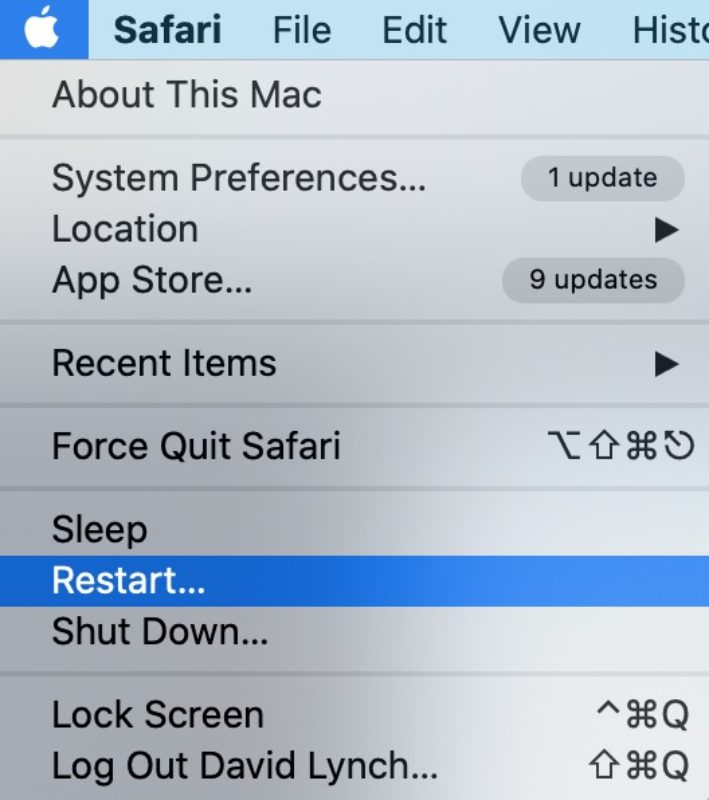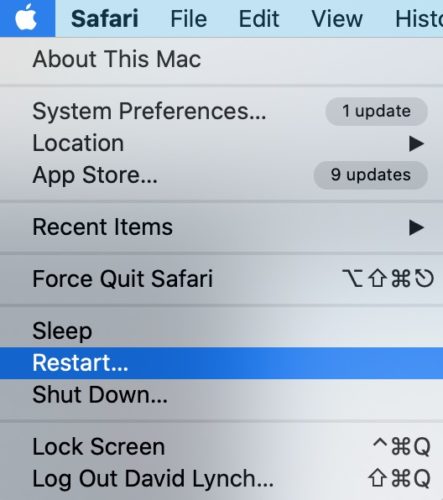 Disable Firewall Security On Your Mac
Firewall software can sometimes prevent Zoom from working on your Mac. The software might interpret Zoom as some sort of security threat and not allow it to run.
You can temporarily disable your Mac firewall by going to System Preferences -> Security & Privacy and clicking the Firewall tab. Click Turn Off Firewall to disable your Mac's firewall. You may have to enter your Mac password before you're able to adjust the firewall settings.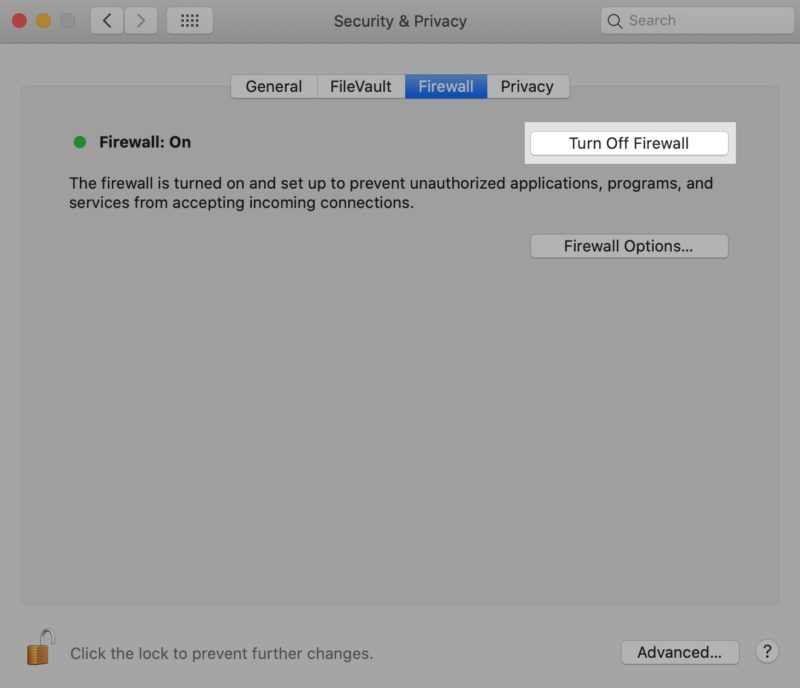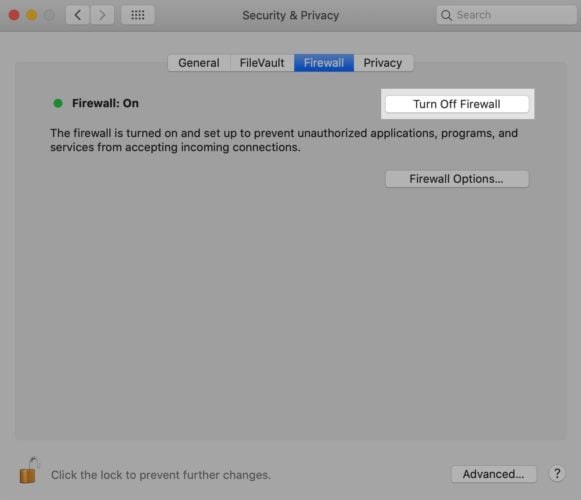 If you don't want to temporarily turn off the firewall, you can add Zoom to your list of apps that are always allowed to make incoming connections.
Go to System Preferences -> Security & Privacy -> Firewall and click Firewall Options. Click the plus button (+), then click on zoom.us. Click Add to let allow incoming connections from Zoom.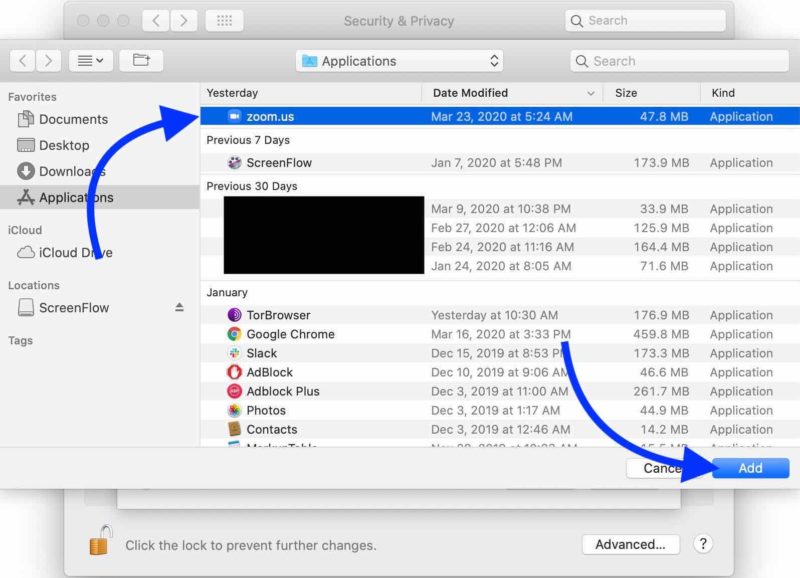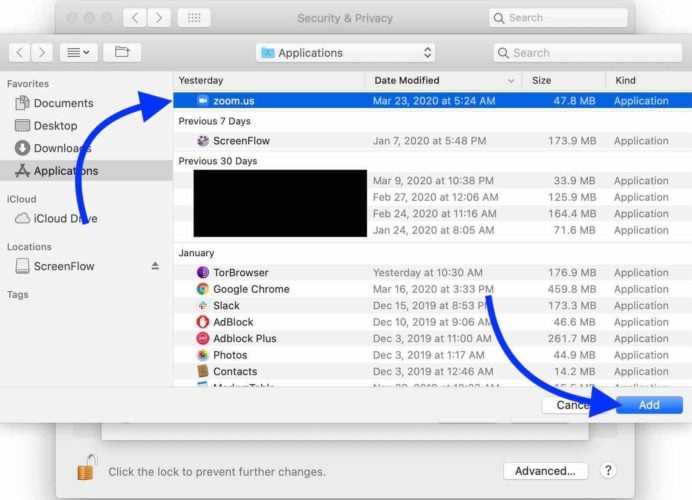 Finally, click OK to confirm your decision.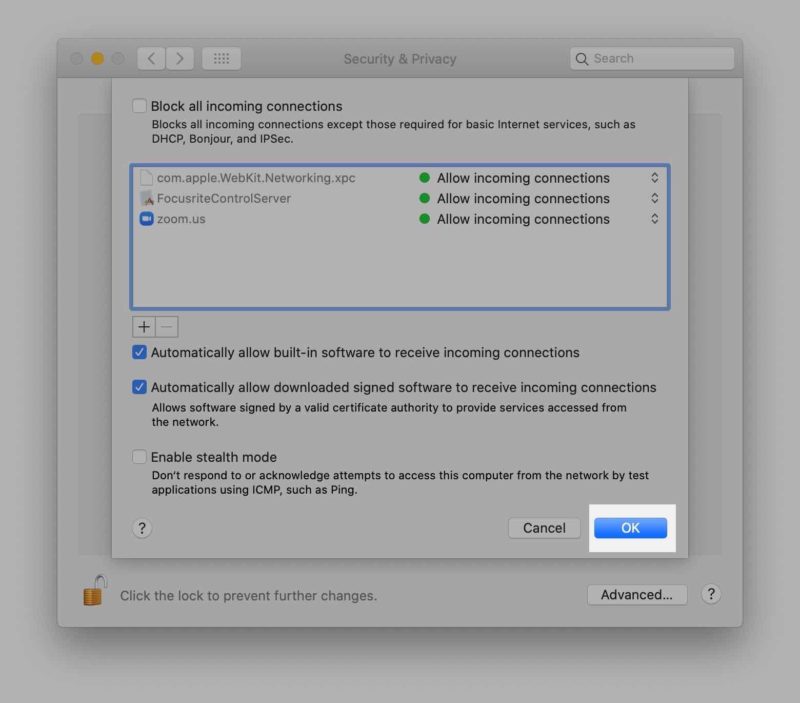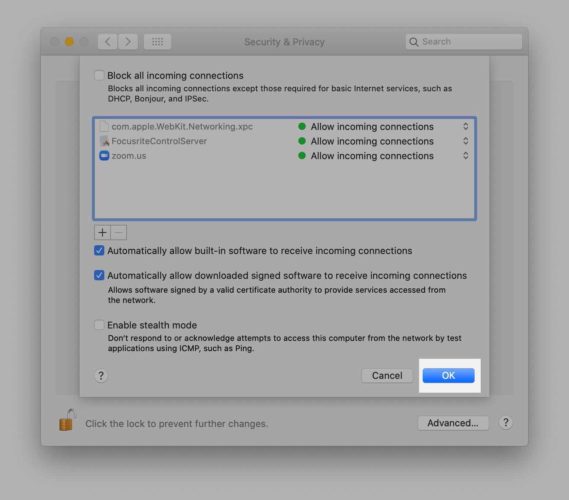 Disable Your Antivirus Software
While antivirus software is designed to protect your Mac, it can sometimes shut down programs and applications you actually want to run. It's possible your antivirus software flagged Zoom as a threat, preventing it from running on your Mac. Try turning off the antivirus software on your Mac to see if that fixes the problem.
Look for the anti-virus icon in the Menu bar at the top of your Mac's screen. Click on it, then look for an option to disable it or turn it off. There are lots of different antivirus programs out there, so if you have trouble turning it off, we recommend going to Google and searching "how to turn off [software name]on Mac."
Uninstall Zoom On Your Mac
Some errors can only be resolved by uninstalling Zoom and installing it like new. This gives the app a completely fresh start, which can resolve caching issues or corrupted files.
Open Finder on your Mac and click Applications on the left-hand side of the screen. Two-finger click on Zoom, then click Show Package Contents.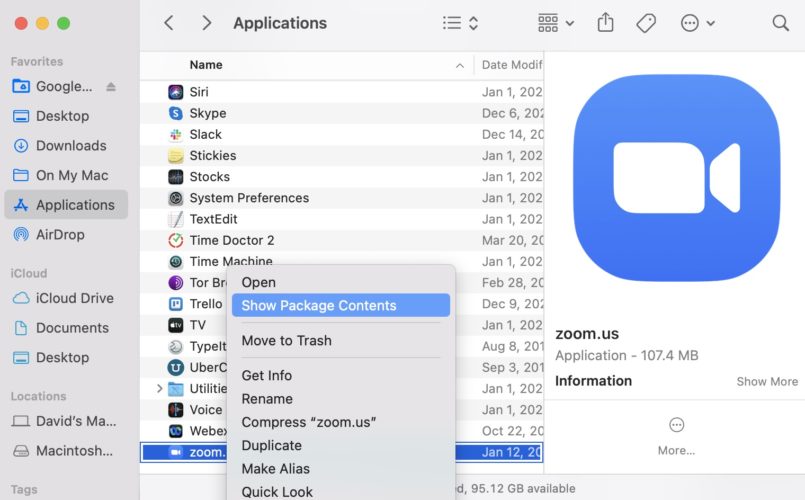 Click Contents -> Frameworks, then click ZoomUninstaller.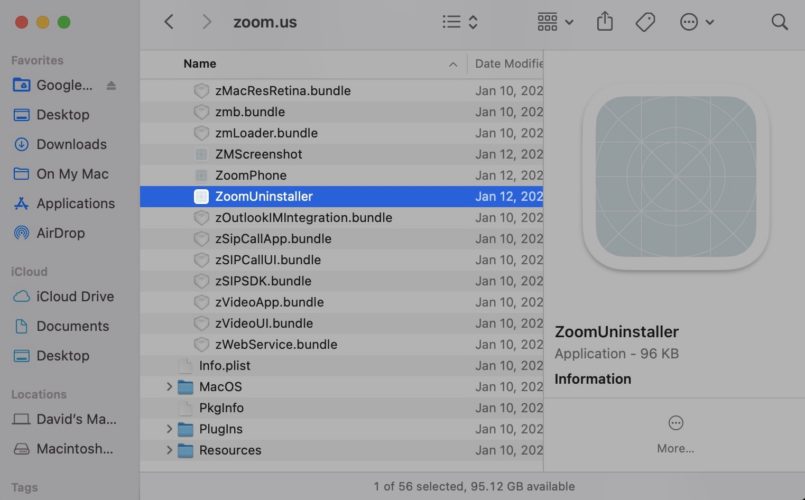 Follow the steps to uninstall Zoom, then restart your Mac. Finally, reinstall Zoom on your Mac.
Next Steps
If Zoom still isn't working on your Mac, it's probably time to contact customer support. Head to the Zoom Help Center to learn how to get in touch with customer support.
If your Mac won't connect to any Wi-Fi networks, there might be a hardware problem. Contact Apple support over the phone, using live chat, or at your local Apple Store. Make sure to schedule an appointment if you do plan on going into the Apple Store.
Check out our other article if you'd prefer to use Zoom on your iPhone or iPad!
Don't Be Late!
You've fixed the problem and successfully joined a Zoom meeting! Make sure to share this article with your friends and coworkers when Zoom is not working on their Mac. Leave any other questions you have about Zoom or your Mac in the comments section below.