I'm going to tell you exactly why your iPhone battery drains so quickly and exactly how to fix it. I'll explain how you can get longer battery life out of your iPhone without sacrificing functionality! Now that the iPhone 6 and iOS 8 are out, it's time for a fresh update to this article that's already helped millions of people solve their iPhone battery life issues.
Take my word for it:
The vast majority of iPhone battery issues are software related.
If you haven't installed iOS 8 yet, skip right ahead to my complete list of iPhone battery life saving tips. We'll cover a wide range of battery fixes, including:
If you've already updated to iOS 8, let's begin with a new feature that is a great starting point for tracking down which apps are using the most battery life.
New for iOS 8: Battery Usage in Settings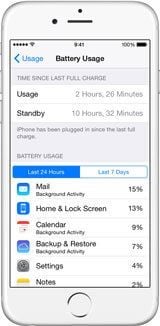 Let's head to Settings -> General -> Usage -> Battery Usage. When you open Battery Usage, the first thing you'll see is the list of apps that have used the most battery life on your iPhone in the last 24 hours. This doesn't tell you how to fix the problems – but that's what I'm here for. Here's how to decipher the messages you might see:
If an app shows Background Activity, it means that the app has been using battery on your iPhone even when it's not open. This can be a good thing, but often times allowing an app to run in the background causes an unnecessary drain on your battery.
The fix:  Check out my seventh iPhone battery life saving tip, Background App Refresh, and learn how to choose which apps you'd like to allow to keep running in the background while you're doing other things.
Here's the exception: If the Mail app shows Background Activity, check out my second iPhone battery life saving tip (and it's a big deal!), Push Mail.
If an app shows Location or Background Location, that app is asking your iPhone, "Where Am I? Where Am I? Where Am I?", and that uses a lot of battery life.
The fix: Check out my first iPhone battery life saving tip, Location Services. (I'll also show you how to stop your iPhone from tracking you everywhere you go.)
If Home & Lock Screen has been using a lot of battery, there's an app that has been frequently waking your iPhone up with notifications.
If you see that No Cell Coverage and Low Signal has been causing your battery to drain, it means that your iPhone has been in an area with poor cell coverage. When that happens, your iPhone tries extra hard to find a signal, and that causes your battery to drain very quickly.
The fix: If you know you're going to be traveling to a remote area, swipe up from the bottom of the screen to open Command Center and tap the airplane icon to enable Airplane mode.
The following two tabs change content below.
I'm David Payette, the founder of Payette Forward, Inc. I am passionate about helping people to grow personally and professionally using the power of technology. Thank you for visiting payetteforward.com and I look forward to hearing from you!
Latest posts by David Payette (see all)