As a parent, you try to limit what your kids have access to, but it can be hard to control their iPhones, iPods, and iPads if you don't know where the parental controls are. Parental Controls are called Restrictions on the iPhone and other devices. In this article, I'll show you where to find Parental Controls on an iPhone and how to use parental controls on your iPhone, iPad or iPod.
Where Are Parental Controls On My iPhone?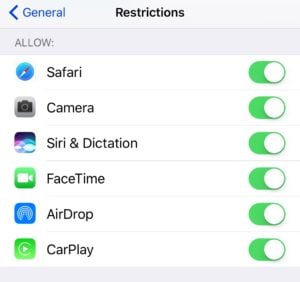 The Restrictions Menu is where you need to go for Parental Controls on iPhone and other devices, like the iPad and the iPod. To get to this menu, go to Settings -> General -> Restrictions.
If you've set them up before, you will have a password to enter. If you have not set them up before, you'll first need to tap Enable Restrictions and set up a passcode to start using them.
Mom TIP: Don't use the same passcode as the one to unlock the device. If you have kids like mine, be sure to use a different passcode, or else those sneaky tiny humans will undo all your hard work.
A Restrictions Overview
In the first two sections of the Restrictions menu, you have the ability to remove an app from view on your device. To remove any app from view, simply tap the toggle switch next to the app so that it is off.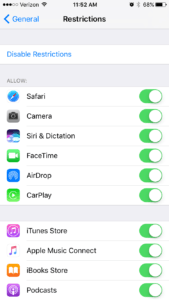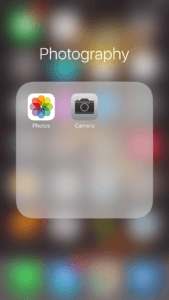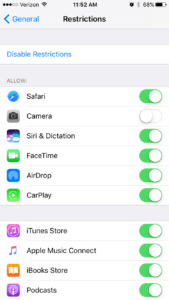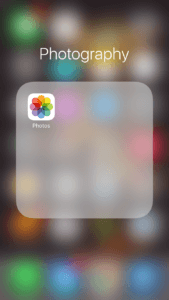 Don't worry, the app isn't gone forever, it is just temporarily hidden while your kids use are playing with your iPhone.
If you disable an in app ability like Apple Music Connect and iBooks Store, then it will remove those options from within the app itself.
I highly recommend turning off Installing Apps, Deleting Apps, and In-App Purchases. These are all great choices for younger children.
Allowed Content, Rated G for Great Feature!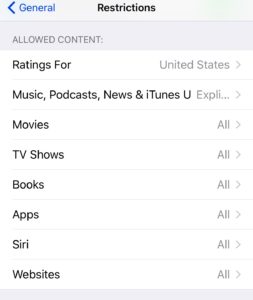 This section of restrictions is where you fine even more of the Parental Controls on iPhones. The allowed content section controls what content your kids have access to. Each section has its own rating level and category.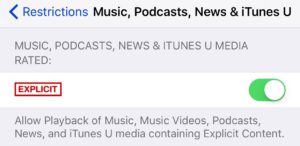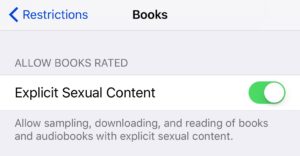 Music has the ability to turn off explicit content, and so does iBooks. TV Shows and Movies can also be controlled.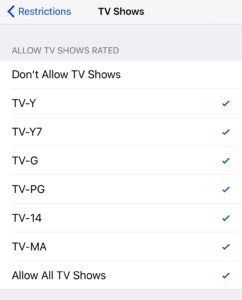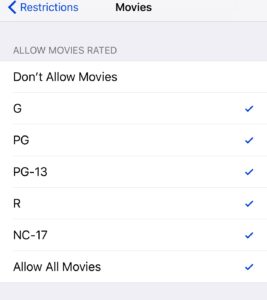 Allowed Content will make sure that Downloads and iTunes Media is properly rated. When using the Apps Ratings, the apps that are rated above what it selected will not show on the home screen. This is great feature for shared devices. As a parent, it is always great to know that your kids won't stumble into anything inappropriate while they are playing on your iPhone.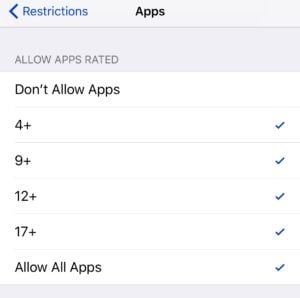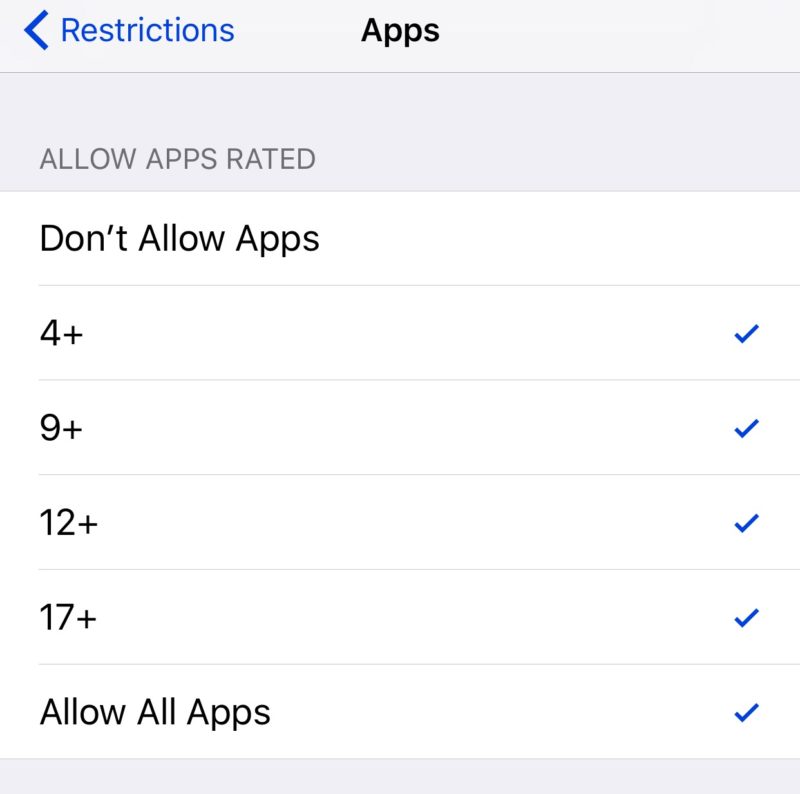 Anything that is on the device that is rated higher than the Parental Controls allows will either be grayed out in the app or the app will not show on the home screen. When I choose a lower rating for Apps, a lot of my entertainment apps, like YouTube, did not show on my home screen anymore.
Privacy Restrictions, No Access for Apps
Most of the restrictions listed under Privacy are Apps that contain changeable settings, or native apps, like Calendars and Photos.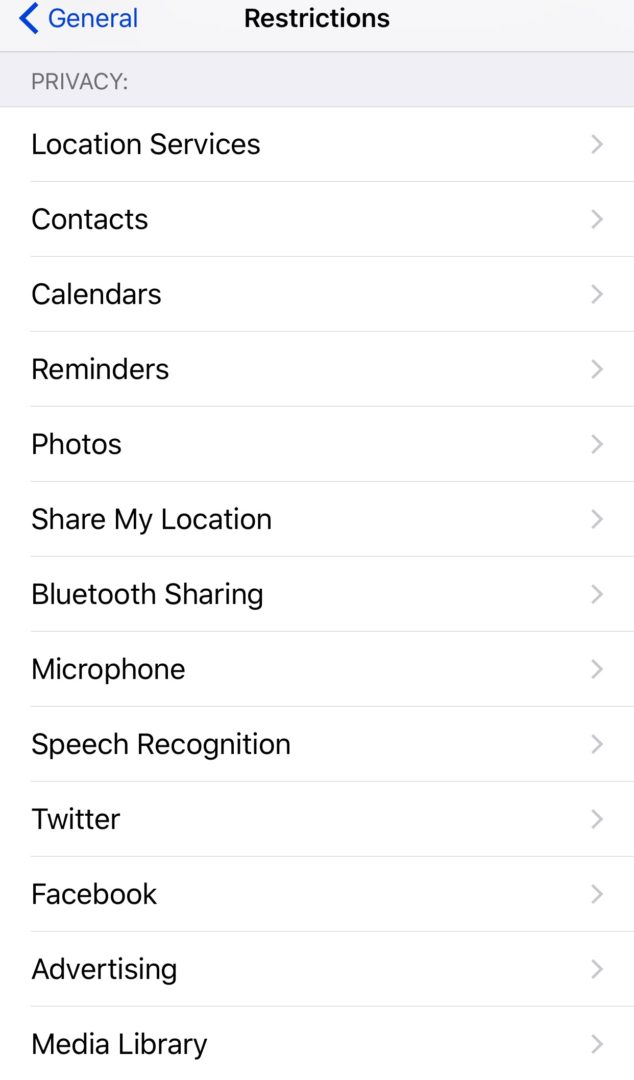 The choices in this section are very simple, you can either Allow Changes or Don't Allow Changes. As a Mom, I usually don't want my kids to change the settings anywhere on any device they use, so this is a great option for parental controls.
Allow Changes and Game Center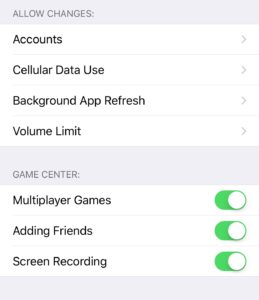 This last section in the Restrictions menu limits the changes that can be made to any accounts you have on your device (such as your email account) and also allows you to set a Volume Limit. The Game Center restriction controls whether the user can play games with other players, add friends to Game Center, or record the screen while they are playing games.
Parental Controls: We Finally Got Through The List, But Wait, There's More?!
The Restriction menu is very involved, but knowing your way around shows how many options there are for Parental Controls on your iPhone, iPad, and iPod. Even though this post explained most of what you'll find in Restrictions, I was surprised at just how involved all the different choices were and how many options it gives to parents.
While writing this article, I found even more Parental Controls on the iPhone. Stay tuned for my follow-up article about Guided Access, which controls how long your child can use your iPhone and what apps they use during that time