You want to listen to the latest episode of your favorite podcast, but it won't download on your iPhone. No matter what you do, new episodes aren't downloading. In this article, I'll explain what to do when podcasts are not downloading on your iPhone!
How To Sync Podcasts To Your iPhone
Before we dive any deeper, take a second to make sure that Sync Podcasts is turned on. If you downloaded your podcasts from iTunes, you'll have to sync them to your iPhone before you can listen to them.
To make sure your podcasts are syncing to your iPhone, go to Settings -> Podcasts and turn on the switch next to Sync Podcasts. You'll know Sync Podcasts is on when the switch is green. If Sync Podcasts isn't on, tap on the switch to turn it on.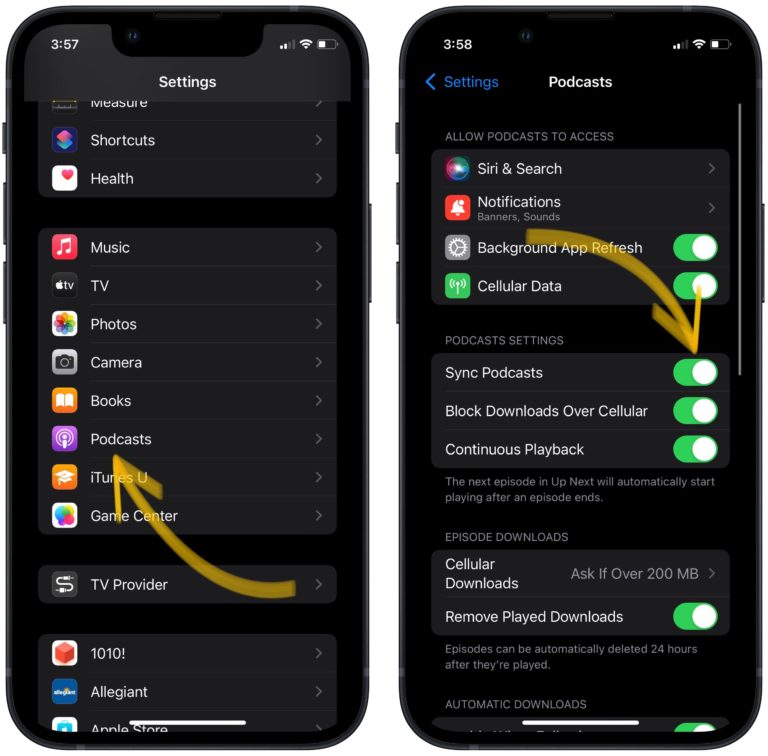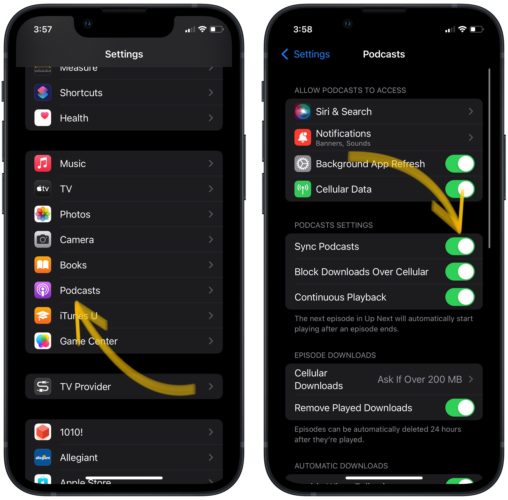 Why Aren't Podcasts Downloading On My iPhone?
A lot of the time, your iPhone won't download podcasts because it's not connected to Wi-Fi. Many of the troubleshooting steps in this article will help you diagnose Wi-Fi related problems, but later on we'll also address other reasons why Podcasts may not be downloading on your iPhone.
Can I Use Cellular Data To Download iPhone Podcasts?
Yes! If you want to download podcasts using cellular data, turn off the switch labelled Block Downloads Over Cellular in Settings -> Podcasts.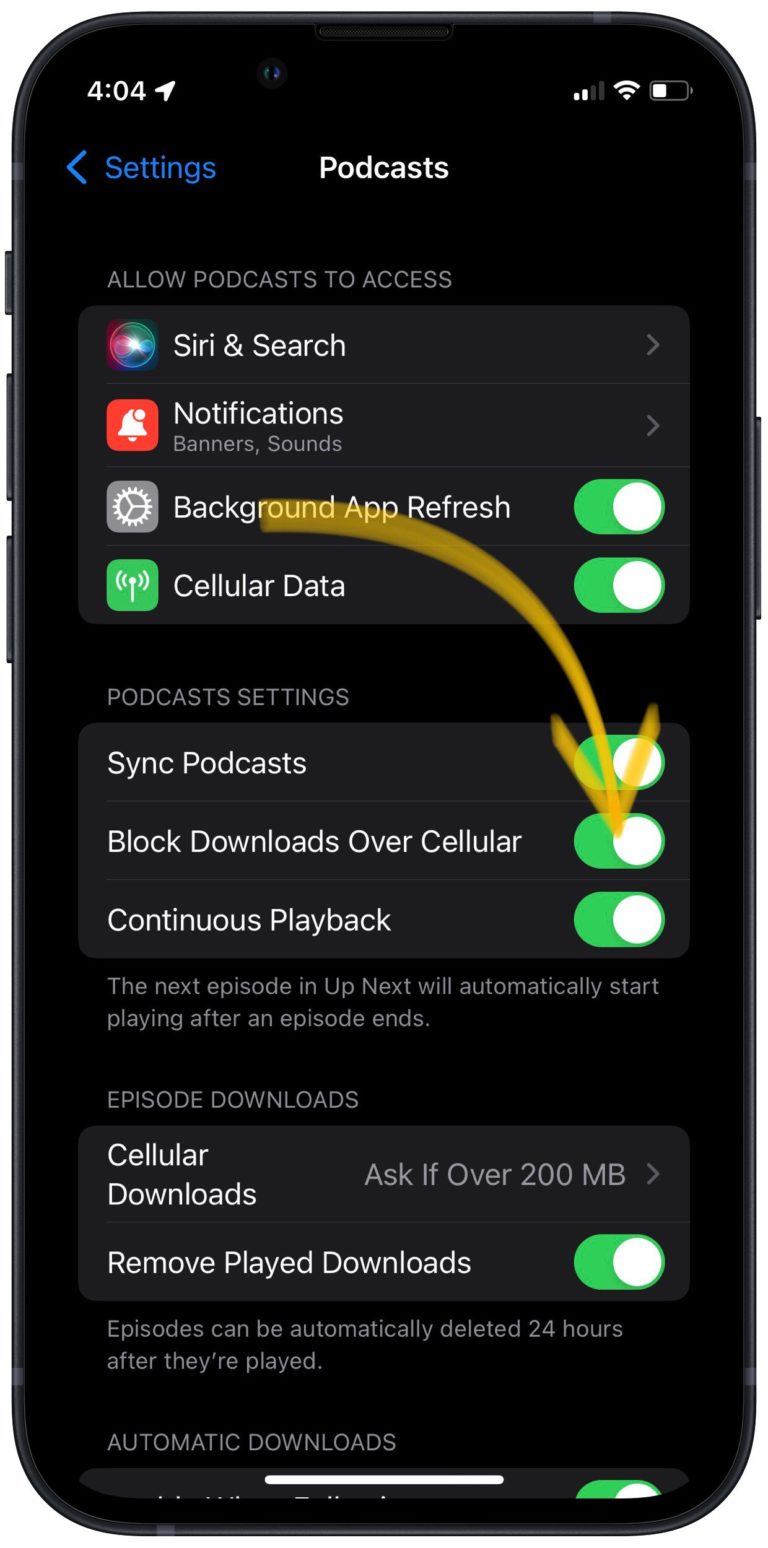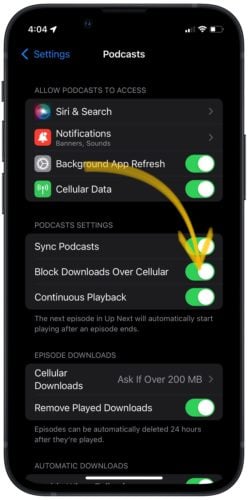 A word of warning: If you turn off Block Downloads Over Cellular and your iPhone's set up to download podcasts automatically, there's a chance your iPhone could use a significant amount of data downloading new episodes of all of your podcasts.
For this reason, we recommend leaving Block Downloads Over Cellular turned on, otherwise you could wind up with a big surprise the next time you get a bill from your wireless carrier.
Turn Off Airplane Mode
Your iPhone won't be able to download podcasts on your iPhone if Airplane Mode is turned on. Open the Settings app and tap the switch labelled Airplane Mode. You'll know Airplane Mode is off when the switch is gray and flipped to the left.
If Airplane Mode is already off, try toggling it on and back off again by tapping the switch twice. Then, try downloading a podcast again to see if this did the trick!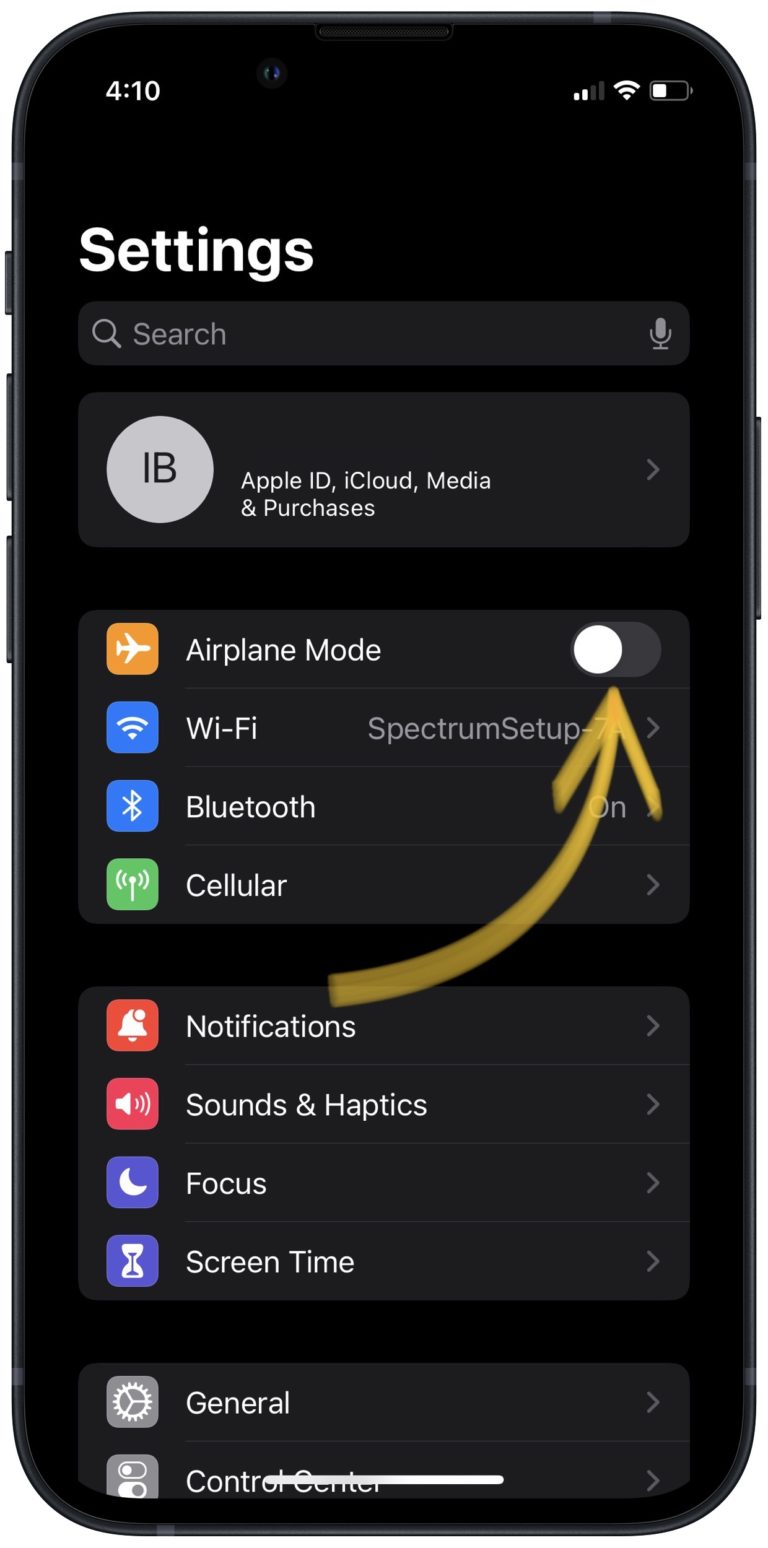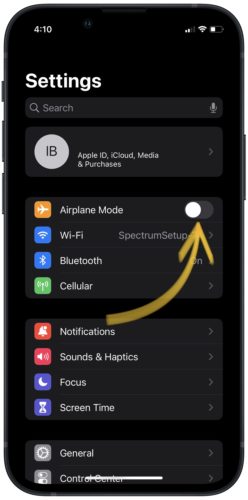 Turn Wi-Fi Off And Back On
A lot of the time, minor software glitches can interrupt your iPhone's Wi-Fi connection. If it isn't connected to Wi-Fi, your iPhone might not be able to download podcasts.
One quick task that can fix a lot of minor software problems is to turn Wi-Fi off and back on. Doing this will give your iPhone the chance to form a fresh connection to your Wi-Fi network.
Go to Settings -> Wi-Fi and tap the switch next to Wi-Fi to turn it off. You'll know Wi-Fi is off when the switch is white. Wait a few seconds, then tap the switch again to turn Wi-Fi back on.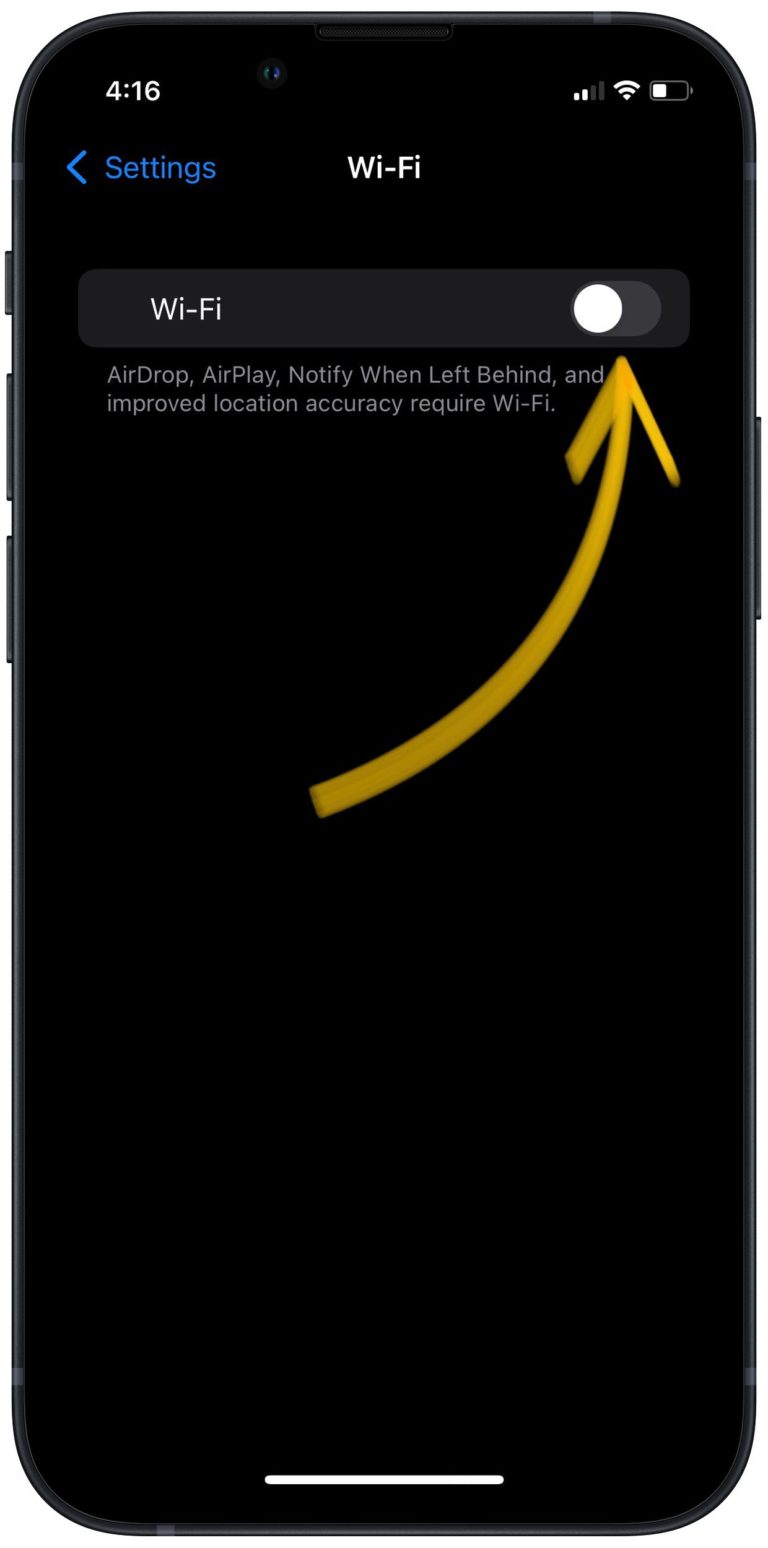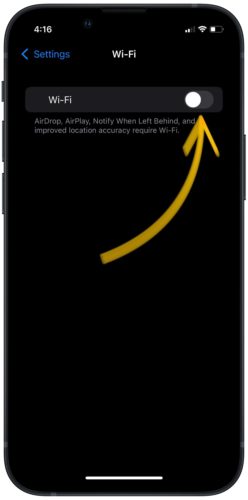 Forget Your Wi-Fi Network And Reconnect
If toggling Wi-Fi off and back on didn't work, try forgetting your Wi-Fi network entirely. That way, when you reconnect to the network afterwards, it will be as if you're connecting to the network for the very first time.
If something changed in the process of how your iPhone connects to your Wi-Fi network, forgetting the network and reconnecting can usually account for the change.
To forget the Wi-Fi network, open Settings and tap Wi-Fi. Then, tap the information button (the blue "i" in a circle). Finally, tap Forget This Network, then Forget when the confirmation alert pops up on the screen.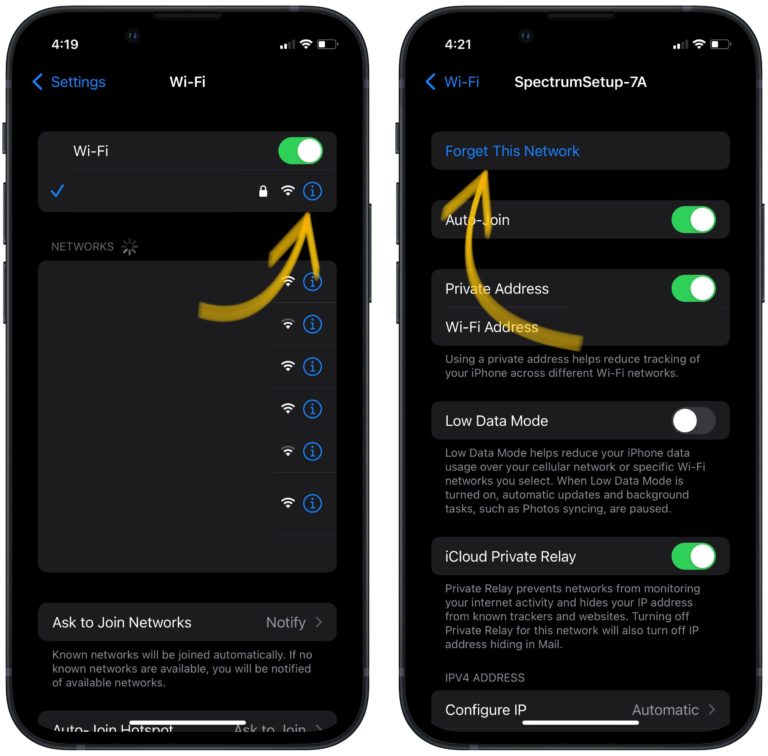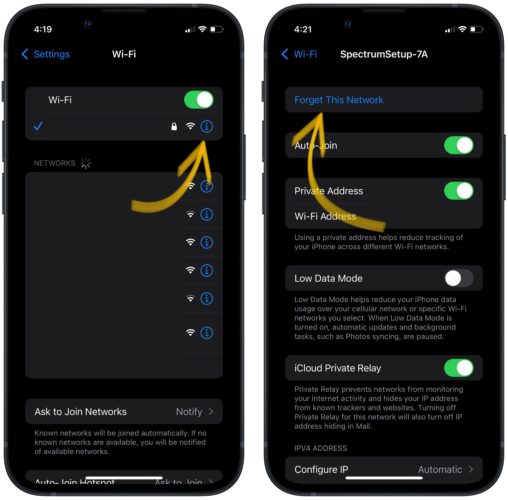 Once the network has been forgotten, it'll appear under Choose A Network. Tap on your Wi-Fi network, then enter your network's password to reconnect.
Allow Your iPhone To Download Episodes Automatically
It's possible that the reason your iPhone is not downloading podcasts is that you have some automatic download settings turned off. Luckily, you can check for this issue in the Settings app!
Go to Settings -> Podcasts. Here, your iPhone gives you a few options for downloading podcast episodes. If you scroll down to the Automatic Downloads heading and turn Enable When Following on, your iPhone will automatically download every episode of the podcasts you follow.
Right beneath Enable When Following, you'll see a switch labelled Download When Saving. If you turn this switch on, every podcast episode you save on your iPhone will download automatically as well.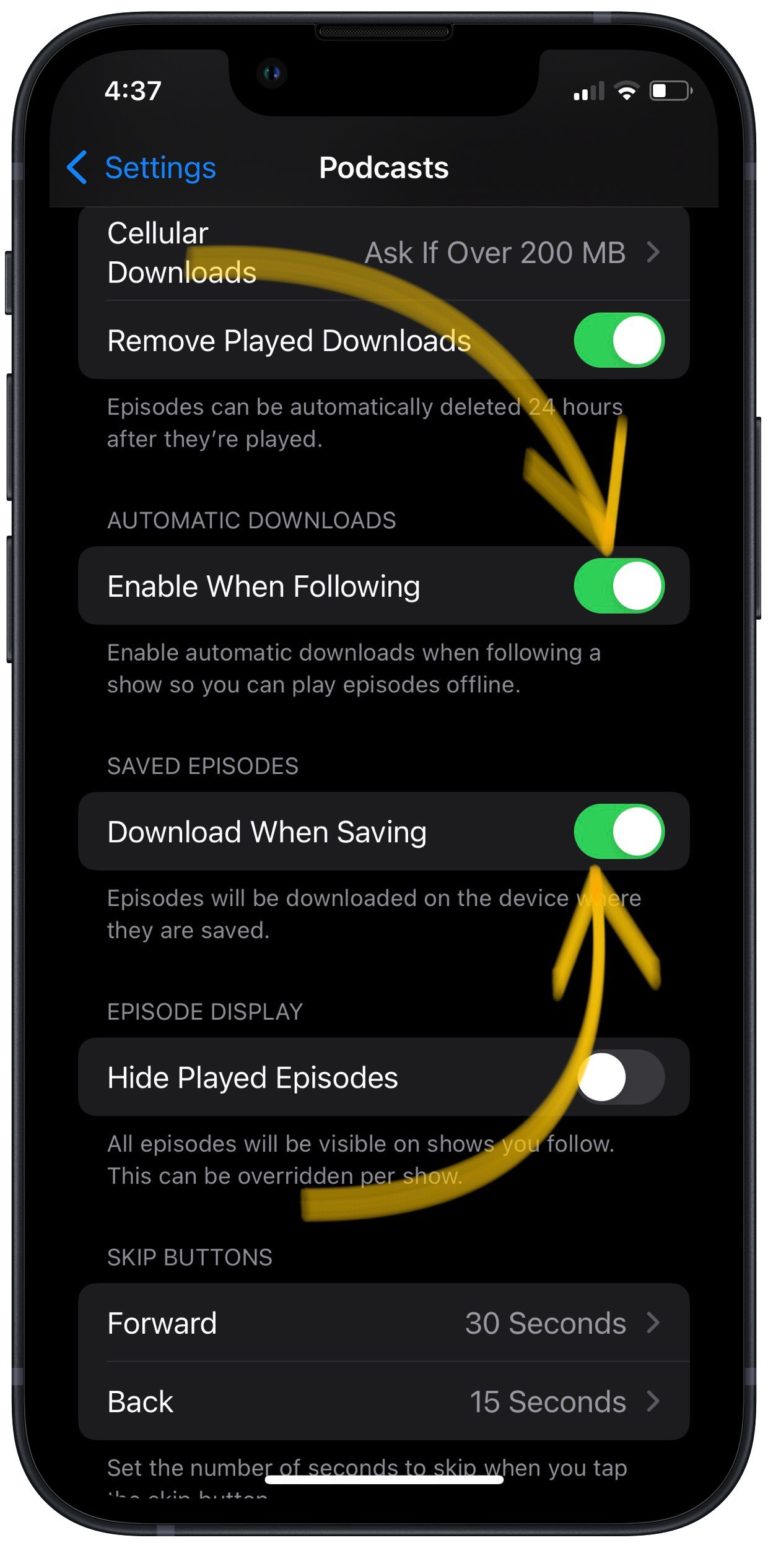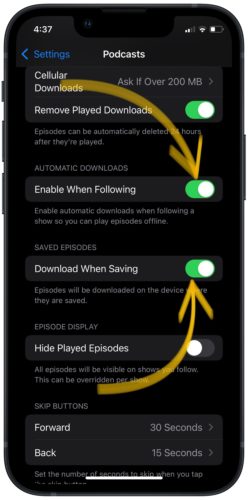 If you have both of these switches turned off, your iPhone won't download new podcasts automatically when they become available.
Check Content & Privacy Restrictions
Restrictions are essentially your iPhone's parental controls, so if Podcasts was accidentally turned off, you won't be able to download them.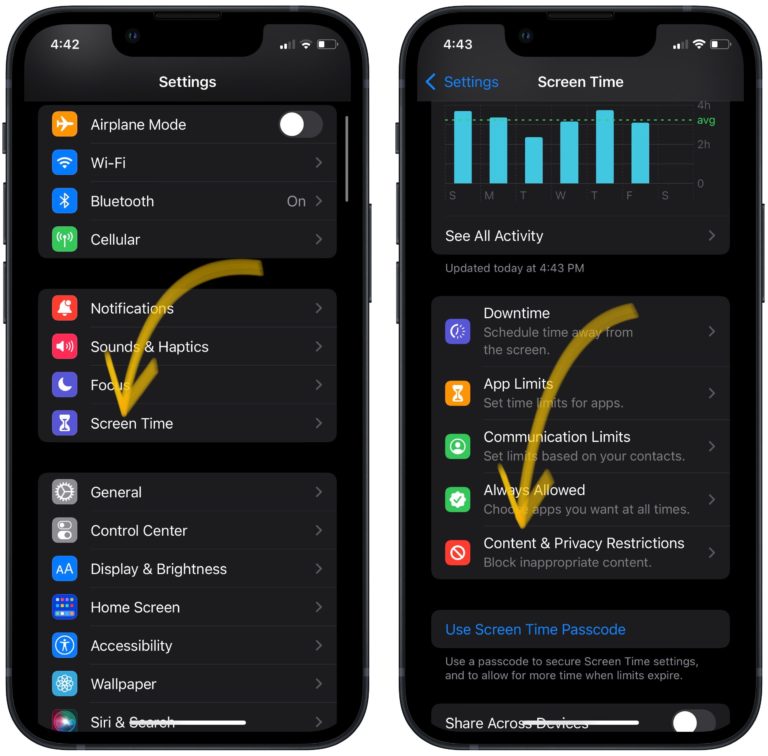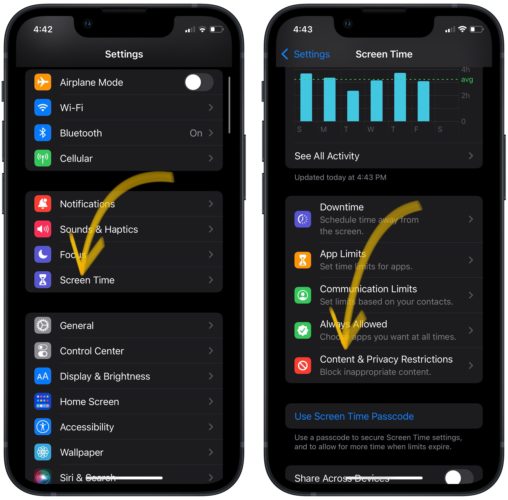 Open Settings and tap Screen Time -> Content & Privacy Restrictions -> Allowed Apps. Make sure the switch next to Podcasts is turned on.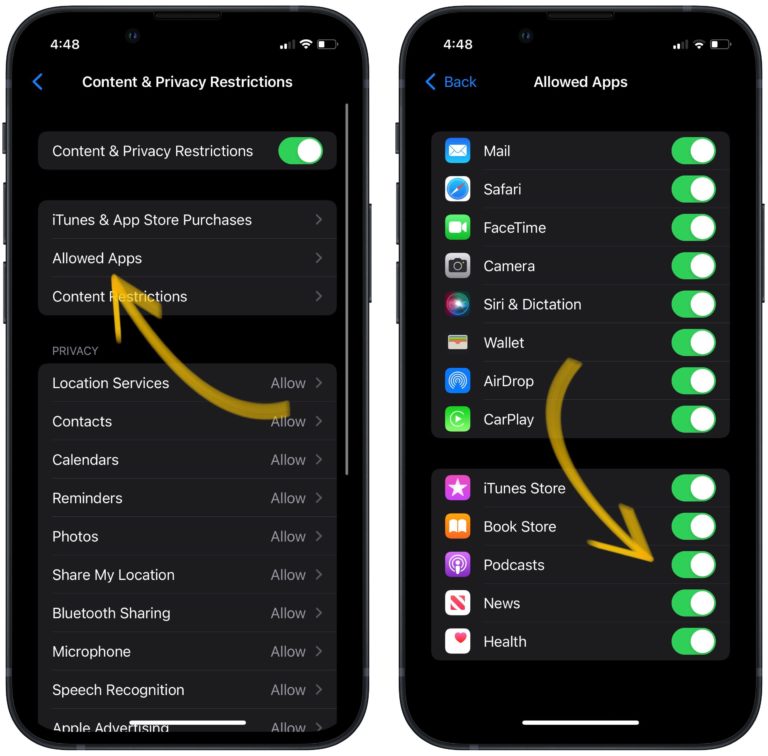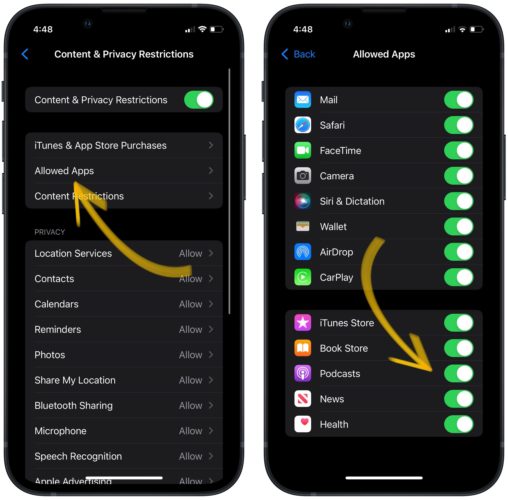 If you're trying to download an explicit podcast, head back to Settings -> Screen Time -> Content & Privacy Restrictions and tap Content Restrictions.
Under Allowed Store Content, make sure Explicit has been selected for Music, Podcasts, News & Workouts.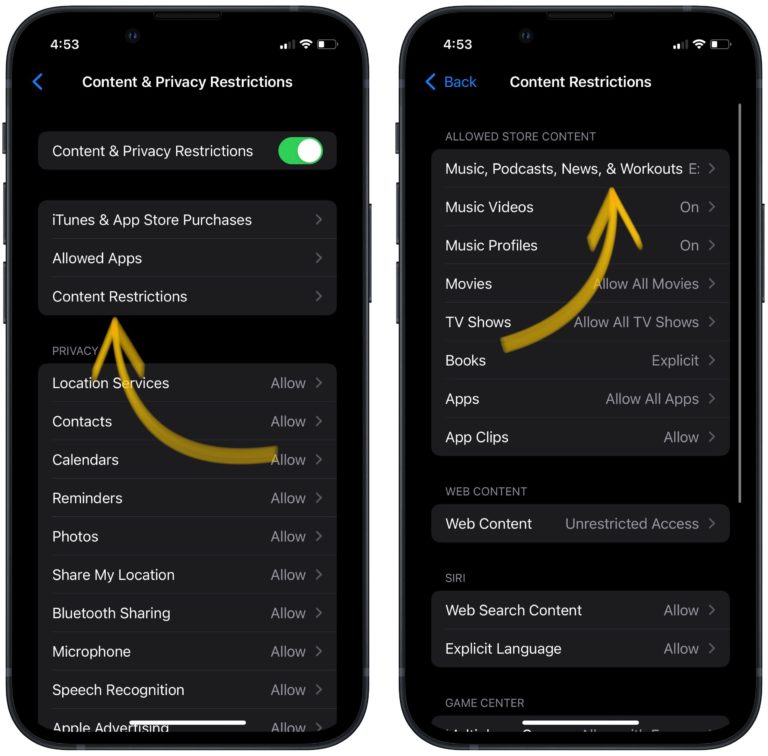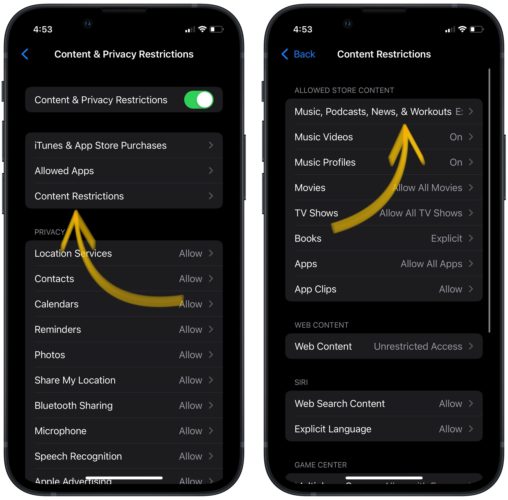 If you're having trouble finding your Restrictions settings, check out our article all about what to do if Restrictions is missing from your iPhone!
Deeper Software Problems
If you've made it this far, you've worked through the more basic troubleshooting steps for when podcasts are not downloading on your iPhone. Now, it's time to address the more in-depth issues that could be causing this error.
Delete And Reinstall The Podcasts App
Although iOS apps are strictly vetted, they can still run into problems from time to time. When you're experiencing problems with an app, deleting and reinstalling the app will usually fix the problem.
It's possible that podcasts are not downloading on your iPhone because a software file within the Podcasts app has become corrupted. To address this problem, delete the Podcasts app then reinstall it like new!
Don't worry — you won't lose any of any of your podcasts by deleting the app on your iPhone.
First, delete the app by lightly pressing and holding the app icon until all of your apps begin to shake. Next, tap the small minus icon that appears in the upper left-hand corner of the app icon. A pop-up message should appear asking you to confirm this action. To confirm, tap Delete App.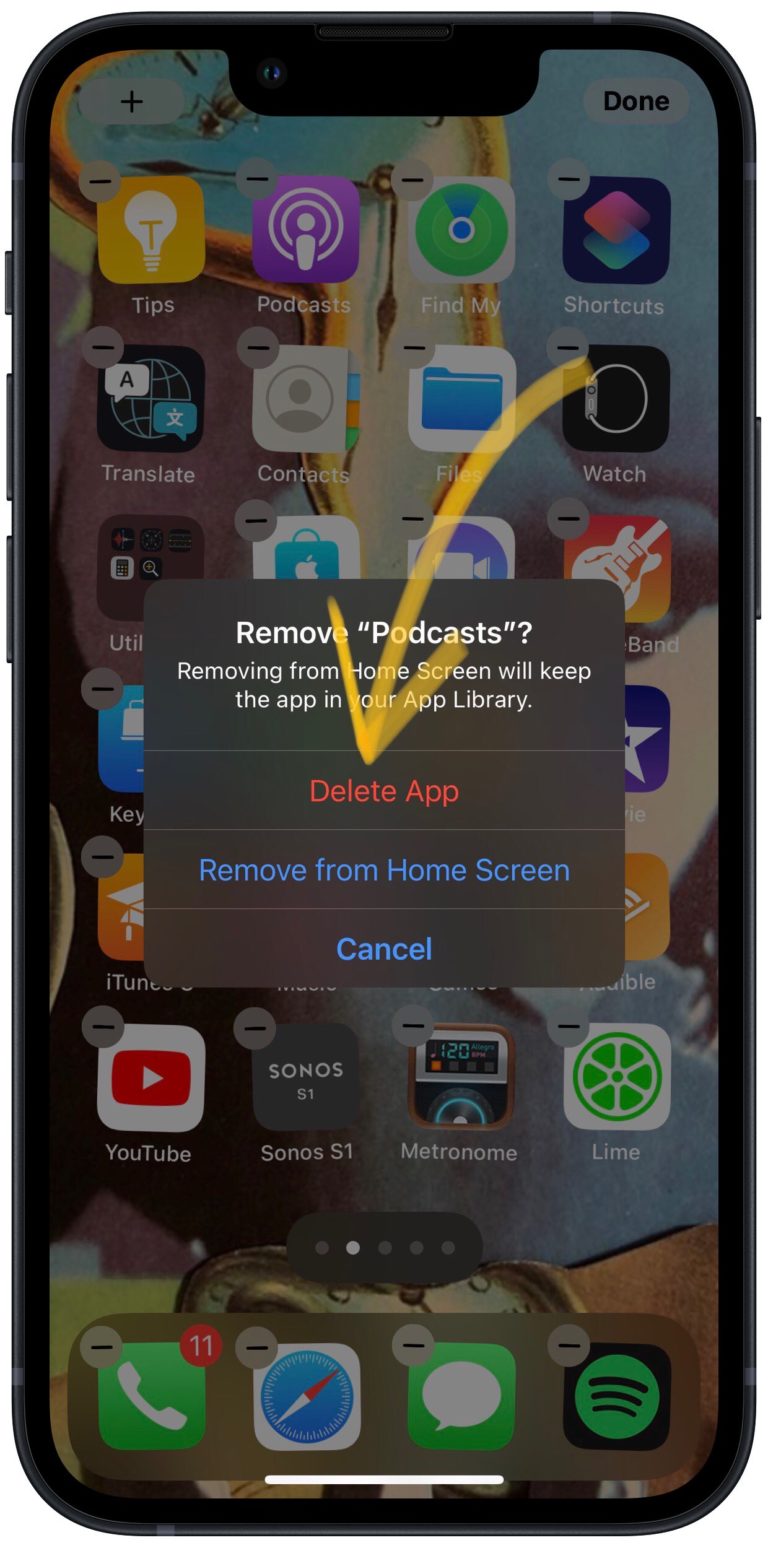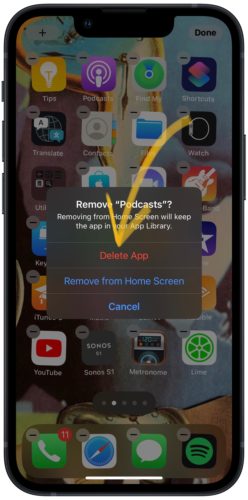 Now that the app has been deleted, open up the App Store and search for the Podcasts app. Once you've found it, tap on the small cloud icon to its right to reinstall it. When you open the app, you'll find all your podcasts still there!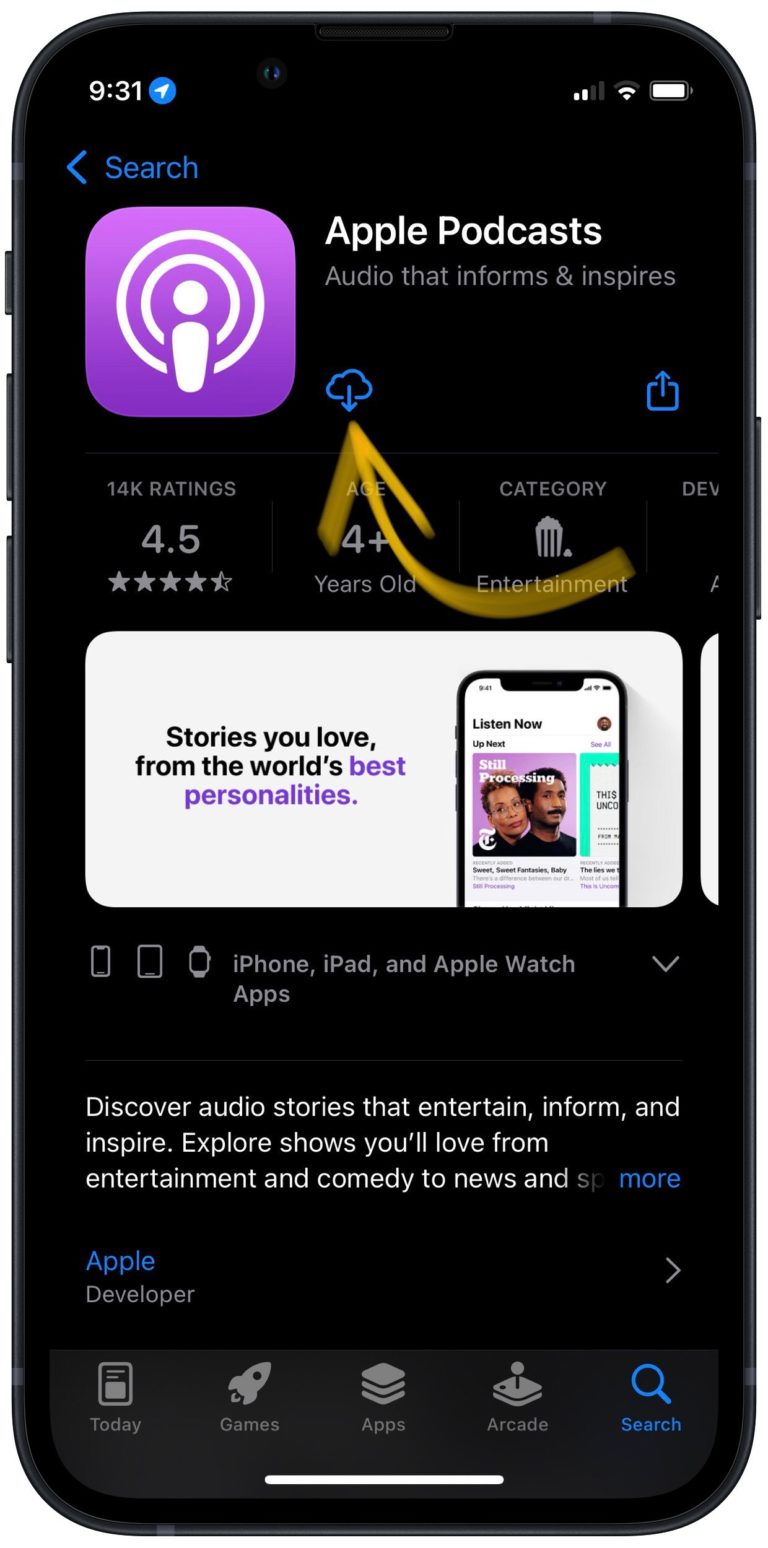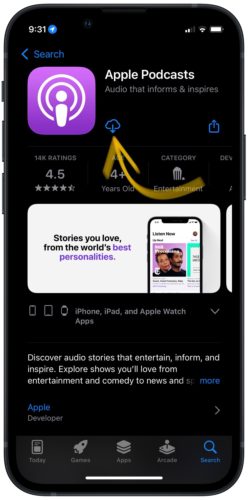 Reset Network Settings
If a poor Wi-Fi connection is the reason why podcasts are not downloading on your iPhone, it's time to try resetting your iPhone's network settings. This will reset all your device's Wi-Fi, Bluetooth, Cellular, and VPN settings to their factory defaults.
When you connect to a Wi-Fi network after resetting network settings, it'll be like you're connecting to that network for the very first time. This completely fresh start will often fix the software problem that prevented your iPhone from connecting to Wi-Fi in the first place. It will also reset any settings you may have changed that could be interfering with your podcast downloads without you knowing.
Note: Before resetting network settings, make sure to write down all your Wi-Fi passwords, as you'll have to reenter them after the reset is complete.
To reset network settings on your iPhone, go to Settings -> General -> Transfer or Reset iPhone -> Reset -> Reset Network Settings. Enter your iPhone's passcode, then tap Reset Network Settings when the confirmation alert appears on the screen.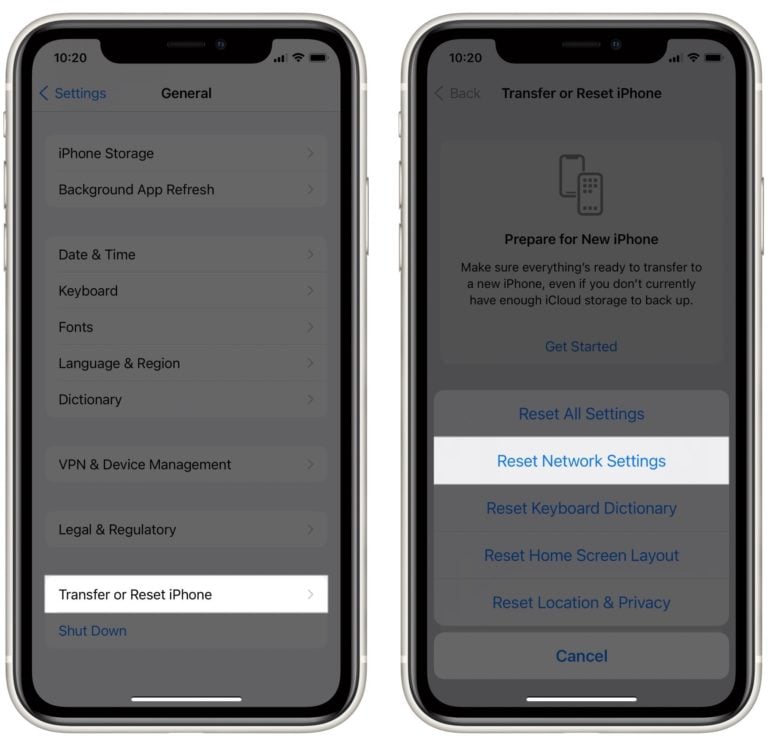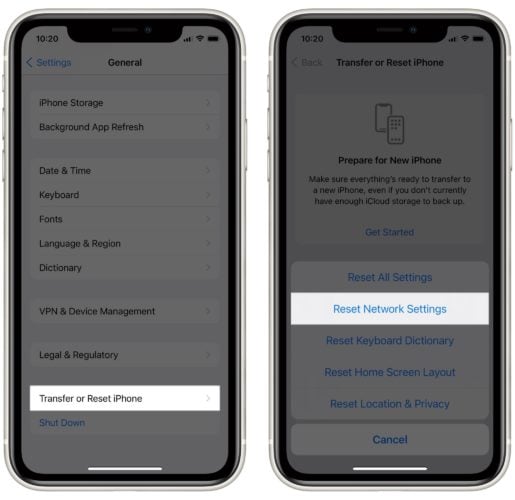 If Wi-Fi problems are still preventing you from downloading podcasts on your iPhone, check out our article on what to do when Wi-Fi isn't working on your iPhone.
Perform A DFU Restore
The final software troubleshooting step is a DFU restore, which will erase and reset all your personal settings and data from your iPhone. This step is a bit drastic for an issue like podcasts not downloading on your iPhone, so I'd only recommend doing it if you're experiencing many other software issues as well.
If you feel as though a DFU restore is the right option for you, check our article to learn how to put your iPhone into DFU mode. Since a DFU restore will completely erase things like your notes and photos, make sure you save a backup of your iPhone before you begin the DFU restore process.
Repair Options
Although it's very unlikely, it's possible the Wi-Fi antenna inside your iPhone is broken, which is preventing it from connecting to your Wi-Fi network. This same antenna connects your iPhone to Bluetooth devices, so if you've experienced lots of issues connecting to both Bluetooth and Wi-Fi recently, the antenna could be broken.
If your iPhone is experiencing a hardware problem,z I'd recommend scheduling an appointment and taking it to your local Apple Store. There, you can get a diagnosis and repair quote from a licensed Apple technician!
Podcasts: Downloading Again!
You've successfully fixed the problem with your iPhone and you can start listening to podcasts again. Next time podcasts are not downloading on your iPhone, you'll know exactly how to fix the problem. If you have any other questions, feel free to leave them below in the comments section!
Thanks for reading,
David L.