Your iPhone display keeps getting dimmer and you don't know why. Even when you turn the screen brightness up, your iPhone just gets dim again. In this article, I'll explain why your iPhone keeps dimming and show you how to fix the problem for good!
Why Your iPhone Keeps Dimming
Most of the time, your iPhone keeps dimming because Auto-Brightness is turned on. Auto-Brightness is a feature that automatically adjusts the brightness of your iPhone screen depending on the lighting conditions around you.
At night when it's darker, Auto-Brightness will make your iPhone display darker so your eyes aren't blinded by what you're looking at on the screen. If you're out at the beach on a bright and sunny day, Auto-Brightness will usually make your iPhone display as bright as possible so you can actually see what's happening on the screen!
You'll have to turn off Auto-Brightness if your iPhone keeps dimming and you want it to stop. Open Settings and tap Accessibility -> Display & Text Size. Then, turn off the switch next to Auto-Brightness.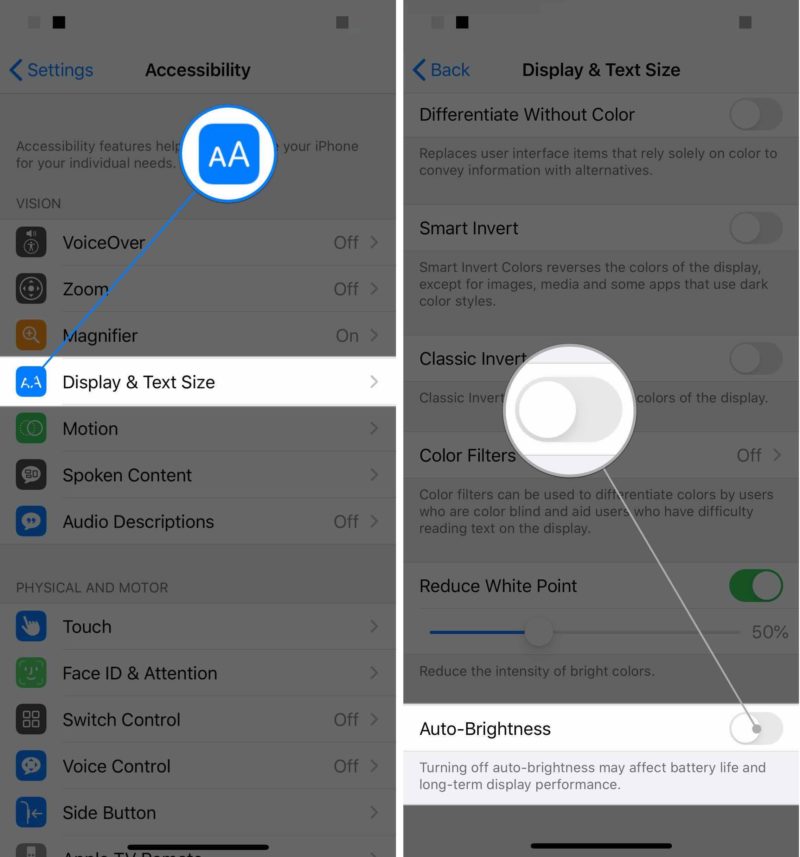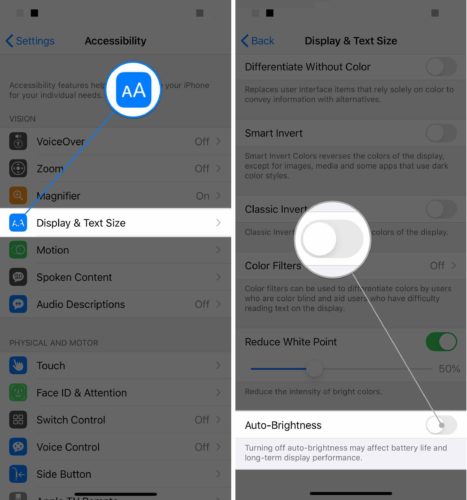 Apple notes that turning off Auto-Brightness can affect your iPhone's battery life. Essentially, if you leave your iPhone on maximum brightness all day, it'll drain the battery faster than if you had left your iPhone on minimum brightness all day. Check out our other article to learn more iPhone battery tips that'll do much more to extend its battery life!
Is Night Shift Turned On?
Another common reason why it may look like your iPhone keeps dimming is that Night Shift has turned on. Night Shift is a feature that makes your iPhone display warmer, which can help make it easier to fall asleep at night after using your iPhone.
Go to Settings -> Display & Brightness and tap Night Shift. You'll Night Shift is on if the switch next to Manually Enabled Until Tomorrow is turned on. Tap that switch to turn Night Shift off.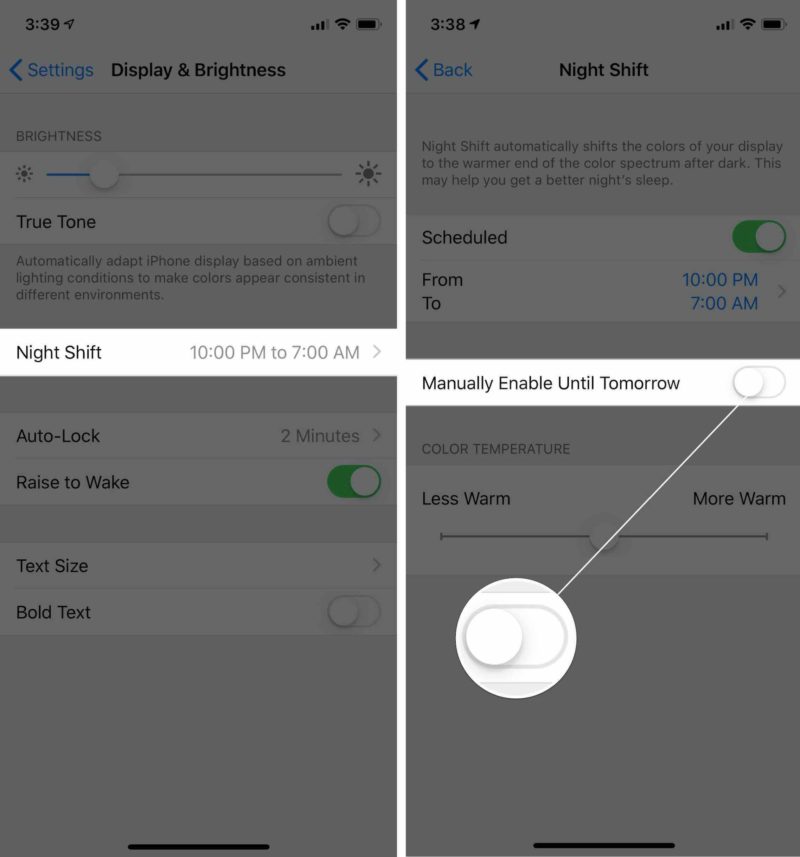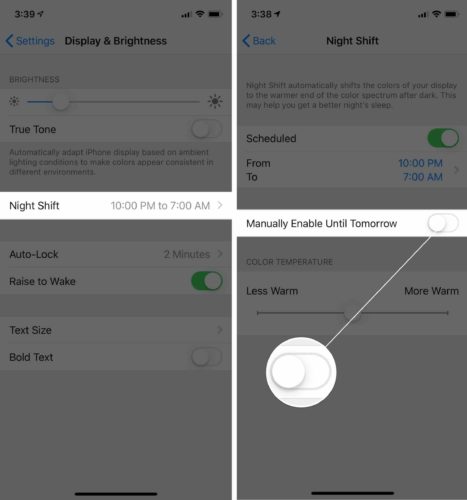 If you've scheduled Night Shift on your iPhone, this feature will automatically turn on during a designated period of time. You can turn off the switch next to Scheduled to prevent Night Shift from turning on automatically during certain hours of the day.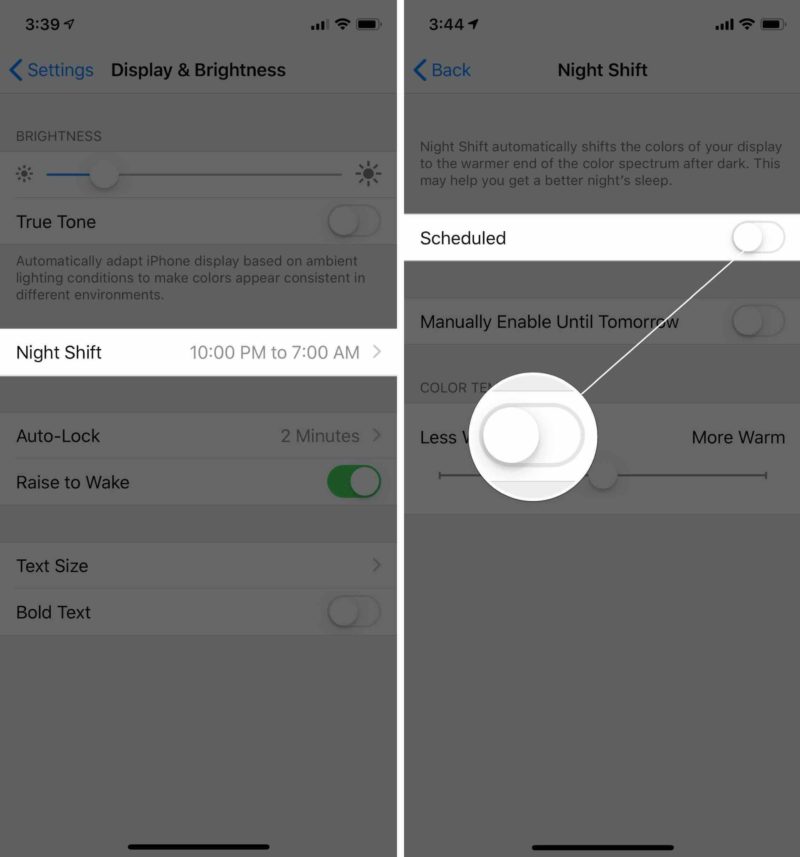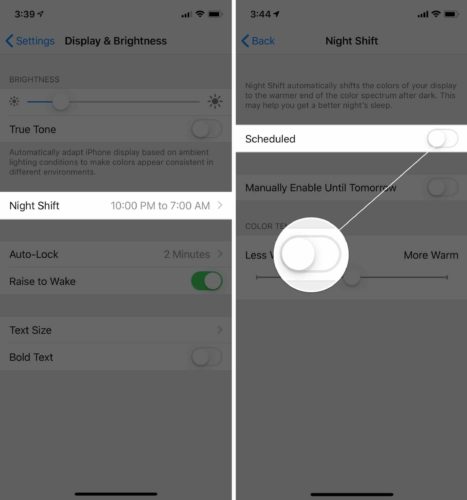 Night Shift can also be toggled on or off from Control Center if your iPhone is updated to iOS 11 or 12. To open Control Center, swipe down from the upper right-hand corner of the screen on an iPhone X or newer, or swipe up from the very bottom of the screen on an iPhone 8 or older.
Next, press and hold the brightness slider. Then, tap the Night Shift button to toggle it off or on.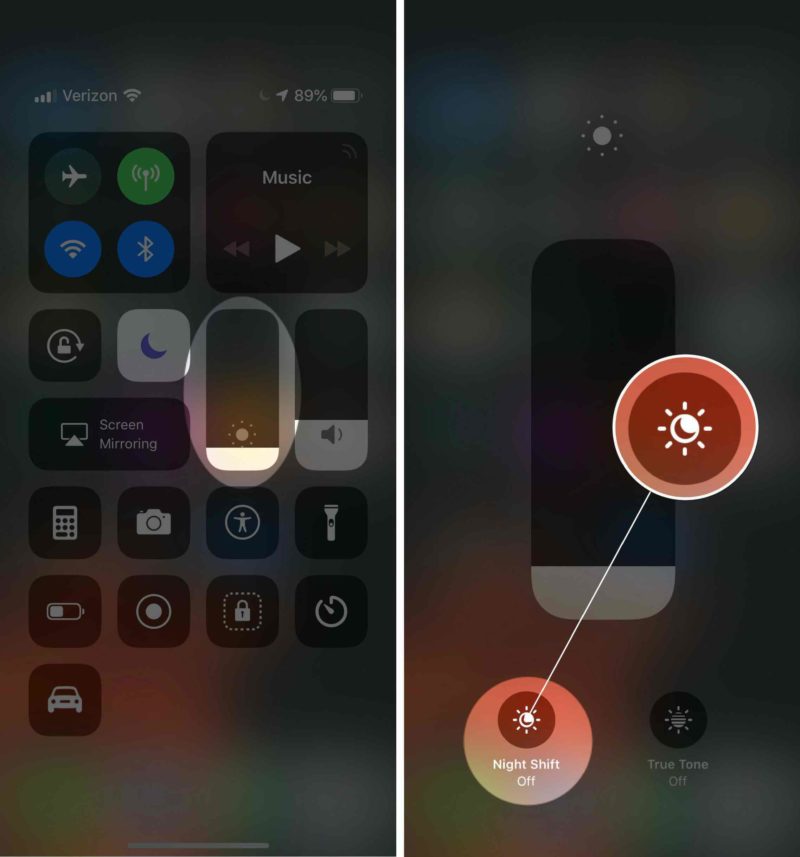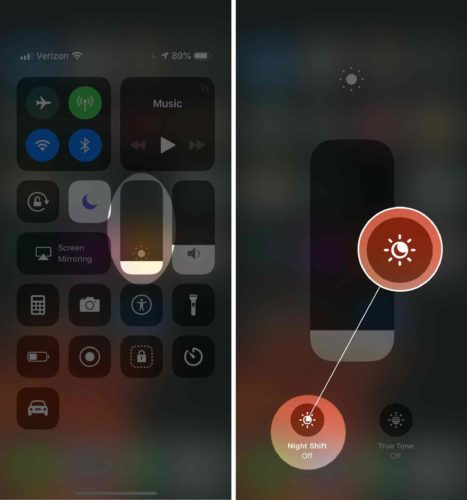 My iPhone Is Still Dimming!
Although it's unlikely, your iPhone could still get dimmer after Auto-Brightness and Night Shift have been turned off. A software problem or a hardware problem could be the reason why your iPhone keeps dimming.
The steps below will walk you through some basic software troubleshooting steps and help you find a repair option if your iPhone is broken!
Restart Your iPhone
Restarting your iPhone is a common fix for minor software problems that could be dimming the display. Here's how to restart your iPhone depending on which model you have:
iPhone 8 and earlier: Press and hold down the power button until "slide to power off" appears. Then swipe the red power icon from left to right to shut down your iPhone. To turn your iPhone back on, press and hold the power button again until the Apple logo appears directly on the center of the screen.
iPhone X and newer: Simultaneously press and hold the side button and either volume button until "slide to power off" appears on the display. Then, swipe the red power icon from left to right across "slide to power off". Wait a few moments, then press and hold the side button again to turn your iPhone X or newer back on.
Update Your iPhone
Apple regularly releases software updates to introduce new iPhone features and fix troublesome bugs and errors. Open Settings again and tap General -> Software Update. Tap Download and Install if a software update is available.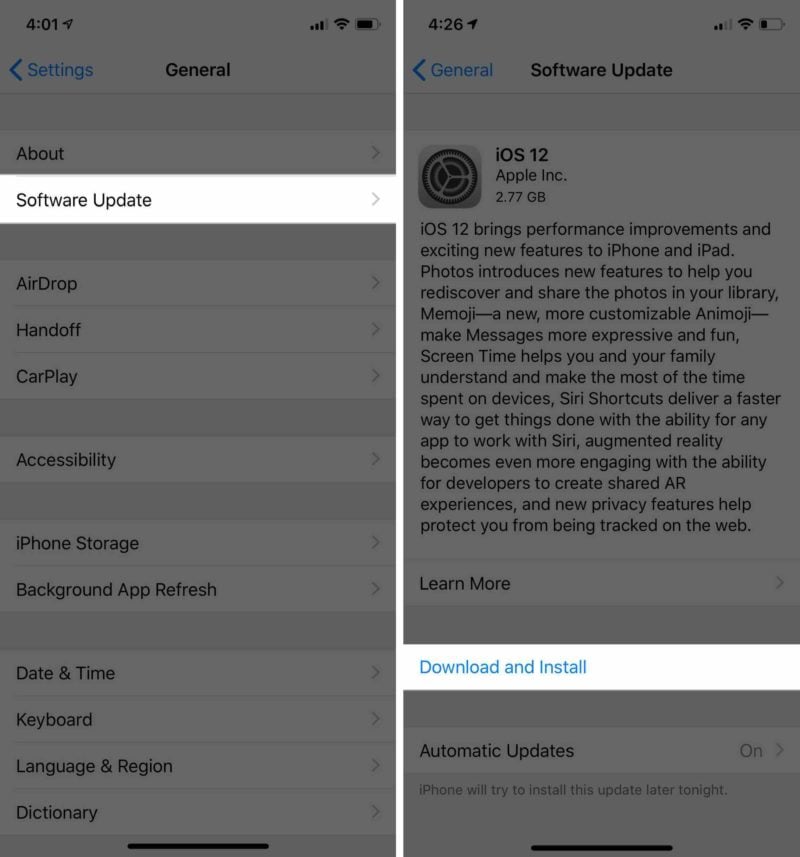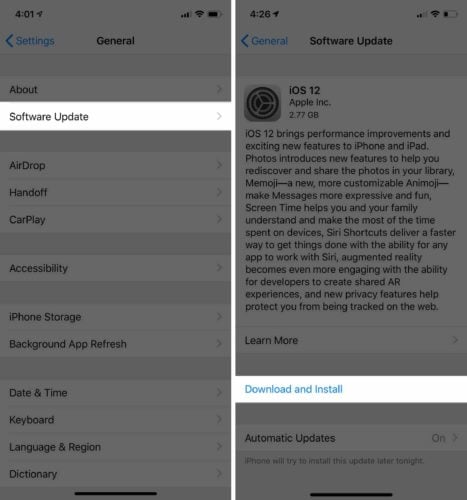 After the update is complete, go back to Settings -> Accessibility -> Display & Text Size and make sure Auto-Brightness is turned off. Sometimes this feature gets turned back on after updating iOS!
Back Up Your iPhone
Before going any further, make sure you save a backup of your iPhone. Our next step is a DFU restore, so you'll want to have a backup ready so you don't lose any of your data or personal information.
Plug your iPhone into your computer using a Lightning cable and open up iTunes. Then, click the phone button near the upper left-hand corner of iTunes. Finally, click Back Up Now to create an iPhone backup.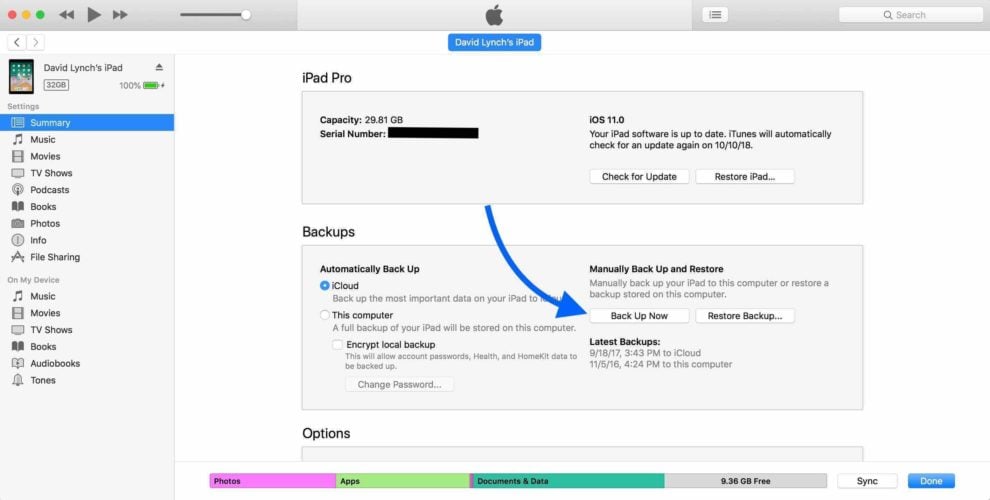 Check out our YouTube video if you want to backup your iPhone to iCloud instead of iTunes!
DFU Restore Your iPhone
The DFU restore is the deepest type of iPhone restore. All the code on your iPhone gets erased and reloaded when you put it in DFU mode and restore. Check out our thorough guide to learn how to put your iPhone in DFU mode!
iPhone Repair Options
Although it's pretty unlikely, your iPhone may be dimming because of a hardware problem with the display. Set up an appointment and take your iPhone into your local Apple Store, especially if you have AppleCare+. A Genius will be able to assess the damage and let you know if a repair is necessary.
We also recommend Puls, an on-demand repair company who can send a certified technician to you in as little as sixty minutes!
Bright And Breezy
You've fixed your dim iPhone and the display looks normal again! Next time your iPhone keeps dimming, you'll know exactly how to fix the problem. Leave any other questions you have about your iPhone's display in the comments section down below.
Thanks for reading,
David L.