You dropped your iPhone in water and now it won't turn on. Don't worry — there's still a chance it can be saved! In this article, I'll explain how to fix a water damaged iPhone and recommend a couple repair services that can help you repair your iPhone.
Before We Begin…
If you just dropped your iPhone in water, I strongly recommend reading our article on what to do when your iPhone gets wet. This article will walk you through what to do immediately after your iPhone gets exposed to water including wiping it down with a microfiber cloth and not putting it in a bag of rice.
If your iPhone isn't turning on after you've worked through the steps in that article, come back here and we'll help you fix your water damaged iPhone.
If you're coming from that article to this one, then welcome! Let's see if we can repair or fix your water damaged iPhone.
I Thought My iPhone Was Waterproof!
Every iPhone since the iPhone 7 has an ingress protection rating of IP67, meaning that they're water-resistant if submerged as deep as 1 meter in water. However, it's important for you to know that even though your iPhone may be water-resistant, water damage is not covered by AppleCare+.
Will Apple Repair Water Damaged iPhones?
No — if there's water damage, Apple techs can't do repairs. The reason is that water damage is insidious and problems can occur days or even weeks after your iPhone was initially exposed to water. Apple's stance is that there's no way to guarantee repairs on water damaged iPhones, so replacing the iPhone is the best option.
Apple can tell if an iPhone does have water or liquid damage by checking the Liquid Damage Indicator on the side of the iPhone. On every iPhone since the iPhone 5, the Liquid Damage Indicator is located on the right side of the iPhone below the power button or side button (iPhone X).
If you bring in your water damaged iPhone and the Liquid Damage Indicator is red, an Apple technician won't repair it and will recommend replacing it. And, since AppleCare+ plans don't cover liquid damage, you may wind up paying full price to replace your iPhone.
Puls
If your iPhone's Liquid Damage Indicator is on and you want to try and save your iPhone before having it replaced, we recommend Puls, an on-demand repair company that sends a certified and vetted technician directly to you.
Puls technicians have experience in handling wet iPhones, so they'll help you assess your specific situation and save your iPhone if possible.
Puls currently offers water damage repair services for the iPhone 6, 6 Plus, SE, 6s, 6s Plus, 7, and 7 Plus. When you visit their website, select Water Damage as you're checking out.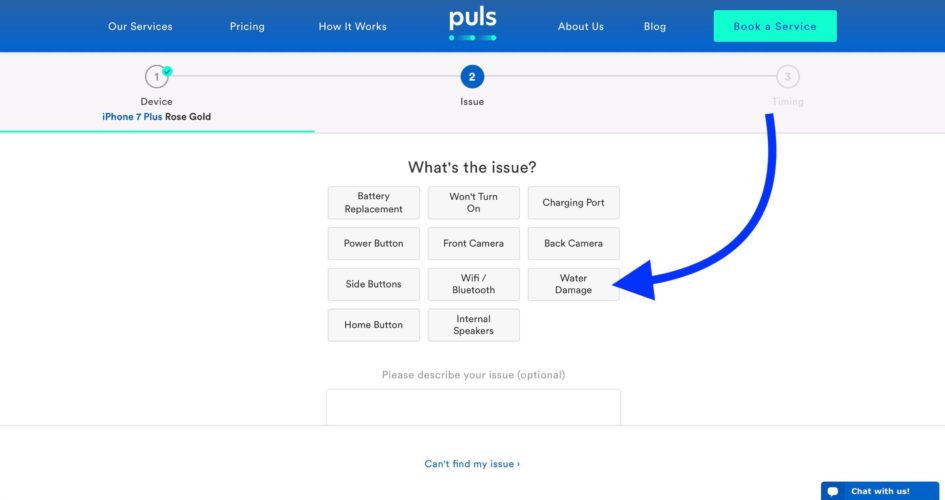 Best Of Luck
We understand that it can be incredibly stressful when your iPhone gets liquid damage. We hope this article will help you fix your water damaged iPhone so it won't have to be completely replaced. If you have any other questions about wet iPhones, leave them in the comments section below!
All the best,
David L.