You can't use Face ID on your iPhone and you're not sure why. No matter what you do, this biometric security feature isn't working. In this article, I'll explain why "Face ID Has Been Disabled" on your iPhone and show you how to fix the problem!
Turn Your iPhone Off & Back On
Restarting your iPhone is a common fix for minor software problems. Every program running on your iPhone shuts down naturally, which can potentially fix issues with Face ID.
To turn off your iPhone X, XS, XS Max, or XR, simultaneously press and hold either volume button and the side button until slide to power off appears on the display. Slide the white and red power icon from left to right to shut down your iPhone. Wait a few moments, then press and hold the side button to turn your iPhone on again. You can release the side button when the Apple logo appears on the screen.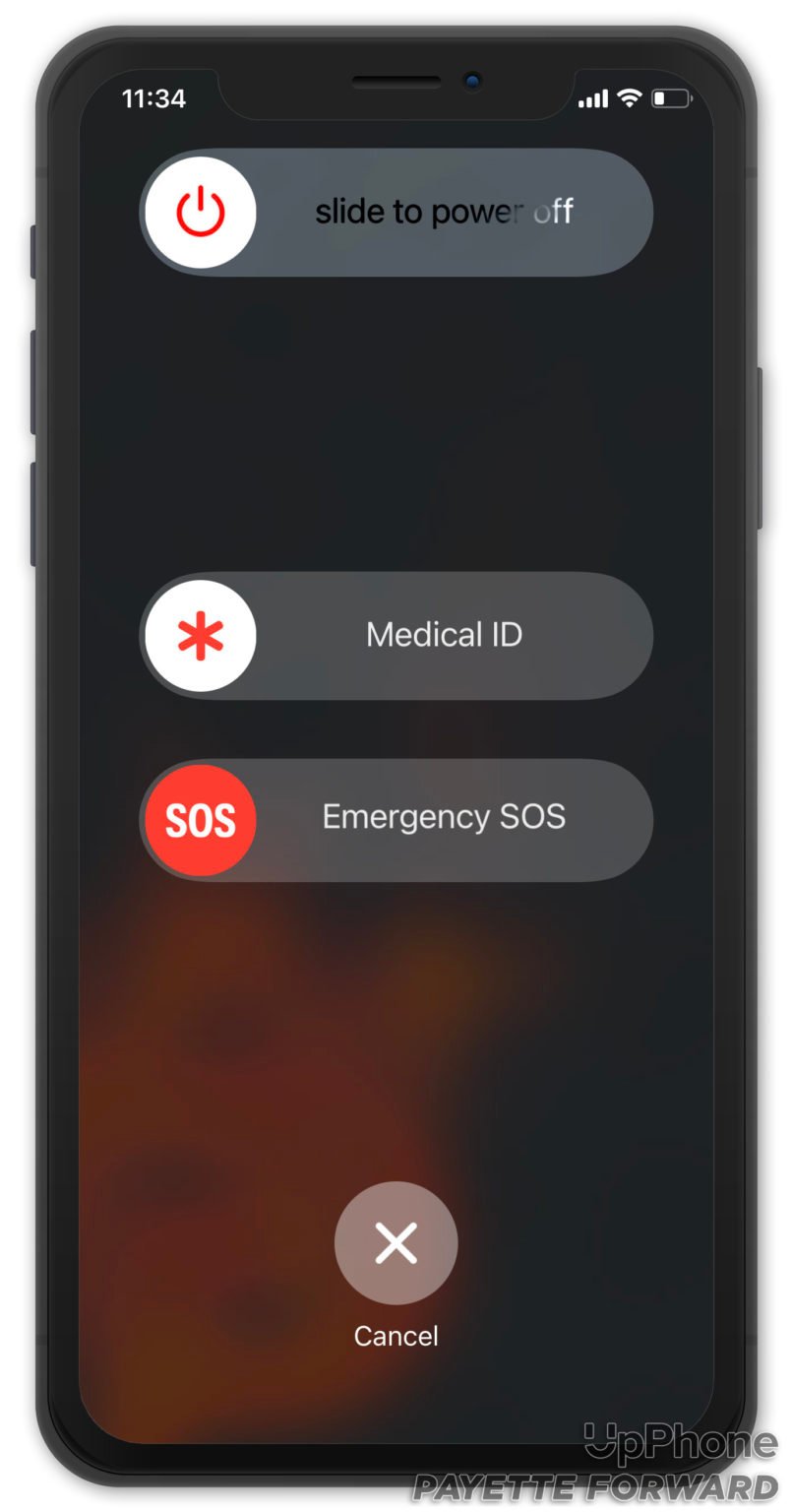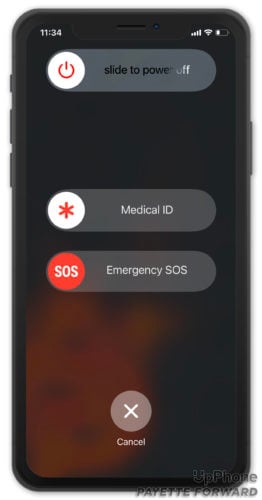 Update Your iPhone
While unlikely, it's possible Face ID has been disabled because of a software issue that has already been fixed by a new iOS update. Apple regularly releases software updates to fix bugs, introduce new features, and keep your iPhone running smoothly.
Open Settings and tap General -> Software Update. Tap Download and Install or Install Now if a new iOS update is available.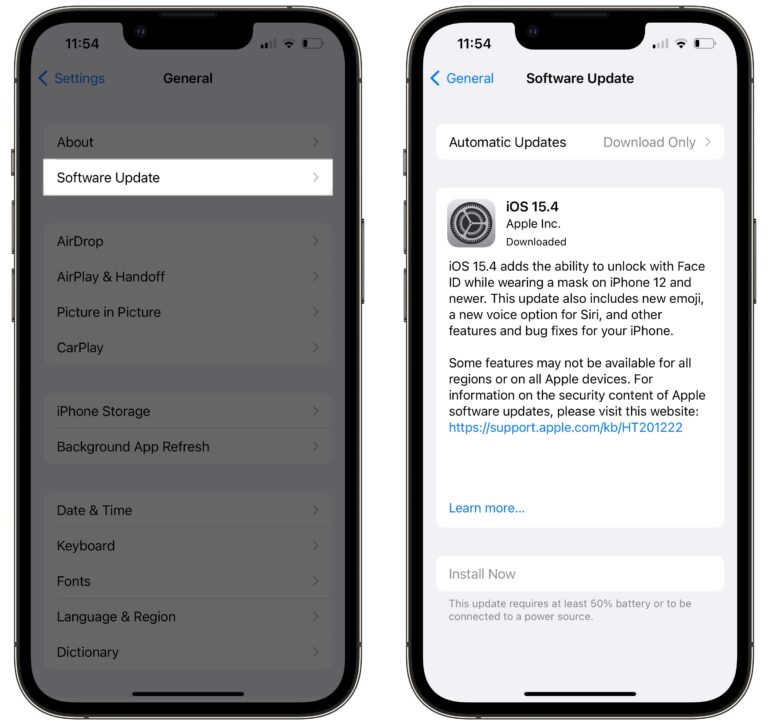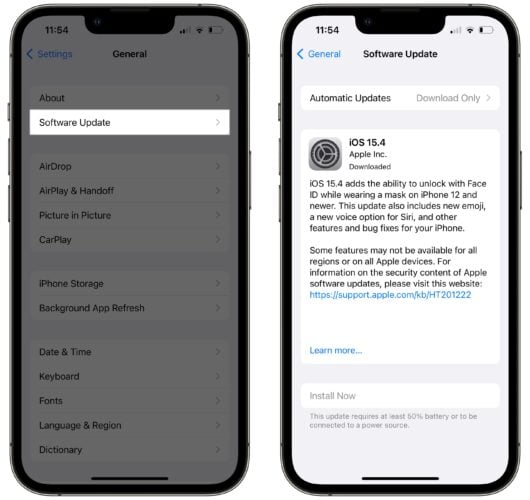 Reset Face ID On Your iPhone
Sometimes erases all of the Face ID settings on your can fix a software glitch preventing it from working properly. Your saved face will be completely erased, and you'll be able to set Face ID up again like new.
To reset Face ID on your iPhone, open Settings and tap Face ID & Passcode. Then, enter your alphanumeric passcode if you've set one up. Finally, tap Reset Face ID.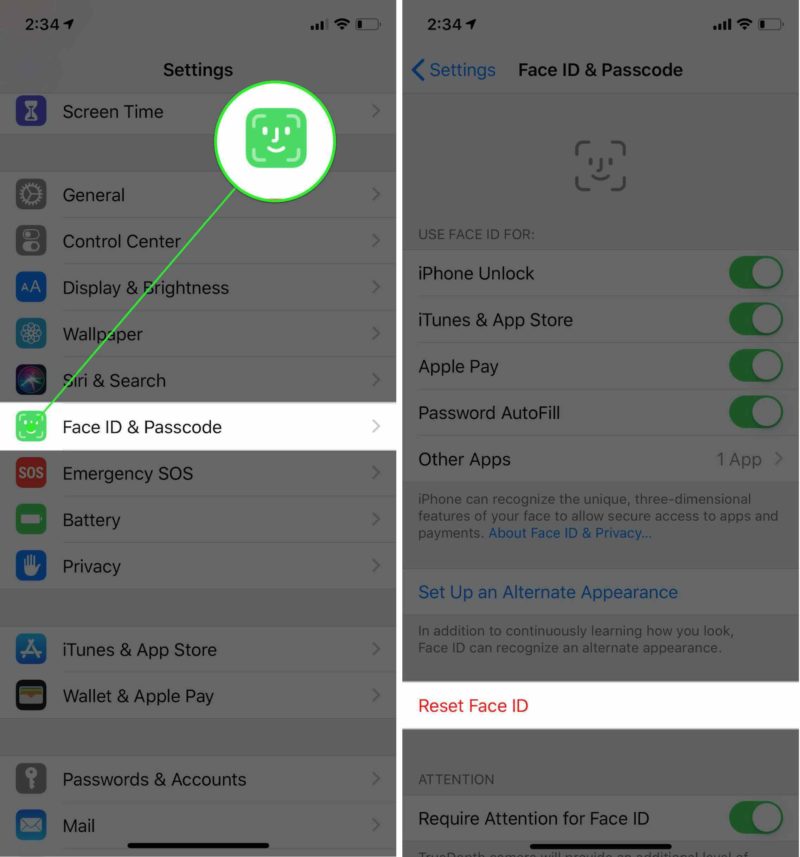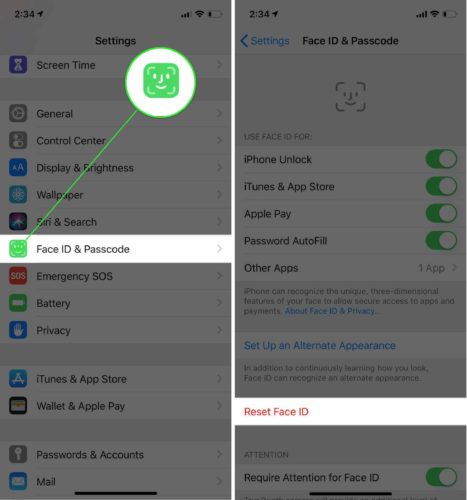 Now, you can set up Face ID like new. Tap Set Up Face ID, then follow the on-screen instructions.
Put Your iPhone In DFU Mode
Putting your iPhone in DFU mode and restoring is the last step we can take to completely rule out a software problem. A DFU restore is usually the first thing a Tech or Genius will do if you bring your iPhone into the Apple Store.
The DFU restore erases and reloads every single line of code on your iPhone, which is why it's the deepest type of restore you can perform on an iOS device. We recommend saving an iPhone backup before putting your iPhone into DFU mode, just to make sure you have a saved copy of all your files, data, and information.
Check out our step-by-step DFU restore guide when you're ready to put your iPhone X, XS, XS Max, or XR in DFU mode.
Contact Apple Support
In many cases, "Face ID Has Been Disabled" on your iPhone because of a hardware issue with the TrueDepth camera. If the TrueDepth camera is broken, you won't be able to create Animojis either.
You should contact Apple support as soon as possible, either online, in-store, or over the phone if you believe there's a hardware problem with your iPhone's TrueDepth camera. Apple has a standard 14-day return policy for defective products. If you bring your broken iPhone X, XS, XS Max, or XR back to Apple within this return window, they'll almost always replace it.
Face ID: Working Again!
You've fixed the problem with Face ID on your iPhone X, XS, XS Max, or XR and now it's much more secure! Make sure to share this article on social media to let your family and friends know what to do if their iPhone says "Face ID Has Been Disabled". Leave any other questions you have in the comments section down below.
Thanks for reading,
David L.