You just heard about a cool new app and you're ready to try it out, but when you open the App Store to download it, the screen is either blank or stuck loading. You're sure it's not a hardware issue, because all of your other apps are working perfectly—so it has to be something else. In this article, I'll explain why the iPhone App Store is not working or blank, and how to fix the problem so the App Store starts loading again on your iPhone, iPad, or iPod.
The Fix: What To Do When The App Store Is Not Working On Your iPhone, iPad, or iPod
I'll be using an iPhone for this walkthrough, but the process for fixing the App Store on iPad and iPod is exactly the same. If you have an iPad or iPod, feel free to substitute your device whenever you see iPhone in this article.
1. Close And Reopen The App Store App
Sometimes small glitches with the App Store can prevent it from connecting to the internet, and when that happens, it won't load at all. The first thing to try is to close the App Store app and open it again.
To close the App Store, double-click the Home Button on your iPhone to open the App Switcher. You can swipe back and forth to see all the apps that are open on your iPhone. When you find the App Store, use your finger to swipe it off the top of the screen.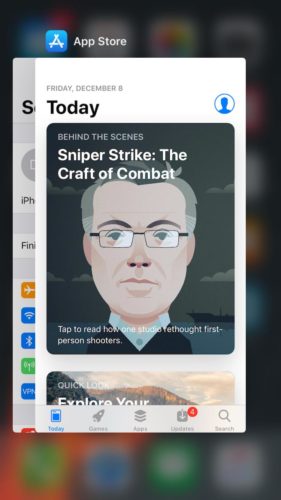 After you close the App Store, try reopening it again. If it loads, you've solved the problem. If it doesn't, continue on to step 2.
About Closing Apps On iPhone
I recommend closing out all your apps once every day or two, because despite what you may have heard, it is good for your iPhone battery life. If you're interested in learning more, read our article that proves why closing out your iPhone apps really is a good idea.
2. Clear The App Store Cache
Not many people know how to do it, but clearing the App Store cache can fix all sorts of problems with the App Store on your iPhone. To clear the App Store cache, tap 10 times on any tab icon on the bottom of the App Store screen.
For instance, you can tap 10 times on the Today tab to clear the cache. The App Store won't reload, so close and reopen the App Store app afterwards.
3. Check Your Internet Connection
When the App Store won't load, the second thing we need to check is your iPhone's connection to the internet. Even if other apps or websites work on your device, give this a try. The App Store uses different technology than other apps and websites — we'll talk about that later.
If you're already on Wi-Fi, we're going to turn it off and open the App Store again to see if it works. When you turn off Wi-Fi, your iPhone will switch over to its wireless data connection, which can be called LTE, 4G, or 4G, depending on your wireless carrier and signal quality.
If you're not on Wi-Fi, we're going to connect to a safe Wi-Fi network (like the ones you'll find at your local library or Starbucks) and open the App Store again.
How To Test Your iPhone's Connection To The Internet
It's easy to test your iPhone's connection to the internet. First, open the Settings app, and then tap Wi-Fi to open the Wi-Fi menu.
You will see a switch next to Wi-Fi on the top of the screen. If the switch is green (or on), then your iPhone is connecting to Wi-Fi networks wherever possible. If the switch is gray (or off), your iPhone is never connecting to Wi-Fi and you're only connecting to the internet through your wireless carrier's data connection.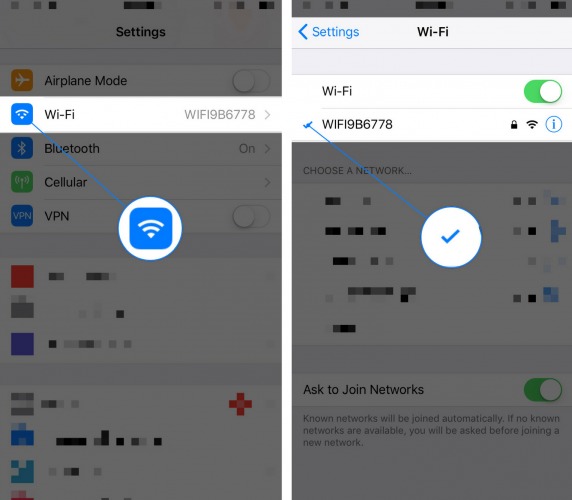 Wi-Fi Tips
Your iPhone will only connect to Wi-Fi networks if you've connected to them in the past—it will never "just connect" on it's own.
If you've been going over your monthly data allowance with your wireless carrier, this could be the problem—check out our article called What Uses Data On iPhone? to learn more.
To disconnect your iPhone from Wi-Fi, tap the green switch to the right of "Wi-Fi" to turn it off. If you need to connect to Wi-Fi, then you should slide the switch to the green "on" position and tap on the name of the Wi-Fi network you'd like to join. If the network is secure, you will be asked to enter the wireless password.
How Do I Know If My iPhone Is Already Connected To Wi-Fi?
If you see a blue checkmark next to the name of a Wi-Fi network, your iPhone is connected to that network.
4. Turn Your iPhone Off And Back On
Sometimes simple issues can be solved simply by turning your iPhone off and back on again. To do this, press and hold the power button (known as the Sleep / wake button) until "Slide to power off" appears on the screen. Swipe the circle with the power icon across the screen to turn off your iPhone. Your iPhone can take up to 30 seconds to turn off completely.
To turn your iPhone back on, press and hold the power button until the Apple logo appears on the screen and then let go. Open the App Store again — if it works, problem solved.
5. Sign Out Of The App Store And Back In
Sometimes, problems loading the App Store can be solved by signing out and back in with your Apple ID. You may be wondering how you can sign out of the App Store without being able to get into the App Store, but it's easy—just follow these simple steps:
First, open the Settings app and then choose iTunes & App Store. A menu will appear with your Apple ID. Tap your Apple ID and then tap Sign Out.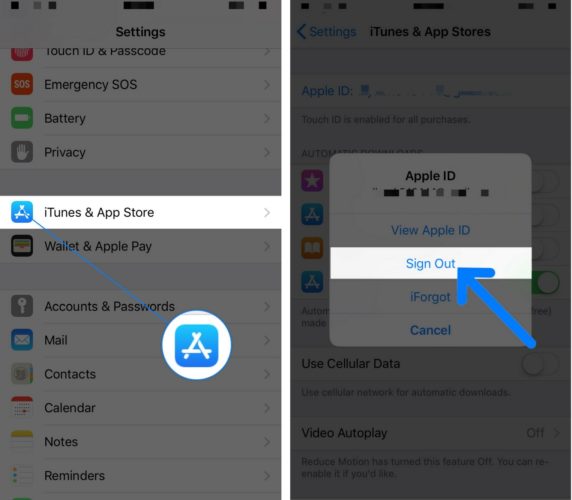 Now that you're signed out, it's time to sign back in. To sign back in, tap the Sign In button and then enter your Apple ID and password.
6. Reset Network Settings
If the App Store still is not working on your iPhone, it's time to reset the network settings on your device. Reset Network Settings "forgets" all the Wi-Fi networks you've ever connected to, so don't forget to reconnect to your home Wi-Fi network in Settings -> Wi-Fi after your iPhone reboots.
Reset Network Settings isn't a magic bullet, but it does fix a lot of internet connectivity problems on iPhones and it's not as intensive as the next step in this process, which is to restore your iPhone.
To reset the network settings on your iPhone to factory defaults, go to Settings -> General -> Reset, tap Reset Network Settings, and follow the prompts.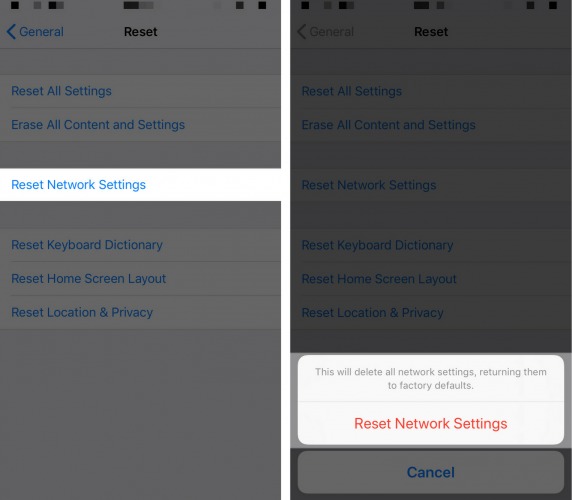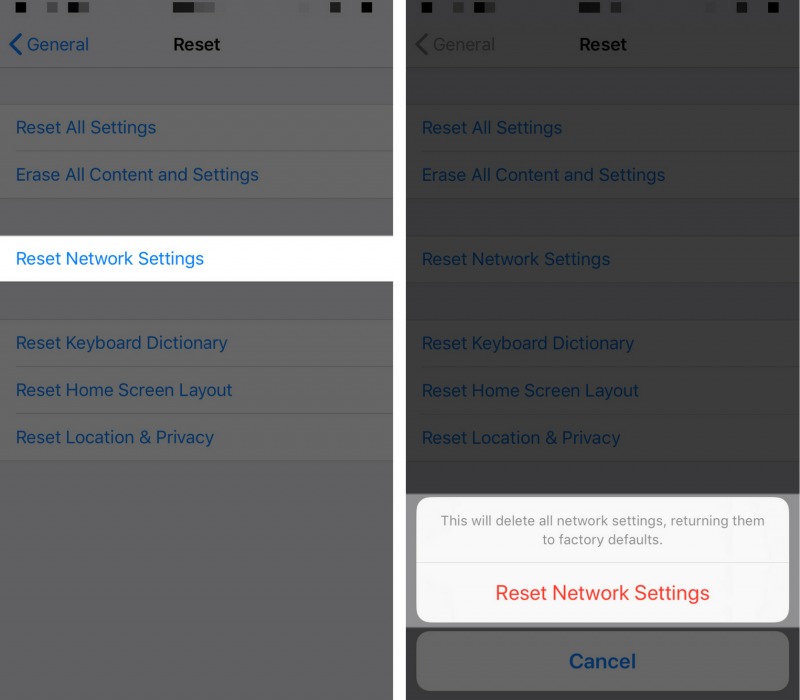 7. Make Sure Port 80 and 443 Are Open
I won't get too technical here, but suffice to say that your iPhone uses multiple ports to connect to the internet. According to the official Apple list of ports they use, port 80 and 443 are the two ports they use for connecting to the App Store and iTunes. If one of these ports is blocked, the App Store may not load.
How Do I Check Whether A Port Is Open?
If you're reading this article on the same iPhone you're having the problem with, port 80 is working fine, because your iPhone connects to payetteforward.com on using port 80. To check port 443, go to Google. If it loads, port 443 is working fine. If one or the other doesn't load, move on to the section called Reset Network Settings below.
8. Restore Your iPhone
When the App Store is not working on your iPhone, the next step is to restore your iPhone. When you restore an iPhone, it erases everything on it, so a typical iPhone restore looks like this:
Back up your iPhone to iTunes or iCloud
Restore your iPhone in iTunes
Restore your data from your backup
This is the last step before taking your iPhone into the Apple Store, because if you haven't done all the troubleshooting steps above, this is probably what they'll do in the Apple Store. A restore is the last-ditch effort for fixing iPhone software problems.
Make sure you back up your iPhone and then follow Payette Forward's instructions about how to DFU restore your iPhone. After you restore from your backup, there's a 99% chance the problem will be fixed.
9. How To Get Help From Apple When The App Store Isn't Working
Open the Mail app or Safari and try to use the web. Can you navigate to websites or download your email? If you've followed all the steps above and the internet works, there's a 99.9% chance the problem is software-related. The best place to start for getting software support from Apple.
If your iPhone has been acting strangely or was damaged recently and the App Store won't work, there may be something else going on. Your best option is to visit Apple's website to make an appointment at the Genius Bar at your local Apple Store or use their mail-in repair service.
iPhone App Store: Loading Again
As we've seen, there are a lot of reasons why the iPhone App Store may not be working, but with a bit of patience, I'm sure you can fix it. I'm sure that Apple employees hear, "My App Store is blank!" all the time, and as we discussed, it's a software problem 99% of the time. Now I'd like to hear from you: Which solution caused the App Store to start loading again on your iPhone? Let us know in the comments section below.